Education Economics
Higher Education And Privatisation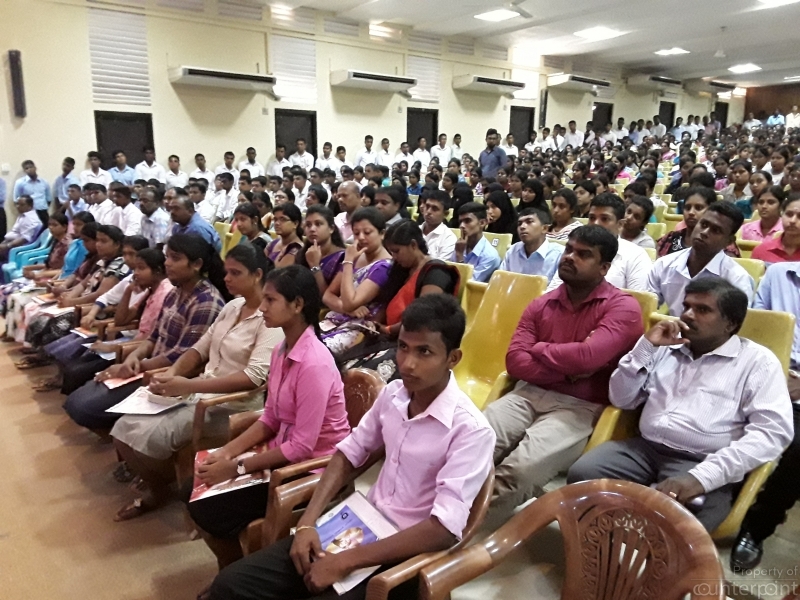 An orientation programme for students of the University of Jaffna (courtesy University of Jaffna, Faculty of Management Studies and Commerce)
From deciding access to quality, economics play a vital role in education. And since the education system bares the heavy burden of producing the country's human resource that will directly affect the country's economy, education and economics are like two sides of the same coin.
The economies of countries that have large stocks of educated human resources are superior to economies of countries that have lower stocks of educated human resources. This was highlighted by E. Hanushek and L. Woessmann in their 2008 paper 'The role of cognitive skills in economic development'. Education is a long term investment, at both individual and state level. Education encourages social mobility, raises economic and social status, and even stimulates social cohesion among different races and people of different faiths and social strata. According to the Organisation for Economic Co-operation and Development, educated individuals make more intelligent and informed democratic political choices.
There is a direct correlation between the level of education and income. As the education levels of individuals improve, their earnings increase. According to the paper 'Economic Benefits and Options for Financing Higher Education in Sri Lanka' by Harsha Aturupane, male university graduates earn 284 percent more than uneducated men, while female university graduates earn 372 percent more than uneducated women. The returns to education are also positive at the secondary and higher education levels. For instance, at postgraduate level, the rates of return to education for men are nine percent and for women 17 percent, respectively.
Education is positively associated with economic prosperity at individual as well as family unit level. A higher education level of a breadwinner positively affects the economic welfare, consumption per capita of that family. For example, households in which the breadwinner is postgraduate qualified enjoy 224 percent higher consumption levels than a household in which the breadwinner is uneducated, points out Aturupane. The main reason for this is that people with higher education levels are capable of securing better quality, high paying jobs. Moreover, better educated people are said to make rational consumption and investment decisions.
Aturupane also argues that the impact of education on economic welfare has also been steadily increasing. This pattern of higher levels of education being considered more important, suggests that economic activities are becoming increasingly knowledge intensive, indicating a return to knowledge-based skills.
Education expenditure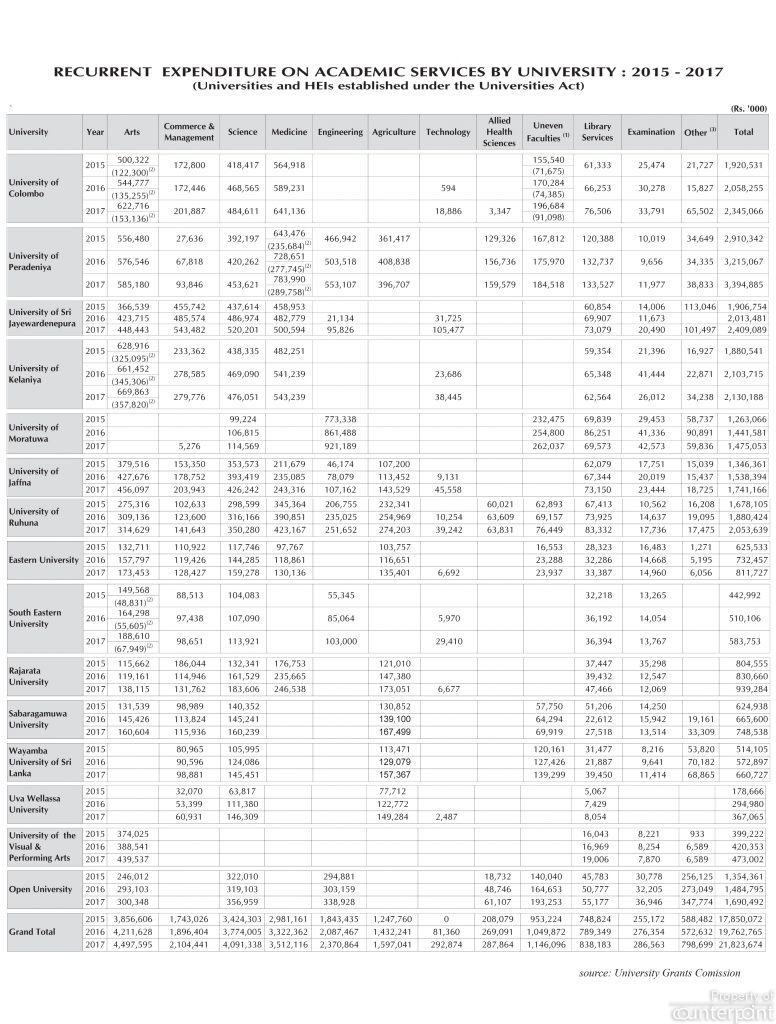 Although free education has somewhat relieved the burden on the public, what many fail to see is that free education comes at a huge cost to the government. According to UNESCO, public spending on education as a percent of GDP in Sri Lanka, from 1973 to 2017, was an average of 2.55 percent, with a minimum of 1.5 percent in 2012 and a maximum of 3.48 percent in 2016.
However, according to Aturupane, Sri Lanka's public investment in education is the lowest among East Asian countries such as South Korea, Singapore, Malaysia and Thailand; Latin American nations such as Argentina, Brazil, Bolivia, Colombia and Costa Rica; and other South Asian countries such as India, Pakistan, Nepal and Bangladesh. Aturupane points out that the healthy percentage of national income invested in education by advanced middle-income countries is normally about 4.6 percent.
In the long run, this low investment in education will hamper the country's ability to develop modern education assets and infrastructure such as buildings that incorporate new technologies, IT laboratories, libraries, science laboratories and science and IT equipment. This in turn has a negative impact on the quality of education provided, consequently leading to brain drain.
 University system
Bureaucratic governance and budgetary constraints have hampered further development in state-run universities. In short, our education system has reached its carrying capacity. And as S. Abayratne and U. Lekamge point out in their 2012 paper titled 'Policy Reforms in Higher Education: Transforming Sri Lanka Into an Education Hub', this has resulted in the much undesired outcome of brain drain and associated financial losses to the country. The inability to cater to the increasing demand has resulted in a loss of opportunities to students, who are forced to look for alternatives abroad or in the local private universities.
Is the Sri Lankan university system cost-ineffective, and does it generate the expected results of producing marketable graduates? This may not be the case for a considerable percentage of arts graduates who are often seen languishing by the roadside holding placards demanding that they be given jobs by the government for a degree that was paid for by the government. But Lalithasiri Gunaruwan and Thilini Samarasekara argue in their paper, 'Education Service Delivery Economics Of The Sri Lankan State University System: Cost Competitiveness, Concerns And Strategic Opportunities', that the Sri Lankan education system, particularly the discipline of medical sciences offered by the state university system is not only cost-effective but cost-competitive.
Gunaruwan and Samarasekara point out that the State university system is significantly cost effective in producing graduates of internationally acceptable quality; that cost-wise, the system is capable of competing with international universities in producing medical graduates, as exemplified by the large number of Sri Lankan doctors employed in Europe, US and Australia.
According to the University Grants Commission, the grand total of recurrent expenditure of all major universities and higher educational institutions by major programme in 2017 is a staggering Rs 37 billion. A salient feature is that Medicine is the most costly degree programme, especially considering the lesser number of students, at Rs 3.5 billion (Table. Number of students not indicated). Gunaruwan and Samarasekara point out that it costs double that of Engineering and triple that of Social Sciences or Law, probably due to discipline specific intricacies.
However, the competition to get into a local medical faculty, coupled with the lack of alternative local universities force students to migrate, resulting in an exodus of foreign exchange. Gunaruwan and Samarasekara argue that this 'saveable resources', pointing out that Rs 1.6 billion per year of foreign exchange would be saved if the government could provide facilities to produce more doctors, compared to the cost the nation would incur to educate Sri Lankan students in China.
Consequently, economically speaking, it would be in the best interest of the country to facilitate the establishment of private medical universities. And in turn state university graduates should be ensured priority when receiving appoint in state-run hospitals.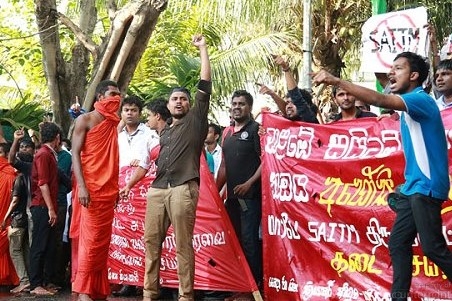 Gunaruwan and Samarasekara have found that the costs incurred by the Sri Lankan State universities to produce an internationally acceptable graduate are significantly less than the fees charged by competing universities, the closest competitors in terms of cost being Chinese and Russian universities. Meaning that Sri Lankan universities are quite cost effective, while alternative universities that offer MBBS degree programmes keep excessive profit margins.
This begs the question, why the Sri Lankan government is not marketing state universities to foreign students who are very likely to spend much more elsewhere in Asia. But such an initiative would require autonomy and independence that entail relevant policy reforms.
Provided that local students are still ensured their right to a free education, opening state-run universities to paying students, both local and international, would be a win-win situation by which not only the exodus of foreign exchange may be arrested, but would also allow state universities to run autonomously on their earned profits, thereby reducing the burden on the state.
Keeping in mind the national objective of developing Sri Lanka into a knowledge hub in the South-Asian region, the country would have to overhaul the education system to strategically develop knowledge and skills of the future labour force.
 (This is the sixth instalment in a series of articles)