Global Radar Search
Asia's Big Powers On Alert
A week ago, President Maithripala Sirisena swore in Mahinda Rajapaksa as the country's new Prime Minister.
Engrossing political developments in Sri Lanka over the past few days are spurring both regional and extra-regional powers into making moves that international politics watchers ought to find extremely thought-provoking.  No sooner was Mahinda Rajapaksa controversially sworn in as Prime Minister of Sri Lanka on October 26 in a lightning move that took Sri Lanka and the world by storm, than he was congratulated by Indian Prime Minister Narendra Modi.
The latter was the first world leader to do so. Close on the heels of this gesture, China's ambassador to Sri Lanka Cheng Xueyan met separately with Rajapaksa and Ranil Wickremesinghe, the uncompromisingly sparring contenders for the position of Prime Minister of Sri Lanka. Needless to say, this contest has plunged Sri Lanka into a fresh round of tension and strife that is threatening to snowball into an unprecedented implosive crisis.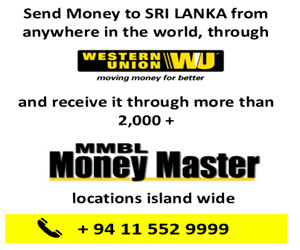 The Indian state had reportedly called on the contending parties to follow a constitutional path to resolving the crisis but the Indian Prime Minister's move to be the first world leader to congratulate Rajapaksa shouldn't be glossed over or ignored. Rajapaksa is widely seen as a political strongman who could 'get things done in a jiffy' and for the business-friendly Modi, this is of critical importance.
There are numerous India-led or initiated development projects in Sri Lanka, relating to ports, energy generation, health and education, for example, besides the more notable ones, such as, the development of the Mattala International Airport in Hambantota, which testify to India's interest in establishing a firm economic presence in Sri Lanka.  Some of these projects, whose implementation has been quite tardy, need to be forged ahead with.  An MoU signed between Sri Lanka and India on April 19, 2017, details the more important projects that Sri Lanka still needs to launch and implement in cooperation with India.  It shouldn't be surprising if Modi sees Rajapaksa as the most suitable Head of Government to undertake the completion of these projects. India's economic fortunes in South Asia depend considerably on the swiftness with which Sri Lanka goes ahead with these projects and Rajapaksa is seen as having the necessary verve, and nerve, to get things done.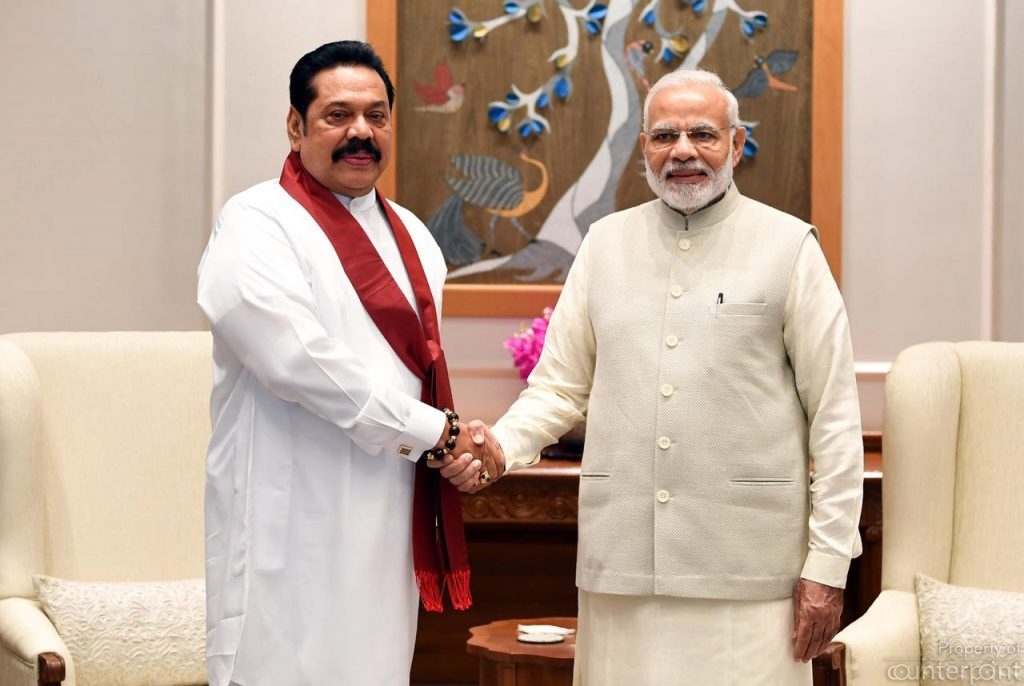 However, China ought to be equally or more concerned over developments in Sri Lanka. It too has infrastructure and business projects here that it needs to protect and enable to flourish. Hambantota Port is just one of these. Add to these the numerous mega hotel development ventures launched by Chinese concerns and the economic fortune at stake for China could be seen to be formidable.
Accordingly, China no less than India would be harmed economically, if civil strife becomes Sri Lanka's lot once again. However, they are both likely to see in Rajapaksa 'The Man' who could keep 'business' rolling.
However, there is an interesting political dimension as well to Modi's need to be strongly affiliated to Rajapaksa. This is on account of the fact that Rajapaksa has come to be seen, over the years, not without reason, as a strongly nationalistic and authoritarian ruler who thereby renders himself the ideal choice of Sri Lanka's political Right. Thus, this identity has made Rajapaksa and his political camp the natural ally, as it were, of the BJP. One piece of evidence that this is so is the recent pro-Rajapaksa pronouncements of BJP ideologue Subramaniam Swamy. The latter and other BJP stalwarts were always welcome visitors to Sri Lanka when Rajapaksa ruled the roost prior to 2015.
Ironically, the Chinese too would prefer Rajapaksa for some of the same political considerations. For the Chinese, 'business' is of critical interest and it is governments of an authoritarian mould with the ability 'to get things moving' who would appeal most to them. Besides, there is Rajapaksa's reputation of having the coercive capability to put down separatist insurgencies that needs to be taken into account. On this score too, Rajapaksa is China's choice.
However, it doesn't follow from the foregoing common interest in Rajapaksa that intensifying competition between China and India for power and influence in this region would, even to a degree, lessen in the short and medium terms. These are major regional powers that one is speaking about and it is only to be expected that their power struggle in South Asia would continue.
But we are not going to have 'hot wars' of any kind in a hurry. Rather, we would be having proxy wars of an economic kind in Sri Lanka and outside on the part of these major Asian powers. That India and China are already engaged in such proxy wars is quite evident in Sri Lanka, for example. China's engagement in the Hambantota Port is matched by India's economic presence in the Mattala International Airport and the Trincomalee oil tank farm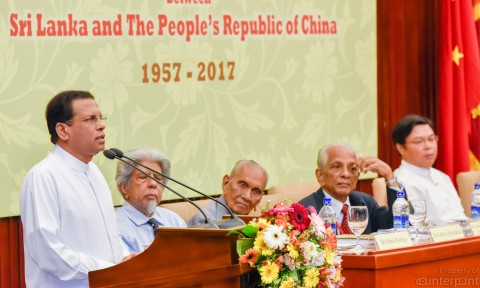 projects, for instance. That is, these regional powers are an effort to spread their influence in this region by economic means. Regional power struggles have shifted to a distinctively economic plane.
Small players of this region, such as Sri Lanka, would be challenged by these realities to think 'outside the box' on foreign policy questions. They cannot hope to play one big power against the other because these powers think and act more consensually than these small states could ever imagine. For instance, India and China are now thinking in terms of jointly strengthening the security capability of a number of states in the South Asian region, including Afghanistan, Nepal and Myanmar. This cannot be usually expected of powers that are 'spoiling for a fight'.
Thus, are highly complex relationships emerging among the major powers of the South. They are prompted by economic competition but they are also conscious of the fact that wasting, uncontained competition could lead to counterproductive consequences for them singly and severally. This is the reason why they wouldn't stereotype their opponents but go in for a degree of cooperation in some fields among themselves. What we have are multifaceted relations that defy simple-minded characterizations. However, it ought to be obvious that economic gain is uppermost on their minds.
The small states of South Asia have no choice but to be on the best of terms with these major regional players. Indeed, Non-alignment is the best foreign policy option for them.