Bhikkunis' Continue to be Disenfranchised
As It Happens
Jun 18, 2020
The National Election Commission should facilitate the voting rights of female Buddhist monks, the Centre for Monitoring Election Violence (CMEV) urged.
According to CMEV statistics, there are nearly 8,000 female Buddhist monks in the country in over 345 monasteries.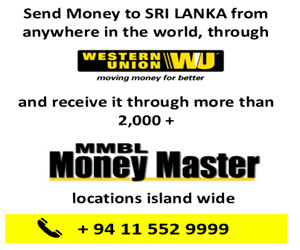 However, only around 300 of them are entitled to have a National Identity Card, which is one of the primary identification documents approved by the Election Commission to be eligible to vote, the CMEV points out.
Despite being eligible voters and the ability to register to vote, these female monks are deprived of exercising their franchise, simply because they do not have a National Identity card, a key requirement when voting.
"It must be noted that this concerns the wider issue of ordination within the various Buddhist Orders in Sri Lanka, which are matters for those Orders and concerned lay persons," National Coordinator of CMEV Manjula Gajanayake said.
He added that out of the 8000 female monks only around 2000 have received higher ordination, and 6000 remain as novices. "Despite all of them being commonly interpreted as Buddhist female monks, their formal acceptance within their respective Orders (Nikay?s) in relation to public services is unclear," he said.
He said that the officials of the Election Commission should work with the Department of Buddhist Affairs, the Department of Registration of Persons, the Human Rights Commission and in case the necessity arises, with the Mahanayaka Theros' to overcome this issue and ensure Bhikkunis are able to fully participate in the forthcoming parliamentary election.
Urgent intervention is needed as it 'disenfranchises a significant number of citizens' Mr. Gajanayake further added.
He also said that the Election Commission must take necessary steps to ensure that there are enough facilities made available for all voters to cast their votes without discrimination.
The CMEV is recommending that facilities are made available for voters, who cannot access polling stations on Election Day, to cast their votes before the actual poll date, by either expanding the postal voting criteria to included such people or by introducing a specialised Advance Voting facility.
Mr. Gajanayake said there the number of  eligible voters who fail to cast their vote in Sri Lanka is "reasonably high."
According to the CMEV these voters include employees of public and private sectors engaged in essential services (such as medical, utilities and security services); persons involved in election operations and observation processes; and those hospitalised or remanded on Election Day.
Workers attached to the 13 Free Trade Zones in the country (including at Katunayake and Biyagama) who face many difficulties getting any or sufficient leave to return to the places they are registered to vote at in order to cast their votes are also included in this category, Mr. Gajanayake said.
During the Presidential Election last year a total of 13,387,951 voters out of 15,992,096 registered voters caste their votes. The voter turnout during this election was recorded at 83.72 percent.
Sri Lanka is due to hold its parliamentary election on August 5 in keeping with the recommendations from the health authority to minimize the possible spread of COVID-19. The new date was decided after the election was postponed twice due to fears the Corona virus could spread if the election was held.