Can Poaching Of Wild Animals Ever Be Contained?
Dried Game Meat seized by Wildlife Conservation Dept. officials
Poaching of wild animals is a lucrative business.
With a kilo of fresh game meat going at anything between Rs. 400 to 800, and dried meat for about Rs. 1500 a kilo, it is not surprising that wildlife officials are hard put to successfully fight this illegal trade.
Moreover, despite Sri Lanka's supposed adherence to teachings that invoke non-violence towards all beings, illegal killing of wild animals continues unabated because there is a market for Big Game, from both area locals and visitors.  Several people Counterpoint spoke to pointed to the fact that the demand for game meat is from visitors from Colombo and other areas.  Some of them visit the parks and sanctuaries to hunt, and even post their "trophies" on Face Book, they said.
Granted, the number of poachers is not as high as it used to be.  However, as Wild Life officials told Counterpoint, those who have been involved in this trade for generations, have not given up.  Only those who have moved on to other forms of employment seem to have given up the trade. Many of the poachers are in the over forty age group, Counterpoint learned, with some around 70 years of age.  Though most of the younger folk don't seem to be involved, having learnt the trade from their fathers, there is no assurance they would stay away, say Wild Life officials.
Kadira (not his real name) has been poaching in the wilds in the Wasgamuwa area for quite a while, and kills at least two animals a month. He told Counterpoint that he earns around Rs. 75,000 with each kill – Sambar, Deer, wild Boar etc., with Sambar bringing in the best income.   "I usually sell the meat to the local bars,' he says. The only problem he seems to encounter is getting the meat to the buyer undetected. "I resort to many ruses", he says, describing how he packs the meat in a bag of banana's or having his wife sit on a 'pillow' on the bike.  "The only problem is with dogs who keep sniffing around me."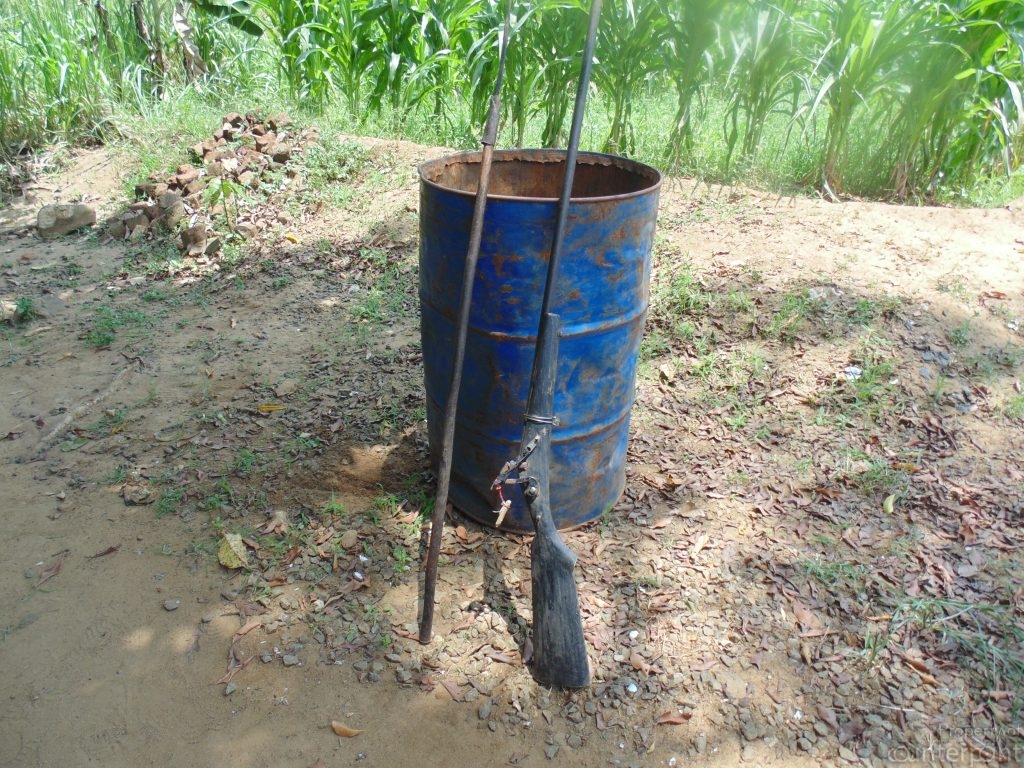 Poaching is not their sole occupation, many cultivate their lands too, growing mostly fruit, vegetables, maize and paddy, though the latter is only for their consumption.  Kadira explains that he uses only the spear to kill the animal, even though he also owns a home made rifle.  "I am careful not to target a lactating mom, but if her young are able to feed themselves, then she's fair game.  I feel no remorse over the killing; I don't believe there is a hell or a heaven.'
Wildlife Ranger Mahinda Wijesinghe is responsible for nearly 400 square kilometers covering 39 Grama Sevaka divisions.  Despite having to enforce the Fauna & Flora Protection Ordinance to ensure the conservation of wild life and bio diversity of the sanctuaries and national park under his care, he finds the lack of adequate staff and other resources a constant challenge.
When Counterpoint visited his office, Mr. Wijesinghe was in possession of some dried Sambar meat he had seized from a house.  The meat was to be produced as evidence in court.  "We found this in a house, on a tip off," he said.  "There are ancient villages in these areas.  As well, some of the villages are separated from the forests.  For the people of these areas, poaching is a natural pass time.  They eat the meat with 'thalapa"(small balls of cooked dough made with ground grains),  we do our best to arrest the culprits and end this practice, but it is not easy with about five staff assigned to the field and one vehicle."    Wild life conservation is a challenging job, he points out, stating that they need to keep good community relations to obtain information from the villages.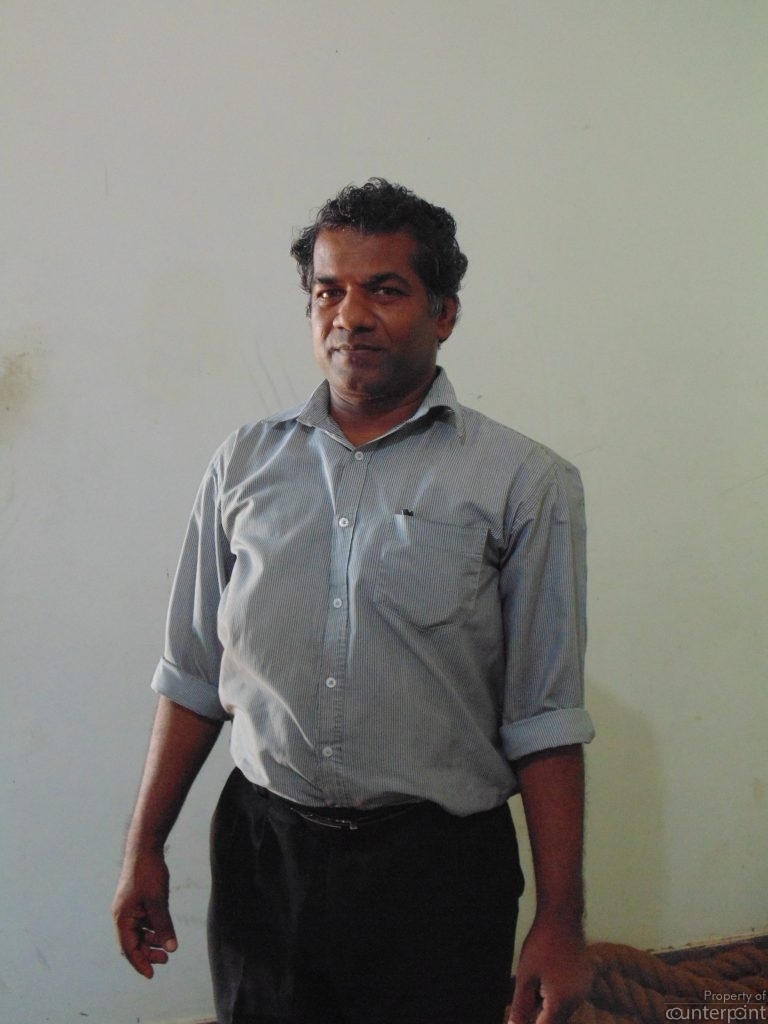 Poachers mostly operate when it rains, because that's when the trees and shrubs begin to sprout tender leaves and animals venture out for food, explained Mr. Wijesinghe adding that they are most active between April to December.  Poachers never go out to hunt on full-moon days, not for any religious reasons but because they could be spotted easily, he added.  Adds another farmer in the area, 'poachers know that the animals like tender leaves, so they deliberately start a wild fire, because with the next rains there will be new sprouts growing."  These fires are different to controlled burning, making it extremely difficult to contain, he explained, adding that nearly a 100 hectares were burned last year in this manner.
Wild Life officials have the power to arrest, remand and also grant bail, however, if they come across a poacher or poachers within the sanctuaries or parks, they are permitted to shoot at them only in self-defence and that too, only below the knee. "We get the help of the Civil Defence Service and volunteer staff to police the sanctuaries and the parks", Mr. Wijesinghe said. Within the park, not even wild boar can be killed, he explained, adding that if any person is found with any protected species such as Sambar, spotted deer etc. they could be fined Rs. 30,000.   Wild Boar can be killed outside the parks if they are destroying crops.  Interestingly, the stiff fines, Rs. 15,000 for trespassing, if found with game meat an additional Rs. 20,000, and if the person is found with a gun or similar implement another Rs. 15,000, making a total of Rs. 55,000, is not a deterrent.  And, someone always bails them out.
The only place where one can enter without a permit is a sanctuary, Mr. Wijesinghe added, though here too hunting is not permitted. The minimum fine for selling or exhibiting game meat is Rs. 15,000.
Though there haven't been many instances of poachers being caught with tusks or animal skins in his area, he said that quite recently his team had caught a Chinese national with the scales of a Pangolin in his possession.
Bandara, a Park Officer works as a paid volunteer with the Wild Life Department. Despite the low pay, Rs. 700 per day and no other benefits or training in the use of fire arms etc. he says he comes in to work daily owing to his commitment to the conservation of wild life. The department earns well from visitors who enter the parks, and though the monies are sent to the treasury, very little of that is ploughed back for conservation, he points out. Moreover, there has hardly been any attempt to increase the cadres and resources so better conservation practices could be introduced.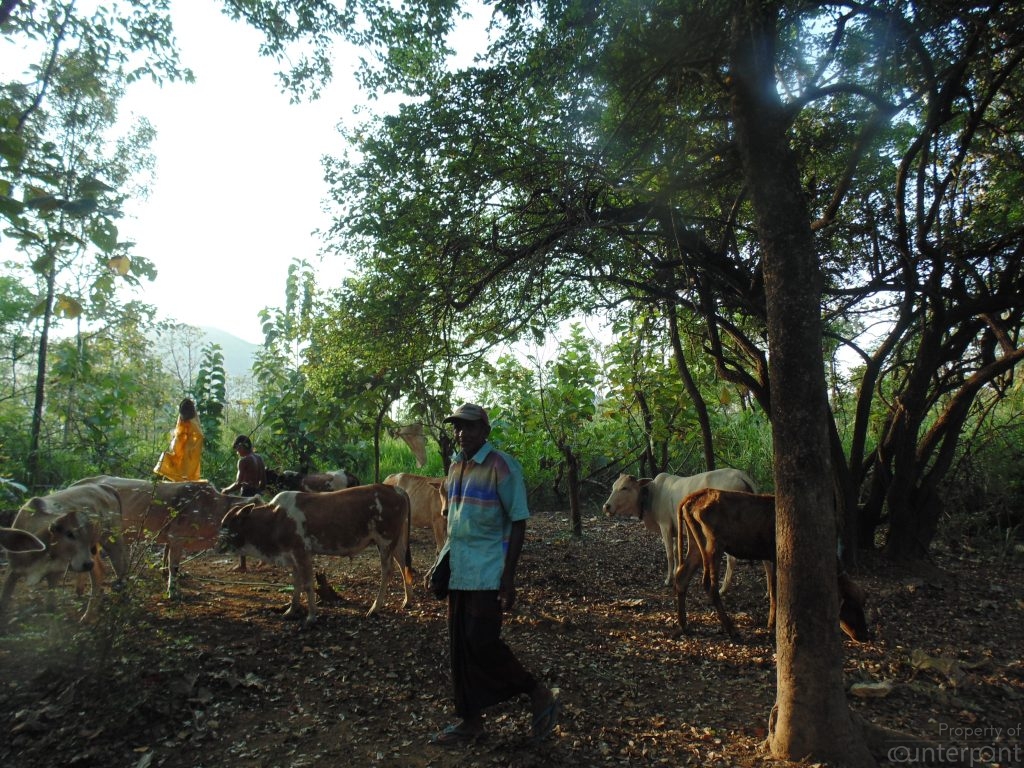 In fact, the Auditor General's report of March 2018, that  examined the Performance of the Department of Wildlife Conservation concludes that 'that the efficiency and productivity of the Department should be improved through creating new appropriate posts by restructuring the Department for solving the problem in cadre which caused the inefficiency of the Department of Wildlife Conservation at present."  The report also points to the fact that though some work has been done towards the protection of wild elephants, "adequate and clear procedure had not been established in respect of caring for other animals.'
Even though the number of poachers is less than what it used to be, poaching has resulted in a steady decrease in animals in areas that are their ideal habitats, points out Ravi Corea, the Founder and President of the Sri Lanka Wild Life Conservation Society (SLWCS).  In fact, this was evident during the excursions into the forested areas and the Wasgamuwa National Park by Counterpoint, where only several herds of elephants, a few wild boar, spotted deer and some birds were seen.  There were no signs of Barking Deer, Jackals or Sambar etc.
With the population of wildlife depleting, villagers are also facing threats from Leopards who are foraying into open areas in search of prey. Gunawardene Medagedera, is one such farmer who has lost five calves in recent months to a leopard.
Then there is also the issue of injuries to wild animals.  As reported in a previous issue of Counterpoint (http://counterpoint.lk/camera-trapping-to-monitor-their-health/)elephants are the path makers in the wild, which are then used by all other wild animals.  Poachers set up their traps for these animals along these pathways, eventually injuring the elephants, sometimes fatally.
Mr. Corea is hopeful that the poachers could be persuaded to take up other forms of employment and give up poaching altogether.  Kadira, who is close to his sixties expressed interest when asked if he would take up alternate employment. "I am open to something that would ensure a monthly income.'   Mr. Corea points out that while it may lure the older men, younger poachers would be more difficult to persuade.  Alternative employment must also pay them adequately well. Though it cannot be as much as what they earn selling game meat, it must be attractive enough.   "Poachers, know the forests inside out, and would make excellent guides for hiking, trekking and game viewing, says Mr. Corea.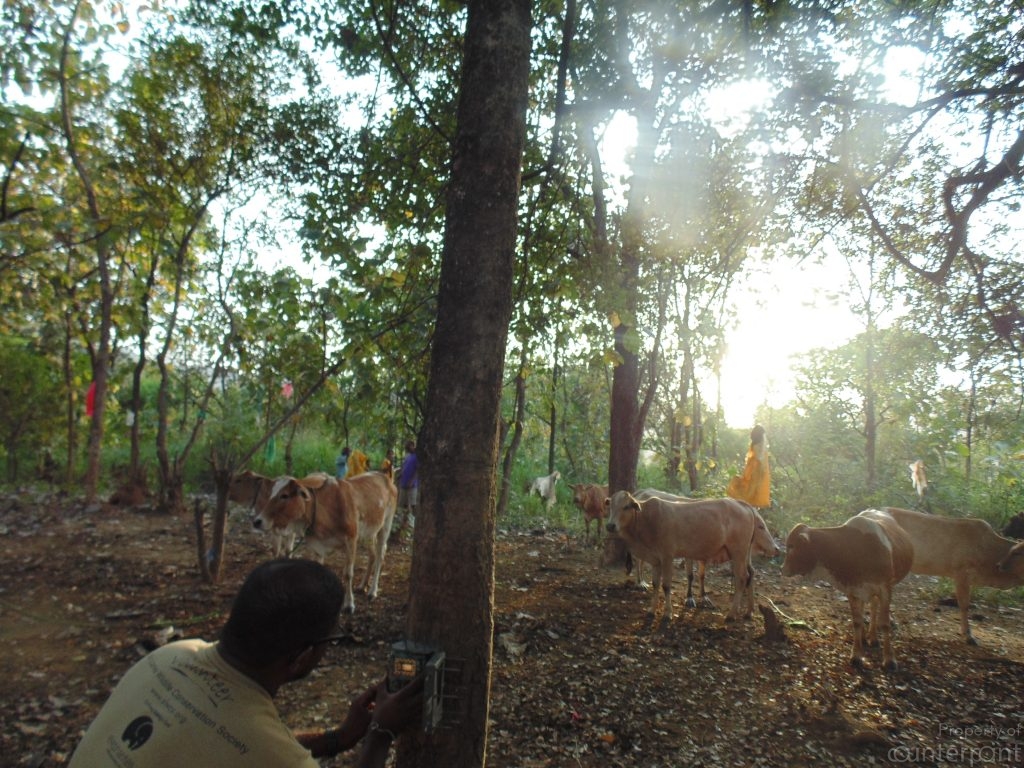 One option to fight the demand for game meat, which might be considered quite radical, suggests Chandima Fernando, the SLWCS Ecologist who is studying the human-elephant conflict for his PhD, is to set up deer and wild boar farms that provide the meat to super markets.  However, this too should be closely regulated and monitored by the Department of Wildlife Conservation.
It needs a concerted effort from all stakeholders' points out Mr. Corea.  While society's elite, some politicians and Buddhist clergy oppose the slaughter of wild animals, the reality is that farmers who face crop failures would resort to poaching. "While this hypocrisy is continuing the rural masses are destroying our wildlife and the environment," he claims.  In the absence of clear policies by the department of Wildlife Conservation to develop public private partnerships to ensure the better and more sustainable management of forest reserves, poaching cannot be contained.  The SLWCS which has already established a good rapport with the community is interested in working with the department in managing the forests.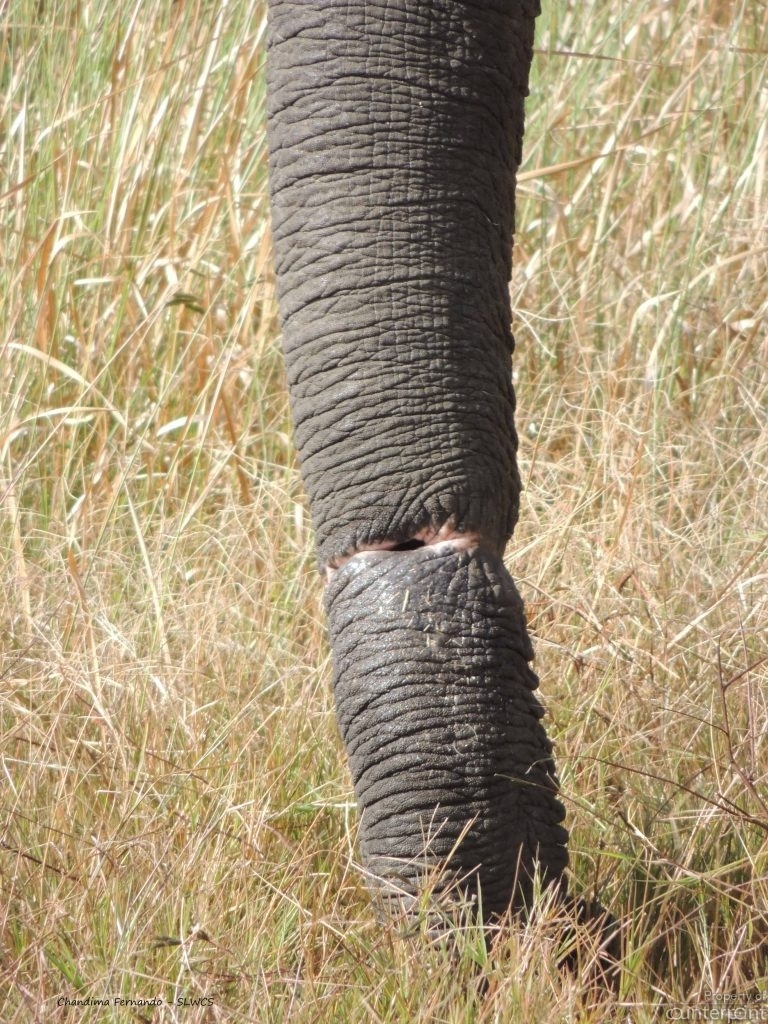 The key, he says, is the introduction of good conservation and wildlife management policies, citing examples from the US and Africa where various species of wild animals are seen walking around even in urban and suburban areas. Likewise, the department could introduce well monitored regulations identifying specific areas, animals (males and young bucks only) and certain times of the year that allow hunting.  "This would require research data to assess the population status and carrying capacity of these species," he added.
"If it is regulated, those who want to hunt can get the necessary permit from the divisional secretariat or regional Wildlife Department office.  It will be a controlled exercise. Not indiscriminate year round killing."  Even the trend for eco-tourism does not take in the realities of the livelihood challenges of the villagers, he says.
An official of the Wildlife Conservation Department Counterpoint spoke to in Colombo stated that there is no "open season" at all.
Mr. Corea stresses that there are three core principles that must be observed in the management and conservation of wildlife:  Wildlife management -the science of managing wildlife and its habitat, including people, wise use of our natural resources and management of habitat which is key to wildlife survival.
It is imperative, he notes that the practitioners of wildlife conservation and management are guided by the fundamental principles and concepts of this science and not by someone's whims and fancies or public opinion.
The Attorney General's report which notes that the legal responsibility of protecting and co-existence of wildlife has been entrusted to the Department of Wildlife Conservation echoes a similar initiative when it calls for the, "Minimization of the dependency of the communities living in the reservation areas upon the said reservations and increase in the contribution of the communities for the conservation process by way of taking action to upgrade the economic standard of those communities."