Why Roaring Lions Finally Wauled
Catches Win Matches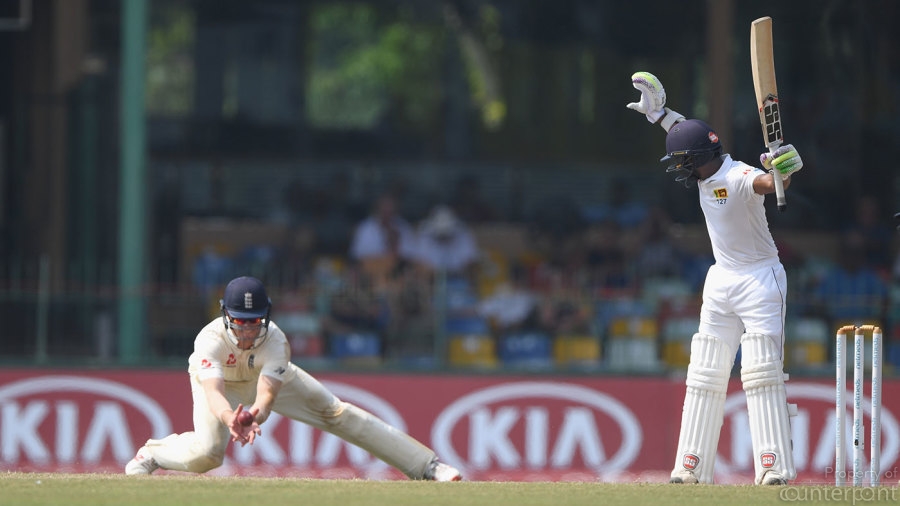 Keaton Jennings took fielding at short leg to a new level. Here he snaps up a chance to dismiss Niroshan Dickwella in the SSC Test which England won by 42 runs. Jennnings took six catches in the SSC Test.
Remember Clive Lloyd's epic words moments after West Indies won the inaugural ICC Cricket World Cup at Lord's?  The memorable quote, 'Catches win matches', remains true even more than 40 years after the West Indian legend first uttered it.
If you need to check the validity of Lloyd's pearls of wisdom, you only have to recall the way how England pounced on half-chances pulling off some sensational catches during the bilateral series against Sri Lanka. Head Coach Chandika Hathurusingha admitted that fielding was the big difference between the two sides.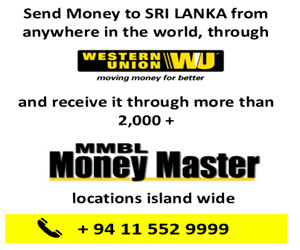 Sri Lanka have been handed a comprehensive 3-0 thrashing, but that should not prevent us from appreciating and applauding England's outstanding fielding skills.
The likes of Dimuth Karunaratne, Angelo Mathews, Kusal Mendis and Dhananjaya de Silva are masters in playing on our surfaces especially when  they are taking on 'western' nations. That is why they thrashed South Africa 2-0 a few months ago and the mighty Aussies 3-0 two years ago in our backyard.
When England landed here, the players were quietly confident that they would be able to give the Englishmen another drubbing on dusty surfaces where patience is the key word. Yet, eventually the hosts had to eat humble pie simply because England were too good with their fielding.
Sri Lanka's trick against teams like South Africa, Australia and England was to wear down the bowling, send bowlers into their fourth or fifth spells and let the heat take care of the rest. Once the bowlers are exhausted, the batsmen know too well that that they are able to milk the bowling to their heart's content.
England scored four hundreds in the Test series. Sri Lanka none. Yet, our batsmen scored 11 half-centuries compared to England's seven.
Many were the occasions when England's brilliance on the field dismissed  a set Sri Lankan batsman at a time England had exhausted all their options.
Soon the tourists would switch back to defensive mode in a bid to save runs and out of the blues someone would produce a sparkling moment to bring them back into the game.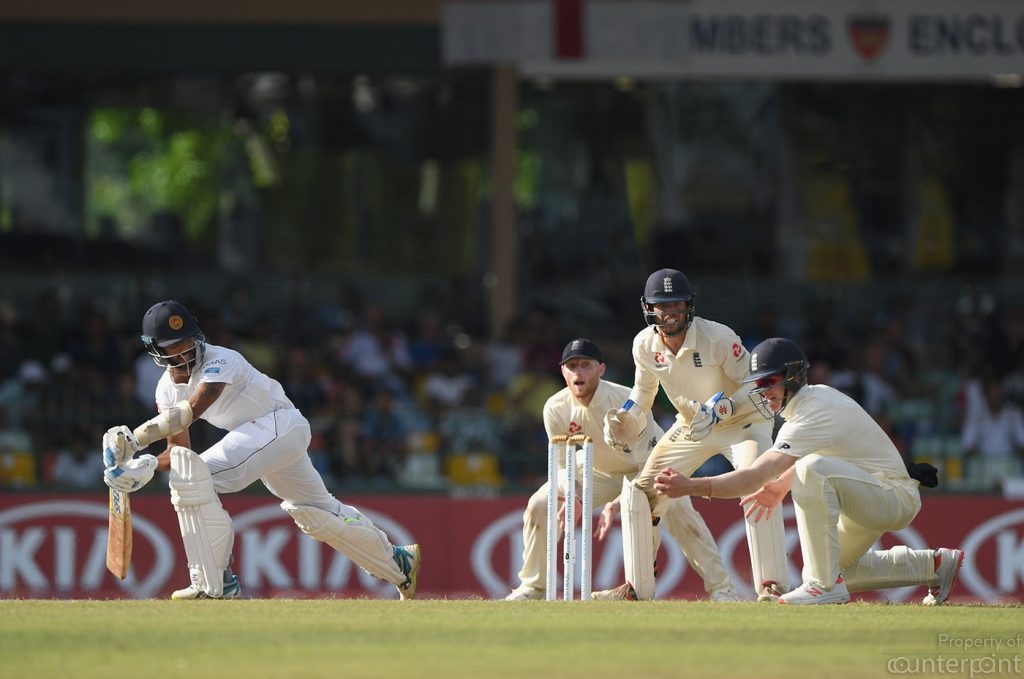 Opening batsman Keaton Jennings, who was born in South Africa, was the standout performer. On this tour, he took fielding at short leg to a level that has never been seen before. Short leg is the toughest place to field as you constantly get hammered when spinners are in operation. Most teams would think that Jennings is unsuitable at short-leg for historically shorter players have excelled there. At six foot and four inches, Jennings would have been dispelled to the slip cordon by most teams. But on this tour, he volunteered to field at short leg and in the SSC Test match alone took six catches there.
Prior to that at Pallekele he completed two stunners to dismiss Dhananjaya de Silva and Dimuth Karunaratne. His performance has been quite consistent.
Karunaratne must be out of his luck. Since Kumar Sangakkara, he has been our best batsman in Test cricket. Prior to the series he had spoken about the desire of becoming the first Sri Lankan to score a double hundred since Sanga.
He looked set to do that at Pallekele when a stunning piece of fielding by Ben Stokes, who produced a direct hit from covers dismissed him.
Moments later, Stokes at first slip pulled off another blinder when he took a one-handed catch to dismiss Kusal Mendis.
Young Mendis was at the receiving end again in the third Test. With Sri Lanka desperately trying to avoid a 3-0 whitewash, it was to Mendis they were looking to take them home. The 23-year-old was flawless in his technique and raced to 86 with an array of boundaries.
Mendis had added 102 runs for the sixth wicket with Roshen Silva and Sri Lanka were looking set to chase down the stiff 327 run target.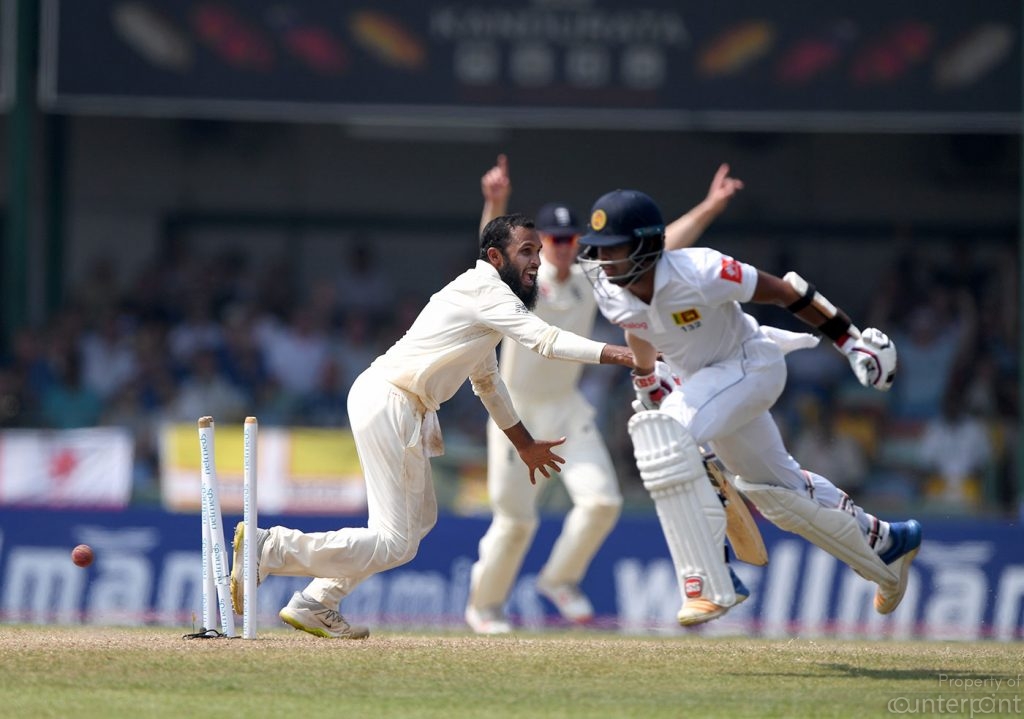 England had tried all their means but failed to make the breakthrough as Mendis was producing a master class with solid support from Silva. Lapse in concentration while running between the wickets gave England a slight chance and they pounced on it with another dazzling fielding effort.
Silva had turned Adil Rshid on the leg-side and sprinted for a single. Mendis didn't think there was two in it so he was slow off the blocks. When Silva called Mendis for the second, the latter was slow to turn. Jack Leach had charged down from deep backward square leg. The easier option for him would have been to throw the ball to the striker's end but Silva was safe. Mendis, however, was not out of danger. He threw down the stumps at the non-striker's end with a direct hit to send Mendis on his way.
Sri Lanka went onto lose the final Test by a small margin of 42 runs.
The series has been lost but there's plenty for Sri Lanka to learn from England. One reason why the country won the World Cup in 1996 was because they were easily Asia's best fielding team and were rubbing shoulders along with Australia and South Africa at the global stage.
Roshan Mahanama, Ruwan Kalpage, Upul Chandana were all world class fielders. In mid 90s, every innings Sri Lanka used to save 20 to 30 runs thanks to their fielding excellence.
But today, countries like Pakistan, Bangladesh and India are in a different league when it comes to fielding. Sri Lankans are basking in past glories without getting their act together.