Day Time Curfew Lifted With Restrictions
As It Happens
May 25, 2020
Travel between the districts of Colombo and Gampaha will not be allowed, even though the curfew will be lifted in these two areas as of Tuesday, May 26th, says a media release from the Presidential Secretariat.
The two districts have been under curfew for a little over two months, in the wake of COVID -19 patients being identified in the country.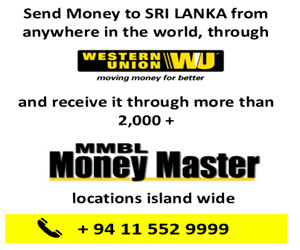 While curfew was imposed and lifted periodically in other parts of the country, curfew in the Colombo, Gampaha, Puttalam and Kalutara districts were lifted only on one or two occasions.    While the imposition of day time curfew in Kalutara and Puttalam was lifted middle of May, it continued to be imposed in Colombo and Gampaha.
When the curfew is lifted at 4 a.m. on May 26, it will be re-imposed at 10 p.m., and will continue in this manner until further notice.
At the time of writing, 1148 COVID-19 positive patients had been identified.   A majority of the new cases are from amongst migrant workers returning from Kuwait.
The media release further states that the public must continue to follow the guidelines of the health authorities, when moving about or at work, even though the curfew has been lifted.  'These guidelines include disinfection, wearing face masks, washing hands from time to time and maintaining social distance,' the release stated.
The heads of government and private sector entities will be free to decide how many staff members should be called into work, in accordance with health guidelines and the services they provide, says the release.
Meanwhile the Colombo Municipal Council states that Tourist Board approved hotels and restaurants in the Colombo city will also be allowed to open on Tuesday, the 26th, under strict health guidelines.  There will be six teams inspecting the hotels and restaurants to ensure they are following the guidelines, Counterpoint learns.
The Health Ministry meanwhile revised its earlier guideline which allowed only 25 guests at weddings.  The Deputy Director General of Health Services, Dr. Lakshman Gamlath, issuing a statement says that a 100 guests can now be invited to weddings.  However, the number invited should be less than 40% of the seating capacity that a wedding hall could accommodate.   If the wedding halls are small, the 40% seating capacity rule will prevail.
Limiting the number of guests will help contact tracing, in case any of the invitees gets infected by the Corona virus, Dr. Gamlath explains.
According to the guidelines, all guests must be within a metre apart and wear masks and this includes the couple.   As well, hugging, shaking hands and touching is discouraged including the taking of group photos.