Emphasising too much on Sinhala- Buddhist Nationalism is harmful to Sinhalese and Buddhists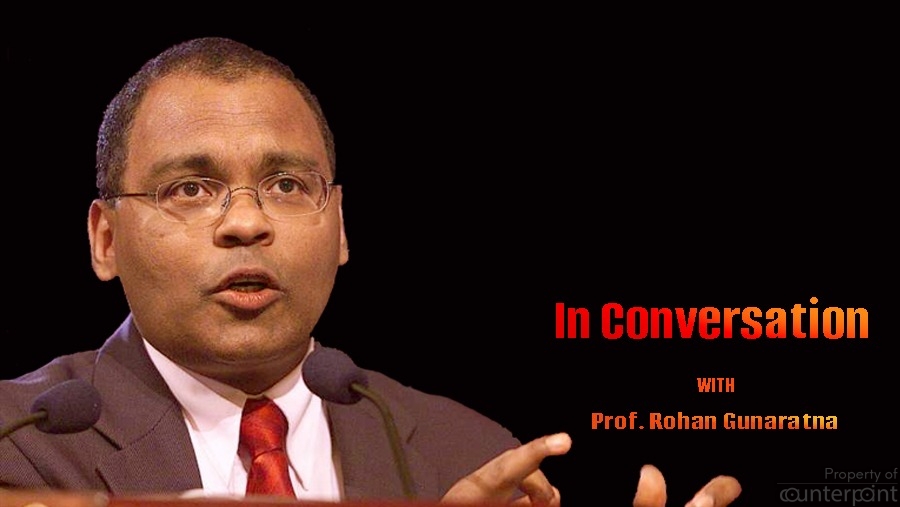 Q. What have we learnt from the Easter Sunday attacks?It seems that the threat is not completely eliminated and there are embers under the ashes. Although the security apparatus has been beefed up, is that enough? Or do we have to address the root causes of extremism and nip it in the bud?
The Easter Sunday attack demonstrated to Sri Lanka and to the world that visionary, collective and decisive leadership is at the heart of addressing national security challenges. Hitherto the emphasis was for high-quality intelligence only. But the Easter Sunday attack demonstrated that even with that focus, if there was no effective leadership, it will be neglected and not acted upon. It is not a failure of intelligence services but a failure to act on the part of the leadership, which could be called an operational failure. The intelligence services, enforcement authorities and political leadership knew in advance of the threat, but they were not decisive in their action. The national security mindset developed during the regime of President Mahinda Rajapaksa was eroded during the Wickremesinghe-Sirisena administration. Furthermore, the national security was compromised by dismantling the robust security and intelligence platform that was in operation in the north and the east, removing the checkpoints, transferring highly trained and experienced officers, who concentrated on the Islamic State, from key security and intelligence positions and cultivated an attitude that national security was not a national priority. The Easter Sunday attacks demonstrated that robust security is the foundation of social stability, political progress and economic prosperity. The attacks and the anti-Muslim incidents that followed demonstrated that the Wickremesinghe-Sirisena government had failed to understand and manage the emerging security threats confronting Sri Lanka.
In the Easter Sunday attacks, the Islamic State leader Zahran and many of his close associates perished. The security forces were effective in arresting the second-tier leadership and members of the management committee and others in the days and months following the Easter Sunday attack. However, the radicalisation pipeline that produced Zahran and his followers has not been disrupted and dismantled. To ensure safety and security in Sri Lanka, it is paramount for the secular and religious Muslim leaders, especially the "Ullema" (clerics) and the "Asatizah" (teachers) as well as the Muslim institutions (mosques and madrassas) to regulate religious space. Rather than waiting for the government to act, Muslim leaders should take upon this responsibility and engage in the following activities:
Introduce religious knowledge (comparative religion) to all the madrassas. Today, those children graduating from madrassas view Buddhism, Hinduism and Christianity with prejudice and suspicion. At least once a week, there must be a class delivered in those madrassas by a member of the Buddhist, Hindu or Christian clergy discussing the commonalities of their religions with Islam.
Friday sermons in mosques should include a central message that Muslims can live together in harmony with Buddhists, Hindus and Christians. Unfortunately, many of the mosques were critical of other faiths. Some mosques preach that Muslims should not stand for the national anthem, raise the national flag and should have loyalty only to Muslims and speak of hatred to non-Muslims (al Wala' wal Bara'). Madrassas and mosques that do not comply with these requirements should be investigated. Zahran was a religious cleric and a product of a madrassa. Had Zahran interacted with Buddhists, Hindus and Christians and built relationships with those communities, he would not have slaughtered them on Easter Sunday.
Q. Recent eextremist activities in the country have been mainly related to the Tamil and Muslim communities. Recent action of the rehabilitated LTTE cadre planning an attack to commemorate the Black Tiger Day was a concern. How can we build trust among communities and ensure that youth in these communities do not resort to violence against the State?
It is not correct to say that extremism emerges only from the Tamil and Muslim communities. Due to reciprocal radicalisation, a strain of ultra-Sinhala-Buddhist nationalism that is very damaging to Sri Lanka has emerged. Any Sinhalese or Buddhist, who genuinely loves Sri Lanka should never subscribe to ultra -Sinhala-Buddhist nationalism. The more Sinhalese, Buddhists harp on Sinhala-Buddhist nationalism, it will only damage the image and reputation of Sinhalese and Buddhists. The rise of ultra- Sinhala-Buddhist nationalism is a recent development in Sri Lanka, a direct result of the rise of Tamil and Muslim militancy. Historically, Sinhalese Buddhist kings were very confident to the extent they invited the Hindus, Christians and Muslims to establish a presence in Sri Lanka. For instance, there is a 5th century "Nestorian Cross" in Anuradhapura. Many Sinhalese princes and princesses married from India and Sinhala rulers gave land to Muslims and built excellent relations with them, who were persecuted by the Portuguese in the coastal areas. It is essential for Sri Lankan leaders to prevent the ongoing ethnic and religious polarisation of the Sinhalese, Tamils and the Muslims and start to build a truly Sri Lankan nation. Without being divided by caste as in the past, ethnicity recently, and religion now, visionary leaders should strive to build a common Sri Lankan identity at least 72 years after independence.
The Tamil and Muslim leaders should lead the effort to reach out to the Sinhala community and create a harmony network. The responsibility should not rest only with the majority Sinhalese community or government. It should be largely an initiative of the minorities to show that they also appreciate the majority community. As the Cardinal Malcom Ranjith very clearly said, the foundation of Sri Lanka is Sinhala Buddhist and no community should take the Sinhalese for granted and mount attacks against either the government or the majority community. The Tamils and the Muslims should demonstrate their sincerity and genuineness by creating Harmony Committees in the villages, towns and cities, consisting of members of all ethnic and religious groups and government representatives. They should also establish Harmony Centers in every district and province, and a National Harmony Center in Colombo. They should create Harmony Clubs in all schools and appoint Harmony Ambassadors. The next generation of Sri Lankans should learn from the mistakes of the past and failures of the recent leadership and build lasting and enduring relationships across the ethnic and religious divide. This is the only way to build One Sri Lanka. With hatred and incitement and ethnic and religious tension, Sri Lanka will always remain a third world country. For Sri Lanka to be an economically prosperous nation, it should strive for social harmony and political stability across the ethnic and religious spectrum.
Q. Should the authorities take steps to enforce a legal ban on 'hate speech'? During certain instances of communal unrest, we have seen a temporary ban on social media. Is this effective? Is there a regular monitoring of hate speech on social media and other platforms? Which countries have taken a step in this direction (legally banning hate speech)?
The Wickremesinghe-Sirisena administration did not understand the paramount importance of developing or drafting a bill on online falsehoods and manipulation and a second bill on the maintenance of ethnic and religious harmony. The Yahapalanaya government came to power stating that they will create harmony, but they left the country in a terrible state. There was much more incitement and hatred after their five-year rule from 2015-2019, including a devastating terrorist attack that almost completely polarised Muslim and non-Muslim Sri Lankans. Those who either post fake news to divide communities or precipitate hatred and incitement should be investigated, charged, prosecuted and sentenced under either the proposed 'Online Falsehoods and Manipulations' or 'Maintenance of Ethnic and Religious Harmony' bill. These two bills were brought by me to the attention of government leaders within a week of the Easter Sunday attacks, but they had no resolve to act. It may be partially due to ignorance or will. It is vital for the current government to understand the threat environment and take measures to pass laws that will prevent, deter and respond to ethnic and religious prejudice, suspicion, resentment, hatred, incitement and violence. A temporary ban is never going to be effective. Even if anyone scrutinized the cyber space today, there is so much hatred generated by exclusivists and extremists among the Muslim and Sinhala communities, and this must stop. There must be a robust legal framework that will be developed into legislation that criminalize both fake news and hatred leading to both incitement and violence.
The liberal democracies of North America, UK, Continental Europe, Australia and New Zealand have permitted freedom of speech without responsibility. Ninety percent of the terrorist and extremists' websites and blogsites are hosted in those countries. Sri Lanka should consider the fact that terrorism is preceded by extremism and should not allow extremist ideologies, doctrines and messages to find a safe haven in the cyber space. A country that has taken decisive steps to regulate both online falsehoods and manipulations and hate speech and incitement leading to violence is Singapore. Under the Protection from Online Falsehoods and Manipulation Act (POFMA), if an action is judged to be malicious and damaging to Singapore's interests, companies could be hit with fines of up to $720,000, while individuals could face jail terms of up to 10 years.[1]
Q.How do we reform the education system to make it more inclusive and regulate religious educational institutes not to advocate discrimination and violence against different communities? How can religious leaders contribute positively to this endeavour?
Sri Lanka has failed to build a truly national education policy, strategy and plan. The education that is provided in Sri Lanka should unite Sri Lankans. However, the Sri Lankan education system continues to divide Sri Lankans by ethnicity and religion. All schools in Sri Lanka, irrespective of ethnicity and religion, should admit children of other religions and ethnic communities. If a school is unwilling to do so, the government should take decisive action against that institution. This should include international Muslim schools, some of which have produced both male and female suicide bombers. There was a time when Sri Lanka was known as a model in ethnic and religious harmony. Only by reforming the educational institutions, can Sri Lanka once again regain that lost reputation. Unfortunately, the Ministers, Secretaries of Ministries, Directors of Education and even the Principals I have spoken to, do not understand why it is so important to raise a generation of children who could grow up ignoring ethnic and religious divisions. The first step should be to educate those in charge, as to why it is so important to create multi-cultural schools by transforming the mono-cultural education in Sri Lanka. If we have separate schools for Sinhalese, Tamils and Muslims, even in the next hundred years we can never be a progressive nation. Education is the most powerful tool to build ethnic and religious harmony.
The curriculum to train religious teachers should be radically changed. Other than developing mastery of their own faith, they should possess knowledge on comparative religion. In the long-term, national security interests of Sri Lanka will be served if the government were to create a scheme, where religious teachers receive a certificate which is valid to teach. This certificate should be granted for those, who pass an examination that formally educate them about the tenets of other religious faiths. It is the ignorance of exclusivists and extremists and terrorists in Sri Lanka that led them to join the Islamic State. They had no understanding of the other religions and even a deep understanding of their own faith. They were more often driven by politics rather than faith.
Q.Has national security become less of a priority due to the ongoing pandemic? (Security measures/guidelines relaxed and military being deployed for COVID related activities)
The pandemic is the apex national security threat facing Sri Lanka today. The team comprising Gen. Shavendra Silva, Head-National Operation Centre for Prevention of COVID (NOCPCO), State intelligence Service led by Major General Suresh Saleh and the Ministry of Health Director General Dr. Anil Jayasinghe, guided by President Gotabaya Rajapaksa, has accomplished a remarkable feat by keeping the deaths and infections low. Terrorism and organized crime, especially narcotics are also national security threats and government has invested adequate resources to manage those threats in Sri Lanka. The Ministry of Defence under its Secretary, General Kamal Gunaratne and Chief of National Intelligence, Major General Jagath Alwis are playing a frontline role together with the intelligence community, military forces and law enforcement authorities, to contain, isolate and eliminate organized crime and terrorism.  Under President Gotabaya Rajapaksa's watch, the government will not neglect national security. He understands national security and has selected highly competent leaders, who have proven themselves in the past to hold key national security appointments, develop policies, strategies and plans.
Q. Will the upcoming Parliamentary Election increase the mistrust among communities due to nationalist rhetoric? If so, what steps need to be taken to lessen the impact of such developments?
No election should be along ethnic and religious lines. The multi-ethnic and religious political parties such as Sri Lanka Podujana Peramuna, United National Party and Samagi Jana Balawegaya cannot be blamed for this polarisation. The responsibility for this polarization should be accepted by those ethnic and religious based parties. Sri Lanka should pass legislation to delist political parties along ethnic and religious lines such as the Tamil National Alliance and Sri Lanka Muslim Congress giving them a grace period upon notification of such laws. Government should ensure that no party in Sri Lanka is based on ethnicity and religious division, as it is harmful to the unity of Sri Lanka. The total responsibility of such division in elections should be accepted by those who have already created such parties whether Sinhalese, Tamils or Muslims along ethnic and religious lines. This should never have been allowed in Sri Lanka and now that this has happened, it should not be permitted to continue in the future and the existing process should be reversed. The Indian model of ethnic and religious parties is a tragedy and a disaster for India. Sri Lanka should never mimic the Indian model.
Q. Should the Sri Lankan government prohibit clergy from contesting elections and represent in Parliament and other elected bodies?
Members of clergy belonging to various religious denominations have an important role to play in the society by propagating their religions and teaching lay disciples how to live harmoniously with others following the teachings of their religions. They may have various roles to play in discharging their responsibilities as members of clergy, but that should not include seeking election to parliament or other such institutions, which leads to controversies with other political parties, individuals etc. Sri Lankan law makers should take a page from Thailand, another Theravada Buddhist country, where Buddhist monks, Buddhist novices, ascetics and priests are prohibited from exercising the right to vote, let alone seek election (Sec. 96 and 98 of the Constitution of the Kingdom of Thailand).
Members of the clergy should discuss and debate this issue among themselves and in the larger interest of both the nation and their faith, and desist from seeking election to parliament etc. Meanwhile, political parties too should also consider the adverse implication of members of clergy seeking election to parliament etc. and consider what measures they should take to address the problem.
Q. As we know, minority communities and religious groups harbour a sense of real or perceived discrimination against them. How do you think minority rights should be addressed by the new government (after August 2020)?
It is not only minority groups but even the majority groups have a degree of resentment that they have not got a fair share of their rights. Like Sri Lanka has a National Security Council, it should create a National Economic Council to manage economic affairs and a National Religious Council to manage religious affairs. With religion being used and abused by political entrepreneurs, the National Religious Council should address the genuine grievances of all religious denominations and communities. The Council should be staffed by heads and deputy heads of the religious traditions and by government representatives. This Council should meet and resolve any misunderstandings between the faiths and should work towards national cohesion.
Prof. Rohan Gunaratna is a political analyst specializing in international terrorism.
Gayathri de Zoysa Nanayakkara  is a Research Associate at Pathfinder Foundation
https://www.aljazeera.com/news/2019/10/singapore-controversial-fake-news-law-effect-191002055650351.html, https://papers.ssrn.com/sol3/papers.cfm?abstract_id=3392146