In politics, changes do not happen in chronological order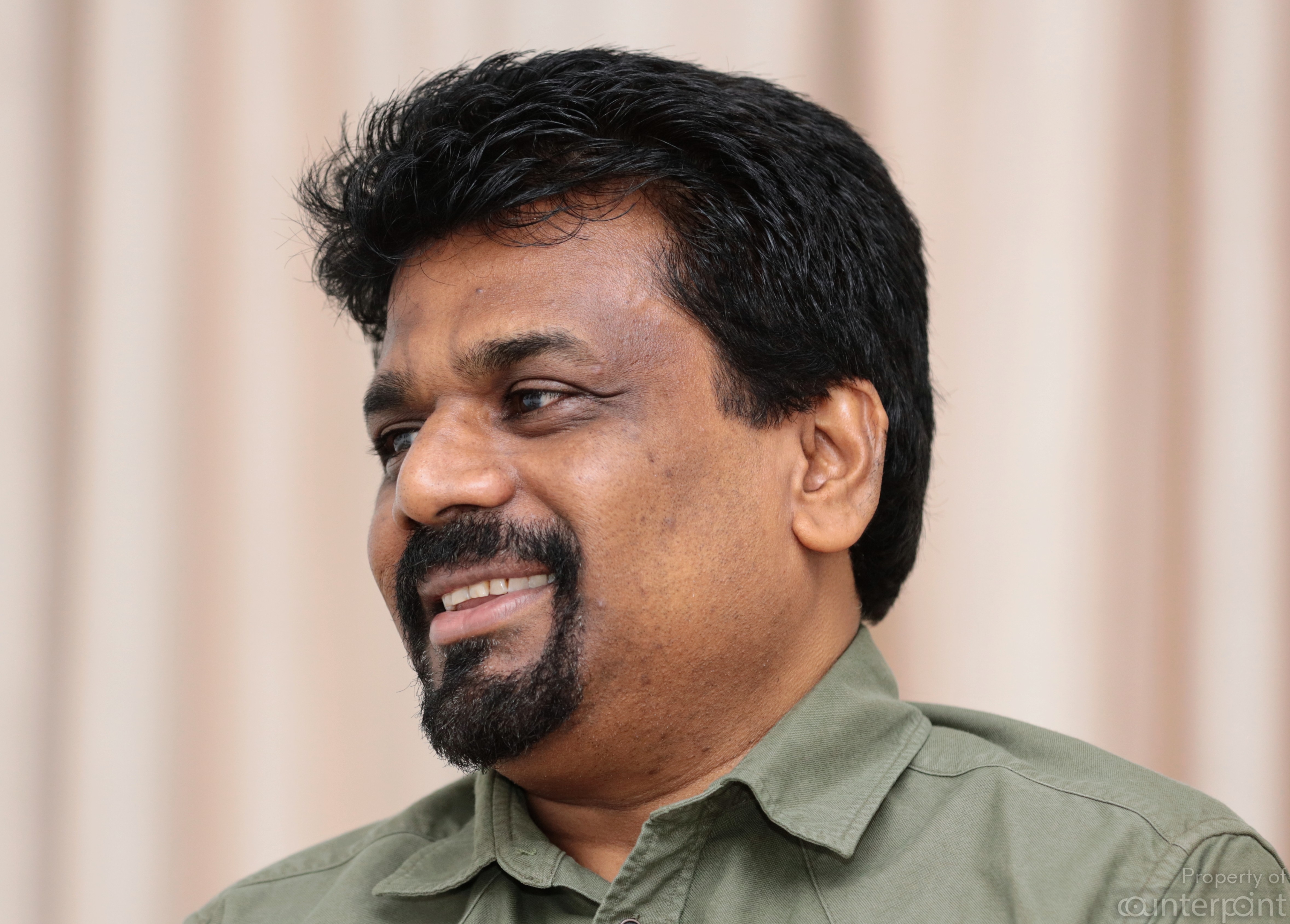 Anura Kumara Dissanyake, is contesting the presidential election on the JVP platform
Full name: Dissanayake Mudiyanselage Anura Kumara Dissanayake

Parents : DM Ranbanda and DM Seelawathie

Birth Place: Devahuwa in Galewela

Date of birth: Nov 24, 1968

Education:   Primary Education – Thambuttegama Gamini Primary Vidyalaya

Secondary Education : Thambuttegama Central College (He was the first student to enter university from the Tambuttegama Central College in the Maths stream in 1992)

Tertiary education: University of Kelaniya, Bsc in Physics
Anura Kumara Dissanayake cut his political teeth in 1987, while he was still a student. Having taken up arms, the JVP was holding protests against the Indo-Lanka Peace Accord at that time.  During 1988-89 period, he was among the thousands of students who faced the brunt of state suppression.
In 1991, Dissanayake entered university but did not engage in politics openly. He had been working with small groups to rebuild the party, which had been beheaded a few years before and was in disarray. In 1994, he entered electoral politics and went on to become the National Organiser of the Socialist Students Union, the following year.
In 1998, Dissanayake was elected to the Central Committee and politburo of the JVP. He was also appointed the Financial Secretary of the politburo. In 1998, he unsuccessfully contested the election to the Central Provincial Council from the Matale District.
Two years later, Dissanayake was elected to Parliament, at the 2000 general election. In 2004, he was appointed the Agriculture, Irrigation and Livestock Minister of the People's Alliance government. He was elected to the party leadership, in 2014.
Dissanayake's rise in politics has been meteoric.
Counterpoint met Dissanayake, on Monday, at the JVP headquarters, to ascertain his views on key political issues.
 Counterpoint: How would you describe your policy manifesto, which is being launched in installments, as it were, at various places of the country?
 AKD: Our manifesto has three main pillars–restoring law and order, ensuring national security and public safety and establishing an administration that will go all out to eliminate waste and corruption. On this basis, we have formulated a manifesto which envisages the elimination of rural poverty, relieving the people of the burdens caused by unsolved issues in sectors such as education, health and transport, ridding the country of the debt burden by promoting export and managing imports, preparing a development plan to ensure the upliftment of living standards of people and building a society blessed with communal amity, sustainable development and environment conservation for the sake of future generations.
Counterpoint: What would you do if you became the president?
AKD: We don't believe that nation building is a task that can be achieved overnight. There is no magical formula. Nowhere in the world has such a feat been achieved. That is something to be achieved gradually through a concerted effort. The people must be led on the right path if we are to achieve this end.
Counterpoint: The presidential election is bound to end up as a two-horse race with the passage of time. It will be a contest between the SLPP and the UNP-led alliance. Do you think you will be able to make a difference?
AKD: If we go by history, yes, your argument sounds tenable. But the people in our country have, during recent times, voted for a change. In 2015, they helped effect a regime change. What really happened? They set up a new government led by Ranil Wickremesinghe. That government had 53 ministers including members of the Mahinda Rajapaksa government. Though the people changed the government, they did not change their rulers. They much-expected change did not occur. The new dispensation was no better than its predecessor.
The people are now desirous of electing a new government again. If Gotabaya Rajapaksa wins, what would his government be? That would include ministers and MPs of the Ranil Wickremesinghe government as well.
Now, the people have realised this. It is wrong to say that the presidential contest will be a two-horse race.
You may see two horses, but there is only a single jockey. The need of the hour is not electing the very same old rulers again. The pressing need is for an alternative pro-people movement. We hope the people would understand this and vote for us.
Counterpoint: Some of 35 presidential candidates in the fray, have said that they are contesting not to win but to send their messages across. Are you one of them?
AKD: Our goal is victory. We cannot achieve it alone. It could be achieved only with the participation of the people. It is our hope that the people would realise the need to make a right choice and act accordingly.
Counterpoint: Elections are all about political power. You represent an organisation which tried to grab power through sheer force, twice, but in vain. It is now in mainstream politics, but its performance has not been impressive. Could you comment?
AKD: In politics, changes do not happen in chronological order. The natural process is different. Some political changes take place slowly while others happen fast. For example, who thought, in November 2014, that Maitripala Sirisena would become the President on Jan 8, 2015? If someone said, in November 2014 that the Prime Minister of the country on Jan 9, 2015 would be Ranil Wickremesinghe, none would have believed it.
That is why we say that political changes are highly unpredictable. I think there are right conditions for a political change, at present, in the country. The people have realised the inability and impotence of the incumbent rulers. We are providing leadership to them.
Counterpoint: You represent an alliance of political parties and civil organisations. One of the parties supporting your candidacy asks the people to cast their first preference to you and the second one to Sajith Premadasa. Do you expect the people to endorse two candidates from two camps that are diametrically opposed to each other in all respects, especially ideologically? Do you also encourage your supporters to cast their second preference for Sajith?
AKD: None of our allies has said so. There was no discussion on such a proposal at the meetings of the National People's Power Movement. Never have we made such a request. We have not mentioned anything about the second preference. We ask people only to vote for us. Ours is a different political stream.
Counterpoint: Jayampathy Wickremeratne of the LSSP has, while pledging his outfit's support to you, urged the people to mark the second preference for a strong candidate capable of defeating Gotabaya Rajapaksa. Only Sajith fits the bill.
AKD: That is not the LSSP. That is Jayampathy Wickremratne. They are not a member of the National People's Power Movement.
Counterpoint: Can you categorically state that you do not want those who vote for you to cast their second preference for Sajith?
AKD: Yes. We ask them to vote only for us.
Counterpoint: There were reports to the effect that you had discussions with the TNA in a bid to secure its support. What was the outcome of talks?
AKD: We did not have official talks with the TNA, but met some of its allies. Some have expressed their willingness to explore the possibility of supporting us. There has been no final agreement with regard to their stand as regards the presidential election. We have time. Northern people do not see this election as something that would matter to them much. They view the presidential polls as a sort of competition among the Southern political forces. The candidate who secured their votes got elected in 2015, but he has failed to solve their problems. They are, therefore, frustrated. The northern political leaders are in a dilemma as to whom to support.
We have a message to the people of the North. If they decide to vote for one of the parties at the presidential election, I believe we should be their choice, for only we have a programme aimed at solving their problems.
Counterpoint: Presidential candidate Rohan Pallewatte, speaking at a convention in Colombo on Oct 11, said that he, you and former Army Commander General Mahesh Senanayake represented the same political stream and it was a mistake for them to contest separately. He indicated his willingness to give up his candidacy if the three you of you could reach an agreement. What would you say to this offer?
AKD: We see eye to eye on three main objectives – restoring the supremacy of law and order, ensuring national security and public safety and establishing an administration which will move to eliminate fraud, waste and corruption. We may be having different views on other issues. We have had several discussions. Even after submitting nominations we continued our dialogue. It seems that our discussions could yield some positive results.
Counterpoint: Civil society activist Prof. Sarath Wijesuriya has stated in public, that a vote given to you would be a vote given to Gotabaya. He requests the people to vote against you. Would you like to comment on this statement?
AKD: I have read in the newspapers that some people who identify themselves as members of civil society have said so. They have got various benefits from the incumbent government by helping it at elections. This is the election time and, therefore, they have come out again and are making wild allegations to grab media attention and humour the government leaders.
First, the people voted for the 2015 regime change and sent Mahinda Rajapaksa home. Though that camp was politically defeated, the government that came to power could not end that scourge. The incumbent administration entered into deals with the leaders of the previous dispensation. It is the government backed by Sarath Wijesuriya which facilitated Gotabaya's rise in politics. Nothing is more ridiculous than Wijesuriya's claim that a vote for us is a vote for Gotabaya.
Second, the government group including Sarath Wijesuriya has based their presidential election campaign on a single issue—the adverse impact a Rajapaksa comeback will have on the country. Had the government got its act together, it would not have been in this predicament, today. It and its backers have to prove what they have done for the people before seeking another popular mandate. The government is without anything impressive to flaunt as an achievement. It is corrupt and inefficient. It tries to retain power by bashing the Rajapaksas. It is usually the Opposition that tries to make the people fear the government in power, and not the other way around.  This is something Wijesuriya should bear in mind.
Third, we do not believe that if Gotabaya were to form a government by any chance, it would be an extension of the Rajapaksa government, which was brought to an end on Jan 08, 2015. The Mahinda Rajapaksa regime was characterised by waste, corruption and terror. The people sent it home. If there were to be a new government led by the same forces, it would have to begin from the beginning. Whether it might get worse than the Mahinda Rajapaksa agovernment, one day, we do not know. The likes of Wijesuriya should realise that they cannot get votes by attacking the previous regime again.
If Wijesuriya really wants to stop Gotabaya from coming to power then he could ask his candidate to withdraw and back us.