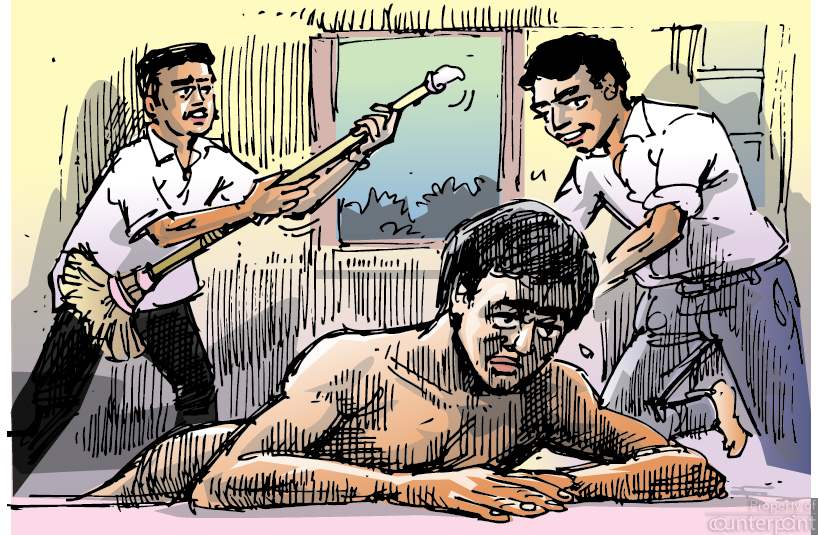 Gone are the days when students are asked to profess their undying love with a flower, to a fellow university student. In a recent video of a raid on a ragging venue by academic staff of the Ruhuna University, girls are found traumatized and allegedly sexually harassed and partially stripped, covered in bedsheets.
In another revealing video, Dharsha Udayanga exposes how he was sexually harassed, forced to perform sexual rituals on other batch mates, all in the guise of ragging. Privy to his plight, Dharsha's mother suffered an untimely death due to extreme stress. This is similar to prominent actress Yashodha Wimaladharma's revelation of the unpleasant experience she suffered at the hands of seniors during rag season at the Kelaniya University. She lost herfather, a lecturer at the University, who suffered a similar untimely death.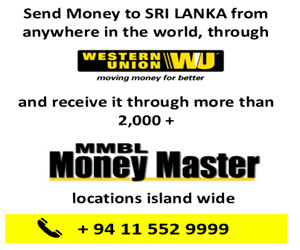 History of ragging
The earliest record of ragging is reported from the then Vidyalankara Pirivena (currently Kelaniya University) in 1974, when trainee mathematics teachers were subjected to the process. Twelve undergraduates were expelled and four officials were penalized for failing to take appropriate action. In 1975 Peradeniya University Agriculture student Rupa Rathnaseeli jumped off the second story of a hostel to escape from being penetrated with a candle. She was paralyzed as a result and committed suicide in 2002.
In 1993 Ruhuna University student, Chaminda Punchihewa died as a result of ragging. Prasanga Niroshana who was subjected to ragging  at the School of Agriculture, Angunakolapallassa, too died in the same year. Twenty one-year-old Engineering student of Peradeniya University, S. Varapragash, died from a kidney failure caused by extreme ragging in 1997. The same year Ruhuna University first year female student committed suicide because she couldn't tolerate ragging.
The same year, first-year student of Hardy Technical institute, Ampara, Kelum Thushara Wijetunge, died from kidney failure due to extreme exercise and being forced to consume excessive quantities of liquor. In 2011, a female student of Ruhuna University, Humanitiesand Social Sciences Faculty was left semi-paralysed in one limb as a result of ragging. In 2014 D.K Nishantha was found hanging from a tree in the Peradeniya University premises; reportedly he had been a witness to the sexual assault of a friend in 2010.
In 2015, 23-year-old Sabaragamuwa University, Applied Science Faculty student, Amali Chathurika committed suicide due to ragging. This year another 23-year-old, Moratuwa University student Dilhan Wijesinghe committed suicide due to ragging. Previously a student of the Jaffna University, he had later transferred to Moratuwa University, due to the extreme physical rag he was subjected to at the Jaffna University. Unfortunately the rag at the Moratuwa University turned out to be more severe and he committed suicide since he could no longer tolerate the ragging.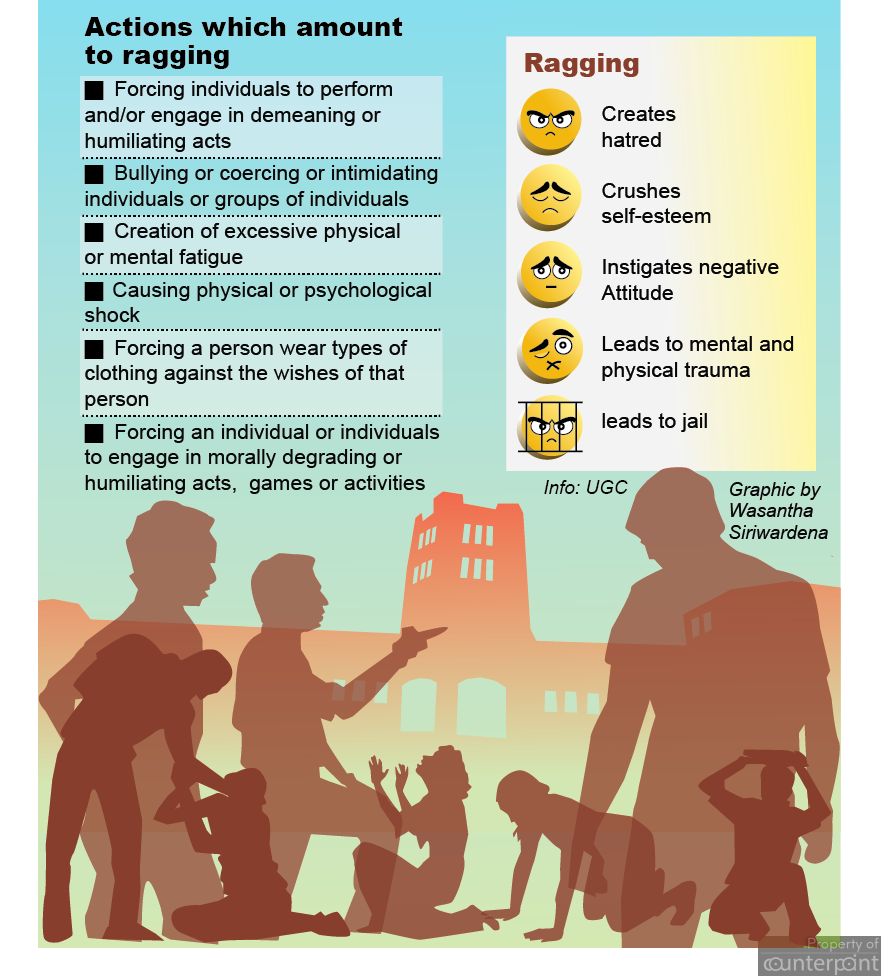 In total, 16 students have committed suicide due to ragging-associated trauma. As many as 2000 students drop out every year. According to the survey 'Ragging, Sexual and Gender Based Violence in Sri Lankan University System', conducted by the University Grants Commission in 2019, led by principle investigator Prof. Uma Coomaraswamy, from among 14,500 University students who participated in the survey, as much as 55% admitted that they  had been subject to  ragging.
Although an anti-ragging movement emerged in 1996 at the Peradeniya University, which spread to other universities in the following years and several faculties in several universities became rag-free due to these movements, internal clashes have disrupted this process. A case in point is the killing of Samantha Vithanage. In 2002, Sri Jayewardenepura University third year Management Student, Vithanage, who pioneered an anti-ragging campaign was killed at a meeting. In 2006, Sri Jayewardenepura University Vice Chancellor, Prof. Chandima Wijebandara resigned in disgust as university authorities failed to stop the ragging menace.
Administrations take
Ruhuna University Vice Chancellor Prof. Sujeewa Amarasena, who has taken a stand against ragging, in a recent interview on TV Derana (https://www.youtube.com/watch?v=idUG1dI3n5g) said that this can no longer be categorized under the clichéd term "Navaka Wadaya' and that it has escalated to physical and sexual harassment and even rape, often conducted in rooms under the control of student unions. Amarasena further revealed that some were forced to abandon their university education because they were targeted as sexual prey.
New students are subject to this type of conditioning so that it would make them susceptible to influence, so as to make them easy to tackle politically. He pointed out that the politically motivated unions use these psychologically disturbed few, who perform ragging, to meet their political ends. Moreover he pointed out that the unions in turn are controlled by the Inter University Students'; Federation, affiliated  to a major political party.
He argues that unlike the innocent days of ragging, this new type of ragging drags on for a full year, because it is clearly driven by a political propaganda, in his own words to 'find students to populate their pickets and protests' and to raise funds for their political activities by sending the first year students on money collection activities to the smallest southern towns. According to the VC as much as Rs. 200,000 to 300,000 is collected from a township, Rs. 10 million from the whole country, which is used to maintain the Inter University Students' Federation and their political activities.
Ex-Academic and Dean, University of Peradeniya, Chula Goonasekera in his article titled, 'Ragging – a tool of extremists' which appeared in The Island on May 23, 2016 points out that lack of political will to resolve ragging is a major obstacle for curbing the menace. Politicians conveniently choose to remain oblivious to ragging because it is sanctioned by student factions that back these political parties and 'no government has taken a stern stand against it.' Goonasekera argues that the current politicized student leaders lack the capacity toengage in matters of public interest through scholarly debate due to their political submissiveness and blunted wisdom.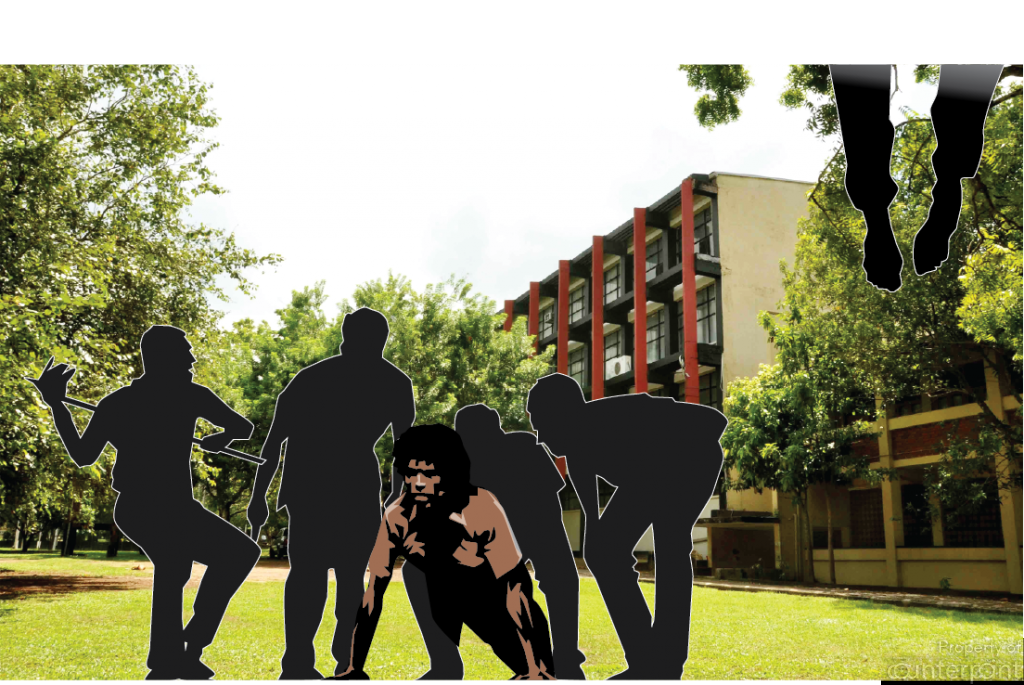 Obstacles
These students, fresh out of school and away from parental care are susceptible to ragging since university is most probably their first time away from home. In fact, students who find accommodation at hostels are most susceptible. They are required to acquire a whole new skills set such as English and computer literacy, a process stalled due to this politically motivated menace.
Unfortunately, some academics encourage ragging because they too are products of that sub-culture. Even some first year students believe that ragging should continue because they consider it a part of the package that is university experience. But the biggest obstacle in halting this despicable practice is that sexually abused fear stigmatization and  the fear of retaliation by seniors if anyone were to testify as well as the lack of evidence that prevents law enforcement from acting on complaints.
Legal framework
Any citizen can file a case in the Supreme Court under the rights afforded by article 126 of the Constitution in case of a human right violation. Prohibition of Ragging and Other Forms ofViolence in Educational Institutions Act was enacted in 1998 to eliminate ragging and other forms of violent and cruel inhuman and degrading behavior from educational institutions.
However, although criminal offenseare committed in the guise of ragging, they are hardly tried under the regular law and instead university staff are expected to do the work of the police, by conducting inquiries and action is taken according to the bye-laws and disciplinary rules of each university.
Ruhuna University Vice Chancellor Prof. Sujeewa Amarasena points out that the first year of a student's university life is imperative, because this is when the foundation for the whole university education is laid; from learning English to career development. Inability to get good grades at the first two examinations of the first year, causes the student's Grade Point Average to fall. VC Amarasena reiterates that owing to the managements of various universities repeatedly turning a blind eye, ragging continues to thrive.
(This article is the 18th installment in a series of articles which discusses education related issues on a fortnightly basis in counterpoint.)