It's Time To Root Out This Rotten Political Culture
Heavy rains did not deter this group that joined the Women of Lanka walk on Wednseday, calling on President Sirisena to restore stability in the country, in the name of children. Courtesy: Ceylon Today
When President Maithripala Sirisena slapped democracy on its face, surreptitiously appointing  a Prime Minister while unceremoniously removing the other, and followed that action by proroguing and then dissolving Parliament, he did Sri Lanka one great favour.
A usually apathetic population was jolted out of its complacency.  This time around it was not just another murder or abduction of political opponents, journalists, or robbing the country blind.  It was not about appointing one's kith and kin to plum positions or parceling out prime forest land, or the multitude of other corrupt deals Sri Lankans have come to associate their politicians and public officials with.  Every scandal has shocked or angered the people, discussed at various fora and even resulted in a protest or two and like everything else, was soon be forgotten.  But this time the anger of the people is potent.  And it seems, something good would come out of it.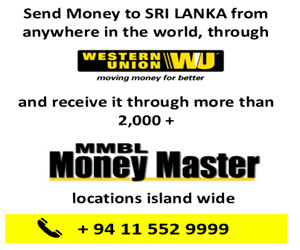 Be it the man on the street, Tuk Tuk drivers or society's elite, the anger and despair Sirisena's action has caused are palapable.  A woman I met at a wedding recently, asked if I was not angry about the prevailing situation, adding "my family is furious. They (the politicians) have no right to do this". It is a sentiment echoed by many.  And of course social media has been having a field day, with Memes, tweets, posters and commentary, almost all of them mocking Sirisena, his appointed Prime Minister, Mahinda Rajapaksa and his coterie.
Civil society has been organizing around various issues over time, and while a loose band of activists have constantly raised their voices against the many injustices, a sound and cohesive peoples' movement to counter any of the issues as effectively as they should has been lacking. But that is changing now.
The President's actions brought about a flurry of protests within days after he hijacked democracy. People gathered at various locations, mostly in Colombo, to protest and while some of these were organised by the United National Party and the Janatha Vimukthi Peramuna, civil society came out in large numbers to participate in silent vigils and peaceful demonstrations. Whatsmore, the demonstrations drew the upper and middle class and professionals; groups that usually steer away from such protests.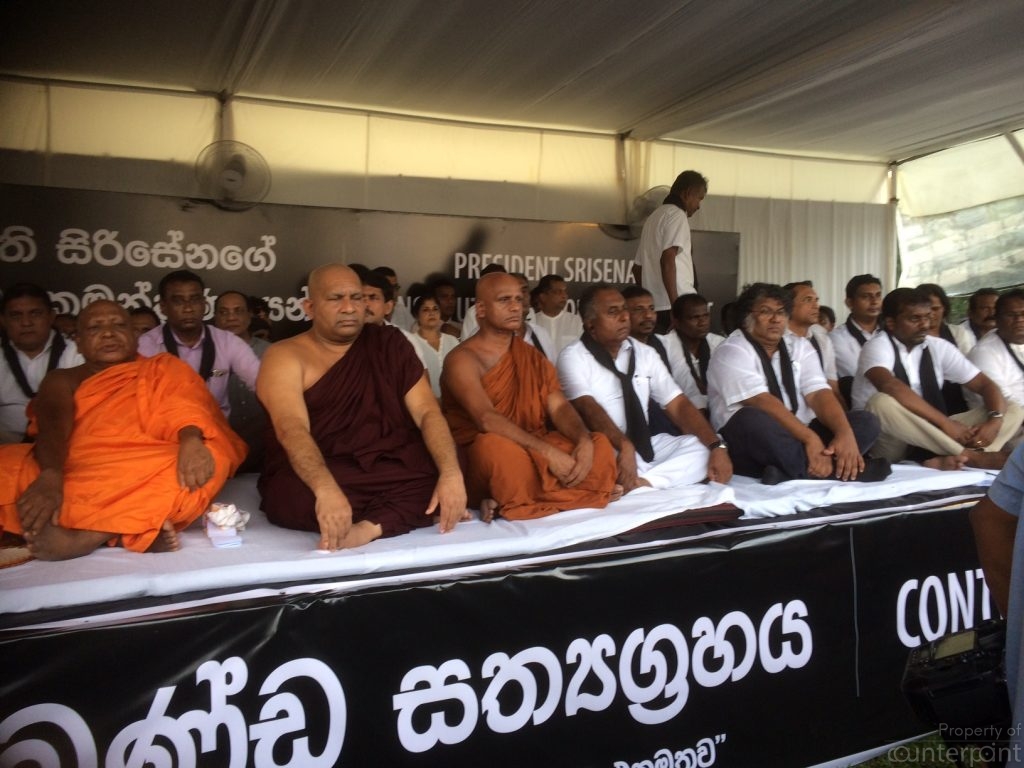 A Satyagraha, organised by the Civil Society Collective and held outside the Colombo Municipal Council attracted some Muslim and Buddhist clergy who joined the first group of Satygrahis on stage.  The ongoing Satyagraha calls for the restoration of the status quo ante to pre-October 26th, the day the President appointed a Prime Minister of his choice.   Another group, "Women of Sri Lanka" walked, in the pouring rain from the Galle Face Green to the Presidential Secretariat on November 28 and presented a petition to the President, calling on him to reinstate democratic principles in the country in the name of the children. More such demonstrations are held almost daily, and a public debate between civilians supportive of Sirisena's behaviour and those opposed is scheduled for next week.
A day of prayer and fasting was held on Poya day by the Anglican Diocese in Colombo, while discussions to help understand the Constitution and agree on appropriate interventions continue to be held by both religious and lay groups almost on a daily basis.  From "The Messenger" the Catholic Weekly, of November 25th, came a pleasant surprise, when its strongly worded editorial stated, "We tend to criticize the West and its "splinter" of moral decadence, ignoring our own "wooden beam." It went on to comment that, "The sovereignty of the people is vested in Parliament, the bedrock of a democratic society, and consequently there should be no immunity for the members of this hallowed House with regard to their abuse of power…….."
A letter addressed to the President and Leaders of Political parties by a group of clergy and leading citizens of the country, said, "One thing is certain, you have no right to hold 21 million people to ransom or subject them to prolonged confusion any longer. You must deliver now, or step aside and allow those who can, to serve us. These are the honourable options before you."
The common thread that is emerging  out of all the discussions is the need for a strong people's movement that would not simply gather in protest whenever an injustice occurs, but a sustained, well thought out strategy that would be on constant  guard to ensure the country's leaders and others holding high office do not violate democratic principles. There is a growing trend of thought that democracy must be protected and fought for whether or not there is a crisis situation.
The clarion call is for change, one that would bring fresh faces, devoid of allegations of corruption and nepotism to the helm.  The system is putrid, observe many who join the demonstrations, who hope to see a complete overhaul of the political culture where greed, nepotism and family bandyism has taken centre stage for far too long.
Thanks to Sirisena, a mostly disengaged younger population has been energised.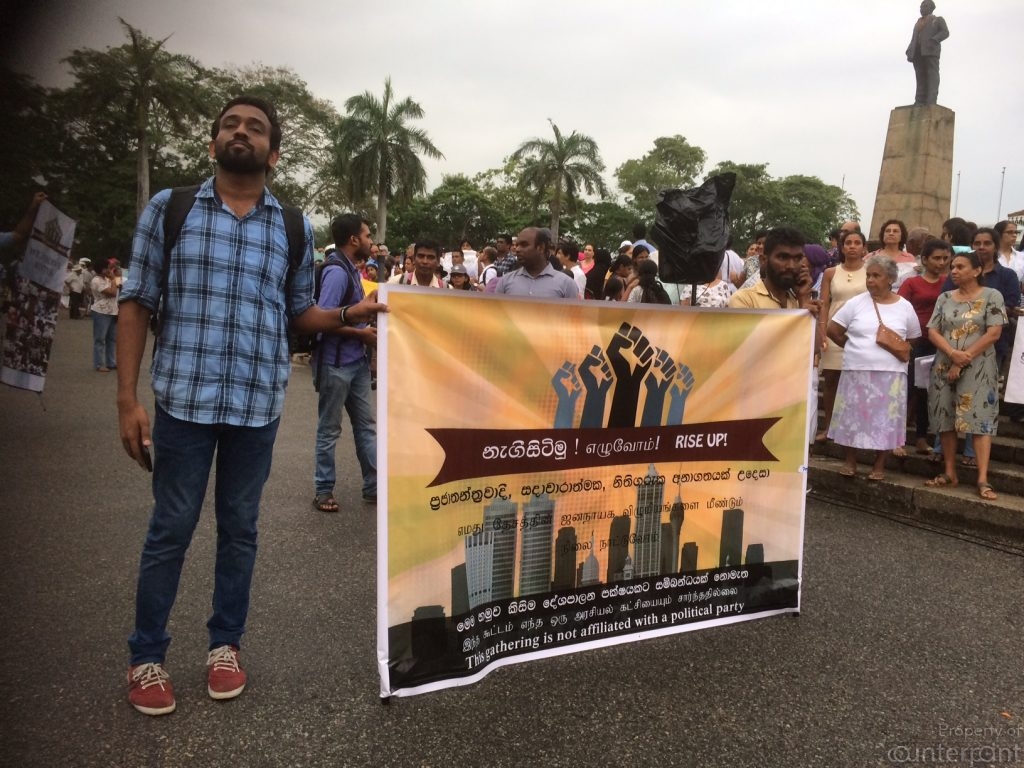 Weeks before Sirisena's October 26th actions a group of young professionals, frustrated by the behaviour of political leaders had met to discuss and identify a method of building a national movement to safeguard democratic rights.  Says Suchith  Abeywickreme, one of the members,  " The people's needs are not  being met and we were discussing that, when President Sirisena sacked Prime Minister Ranil Wickremesinghe."  Their RiseUpSL demonstration was the spontaneous response to Sirisena's actions.   "We chose the Independence Square to stage the protest as it is national symbol devoid of any political affiliations."   While the protest itself was a somewhat knee-jerk reaction to the current political impasse, Abeywickreme stated that they would be carrying out similar actions around the country, with the next scheduled to be held in the Gampaha or Negombo districts.  "But, our action will not be limited to demonstrations.  We plan to keep the conversation going, to open up the space for democratic action."
Punarudaya, or Renaissance Movement has been in existence for about two years.  Its vision is to create a national identity instead of the current distinctive groups such as "Sinhala Buddhist, Sinhala Christian, Muslim, Hindu, Burgher or Tamil Christian, the silos we have holed ourselves into.  Punarudaya has been working across the country to build a Sri Lankan identity says one of its members T. M Premawardhana. "Pre or post-Independence, we have failed to build a national identity, where anyone, irrespective of their background, ethnicity, religion or caste could hold the highest office of the country."   In the aftermath of the October 26th actions, Punarudaya reached out to several independent groups such as trade unions, Muslim and Hindu representatives, lawyers and academics to form a broad coalition that could effectively counter anti-democratic actions of the political leaders.
The discussions in support of a strong people's movement advocates taking  the conversation beyond urban Sri Lanka, to the villages so every citizen would know their rights, understand the Constitution and the guarantees it provides.
The current situation and the call to revolutionize the political culture was summed up very well by a young man who spoke on YouJudge.lk, when he appealed to all, especially the young to take on the responsibility of driving the change.  The time has come, he said, to stop voting along racial and religious lines and to send a strong message to political leaders that the country is watching them.  The 225 Members of Parliament and their associates have made politics a business, to pass on from one member of the family to the other.
Social media can be used more creatively; instead of memes and comments, question the MP you voted for and ask for an explanation of their activities, he extols, adding that the people must shun the ethnic and religious differences politicians promote and come together to revolutionise the political culture of the country.
This is a God given opportunity to bring about that change, he noted, and to be that change, by giving back to a country that provides free health and education. It's time to break the politicians' greed for power and ensure that the needs of the people are served.