COVID-19
Kurunegala Hospital Director Transferred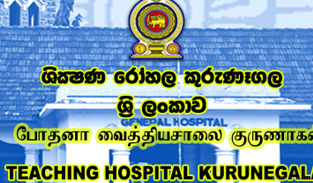 courtesy Kurunegalahospital.gov.lk
As It Happens
May 8, 2020
The Director of the Kurunegala Teaching Hospital, Dr. Saratha Weerabandara has been relieved of his duties and asked to report to the Director General of Health Services of the Ministry of Health and Indigenous Services.
The transfer letter, dated May 6, 2020 has been signed by the Secretary to the Ministry  Bhadrani Jayawardena and states  that the action follows complaints  that he has not complied with guidelines issued by the Ministry on preparing the hospital to deal with the COVID-19 pandemic.
The letter further informs the doctor that while a preliminary investigation as per section XLVIII clause 13 of the Establishments Code will be conducted,  he is to hand over all responsibilities for the running of the hospital to the Deputy Director of the Hospital Dr. Chandana Kadangamuwa.  The letter is copied to the Public Services Commission and to the Election Commission.  Generally public servants cannot be transferred when an election has been called.
Counterpoint  learns that the transfer follows complaints by the Government Medical Officers Association(GMOA) and other groups connected to the hospital of his non-compliance with the guidelines.
In May of 2019, the people of Kurunegala protested against the then Health Minister, Dr. Rajitha Senaratne's  move to transfer Dr. Weerabandara, who featured prominently in the case where Dr. Sybadeen Shafi , also attached to the same hospital was accused of sterilizing  women under his care.
A CID investigation and a Magisterial inquiry exonerated Dr. Shafi of any wrong doing