Maithripala Sirisena, the man who outfoxes foxes: Has he got into a hole?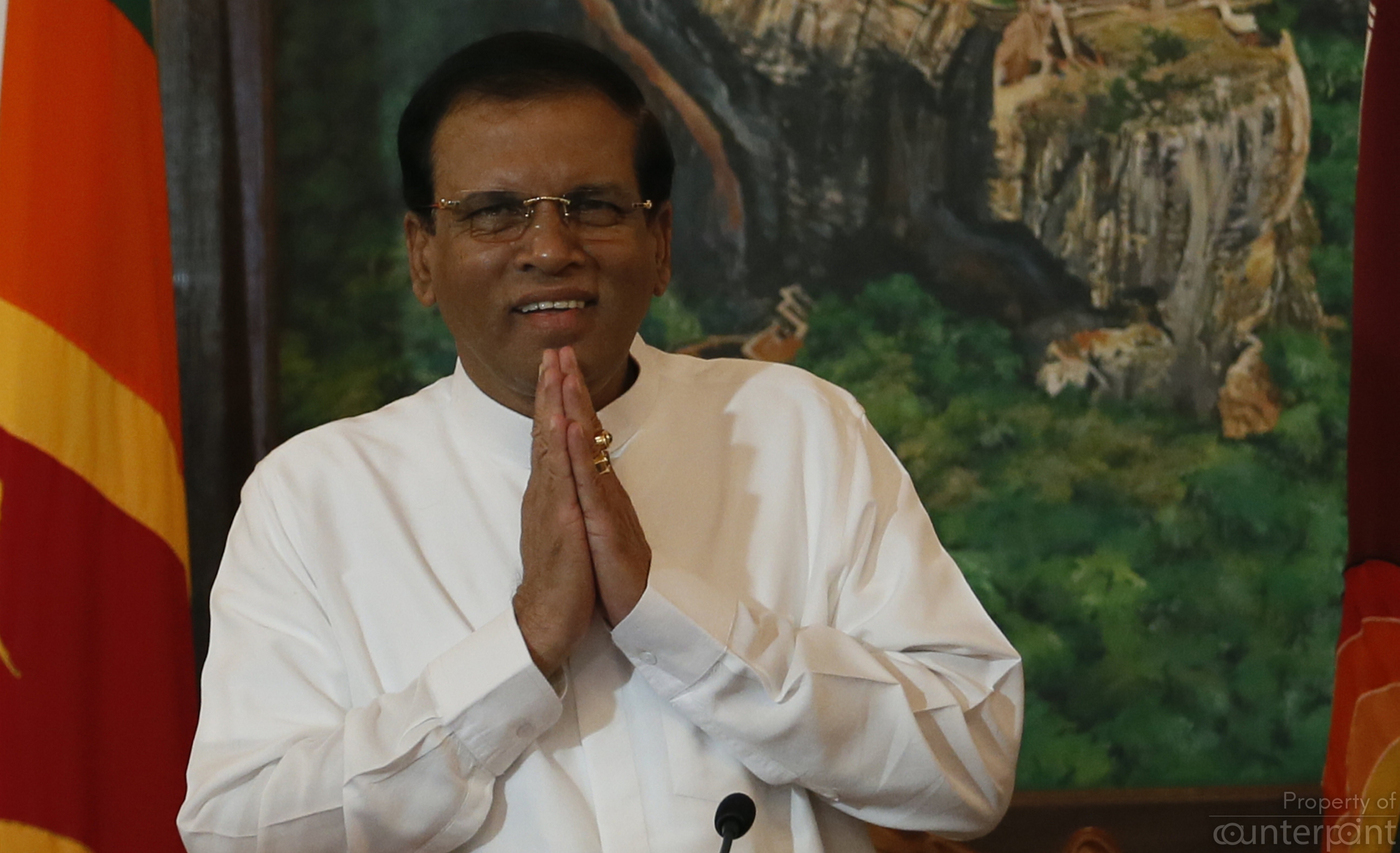 Maithripala Sirisena at President's House soon after his inauguration. If looks and public speeches can be deceiving, President Sirisena has proved to be the master of that game.
Chandrika Bandaranaike Kumaratunga, ensconced in power having secured a second term as the Executive President, in 2000, did not consider Maithripala Sirisena fit enough to be the General Secretary of the SLFP, when that post fell vacant upon the demise of Minister Dharmasiri Senanayake.  Her choice was Minister S. B. Dissanayake, for whom she even cast her vote openly, at an election to the post, during an SLFP Central Committee meeting. She did so in breach of an agreement, which she had reached with the contenders, at a closed door meeting, to ensure that Sirisena would be elected unanimously. Sirisena became a victim of a power struggle in the SLFP between the loyalists of former Prime Minister Sirimavo Bandaranaike and others loyal to Chandrika. He is reported to have said when he informed Mrs. Bandaranaike, over the telephone, that Dissanayake had beaten him, she was upset and had said in a quivering voice, that the party would be in trouble. Her words would prove prophetic.
Chandrika represents a political dynasty which has evinced a proprietary interest in the SLFP, founded by her late father S. W. R. D. Bandaranaike. In 2001, Dissanayake, fell out with her and defected to the UNP with about a dozen more SLFP MPs, causing her to lose control over Parliament. She was left with no alternative but to propose Sirisena to the post of the party's General Secretary. Her proposal received unanimous approval.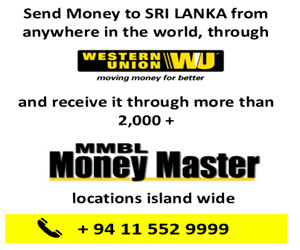 Ironically, about 13 years later, in 2014, Chandrika, out of power and consumed by hatred towards the then ruling clan, had to swallow her pride and request Sirisena to run for President against the then incumbent President Mahinda Rajapaksa. Likewise, the Rajapaksa's, too, just like the Bandaranaike's, think they have a proprietary right to the SLFP leadership, because their late father D. A. Rajapaksa left the UNP with SWRD to form the SLFP, did not consider Sirisena for the post of Prime Minister. Worse, they short-changed him. A frustrated Sirisena voted with his feet towards the end of 2014 and knocked Rajapaksa off his perch the following year.  Ironically, Rajapaksa, made an abortive attempt to be the PM, under President Sirisena, whom he had prevented from becoming the PM!
The SLFP lost the last presidential election mainly because Rajapaksa refused to appoint Sirisena the PM under him; the party lost the last general election because Sirisena openly refused to appoint Rajapaksa the PM.
Dissanayake, who grabbed the post of the SLFP General Secretary in 2000 with the help of Chandrika,  by pretending to withdraw from the contest and then throwing his hat into the ring at the eleventh hour, is an MP thanks to Sirisena. He was defeated at the 2015 general election, but President Sirisena appointed him to Parliament via the National List.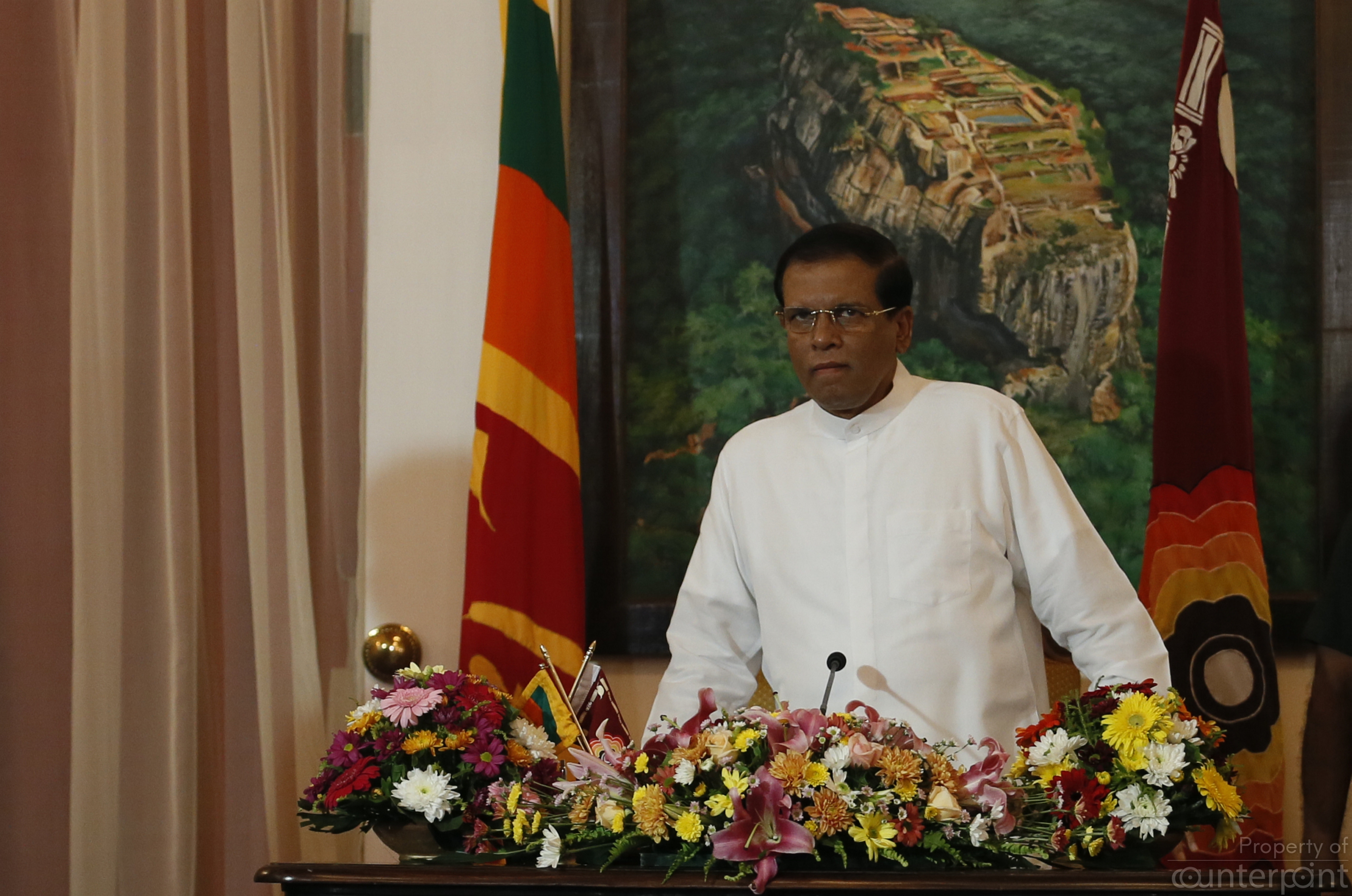 In 1978, Sirisena, who was then a Grama Niladhari, wanted to resign from the state service, owing to harassment at the hands of UNPers, whose party had swept the 1977 parliamentary polls and secured a five-sixths majority in Parliament. The then Polonnaruwa Government Agent Austin Fernando refused to accept Sirisena's resignation letter and advised him to reconsider his decision because the popular belief at that time was that the SLFP would never recover, let alone make a comeback. Sirisena resigned and took to full time politics and went on to become an SLFP MP in 1989 and the President 26 years later. Fernando is today Sirisena's Secretary!
Two Royalists and different ball games
President Sirisena once jokingly observed, at a public function, that he had played elle at Royal College, Polonnaruwa, and gone on to be the President, and Ranil Wickremesinghe, who had played cricket at Royal College, Colombo 07 had become the Prime Minister. Many a true word is said to be spoken in jest. Encapsulated in the aforesaid words is the impact of what has come to be known as the 1956 socio-cultural revolution, which propelled the SLFP to power, on national politics. It is said that the late PM Bandaranaike harnessed 'five great forces', to wit, Buddhist monks, physicians, teachers, farmers and waged workers, to steer his political project to a success. The zeitgeist in that socio-political milieu, naturally, shaped the thinking of many a youth including Sirisena, who joined the SLFP while he was in his early twenties. But for the massive politico-cultural wave the formation of the SLFP triggered, the son of a farmer beating the political elites in national politics would not have been within the realms of possibility.
Upstaging the Bandaranaike's and the Rajapaksa's in power politics is no mean achievement for any ordinary politician, especially a person who comes from a non-elitist background. How did Sirisena manage to overcome seemingly insurmountable obstacles in his path and, above all, outmanoeuvre both two-term Presidents from the SLFP, who were not so well-disposed towards him and others?
Was it a sheer fluke that Sirisena succeeded in securing the topmost post in the country?  Or, was his success due to his hard work? Or, is he what he is today because of a combination of both luck and hard work? There is reason to believe that he is what he is today because he worked like a beaver and had luck on his side.
Deceptively simple
President Sirisena apparently experiences pangs of nostalgia when he reminisces of his roots in the quiet backwater of the North Central Province (NCP) or Rajarata, where his family migrated to from Gampaha after his birth. He takes pride in the fact that he was born on Sept. 03, 1951, one day after the formation of the SLFP, under the same planetary combination as the party; he never misses an opportunity to describe himself as a peasant from Polonnaruwa. He, no doubt, is a very simple man as far as looks go. But, looks can be deceptive. He may not put on airs and graces as the President or rub his executive powers on others, unlike his predecessors, but by no stretch of the imagination can he be considered simple where his thinking, replete with political acumen, is concerned.
In the dry outback, where the ruins of the country's second capital, abandoned due to foreign invasions, circa the 13th Century, majestically stand, life was a struggle five decades ago. Good roads, well-equipped hospitals and schools were conspicuous by their absence at that time. The survival of those who dared migrate to that Malaria-infested, hostile, terrain, where danger would lurk in every corner and the inhabitants were at the mercy of weather gods and tanks for subsistence agriculture, basically hinged on one thing—grit.  Migration to newly set-up settlements in the post-Independence era in areas like Polonnaruwa as well as other parts of the NCP was certainly not for the lily-livered; only the toughest survived there. The meek either ran away or perished. The Sirisena family survived and achieved some progress.
Interestingly, Sirisena's father was a staunch UNP supporter because it was from Prime Minister D. S. Senanayake's government that he had got land in Polonnaruwa, where he migrated with his family. Sirisena has gone on record as saying that he became politically conscious as a 12-year-old, who took a liking to the Communist Party (Peking Wing) led by N. Shanmugadasan, much to the consternation of his father, who was so incensed that he once threatened to throw his obdurate son with Marxist leanings out of the house. What irked his father more than anything else was that young Sirisena used to refer to Shanmugadasan, who was 50 years his senior as 'sahodaraya' (brother/comrade). Sirisena would be disillusioned with Shanmugadasan's lifestyle before long. He cut his teeth on active party politics while he was still in the GCE A/L classes in 1970 as a member of the student wing of the Community Party and his political involvement would land him in remand prison for three months as a JVP suspect though he had nothing to do with that ultra-radical outfit or it first insurrection, in 1971.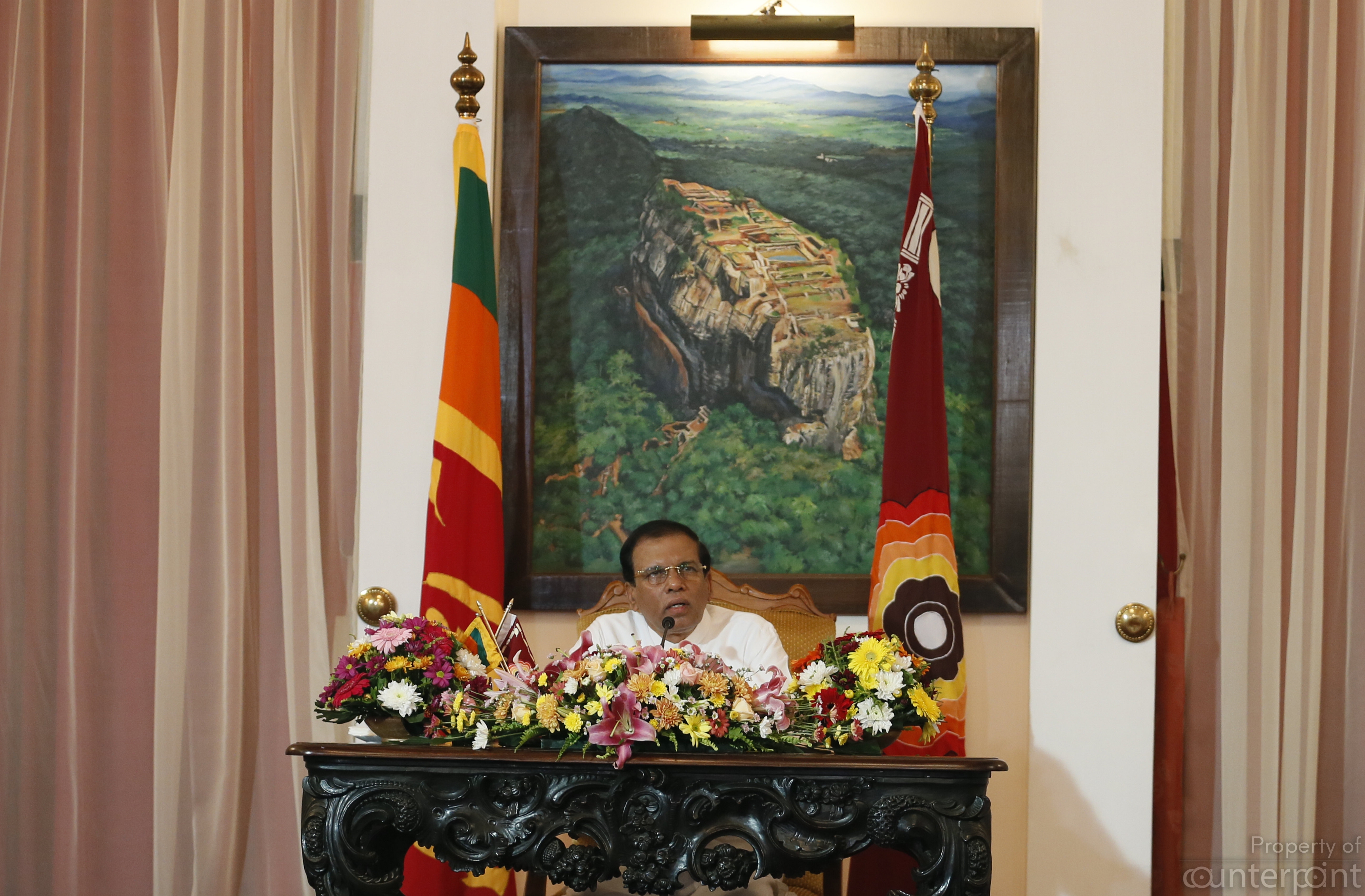 Sirisena's father would have been happy if he had been around in 2014 when his son joined forces with the UNP in that year to defeat the SLFP presidential candidate Rajapaksa and addressed a UNP convention at Sirikotha. Sirisena seems to be guided by the axiom that there are no permanent friends or permanent enemies in politics but permanent interests. In fact, he said so at a public rally a few weeks ago.
Outmanoeuvring rivals
Sirisena's biggest achievement is generally thought to be his surprise win at the last presidential election. True, winning the presidency is any politician's dream, but whoever would have thought he would be able to take over the reins of the SLFP, after engineering its defeat twice in 2015—at the presidential and parliamentary polls—to realise his presidential dream? But for his defection to become the UNP-led Opposition's common presidential candidate, the SLFP-led UPFA government would have remained rock solid with a two-third majority in Parliament. But, after securing the executive presidency he manipulated the party in such a way that the defeated President Rajapaksa had to hand over the party leadership to him.
President Sirisena could not command the allegiance of the party's rank and file unlike Rajapaksa and their resistance to his leadership led to a debilitating split which resulted in the birth of the Joint Opposition (JO). However, he is doing remarkably well for a lame duck President while Ranil Wickremesinghe, who never left the UNP and is short of only six seats to form a government on his own, is under pressure from party bigwigs to resign as the UNP leader and PM!
Sirisena had no such problem or, more accurately, he wilily pre-empted a possible move to oust him as the party leader after the SLFP's humiliating defeat at the last local government polls. Following its drubbing, many thought it would be curtains for President Sirisena as the party leader, whose alliance with the UNP had enabled the party dissidents to eat into his vote bank. But, he craftily distracted his rivals in the SLFP off-shoot, the Sri Lanka Podujana Peramuna (SLPP), by pretending to be willing to join them to get rid of PM Wickremesinghe.
What makes Sirisena stand out from the rest of the politicians is his ability to make himself out to be independent of the governments which he has been part of. He, together with all other SLFP MPs wholeheartedly voted for the 18th Amendment, which Rajapaksa introduced to do away with the constitutionally prescribed presidential term limit. He also voted for the impeachment of Chief Justice Dr. Shirani Bandaranayake. But, he acted in such a way that he could subsequently absolve himself of the responsibility for such blatantly undemocratic acts; he took the lead in abolishing the 18th Amendment and reinstating Dr. Bandaranayake!
President Sirisena also succeeded in laying the blame for the Treasury bond scams entirely at the doorstep of the UNP, though it should be apportioned to him and the SLFP. When the first bond scam became known in early 2015 and the COPE (Committee on Public Enterprises), headed by D. E. W. Gunasekera, probed it and prepared a comprehensive report, Sirisena dissolved Parliament thus foreclosing a parliamentary debate on the watchdog committee findings, which would perhaps have sealed the UNP's fate at the last general election. If he had not deprived the public of their right to know the findings and the conclusions of the first COPE report, the second bond scam would not have happened the following year. Sirisena craftily deflected criticism by appointing a presidential commission probe into the bond scams at the expense of the UNP. He has acted similarly as regards the controversial UNHRC resolution on Sri Lanka. He keeps declaring, in public, that he will not allow a war crimes probe against the Sri Lankan military, and the UNP has been left holding the Geneva baby.
Sirisena's adeptness at running with the hare and hunting with the hounds is monumental. He, in fact, has got it down to a fine art. But, the problem is that, at times, he does so to such an extent that he doesn't know whether he is running or hunting, as was evident from how he sought to handle the motion of no confidence against PM Wickremesinghe. The SLFP ministers who sought to oust the PM obviously had his blessings, but when the no-faith motion against the PM failed and the UNP demanded their resignations in retaliation, he did not defend them. Instead, he accepted their resignation letters in a bid to mend fences with the UNP.
Sirisena's 'crowbar moment'
President Sirisena seldom lets tempers fray or gets into fits of pique, but that does not mean he lets others hurt his pride and is prepared to take everything lying down. He is reported to have taken a swipe at former President Kumaratunga, who sought to remind him recently that he should be grateful to the UNP for enabling him to secure the presidency. He reportedly asked her whether the UNP would ever have fielded him as the presidential candidate in 2015 if any of its grandees had been confident of winning.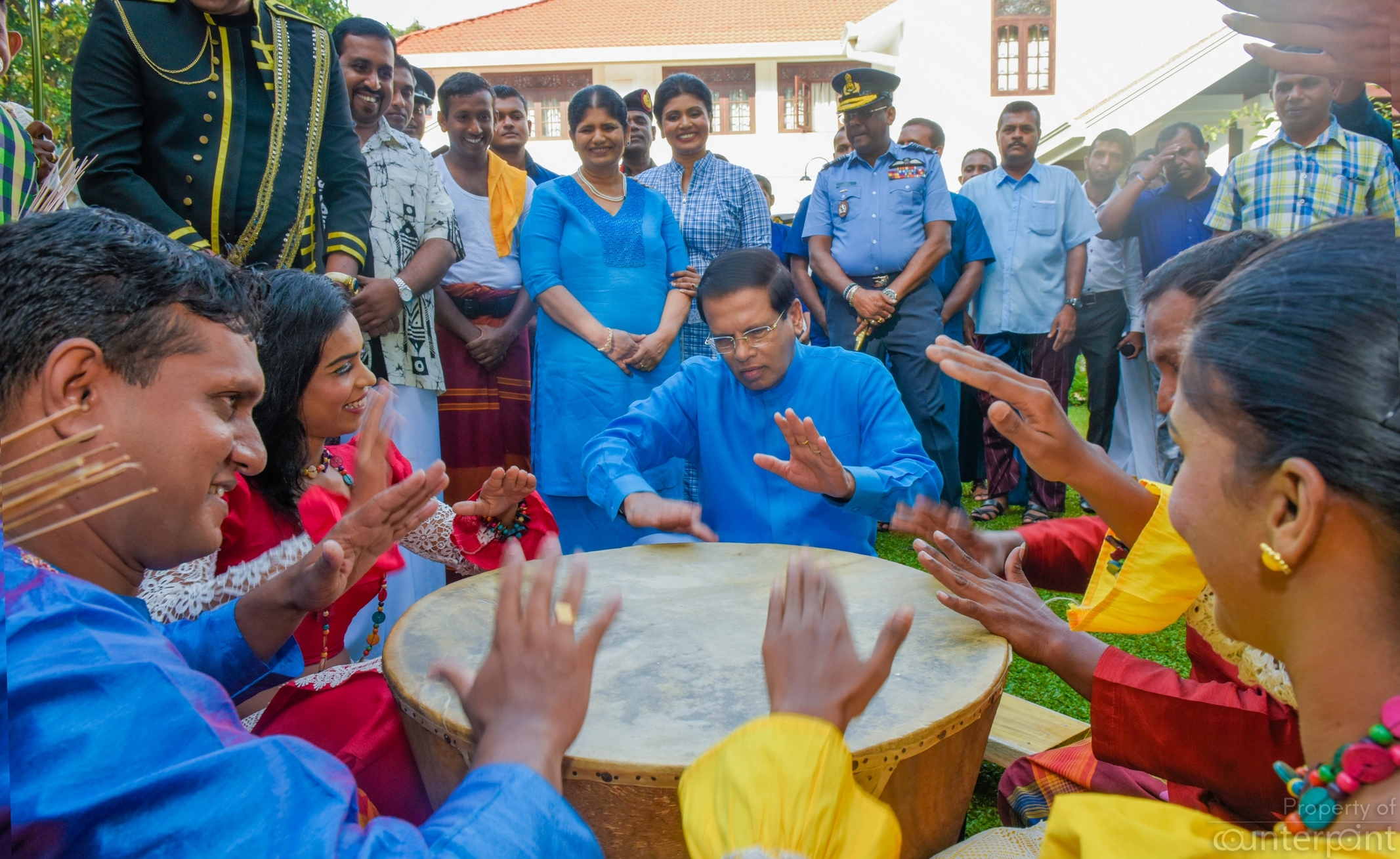 It was not out of any love for Sirisena that the UNP, at the behest of Kumaratunga and some civil society activists including the Ven. Maduluwawe Sobitha Thera, consented to field him as the common presidential candidate. Having realised that there was no way they could stop the Rajapaksa juggernaut bearing on them, Wickremesinghe and his coteries were desperate to find someone who could face Mahinda. The UNP did to Sirisena what some villagers do in a bid to protect themselves against lightning. They throw their crowbars out during thunderstorms so that lightning would strike those implements and not their houses.
It is doubtful whether anyone else would have had the same intestinal fortitude as Sirisena to challenge President Rajapaksa. Former war-winning army commander Gen. Sarath Fonseka had to spend a couple of years behind bars and face many indignities for challenging Rajapaksa in the 2010 presidential race. A similar fate would have befallen Sirisena if he had lost on Jan. 08, 2015.
Moment of truth for Sirisena
No politician can be read like a book, and understanding how President Sirisena's mind works is even more difficult. Getting inside Sirisena's elusive mind is akin to straying into a labyrinth; one who opts for that experiment soon loses his bearings. Sirisena is given to lateral thinking. A prominent sports journalist once asked Sanath Jayasuriya, who was in full form, how he had managed to score a ton on a foreign wicket, which didn't seem to favour batsmen. The Master Blaster told the scribe, off the record, that he did not care how wickets behaved and he hit the ball as it came. Sirisena seems to be doing something similar in politics, which is also a ball game of sorts, full of glorious uncertainties and pitfalls. He has been lucky.
Sirisena's style of politicking bears similarities to that of the Spin Wizard, Murali, who became famous for his unpredictability and Doosra, which confuses and disorients the batsman. The now famous 'hopper supper' Sirisena had with President Rajapaksa on the eve of his defection, in late 2014, to run for President was a classic example of a political Doosra.
Sirisena acted the way the Smiling Assassin bowled before the last presidential election. His strategy had the same devastating effect as Murali's deliveries which had the right drift, spin and trajectory and left his opponents bewildered, so much so that President Rajapaksa did not know what really hit him. He had to call it quits even before the final result of the presidential election was announced; it was all over, bar the shouting in the wee hours of 09 Jan. 2015.
But, the same cannot be said of how Sirisena has fared after securing the presidency. He has tackled some crucial issues the way Murali used to bat. Murali would swing his willow-wood blade erratically, leaving the rest to his luck. President Sirisena did something similar before leaving for London the other day to attend the CHOGM (Commonweal Heads of Government Meeting); he prorogued Parliament as he had no other way of preventing 16 MPs of his faction of the SLFP crossing over to the Opposition, reducing what remains of his bargaining power in the UNP-led yahapalana coalition.
President Sirisena is evidently feeling the strain, but it's naïve to think he has lost the plot. He has not given up the battle. Speculation is rife in political circles that he is in touch with former Defence Secretary Gotabhaya Rajapaksa, whom a section of the JO/SLPP is grooming as the next presidential candidate. The truth or otherwise of this claim cannot be confirmed, but the fact remains that President Sirisena's political survival hinges on his ability to divide the JO/SLPP, if not the Rajapaksa family. Not everyone in the JO/SLPP is favourably disposed towards fielding Gotabhaya as the presidential candidate, and Sirisena knows it could be the thin edge of the wedge for his rivals. He won't hesitate to go to any extent to cause a rift in the Rajapaksa camp.  Wickremesinghe is papering over the cracks in the UNP, where the frustration of the ginger group is palpable. A split in the JO/SLPP will be a godsend for Sirisena. It will be interesting to see how he handles the current situation.
What matters in a race is not the start but the finish. The same is true of politics. A political leader is usually remembered for what he or she was at the time of retirement. What does the future hold for President Sirisena, who has so far been lucky?
Sirisena, a gifted vocalist, while he was President Rajapaksa's Heath Minister, said that he was yearning to leave politics and sing virindu in his retirement, singing being his favourite pastime. Has the time come for him to look for a good rabana with only about one and a half years of his term remaining? The answer to this question will be known when the next Provincial Council polls are held. Sirisena's rivals brag that Sirisena is in for a political checkmate. Has the man who outfoxed foxes finally got into a hole? The current politico-economic situation is far from favourable to President Sirisena with his support base fast shrinking and his enemies emerging stronger, but it will be a grave mistake to underestimate him. He is still capable of doing a Houdini when push comes to shove.