More Hospitals to Deal With Increasing COVID-19 Patients
As It Happens
May 27, 2020
Two more hospitals, the Old Hambantota Hospital and the Teldeniya Hospital, have been added to the list of COVID-19 Treatment Centres, with the dramatic increase in the number of patients infected by the virus in the last several days.
According to the Epidemiology Unit, at 11.55 p.m. on May 27th a 150 patients had been identified, of whom 53 were from the Navy while 97 were returning migrant workers.   All of those who tested positive were from quarantine centres.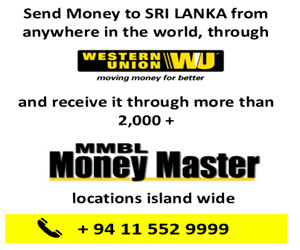 This is the highest number to test positive for the virus, since the first Sri Lankan to be infected by COVID-19 was identified in early March. The total number of patients now stands at 1469.    It was on May 19 that the number of infected patients reached a 1000.  Earlier in the week, a 51 year old woman returnee from Kuwait who had been infected by the virus passed away, bringing the total number of deaths to 10.
Seven hundred and thirty two patients have recovered and have been discharged from hospital while a total of 57,327 PCR tests have been conducted so far, according to statistics of the Health Promotion Bureau.
Meanwhile, the country is now battling with the large number of migrant workers, mostly in the Middle East who have been requesting that they be brought back to Sri Lanka.   Many of them have been left without work, following the COVID-19 outbreak in the Gulf countries.
Affected particularly are several thousands who have been working in Kuwait.  According to Foreign Ministry officials, a large number of these workers have been designated as illegals by the Kuwaiti government as they either do not have proper work visa's or have left their employers to work on a freelance basis.  When Kuwait went into a lockdown following the outbreak of the Corona virus there, these workers were unable to continue working.  The Kuwaiti government wanted the workers to return to their home countries and has permitted them to remain in Kuwait only until May 31.   Repatriation of these workers has taken time, as Sri Lankan officials claimed that there weren't enough quarantine centres to accommodate them all.  Therefore, return of these workers  to Sri Lanka only began last week.
With a large number of them testing positive, one former Minister Mahindananda Aluthgamage  participating in a discussion on a private TV channel accused the Kuwaiti government of selectively repatriating Sri Lankan's infected by the virus.  "They have struck us with a Bomb, he said, resulting in many Sri Lankans taking to social media to condemn him.  It also resulted in a sharp rebuke from former leader of the Opposition and Leader of the Samagi Jana Balawegaaya, Sajith Premadasa who told the media that the very people, who during the Presidential election hailed these workers as 'overseas heroes'  are displaying their gratitude by terming them as 'bombs."