MR's Disparaging Comment on Childless Couples Causes Uproar
As It Happens
Jul 24, 2020
Men and women gathered outside Prime Minister Mahinda Rajapaksa's office this morning (July 24) to protest against his remarks ridiculing childless couples.
Mr. Rajapaksa was seen on a video clip that went viral, telling those gathered at a campaign meeting, that the midwife would never visit the home of Sajith Premadasa, leader of the Samagi Jana Balavegaya, alluding that the services of a midwife would not be required at Mr. Premadasa's home.   To remarks on the subject by those at the meeting, the Prime Minister was seen laughingly shushing the crowd.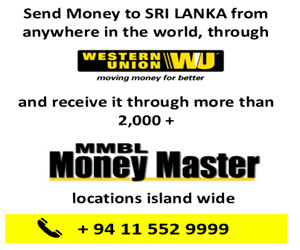 Reaction to his comments was swift, with an online petition demanding that Mr. Rajapaksa make a formal apology to Jalani Premadasa, Mr. Premadasa's wife. "The Prime Minister of Sri Lanka, Mahinda Rajapaksa hurled a vicious, crude and hurtful  insult at Jalani Premadasa & Sajith Premadasa (former Presidential Candidate at 2019 Presidential Election & former Opposition Leader) during a public meeting, for not being able to bear children,' read the petition which called on the Prime Minister not to make women's reproductive rights political tools.  At the time of writing, the petition which was launched on July 23 had garnered almost 4000 signatures.
Following the protest outside the Prime Minister's office, members of the Samagi Jana Balavegaya handed a letter addressed to Mr. Rajapaksa, which was accepted by a member of his staff.
"Reproductive freedom is one of the most personal aspects of our lives. The emphasis should be on the right to privacy and choice,' read that letter.
Referring to Mr. Rajapaksa's remarks, the letter added that 'This is an insult levelled against all women and men who cannot bear children.'
Signed by "Women & Men of Lank Without Children", the letter also said 'While on one hand this is a classic example to demonstrate how women's reproductive rights and choices are being ridiculed by male chauvinism, on the other, this is gutter tactics of a head of state that should be frowned upon by all.'