Philippines' Duterte is also trying a Rajapaksa stunt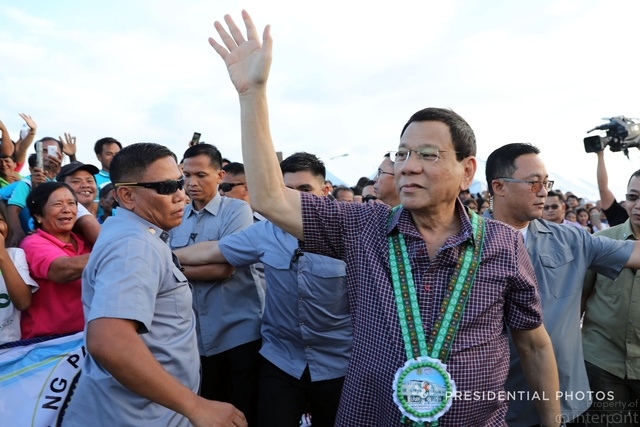 Philippines President Rodrigo Duterte attending an event in St. Ana, Cagayan, Malacanang. Photo courtesy Rappler.
"Please do not allow me to report to President Duterte that you guys are not doing anything about this killing," Under Secretary Jose Joel Egco, a journalist turned public servant who went to investigate a murder of a journalist in Mindanao threatened a senior local police officer a few months ago. The officer, well aware of the repercussions of such a complaint, arrested the suspect within hours and produced him before courts.
"That is how we have to operate if we are to get these killings resolved," Egco, the Executive Director of the Presidential Task Force on Media Safety says. Duterte, who had earlier publicly claimed that 'corrupt journalists' should be shot, signed his first ever Presidential Proclamation to establish this particular Task Force to resolve pending cases against killings of journalists.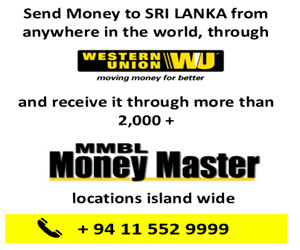 There are mixed feelings about this specific agency among media and civil society activists but many would see this as an admirable initiative by this controversial strong-man, at least to get his international image into better shape. That will not be an easy task.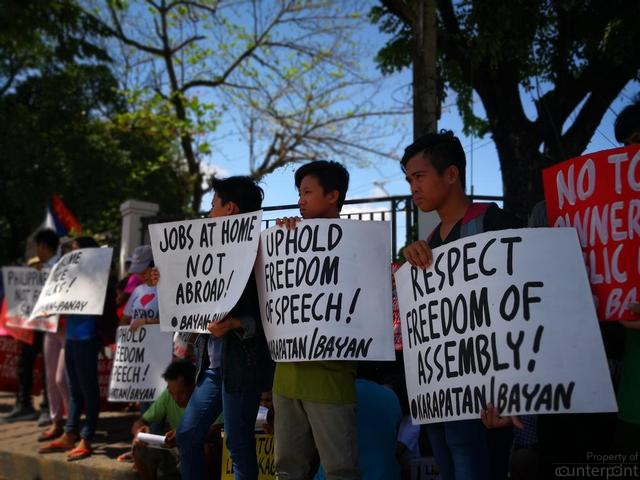 He has many similarities to President Rajapaksa. But unlike the latter, Duterte will say it direct while the former would use others to voice his opinions. Sometimes Duterte could be compared with President Trump as well mainly due to entertaining claims by both. Duterte enjoys antagonizing the west and recently said in a public meeting 'EUFU' while criticizing EU's condemnation of his human rights record. But within a week EU said in a statement that it is dropping its human rights mandate in the Philippines as 'other broader areas are covering the issue.'
The public approval rating of Duterte remains extremely high – more than 80 percent. His nationalistic sentiments are selling well among the rural masses, said an academic at the National University of the Philippines. "He plays to the gallery and it keeps him on top of all approval rankings," she added.
The international criticism is against his alleged 'war on drugs' where almost 10,000 people have allegedly been killed during the past two years. But no one is capable of confirming these figures, in fact the figure could be more than that, said a journalist in Manila. Extra Judicial killings have now become a brand by itself called 'EJKs'. The fact of the matter is that those who are getting killed are from the poor sector of society and not the kingpins, said a civil society activist. The bosses of the big drugs mafia continue to enjoy their luxurious life styles having a high level of immunity and impunity.
Duterte hates the term 'Human Rights.' He this week got the Philippines to withdraw from International Criminal Court saying it is biased and has no dignity. The ongoing battle between UN high commissioner for human rights, Zeid Ra'ad Al Hussein and Duterte is drawing wide international attention. The Filipino strong man added the name of Al Hussein to the list of designated terrorists among 600 others where the High Commissioner publicly claimed that the president needs psychiatric examination. Then Duterte told his police to ignore the claims of the UN human rights delegation and put them to feed crocodiles.
But UN High Commissioner is not so diplomatic and his comments are totally uncalled for, claimed foreign policy analyst in Manila. "Duterte could be mad, but how come a top UN diplomat is also behaving like a mad man with such rudimentary comments," he questioned.
Nevertheless, Duterte remains a skilled strategist. The country has been advocating for a new constitution in a bid to resolve its conflicts in Mindanao and elsewhere, but many successive regimes failed to deliver. The new constitution is to introduce federalism in a bid to devolve power to the regions. Duterte is determined to complete this task making use of his popularity. But now his opponents do not want him to succeed in this effort fearing he would change it according to his own terms, mainly to do away with term limit on the presidency. He is well aware of the fact that his popularity may decrease soon and, thus, determined to bring the new constitution within the next few months – without a public consultative process.
Unlike many Asian leaders he is backed by a massive propaganda machinery. He has recruited hundreds of bloggers and social media activists – mainly those who helped him to campaign during the presidential race – to continue working for him with a lucrative pay. These 'behind the scene' campaigners boost his image and attack his opponents on 24/7 basis.
Another parallel to Rajapakse is his approach towards the judiciary. Now he is attempting to oust the sitting Chief Justice Maria Sereno and replace her with one of his own choices while influencing other judges to resign or retire soon. Nevertheless, some of the recent crucial judgments of the supreme court had been pro-Duterte, claimed a journalist.
Unlike Rajapaksa, Duterte does not physically attack media or journalists but uses legitimate tools either to shut them down or to buy over through his favorites. The killings at the regional level are predominantly by the same old perpetrators, regional politicians, war lords and commercial mafia but Duterte has different tools in silencing dissenting media voices. He is utilizing Securities Exchange Commission regulations, cyber laws, tax laws, pressuring advertisers and various other measures to silence the internationally acclaimed investigative news portal Rappler, which is now on the verge of closing down. Duterte has already publicly announced his plans to cancel the international franchise of leading television channel ABS-CBN and is making arrangement for one of his business mate to buy over the country's biggest newspaper group Philippine Inquirer. These media outlets have been the dissenting voices against his war against drugs and EJKs.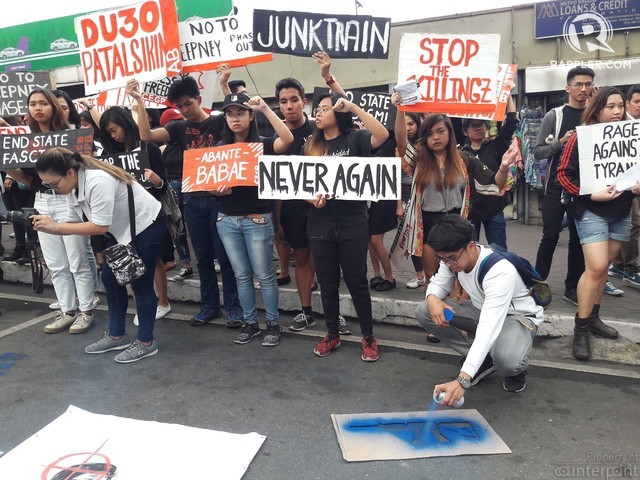 However, he is all out to bring peace and stability to his own conflict-ridden land of Mindanao. Once the Mayor of this southern Filipino island city of Davavo, he aspires to become the iconic leader who brought a lasting peace to one of the longest conflicts in the region. He has declared martial law in the region when ISIS linked militants captured the city of Marawi in Zambonga, in southern Mindanao, but this will not hinder his peace efforts with Moro Islamic Liberation Front (MILF), peace activists would claim. Nevertheless, as a bargaining tool, he has stopped Norwegian brokered peace talks with the Communist Guerillas and asked army to shoot at genitals if they see women soldiers of the communists.
The international community is at a loss as to how to tackle him. The loose cannon will continue to rule the archipelago for another four years (until 2022) and China has already embraced him. The honeymoon will continue undermining the efforts by the West to tame him through sanctions or embargos. He simply doesn't care.