Elephants move alone and in herds in search of quality fodder. They cannot be forced to use man-made paths for that. (photo credit- Sri Lanka Wildlife Conservation Society)
Unless elephant movements are studied for at least a year, and solutions implemented according to their lifestyle, the attempts to prevent trains killing them will be a bigger calamity warns Dr. Sumith Pilapitiya, former Director General, Department of Wildlife and former Environment Specialist at the World Bank.
It is vital to determine if the elephants have a specific crossing point, or if they are crossing at random points he states, or else it will be a waste of colossal amounts of money and destruction of the environment.  "If an underpass or overpass is built, it must be in the elephant corridor, so they will use it.  You cannot tell an elephant to walk to the left or turn right; they will use the paths that are familiar to them."   When the Mahaweli areas were developed, elephant corridors were opened, "but we forgot to tell that to the elephant."   Many starved to death, because we decided where they should be."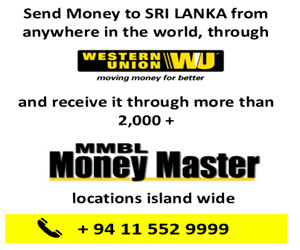 Ravi Corea, President of the Sri Lanka Wildlife Conservation Society insists that the only way this tragedy can be prevented is by applying the Railway Traffic Code and ensuring Railway employees abide by them.  It's a simple solution, he says.  "There is a code already and integrating it to control the speed of trains in areas frequented by elephants is fast, effective and less costly.  Railway lines are divided into sections called blocks where only one train at a time is allowed to be. Traffic light signals (either semaphore or color light signals) control trains, with signals showing cautionary yellow and customary stop and go, red and green lights. Trackside signals (either semaphore or color light signals) control the entry and exit from each block including the speed of the trains, warning trains when the line ahead might be occupied, and if they must reduce speed or stop.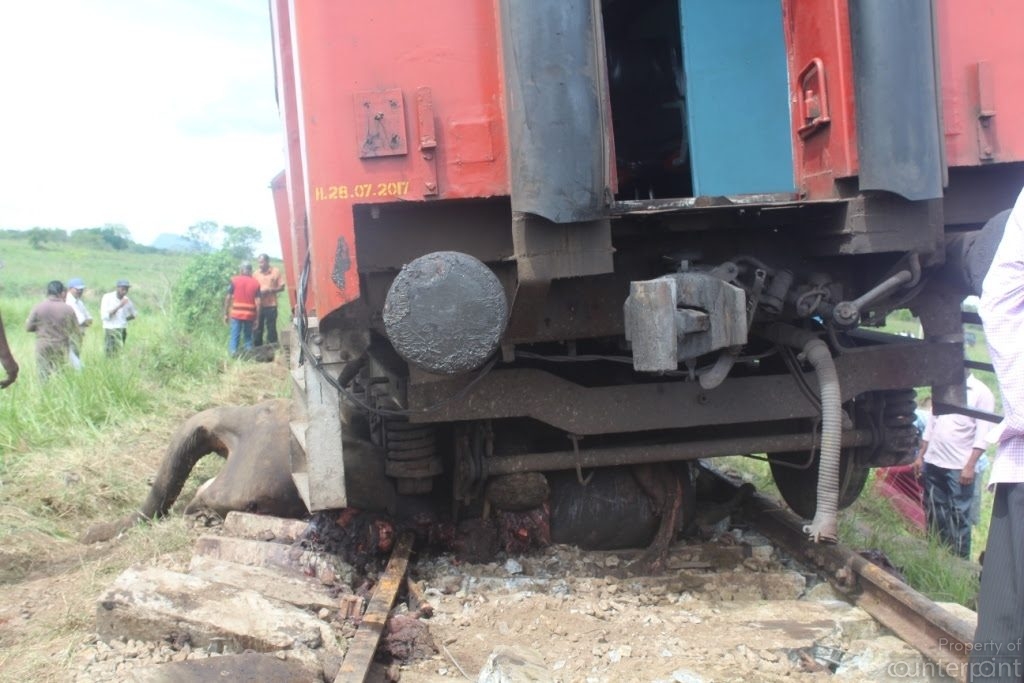 It is imperative, Mr. Corea states that engine drivers are trained to be disciplined and follow the code.  If an elephant is struck down by a train, and this code is in place, it would mean that the drive violated the code, he points out.  "Unlike other vehicles, trains cannot come to an abrupt stop.  If it is travelling at 30 kph, it would travel another kilometre or two before it comes to a full stop.  So the speed at which trains travel through these areas must be controlled,' he stresses.  There are many suggestions, from electronic fencing along the track, to thermal cameras that detect elephant movement, early warning systems and over and under passes, he says.  But the most effective would be is to develop a Multi-Aspect signalling method, which would warn engine drivers well in time.  Colour coding of signals, he says, will help identify the severity of the danger, and indicate if the train should slow down or come to a stop.


Twelve elephants were killed this year when they were struck by trains plying the North and North East lines of the country.  Nine of those, including a pregnant one, were killed between September and October this year.
This year's train deaths make up more than 4% per cent of the total annual number of elephant deaths, which stood at 270 last year.  While this is not the first time trains have been involved in the deaths of elephants, what set off alarm bells was the quick succession of deaths during September and October this year.  The then Minister of Transport, Nimal Siripala de Silva lost no time in appointing a committee to study the matter and make recommendations to mitigate the problem.
Following a week long study of elephant movement patterns, the committee comprising of Railway and Wildlife Conservation Departments have recommended installing censors along the rail tracks where these pachyderms roam, as a warning signal for engine drivers.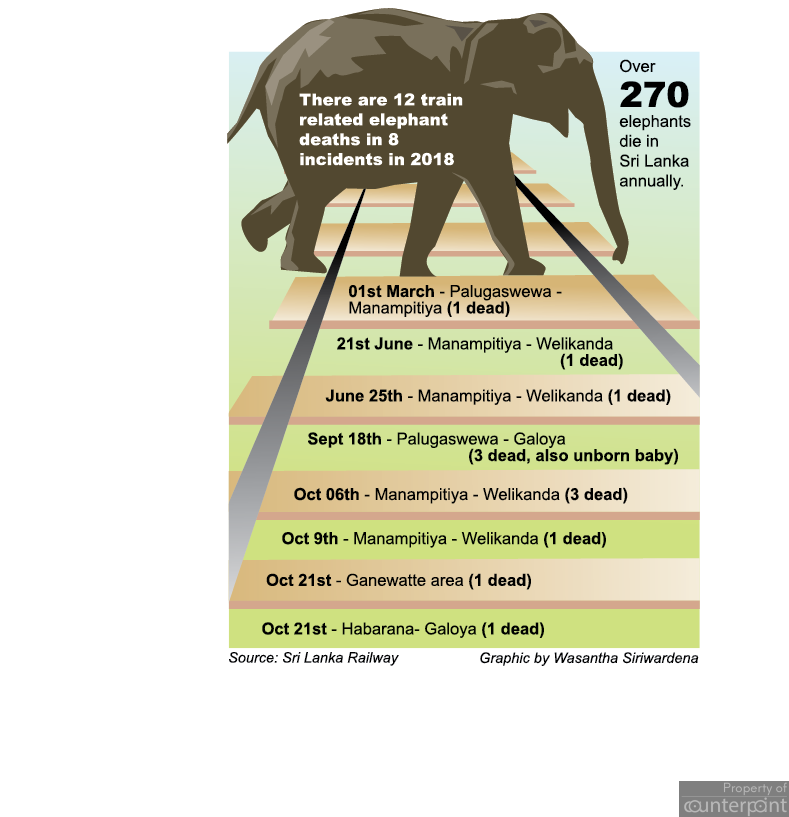 "The Railways Department and Wildlife Conservation collectively did a detailed survey into the elephant issue. We were able to identify several issues and proposed solutions. This report was handed over to the Minister of Transport, said Director General, Department of Wildlife Conservation, M.G.C. Sooriyabandara.   "The report has detailed location specific solutions. We are to use sensors to alert train drivers of possible elephant crossings on the railway track. There are other solutions too. We are hoping to implement all projects by the end of this year, he further said.
Setting up the censors will 'help to detect where and when the elephants are crossing a line, and avoid accidents', added the General Manager of Railways, Dilantha Fernando.
The committee studied the areas   from, Batticaloa, Anuradhapura, Thalaimannar and Kankasanthurai  and Maho Junction to Trincomalee.  All of the accidents took place along the rail tracks in the Palugaswewa, Welikande, Manampitiya, Galoya and Habarana areas.
Says Dr. Pilapitiya, elephants go in search of quality fodder. According to his observations this year, elephants began moving between Minneriya and Kaudulla in June, when in other years this migration would begin around August.  The monsoon, new grass which has the proteins they need as opposed to mature grass which is more fibrous; these are all factors involved in their movements, he says, explaining the need to study them carefully before embarking on expensive projects that will not resolve the issue. It is also possible, he says, that though elephants can climb up to the track, the mettle piled alongside may make it difficult to climb down resulting in the animals seeking safer places along the line to leave the track.
There is an excellent national policy on elephant conservation which must be implemented fully, instead of bits and pieces, to suit the whims and fancies of politicians and public officers, he added. The human-elephant conflict can only be managed, and it must be managed well by implementing the policy.
As a short term measure, the use of censors could be a good idea.  Especially so since the   number of elephants killed in accidents with trains has increased slightly this year, informed sources say.  However, does warning the engine driver alone help solve the issue?  Srilal Mithhapala, writing to The Island newspaper, on October 26 this year is skeptical.   He points out that warning the engine drivers alone will not bring about the expected results.  "Having the engine drivers slow down when approaching these areas is not a realistic option. It just does not happen. (This solution has been tried for several years, with sign boards warning drivers to slow down. But due to indiscipline and negligence, and the usual Sri Lankan style of lack of application and follow up and inability to implement a decision, it has been an utter failure)."
Mitthapala argues that the short-term solution is installing a censor system triggered by the approaching train that would warn the elephants.  However, as these are intelligent animals, experts tell him, he says, that with time they would get used to the signal and remain in place.
Twelve deaths in the short span of a month is tragic.  The authorities must heed the advice of the Sri Lanka Wildlife Conservation Society and introduce the multi-aspect signal system which can be done quickly and ensure the Railway Code is enforced strictly and drivers are disciplined.  Meanwhile, a long –term study of elephant movement should be undertaken so more safety measures could be put in place.