Sri Lankan 'ground staff' the best in the world?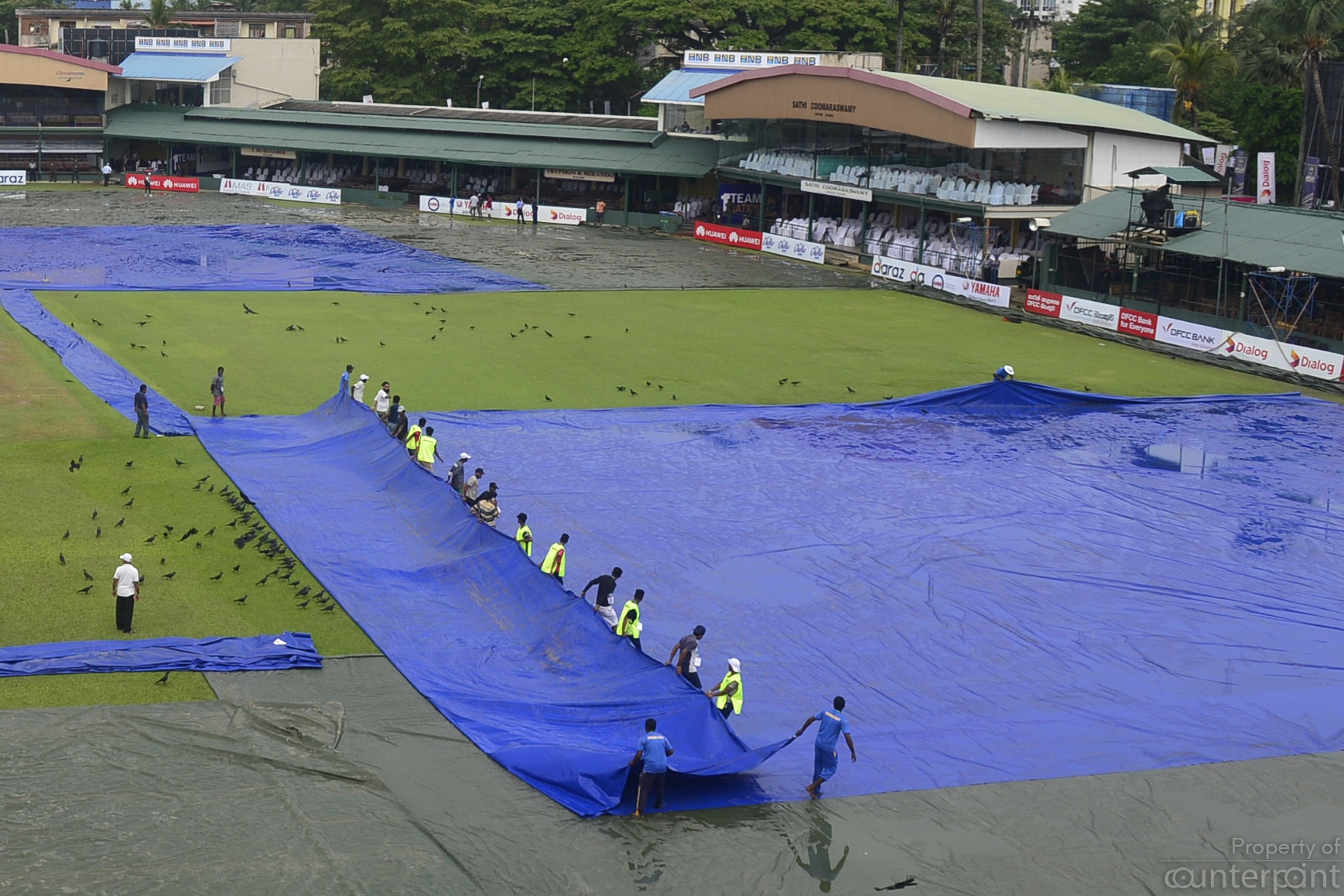 With a little bit of help from the crows!
Who else can cover the Galle ground in less than two minutes?
Watching cricket in India is such a unique experience. Whether it is Test matches, ODIs or T-20s, the passion of Indian fans is unequivocal. As Aravinda de Silva once said, when the team bus drove into Eden Gardens ahead of his memorable night in the World Cup semi-final, he found the stadium packed to the rafters three hours before the game. Now, Eden Gardens can host 110,000 fans. Aravinda says he saw, '110,000 inside and 100,000 outside the grounds unable to get in.' Not just at Eden Gardens in  Calcutta, at all cricket centres in India whether it is Wankhede in Bombay, Kotla in Delhi, Chinnaswamy Stadium in Bangalore it is the same story. The Sri Lankan teams got their best reception at Chidambaram Stadium in Chennai.
Unfortunately, these days, Sri Lankans are considered personae non gratae in Chennai, thanks to the late Chief Minister Jayalalitha's excesses. Sri Lanka haven't played a cricket match there for 15 years. If only she had separated politics from sports.
On Sunday, all were looking forward for the opening T-20 International in Guwahati, the eastern Indian city on the Chinese border. The stadium was full but the game was abandoned without a ball being bowled due to a wet outfield. The ground staff tried their best to get play underway. Out of their desperation, they even used hair dryers to repair the damp areas but eventually found out that too much damage had been done by the heavy rain earlier on. Unfortunately, their praiseworthy efforts were in vain.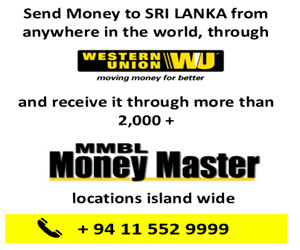 The Board of Control for Cricket in India, known for its financial might, needs to take a leaf out of Sri Lanka Cricket's book. (No shame in doing so!) Not too often do we have complementary things to say about SLC. However, when it comes to fighting inclement weather at cricket grounds, no board is fit to hold a candle to SLC, which has an excellent force of 'ground staff'. Hats off to SLC and its brilliant foot soldiers!
What SLC has done is to appoint venue managers at each international cricket ground and given them the authority, power and funds to ensure that cricket grounds are at best of conditions and that effects of bad weather are minimal. The ground staff put their heart and soul into their job. The decentralization of authority and funds has worked wonders.
Not many can challenge the weather gods but to their credit, these venue managers have done their best to minimise the damage done by torrential rains. Match referees and umpires are often surprised how quickly they are able to restart a game after a downpour.
These venue managers believe firmly in one thing. That is prevention is better than cure. One of the things that they do is to cover the entire ground after close of each day's play. They remain so until umpires arrive the next morning and inspect the venue.
A bit of local knowledge helps, too. We have had local Venue Managers who have refused to open up the covers when the umpires want it. This could lead to trouble. If the Venue Manager thinks rain is on the way, he requests the umpires to wait for another ten minutes and then make a call. True to form, it comes down pelting shortly and the match officials have nothing but praise for these wonderful individuals capable of reading the weather gods' minds. We have had venue managers who predict rain by looking at the way clouds move, winds blow and strangely even the way crows crow!
Usually, when you visit cricket grounds the day before a game, you witness something unusual. The 'ground staff' actually practise how they are going to cover the entire ground. The workers are divided into groups of twelve each and they are given portions of the ground to cover. Impressed by the speed of the 'ground staff', Sky TV in Britain actually counted how long it took these men to cover the entire ground. They actually put Usain Bolt to shame covering, as they did, the vast Galle International Stadium in less than two minutes!
SLC has been actually smart in taking care of its grounds. At one point they were looking at both cheap labour and quick feet to do the job. So, they actually got in touch with prison authorities to find the possibilities of using inmates as 'ground boys'. This was a grand success. For Colombo games inmates from Welikada were brought. For the ones in Kandy, those at Bogambara were used while for Galle, the Boosa camp is just a stone's throw away.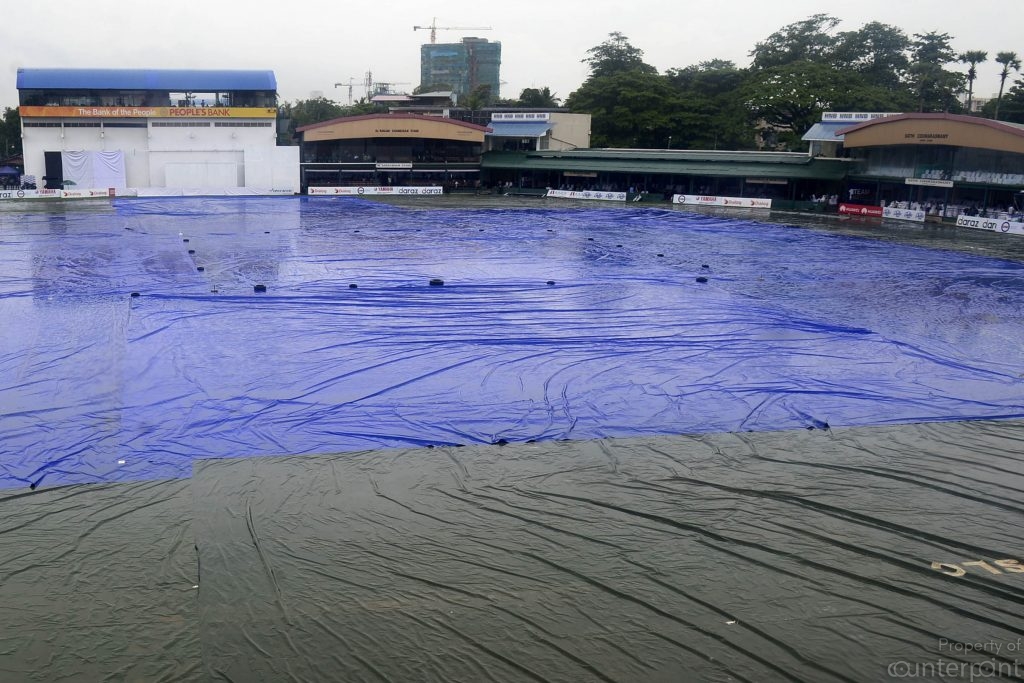 This proved to be a masterstroke. The enthusiasm among the inmates to attend cricket matches as 'ground staff' knew no bounds and the story is that the prison authorities had to prepare a waiting list. As a result, the behaviour among prisoners improved remarkably. The generous sponsors of cricket saw a fine marketing opportunity so they gave away hundreds of T-shirts to these 'ground staff' to be captured by television. This along with a sumptuous lunch was a godsend for the inmates.
Those who have committed petty crimes but were destined to harsher punishments soon find out that redemption for them is not long away. They told the story of Brian Lara, Steve Waugh or Jonty Rhodes being just a few steps away from them to their fellow inmates and soon others wanted to join them, too. There is a famous story of an inmate from the Boosa camp who fainted after Steve Waugh gave him a pat on the back after a hard day's work for the 'ground staff' where there had been too many stop starts due to rain and bad light.
During the ICC Cricket World Cup in the United Kingdom with many games being affected by inclement weather it was great to see the British Press lauding Sri Lankan 'ground staff'. Little do they know how much these inmates enjoy doing their 'job'!