SPECIAL REPORT:
Sri Lanka's War On Drugs – III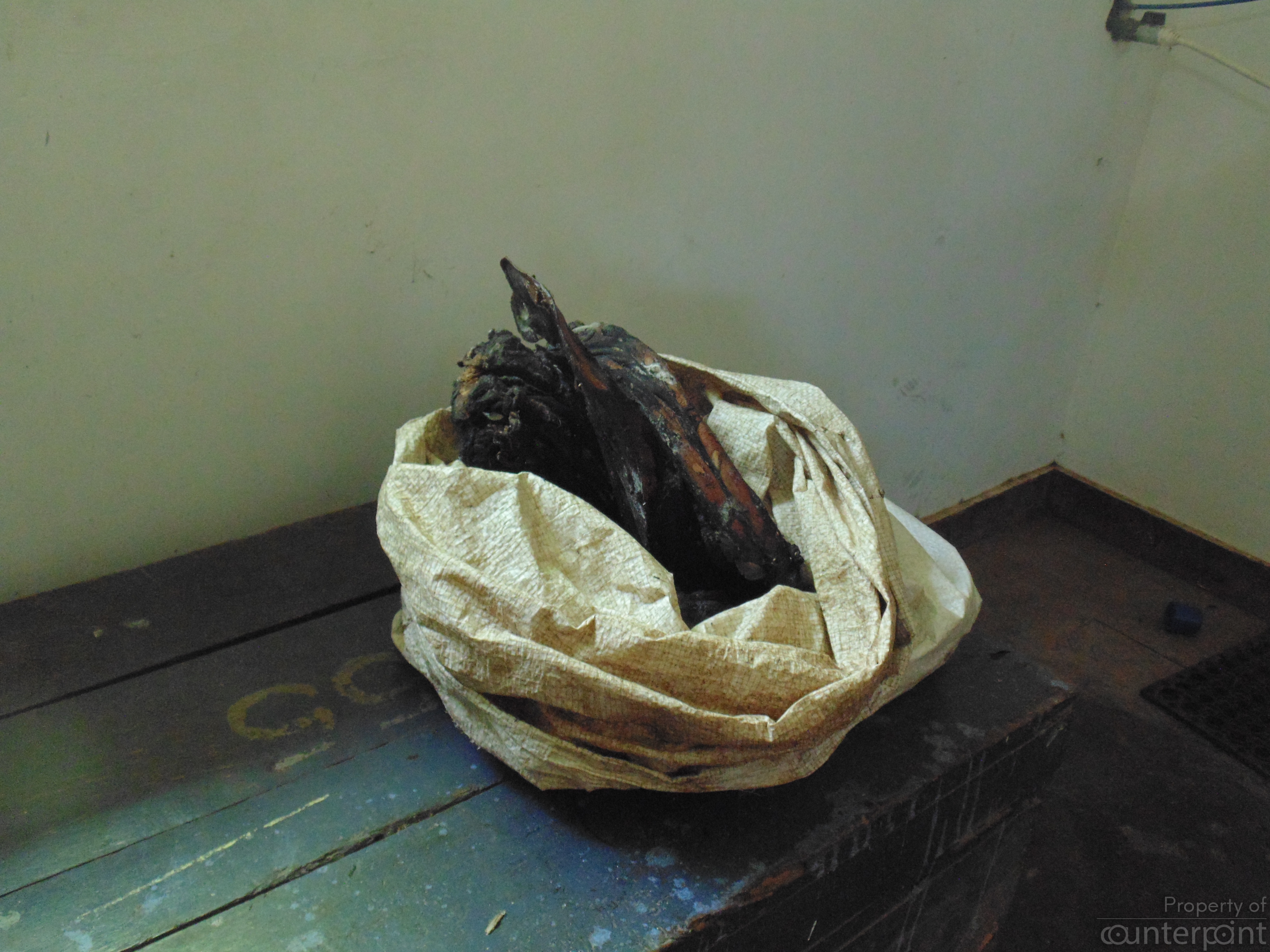 In April this year a large haul of drugs that had been seized was destroyed.
Politics and drug trade are inseparable, and dependent on each other like the hermit crab and the sea anemone. This symbiotic relationship has made it extremely difficult to remove the scourge of narcotics, especially in the developing world, where lawgivers are a law unto themselves. Sri Lanka's experience is a case in point.
In Oct. 2005, the then Chandrika Kumaratunga government drew a lot of flak when it appointed a notorious drug dealer, known as Kudu Lal, a Justice of the Peace (JP) so much so that subsequently it had to strip him of that post, which he had secured through a powerful ruling party figure, Mervyn Silva, who was a deputy minister at that time.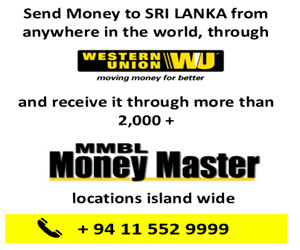 When confronted by the media, Silva sought to justify Kudu Lal's appointment. He demanded to know why he could not do so because the UNP had issued him (Lal) with a licence to carry a firearm. Ludicrous as his argument may be, it shows that drug barons benefit from all governments thanks to the massive slush funds at their disposal.
A few years later, Kudu Lal had to flee the country because it had become too embarrassing for the political leaders to defend him; he was the main supplier of heroin in Colombo. He was, however, not hunted down; he was allowed to leave the country and given protection until he departed.
It was reported recently that Kudu Lal had been in touch with Makandure Madush, who ran his drug business here from Dubai for ten years before being arrested and deported. Madush is currently being detained following his arrest and deportation from Dubai. Kudu Lal is still at large.
Drug money and elections
Drug lords' wealth also helps them win over the public through social work and masquerade as philanthropists. Kudu Lal contested local government elections in 2006, as an independent candidate and was elected to the Colombo Municipal Council (CMC). It was no mean achievement for a political greenhorn in the Colombo city, which is a UNP bastion, where even candidates from established parties such as the SLFP struggle to get returned. Backed by a notorious killer, known as 'Prince Colum' he dominated the CMC.
Kudu Lal lavished funds on the slum and shanty dwellers within the Colombo municipal limits in return for votes. What the situation would be if all wealthy drug dealers contested elections is anybody's guess. One may recall that Madush used to shower funds on religious places and the needy, in his native area in the Southern Province. Such spending sprees help anyone secure votes in the poor quarters of electorates. Candidates fielded by the mainstream parties, save the JVP, also throw quite a lot of funds around during election campaigns and even distribute truckloads of liquor. The media reported, during the 2010 parliamentary election campaign that a candidate, in the Galle District, was giving away mobile phones.
The National Elections Commission revealed following the last local government elections in February 2018 that a candidate had spent as much as Rs. 40 million on the ward he had contested in. This pales into insignificance in comparison to the amounts of black money drug kingpins are capable of spending. What if they field their proxies at elections and bankroll their campaigns? They will be in a position to secure a substantial number of their men and women in the elected bodies in the country including Parliament, where according to State Minister Ranjan Ramanayake, some ministers are addicted to cocaine.
A Prime Minister in the soup
One may recall that in 2013, it was revealed that the then Prime Minister D. M. Jayaratne's office had issued a letter to the Sri Lanka Customs, requesting priority clearance for a container, which was subsequently found to have a haul of heroin weighing as much as 131 kilos was detected.
PM Jayaratne came under pressure from political parties, civil society organizations and the members of the Maha Sangha, to resign over the scandal, which attracted international headlines, but he stayed put. One of his secretaries resigned, accepting the responsibility for having issued the letter while claiming that he had been unaware that the container had a haul of drugs. The PM defended himself at a public meeting thus:
"Vitaachi [the person who had arranged for the issuance of the letter from the PM's Office to the Customs] came with a friend of his. We invited both of them to have lunch with us. His friend was not a local. Vitaachi explained that he had met his friend when he went to Dubai. He said something about coming down to buy tea, I can't remember clearly. When we inquired, he said that had gone to visit an estate as well. Vitaachi had told my son that his friend had brought down some goods and that it has been in the port for nearly two months. He had asked whether anything could be done to reduce the charges and get the goods released.
"My son had directed this to Keerthi and a letter was written. I don't know if he knew the contents of the container or not. This is the truth. This is all the information that he had. This is the information that Vitaachi, my son and I had. We don't know anything beyond this. Later, we found out that there was heroin in those tins. There is a monk by the name of Sobitha, he says that we wrote letters seeking the release of heroin and drugs; he says the prime minister should resign; he says that the prime minister should be arrested. Do monks speak in this manner? Do they have police powers? Only a judge could make such statements."
No legal action was instituted against anyone over the letter at issue and the issue fizzled out after a few weeks.
Ironically, a few weeks before the incident, PM Jayaratne had waxed eloquent in Parliament on the need to rid the county of drugs and lamented that some politicians were involved in the narcotic trade.
This shows how big-time drug lords gain access to powerful politicians to further their interests and why the country's war on drugs has become an uphill task. Many venal elements in the police, the prison service, politics and the Customs have sold their souls to the drug Mafia.
The way forward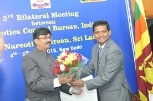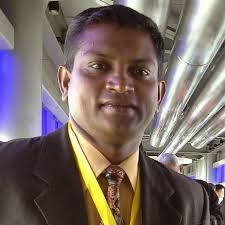 The Police Narcotic Bureau (PNB) is at the forefront of the country's war on drugs. It works with various national and international agencies such as Attorney General Department, Government Analyst Department, National Dangerous Drugs Control Board, Sri Lanka Customs, Presidential Task Force on Drug Prevention, Armed Forces, Department of Emigration and Immigration, Department of Prisons, Ministry of Health, Ministry of Education, Sri Lanka Coast Guard Department and also with United Nations Office of Drugs and Crime, ADIC, NATA and the SAARC Drug Monitoring Desk (SDOMD).
How can Sri Lanka win its war on drugs and what are the challenges it has to overcome?  Counterpoint spoke to veteran drug buster, DIG Sanjeewa Medawatte, who heads the PNB:
Q: Sri Lanka does not produce any of the narcotics except cannabis or ganja. Where do all dangerous drugs come from?
A: They come from countries like Pakistan, India, Iran, Laos and the United Arab Emirates. Heroin is mainly produced in Pakistan, Laos and Afghanistan. Most of the outfits engaged in the heroin trade are located in Pakistan. We have so far identified 11 such organisations. It is mostly Iranians who transport heroin through sea routes.
Q: Could you elaborate on the modus operandi of the narcotic smugglers?
A:  As I said earlier, most of the heroin consignments originate from Pakistan, Afghanistan and India. The smugglers basically use four routes. About 80% of heroin consignments are brought here by trawlers. Foreign fishing vessels carry them to the international waters, from where they are transferred to the multi-day craft owned by Sri Lankans. At times, the main vessels, engaged in the drug trade, remain in the international waters for days on end until the illegal cargo is disposed of. Heroin is also brought through air routes. Some of the drug consignments reach here, concealed in containers. Drug smugglers also use airmail to bring in small quantities of drugs.
Sri Lankans are mostly addicted to heroin. A significant number of them also use cocaine, which comes from Brazil. Synthetic drugs are also used here and they come from Europe and India.
Q: We learn that you have detected a new drug?
A: Yes, the PNB has detected a drug called 'kath'. It is similar to cannabis and produced in countries like Uganda and Nigeria. It is mixed with our green tea here and sent to other countries. This has dealt a severe blow to our tea industry.
Q: Are Sri Lankans addicted to kath?
A: It is not popular here because it is very expensive.
Q: It is said that most of the Sri Lankan drug dealers have international links …
A: Yes, they have links to international drug dealers and all of them are big-time businessmen. They operate mostly from Dubai, where drug deals are carried out. They are also based in countries like India, Pakistan, Malaysia and the US. The narcotic trade is a very lucrative one.
The factory price of a kilo of heroin is about Rs. 500,000, but it sells here at Rs. 12 million. This huge profit margin is what attracts many people to the drug trade despite the risks involved.
Q: It is said that heroin available on streets is heavily adulterated. Is it true?
A: Yes, it is adulterated by drug dealers to maximize profit. The quality of heroin is 80% in Afghanistan but it drops to about 10% when it reaches here. In a way, it is good that the drug is adulterated because that practice helps reduce the adverse impact of heroin on addicts' health to some extent.
Q: Billions of rupees, if not dollars, change hands in the narcotic business. How are funds transferred internationally without being detected?
A: Drug dealers use a system called 'Undiyal' to transfer black money. [Undiyal means Bills of Exchange. A person can send money to anyone in any part of the world through this system; he or she only has to pay an Undiyal agent in his or her country and instruct him to arrange for the payment at the other end by providing the identity card number, etc. of the recipient. The agent then contacts his counterpart in the country concerned and the recipient is paid the amount in local currency.]
Q: And that makes is extremely difficult to trace the money trail?
A: Yes.
Q: What is the payment method that local drug pushers and addicts use?
A: They use mobile phones to transfer funds and this has made it very difficult to nab them.
Q: How many drug addicts are there in Sri Lanka?
A: The police arrested 67,654 persons with heroin, in 2018. No recent study has been conducted to figure out the number of drug addicts. The highest number of drug addicts have been found in the Western Province. Heroin addiction is also prevalent in the Southern and Wayamba provinces.
Q: You have launched a rehabilitation programme to help drug addicts. Could you elaborate on that?
A: There are 12 rehabilitation centres. The government runs three of them while the private sector and some NGOs operate the others. They render a valuable service to the country. Rehabilitation is one of the main prongs of our anti-narcotic strategy which consists of prevention, detection, prosecution and rehabilitation.
One of the biggest problems we are faced with is that drug dealers and addicts are held together in prisons. In some other countries, drug dealers are sent to jail and addicts to rehabilitation centres. We must also adopt this method. New laws are being formulated to introduce this system.
Q: The media has reported extensively on instances of convicted drug dealers running their operations from jails via mobile phones. How do you view this situation?
A: Yes, drug dealers do so. We are doing our best to put an end to it, but we have our work cut out because of corrupt prison officers. The drug dealers use mobile phones to conduct their operations and communication facilities are made available by some prison officers.
We have information that convicted drug dealers like Wele Suda, Nauffer and Siddik, are running their narcotic operations and are in touch with their international counterparts via mobile phones from prisons. The PNB is doing its best to bust this racket. We have taken steps to use modern technology to achieve this end.
The STF has been deployed and raids are conducted to seize mobile phones in the hands of convicts.
Q: The PNB has earned public plaudits as an efficient outfit. But given the proliferation of narcotics, can you be satisfied with what you have been doing?
A: Our performance has been at a very satisfactory level. We have conducted a large number of very successful raids. In 2017, the PNB sized 314 kilos of heroin and this amount increased to 739 kilos in 2018. In the current year, the PNB and the STF have so far seized 1,150 kilos of heroin. Since 2018, we have seized 1,850 kilos of heroin. This works out to about two tons!
The heroin we have detected is unadulterated. Usually, the weight of these narcotic consignments increases threefold when other things are added to them.
Q: We are informed that you personally get involved in some drug busting operations, especially those conducted at sea though you are not officially required to do so. Why?
A: Yes, I have taken part in some raids. I join teams that conduct raids on the high seas. They are extremely high risk operations because the drug dealers are armed and dangerous. We have to do so to show our officers and men who risk life and limb that we are with them. Their morale must remain high.
Q: Does the PNB have all information about the big-time Sri Lankan drug dealers?
A: Most of them are behind bars. Wele Suda and Nauffer were mostly responsible for smuggling in heroin, in recent times. Makandure Madush also sent drugs to this country. He is also now in custody.
Kimbula Ele Guna, Kota Gamini, Kosgoda Suji and some others have fled the country. We have launched operations to arrest them.
Q: How do you view the links between the drug dealers and the underground?
A: There is no underworld in this country. There are only organised criminal gangs. Most of them are involved in the heroin trade. They fight bloody turf wars.
Q: How do you propose to prevent drug smuggling?
A: We have to employ four methods. All fishing craft must be monitored. This is a task for the police, the Navy and the Fisheries Ministry. If we can do this, drug smuggling can be slashed by 90%.
We have to rehabilitate the drug addicts systematically and raise awareness among the children and the youth of the dangers of drug addiction. That way we can reduce the demand for narcotics.
Fighting the narcotic menace is not a task that can be handle by the police alone. The public support is needed. People must make a contribution to the country's anti-narcotic campaign at family and school level. Information about drugs and drug dealers must be provided to the police.
Cases against drug dealers should be expedited and punishment meted out fast. In some countries, drug dealers are given the capital punishment. Without such measures, it is difficult to combat the drug menace.