SriLankan Airlines Will Never Be Profitable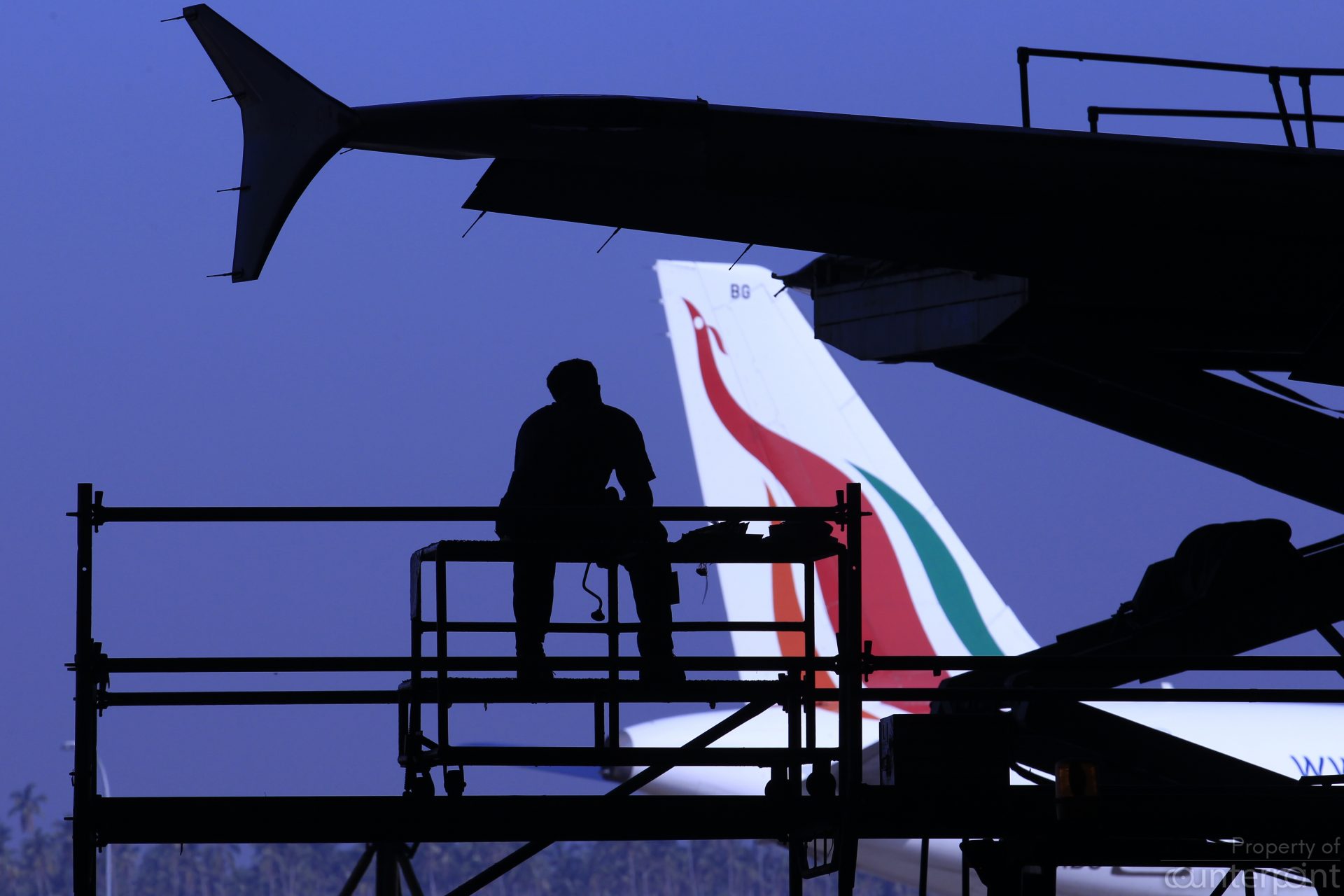 According to the analysis of the outgoing CEO, billions of rupees, which means more of the tax payers money, will be needed to keep this unprofitable airline afloat.
The controversial outgoing SriLankan airlines CEO, Suren Ratwatte had sent a note to the new Board, weeks after he was forced to resign. In the note, Captain Ratwatte reviews his turbulent period as CEO and the options the airline has in the future, which according to him are very bleak.
During his tenure, members of the Board of Directors had zero experience running an airline. They were appointed by Prime Minister Ranil Wickremsinghe on the basis of old personal friendships and political IOU's. The Board was divided on most issues including the appointment of Ratwatte as CEO. Those who opposed his appointment pointed out that although he was an experienced pilot he had no experience in running an organisation of any size.  That inexperience was soon to create serious problems between the CEO and other professional staff in the airline. The most vociferous of the critics were his former colleagues in the Pilots Guild. This inevitably had a negative effect on the performance of the Airline.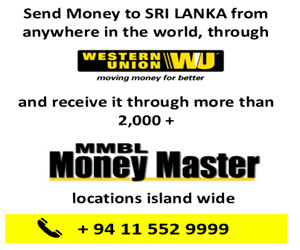 Counterpoint is publishing his review in full without comment.  However the Magazine is publishing in graphic form some key performance indicators before and during Ratwatte's term in office so that the readers can judge for themselves whether Ratwatte's reasonings are valid.
REVIEW OF PERFORMANCE 2015-2018.
SriLankan Airlines was facing a challenging situation in the FY 2015/16 – (Financial Year), with a significantly expanded cost-base from prior years and aggressive competition, among other factors, being major concerns for future viability. Therefore, following the change of government, the shareholders made a decision to restructure the airline immediately. The airline had taken delivery of two brand-new Airbus A330-300 aircraft in 2014, with five more due for delivery in 2015. Four of these were direct purchases at very high cost and the sale-lease back (SLB) price of these aircraft averaged USD 1,038,000 a month or USD 149.5M over the twelve-year lease period. By contrast a similar aircraft that was leased at the same time cost USD 890,000 a month – substantially less and closer to the market price.
In addition to this there were orders for four A350-900 aircraft at an estimated monthly lease cost USD 1,430,000 due in 2017/18 and a direct purchase of four more A350-900s due in 2020/21. A total of four A321neo aircraft were also due on lease with deliveries commencing in 2016. However, these were being delivered at a time where many of the routes these expensive aircraft were destined for, such as Paris, Frankfurt, Rome and London, were losing money. Aggressive competition from Gulf carriers who were operating multiple daily frequencies to Colombo and Europe with a substantially better in-flight product had created significant pricing pressure, resulting in very low yields.
Cabinet approves a business plan for recovery
A business plan developed by the Company and approved by Cabinet in June 2015 called for: • the pull-out from all European destinations other than London • the cancellation of the A350-900 orders. • the merger of Mihin Lanka with SriLankan.  While being approved by the shareholder, none of these critical initiatives had been executed at the time of the new management team being appointed in late 2015.
The first task of the incoming CEO was to carry out these directives and all three were executed in the coming months. The pull-out from the European destinations was concluded by Winter 2016, with London remaining as the only city in Europe served by SriLankan. This resulted in considerable cost savings to the airline and, as expected, tourist arrivals to the country continued to grow, with the Gulf airlines providing sufficient capacity on these routes. The merger of Mihin Lanka and the parent airline stands out as being one of the most successful and swiftly completed such unions, carried out with minimum staff redundancies and no loss of service to any destinations. The acquisition of the A350-900 was identified as the most crucial element standing in the way of a recovery.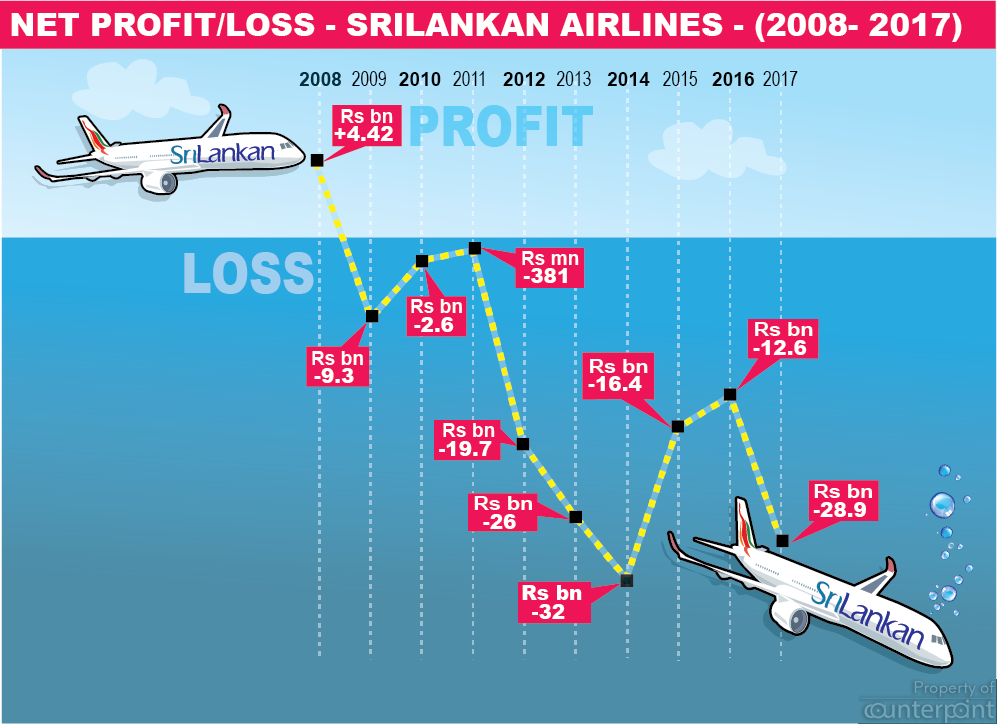 In accordance with the Cabinet directive a detailed evaluation was conducted by Skyworks, a reputed international consultancy, in late 2015 that confirmed these aircraft were not suitable. However, due to dissent by two directors, a second independent external consultancy was carried out by Nyras that came to the same conclusion. The airline decided to terminate the lease agreements for three A350-900 aircraft in late 2016, at a cost of LKR 14,362.81M. The almost yearlong delay resulted in a considerable increase in the final termination fee. This can be validated by the fact that the fourth aircraft due for delivery in 2017 was cancelled at a fee of LKR 2,561.55M as it was accomplished at an earlier stage of the manufacturing process. However, studies demonstrated that the one-time fee paid for this termination was smaller than the long-term loss which the airline would have incurred from operating these expensive aircraft and the requirement to maintain personnel, spares and tooling for multiple aircraft types, which increases cost and complexity. The monthly lease payments for the four aircraft plus one spare engine alone would have amounted to around USD 6M or LKR 950M. This is without the training and tooling costs, or the maintenance payments the airline would have been liable for. Resolving this matter permitted the airline more flexibility as to how its future restructuring should take place, without the commitment for an expensive and unnecessary ultra-long haul fleet.
Additional Profitability Initiatives
At the same time of achieving these critical steps as committed to the shareholder from the Restructuring Plan, the management embarked on a range of internal initiatives aimed at cost reduction and revenue maximization. These included renegotiating supplier contracts, lowering crew layover and productivity costs through efficiency gains, renegotiating aircraft lease costs and a proposed voluntary retirement scheme (VRS), as well as stronger revenue management practices and building market strength through an increased focus on regional destinations. Despite the inability to proceed with the VRS, significant productivity gains were realized during this period. This has seen the number of staff per aircraft reducing from 333 in March 2015 to 270 in March 2018. Both the network and revenue reached record levels, with the FY 2017/18 revenue exceeding USD One Billion – a 19% growth. The airline served more destinations than ever before, with staff per aircraft reducing, passenger numbers and load factors increasing, plus the aircraft and crews flying substantially more. Cost savings were made on crew layover and productivity (25% lower per flight), ground handling costs (18% lower per overseas turnaround) and aircraft lease costs (10% lower per block hour) over the 2015-2018 period.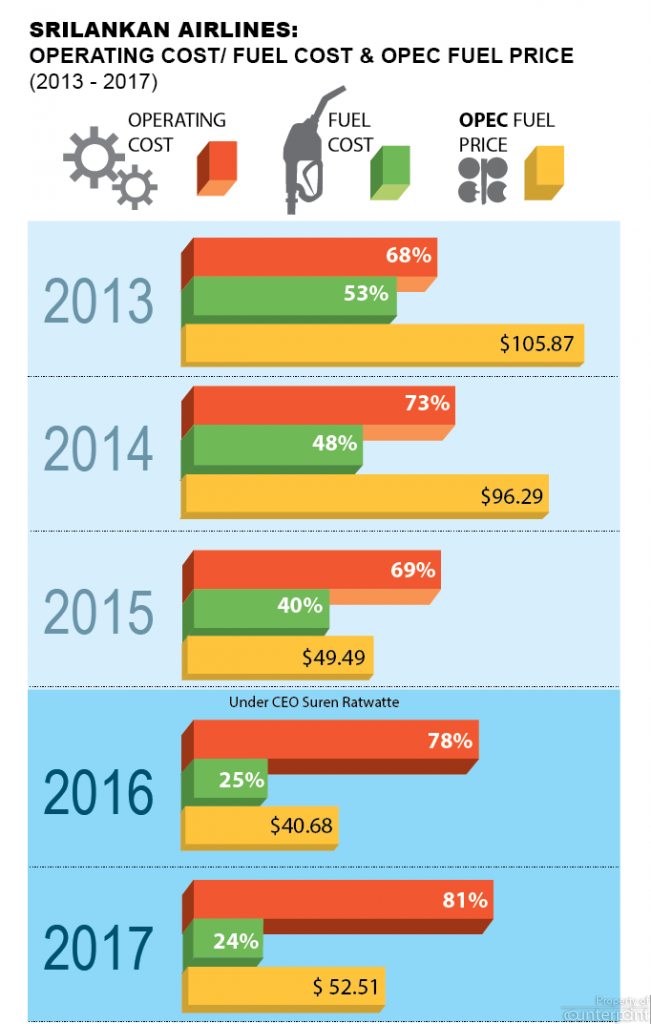 Overall, despite a small headcount increase and Company-wide salary increments (which were dictated by union agreements entered into by the previous government), the non-fuel Cost per Available Seat Kilometer (CASK – the most common measure of efficiency) improved by 2%.
What were the outcomes? The airline achieved its forecast revenue budget for the first time in over a decade in the FY 2017/18. The number of destinations, passengers carried and the seat load factors also reached the highest recorded by the airline. Some of the more innovative steps taken, such as the wet-lease of one A330-300 for six months to PIA, resulted in a profit of USD 7.55M to the airline, the single most lucrative contract the airline has accomplished. This is recorded in the audited accounts for FY 2016/17 which has been presented to the shareholders.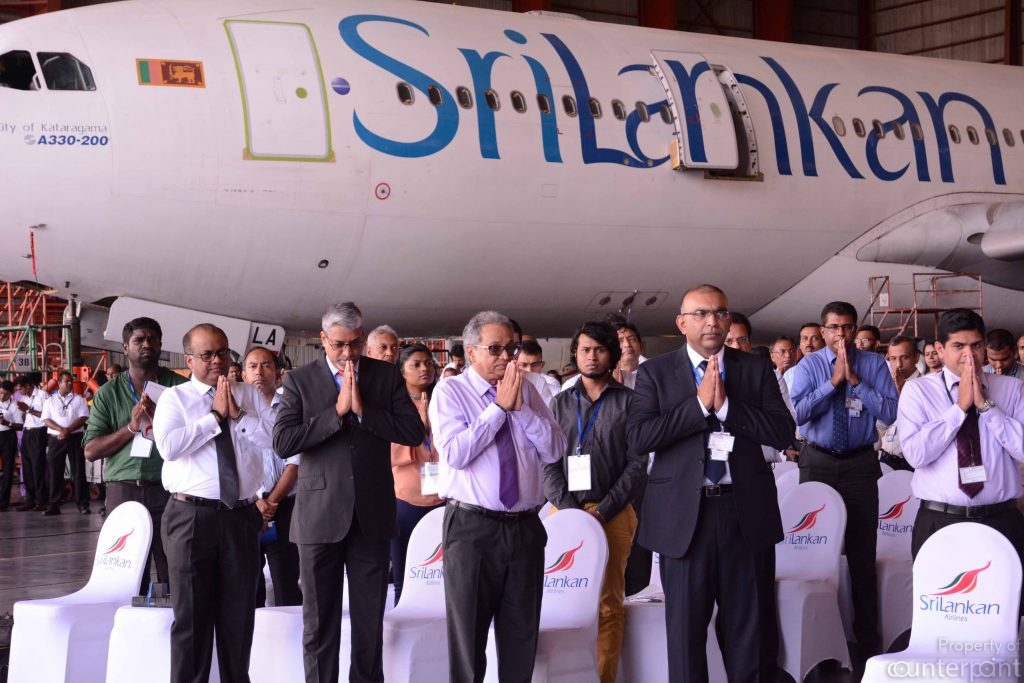 Another initiative, the sub-lease of two expensive aircraft to another Asian airline, was the subject of an LOI presented to the Board and would have resulted in a substantial cost saving to the airline. However, the Directors rejected this proposal. A more recent proposal to wet-lease three aircraft to an European carrier for six months, which would have led to USD 40 Million in  revenue.
In Europe, the International Airline Group (IAG which includes British Airways, Iberia of Spain and Aer Lingus of Ireland) Lufthansa Group and Air France/KLM, plus LCCs RyanAir and Easyjet, have an overwhelming share of the market. All these airlines are profitable as a result of the alliances, bankruptcies and mergers that followed many years of huge losses. The Middle East "super-connector" airlines such as Turkish, Emirates, Qatar and Etihad have a large international market share, with LCCs Air Arabia and FlyDubai also being very competitive. The model which they follow, of discounting to win market share, is evident in the financial performance of these carriers – with Etihad having recorded a USD1.5 billion loss in 2017 and Qatar Airway's losses estimated to exceed USD 2 billion. This has a profound impact on markets such as Sri Lanka and smaller national carriers such as SriLankan – once profitable routes are eroded by the predatory market practices of these carriers. The extent of such impact has been felt worldwide, with very strong accusations of state subsidies made against these airlines by the US authorities in 2018. The Asian region is likely to undergo a phase of consolidation as seen in Europe and US. But continued state support for perennially money-losing national airlines such as Air India, Thai, PIA and Malaysian, distort the market and make consolidation to the level of Europe and the USA unlikely.
National imperatives
As a nation, Sri Lanka needs to decide where its priorities lie. Fundamentally, as tourism accounts for a large percentage of the country's GDP, maximizing traveler access at competitive prices is a priority. If so, continued unfettered access by foreign carriers is one easy solution. This will keep the cost of tickets to Colombo at competitive prices with little action required on the part of the Government. However, it is very unlikely that a full-service national flag carrier with a legacy cost structure would be able to deliver a profit, in such a scenario. The only way to ensure profitability of the "home country" airlines is to control capacity in some manner to the island. Otherwise larger and financially stronger airlines will "dump" capacity into Sri Lankan and drive down ticket prices, which is what is happening today. But limiting capacity is unlikely to be achievable, given the pressures from other players in the tourism and business sectors. In light of this painful reality, there are really only three choices:
Attempt to restructure the airline (which would inevitably be painful and politically sensitive) at a cost of around LKR 150-200 Billion. Even if this is completed successfully, it is very unlikely that the national carrier can be sustainably profitable. While this may be an unpopular statement, evidence and an analysis of historical performance shows that it is a fact. Multiple efforts to restructure Malaysian Airlines at huge cost have failed to achieve long-term profitability, and this is just one example.
2. Decide that the Treasury cannot afford the cost, cease subsidies to the national carrier and declare "open skies". This would result in some uncertainty, but even in a worst case scenario, it is more than likely that eventually one or more LCCs will have a base in Colombo, ensuring connectivity without GOSL capital investment in an airline.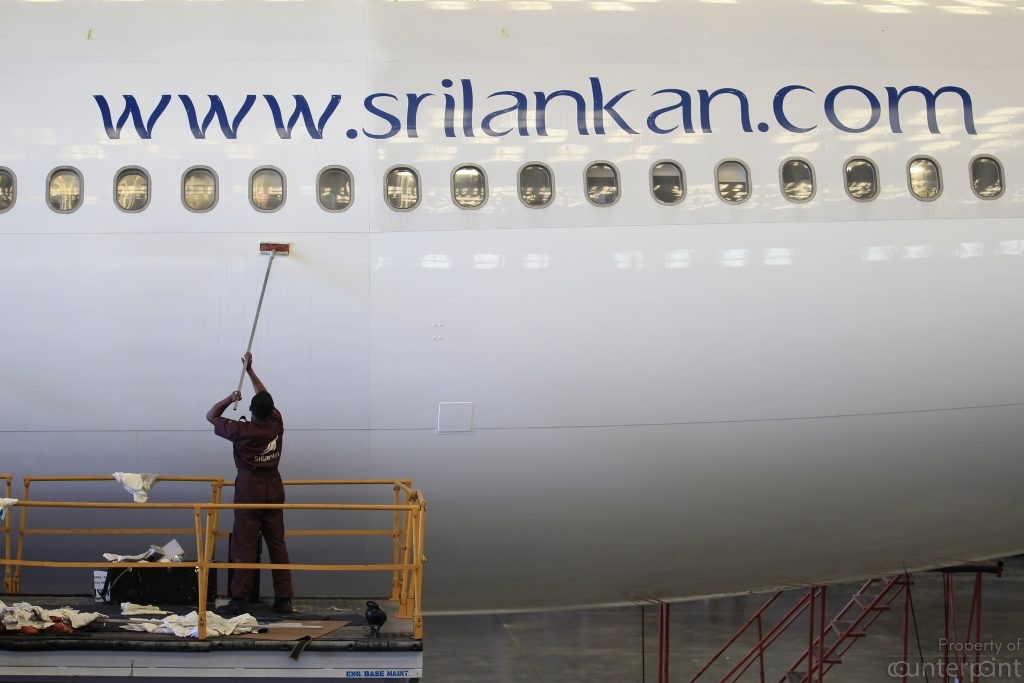 Continue to subsidize the national carrier in the same manner as many other countries in the region do.
There are many social, cultural and emotional reasons to do so, but as an island nation, ensuring connectivity is vital to national security. That alone is a valid motive. However, such an entity will always be a drain on the nation's treasury, as is the case with every national airline in the SAARC region. Even if Option 1 is successfully implemented and the airline returns to profitability, there is no certainty that it will continue to do so in the future, especially if it continues as a state-owned business enterprise. In that light, the long-term value of making the capital and political commitments to "restructuring" must be carefully considered at the highest levels of decision making in the country.
The preceding paragraphs present what I believe is an objective, factual and balanced summary of the Company's performance and lessons learned during my tenure as CEO. It may also serve as a summary to the Directors and my successor on the challenges the Company faces on what will be a grueling path to a sustainable future for aviation in Sri Lanka.