SPECIAL REPORT
Wealth And Power Of Drug Lords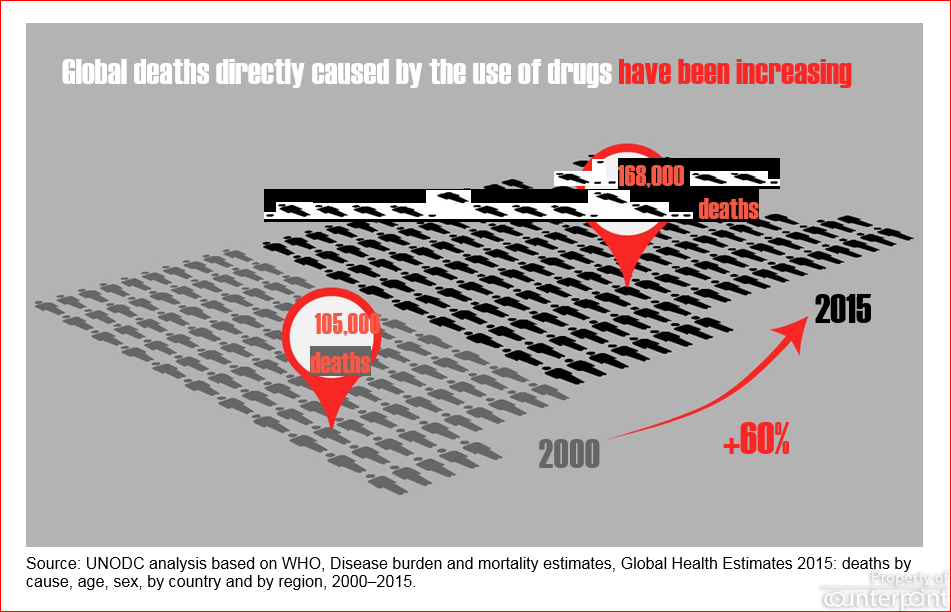 Deaths caused by the use of drugs has been increasing world-wide.
Sri Lanka's war on drugs – II
Sri Lanka's focus has been shifted from its successful war on drugs to battling a new form of terrorism, following the Easter Sunday bombings, which claimed more than 250 lives and left over 500 persons injured in several churches and hotels on April 21. This is not something anyone bargained for, and the ferocity of the terrors strikes has not only shaken the government to its foundations but also led to a political crisis of sorts.
The ISIS (Islamic State of Iraq and Syria) has claimed responsibility for the bombings carried out by is local affiliate, the National Thowheed Jamaath
The drug lords whose interests were affected by the successful anti-narcotic operations must be heaving a sigh of relief as they have now got a breather. The war on drugs has to go on parallel to the anti-terror operations because a reprieve is sure to stand the drug cartels which are, currently, in disarray, in good stead.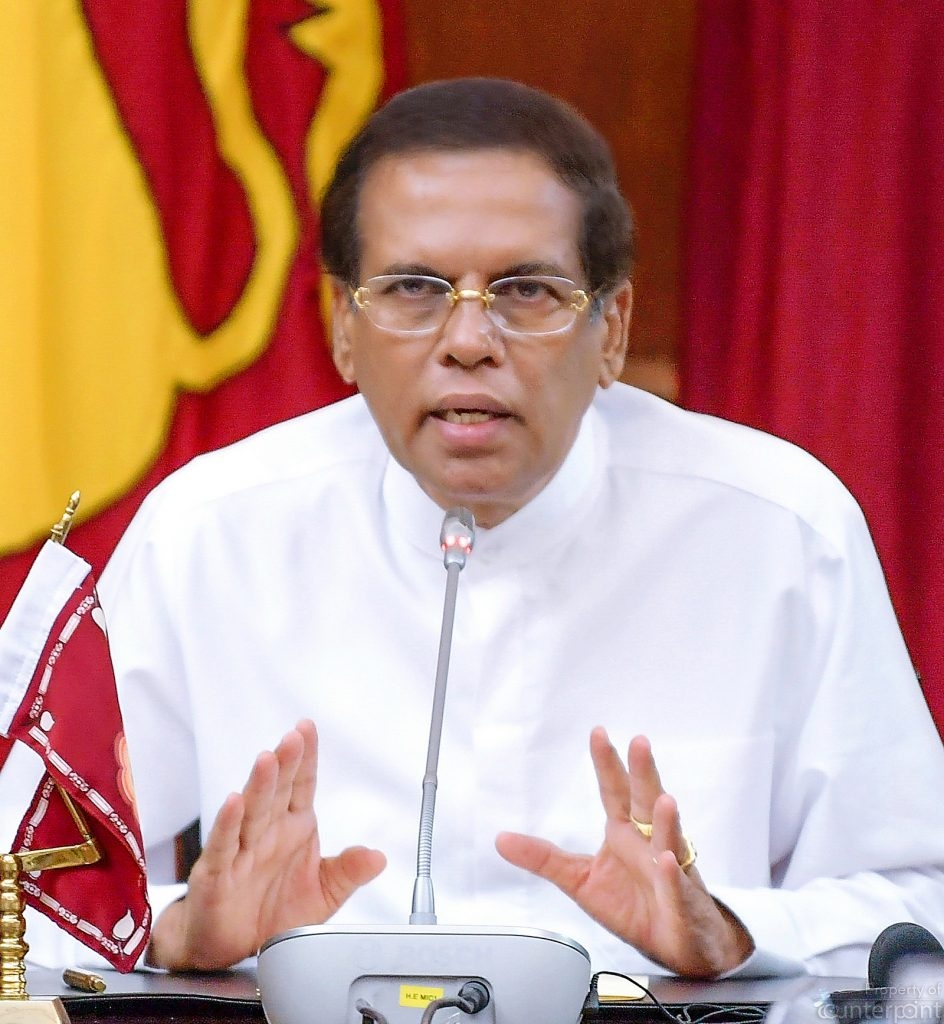 Meanwhile, a remark that President Maithripala Sirisena happened to make at a meeting with the Sri Lankan media heads, last week, did not receive much media attention. Unfortunately, he was not requested to elaborate on what he said.
President Sirisena said that one should not forget the connection between the narcotic trade and terrorism. That there is a nexus between drug cartels and terrorism is only too well known, but why did the President mention that particular fact albeit cursorily while commenting on the Easter terror. He left much unsaid as usual.
The narcotic trade thrives in countries in chaos such as Afghanistan and Colombia and drug lords go to any extent to safeguard their interests and would not hesitate even to carry out massacres for that purpose.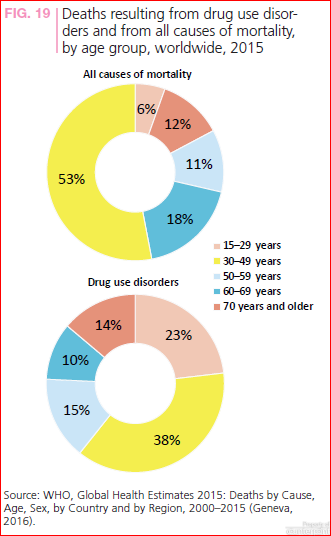 Sri Lanka as a drug transit point
Sri Lanka has become a narcotic hub in the region as could be seen from the huge stocks of drugs seized during the last few months. We have pointed out in the first part of this series, quoting the Police Narcotic Bureau (PNB) that drug addicts in Sri Lanka do not account for more than 2% of the country's population. So, all the drugs, detected here, may not have been meant for the consumption of the local druggies alone, and the narcotic consignments must have been brought here for transshipment. The country's war on drugs has thus dealt a crippling blow to the international drug cartels, which cannot be expected to take crackdowns, lying down.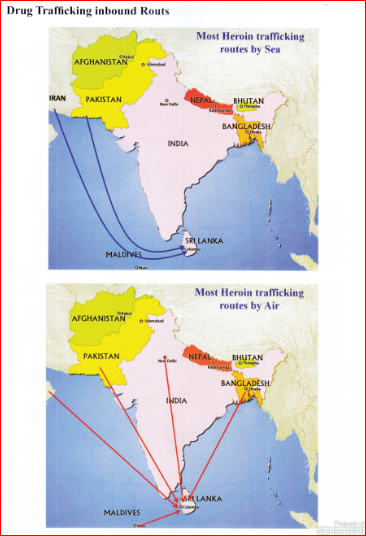 Drugs are smuggled both by air and by land.
(Courtesy: PNB)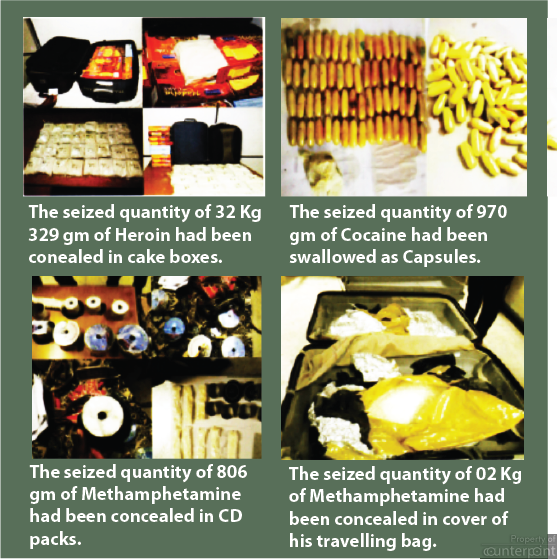 Drug lords are known to have colossal amounts of black money at their disposal. They are also engaged in human smuggling, gun running and other such crimes. International terrorist outfits such as the ISIS are involved in various rackets to raise funds for terrorism and would not hesitate to do anything to further their interests.
Notorious Sri Lankan drug dealer, Makandure Madush, currently in police custody, in Dubai, is just a cog in the wheel of the giant, trillion-dollar narcotic business which supports a global black economy. When their interests are threatened, drug cartels strike back savagely.
Following the trial of a Mexican drug lord called El Chapo (real name Joaquin Guzman Loera), which led to his conviction, in February 2019, The New York Times quoted Prof. W. F. Strong, at the University of Texas Rio Grande Valley in Brownsville as saying that the drug money was the WD-40 [a popular brand of water-displacing, penetrating oil] of the Valley: "It's the oil that makes the machinery work, in all kinds of ways that we don't fully understand."
"There is an underground economy that's fueled by drug proceeds," "the NY report said, quoting Will R. Glaspy, the special agent in charge of the Drug Enforcement Administration's Houston division. "You see drug money that's being utilized to start businesses, prop businesses up. You have legitimate businesses that are unknowingly being supported by illegal drug money. I can't put a dollar figure on it, and I won't limit it to just the Rio Grande Valley. It happens in Houston. It happens in San Antonio.
A witness at Loera's trial testified that the Mexican President had taken a USD 100 bribe in return for calling off a nationwide manhunt for the drug kingpin.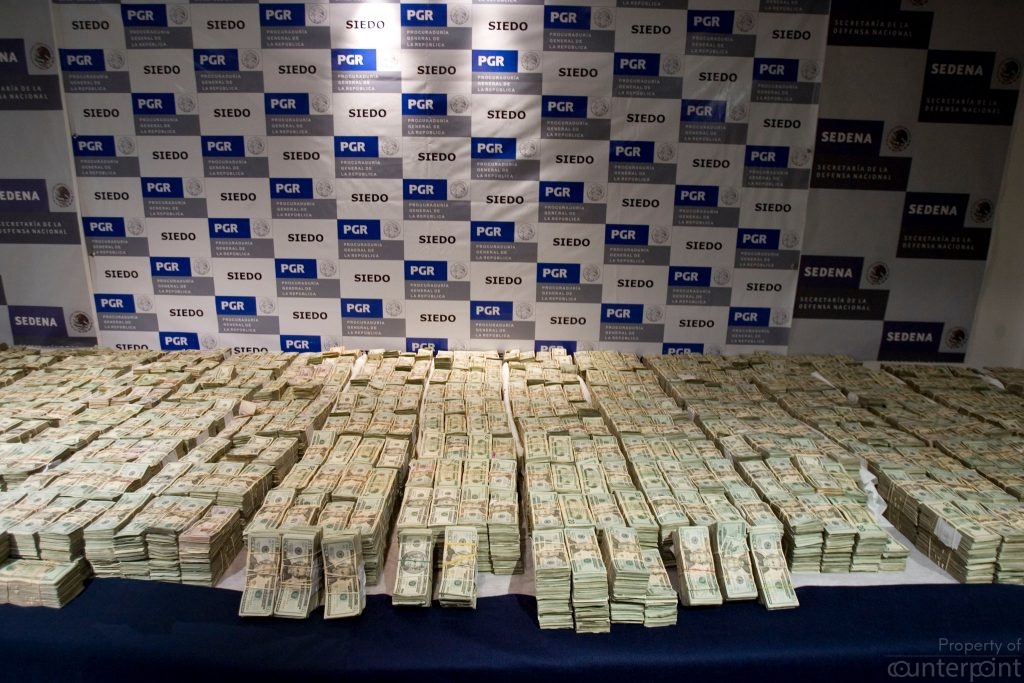 It is against this backdrop that Madush's plea to the UAE authorities that Sri Lanka's request for his extradition be turned down and he be permitted to stay in Dubai, where he has all his wealth, should be viewed. Banks are known to be among the legitimate businesses which, Glaspy says, are being supported by illegal drug money.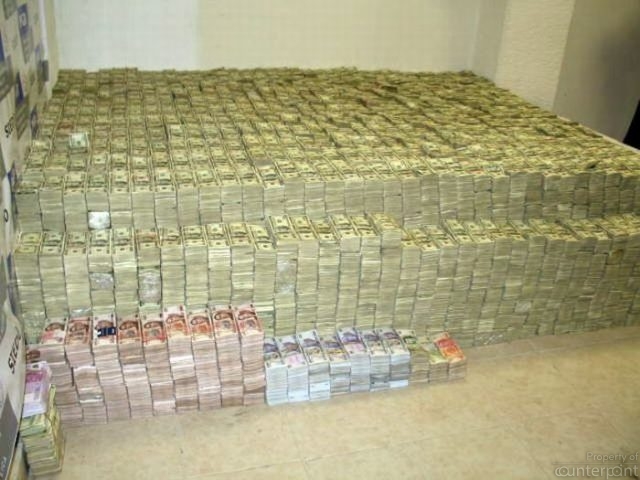 Progress in Sri Lanka's war on drugs
Sri Lanka has made a tremendous progress in its war on drugs as evident from a host of detections made by the PNB and other state agencies. In 2017, the PNB seized 23.598 kilos of heron, but in 2018 its raids yielded as much as 669.310 kilos of heroin.
PNB made record-breaking drug detections last year according to its Annual Report (2018).
Heroin                                                  –        669 kg
Cannabis                                              –        543 kg
Cocaine                                                –        18 kg
Psychotropic substances                  –        1.5 mn tablets
Methaphetamine                               –        04 kg
Hashish                                                –        1.5 kg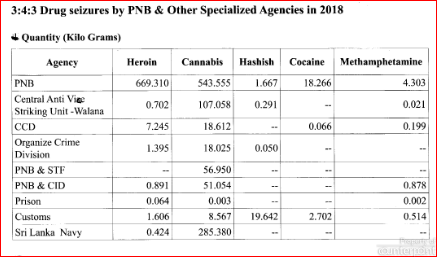 Courtesy: PNB
Last year, the PNB and the STF, in a joint operation, seized the largest ever heroin haul to be detected in Sri Lanka; it weighed as much as 272 kilos. The detection was made in Dehiwala, in December.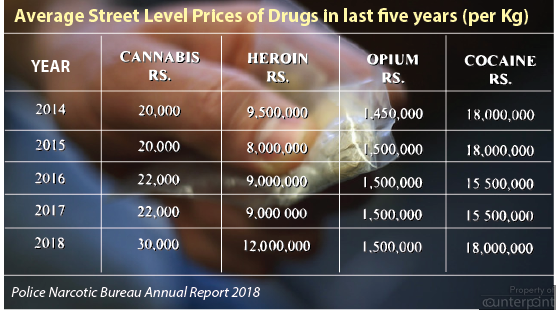 Drug prices (Courtesy: PNB)
 Power of drug lords
Confrontations between drug lords and the law enforcement authorities are as old as the hills. But it was only 15 years ago that the drug Mafia first made so bold as to take on the judiciary. In November 2004, a gang of hired men working for a drug kingpin, known as Mohommed Nias Naufer alias Kudu Nauffer, gunned down High Court Judge Sarath Ambepitiya and his security officer, Police Inspector Upali Ranasinghe, in broad daylight. They struck at the judge's official residence in Colombo.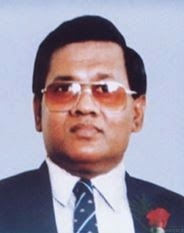 Ambepitiya, an upright judge, was feared by all drug kingpins because he used to mete out stringent punishment to those who were produced before him over drug related offences. The only way they could think of neutralizing him was to physically eliminate him. Nauffer, who was serving a jail term, at that time, wanted the tough judge murdered.
The police arrested the suspects in the killings. The five accused in the case were Nauffer, Nishatha Udaya Kumara, Sampath Thushara Abeywickrama, Ajith Rohana Rupasinghe and Sumedha Niroshana. They were charged with conspiracy to commit murder while the second, third, fourth and fifth accused were charged with the murder Judge Ambepitiya and Ranasinghe.
A trial-at-bar, subsequently, convicted them of conspiring to kill the judge and the police officer and murdering them and sentenced them to death.
Nishantha Udayakumara, Thushara Abeywickrema, AS Rupasinghe and Sumedha Niroshan were convicted of conspiracy to murder Justice Sarath Ambepitiya, who presided as the Judge of the Colombo High Court.
The fifth defendant, Mohammed Niyaz Naufer, was convicted of conspiring to murder and of aiding and abetting the killing.
The media revealed, following the assassination of Judge Ambepitiya that Nauffer had sponsored an official function of judicial officers, through a front. He had paid for food and beverages served at the event! The organisers of the function, obviously, were not aware that a drug lord was sponsoring it. That is how the Drug Mafia operates.
(Next issue: A minister gets a drug lord appointed a JP. PNB officers attacked at Piliyandala.)