Fighting disinformation
Young Politicians to Step Up to the Plate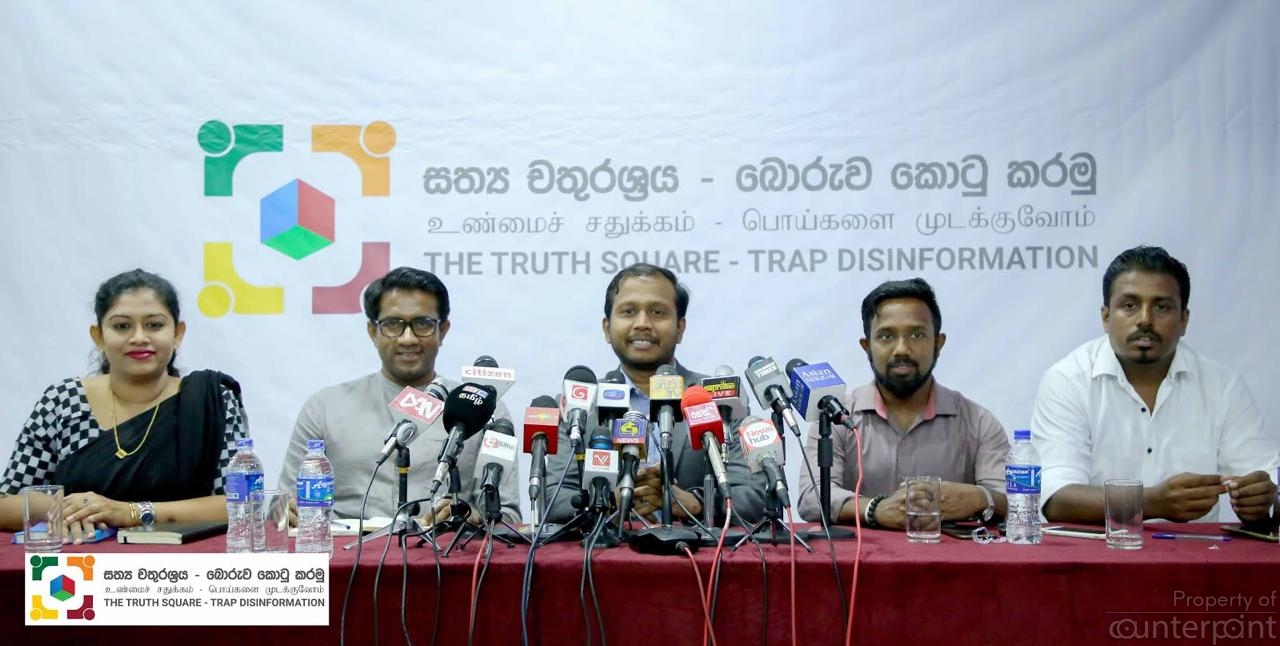 From Left, Lihini Fernando, Rasika Jayakody, Milinda Rajapaksa, Hemantha Sri Lal and Eranga Gunasekera at the launch.
As It Happens
Feb 28, 2020
A group of young politicians want to distance themselves from the massive disinformation campaigns that take place during elections.
Unveiling "The Truth Square – Trap Disinformation" at the Sri Lanka Foundation Institute in Colombo on February 27,  the group told the media that the initiative is a response to the fake news that is spewed out by mainstream media, especially television and social media.
The young politicians are from the umbrella group,#NextGenSL and are drawn from the three main political parties, the United National Party (UNP), Sri Lanka Podujana Peramuna (SLPP) and the Janatha Vimukthi Peramuna(JVP).
In the past, contestants and their supporters resorted to all forms of physical violence, and the bending of election laws. While that form has almost petered out now, it has been replaced with a new form of 'violence'; where communicators are indulging in disinformation.  It takes away the voters right to make an informed decision 'based on true and accurate information."
Mud-slinging and character assassination is also taking its toll, as younger folk, especially women, are shying away from entering politics.
The group cited four ways in which disinformation is practiced: intentionally misleading the public or a selected group through deliberate lies, interpretation of the same news item to suit the agenda of a media organisation or for the benefit or loss of a contestant, changing headlines, phrases or numbers giving the story a different twist and dragging the private affairs of politicians or political organisation through the mud.
This initiative which has received the nod from the Election Commission is supported by the Network Against Disinformation (NAD), an alliance made up of media practitioners and civil activists, who will be monitoring 24/7, social media and news, talk shows and the breakfast programmes where the day's newspapers are discussed on TV.  A weekly report of the findings will be reviewed by a team of senior journalists and academics, before being presented to the Election Commission and also to the public.  The EC is expected to take up the findings with the relevant media heads for appropriate action.
Participating in the launch and press conference were Rasika Jayakody and Lihini Fernando from the UNP, Milinda Rajapaksa of the SLPP, Eranda Gunasekera of the Socialist Youth Union an affiliation of the JVP and Hemantha Sri Lal, Socialist Democratic Students Union an affiliation of the SLPP.