Asian aviation at a standstill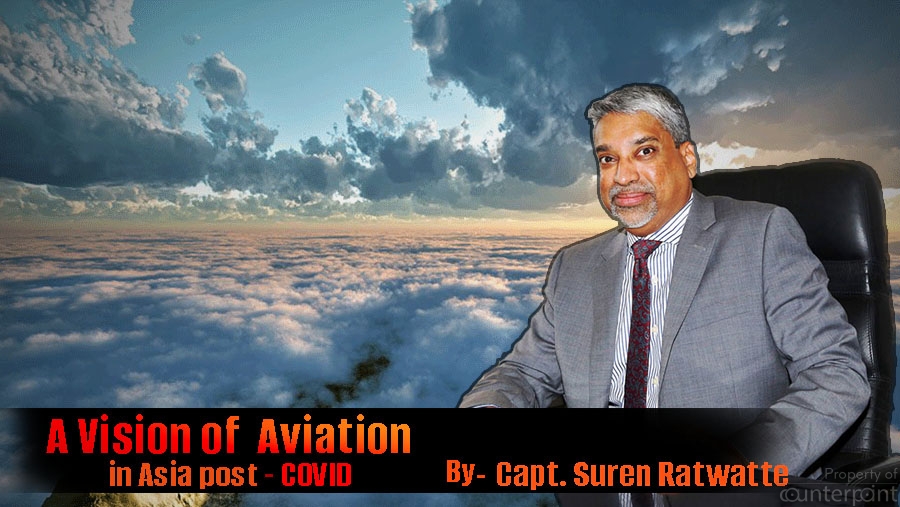 Introduction
Today, the world finds itself in a situation that is unprecedented in modern history. A pandemic that emerged in Asia has brought the entire world's interconnected supply chain and trillion dollar travel industry, to a standstill.
Even countries that have employed seemingly successful strategies that resulted in the initial containment of COVID-19, have faced crippling 'second waves'. With the relaxation of restrictions the virus has resurfaced, hitting metropolitan areas especially hard. Melbourne, Australia was forced into another 'Level 4' lock down recently. The rest of Australia and New Zealand are facing the likelihood of more restrictions in the coming days.
Air travel, which is the most vital part of Asia's transport infrastructure, has been severely affected and is still not showing signs of even a nascent recovery. The very geography of the region with widely dispersed population centers and extended national boundaries, require flight connections as the only realistic method of transportation. Though high-speed rail has often been touted as the ideal means of regional connectivity, as it has proven to be in continental Europe, the geography, high infrastructure cost and varying national economies makes it unlikely to be feasible in a pan-Asian context.
Hidden complexity
At one level Asia's air transport system appears to be reasonably simple, with two major tiers of service. Large, often inefficient and loss-making national airlines (Air India, Thai international, Garuda Indonesia, Malaysian Airlines etc.) and a few well managed ones (Singapore Airlines, Cathay Pacific, Korean Airlines, the Chinese 'big three') dominate the long-haul full service routes. Aggressive and efficient Low Cost Carriers (LCCs) such as Indigo, Air Asia, Lion Air, Spring Airlines etc, supplement the national airlines and provide the majority of the capacity and frequencies on regional routes, allowing connectivity to smaller communities. While a degree of state-support is provided for some of the less efficient, until the advent of the COVID-19 Lockdown, the LCCs were almost entirely privately funded.
This seemingly simple nature of this airline industry model is an illusion. The many layers of the support structure, includes not just myriad internal airline agreements (such as; training, aircraft leasing, catering, in-flight entertainment, ground handling, insurance, corporate sales etc) but also hundreds of external stakeholders. Some forms of cross-subsidization allows the less efficient state-owned airlines to profit from the infrastructure that they have inherited over the years. Much of this has been built with government funds, but the profits are used to offset the often monumental operating losses these airlines show, year after year.
An entire ecosystem of airports, travel agencies, ground transportation providers, ground handlers, energy providers, aircraft maintainers, aviation regulators, Air Traffic Control systems, accommodation providers, insurers and financial service providers etc. are entirely dependent on there being a vibrant and profitable civilian aviation sector in the region.
The sector forms a significant, irreplaceable component of the economy, both stand-alone and as a supporting infrastructure for a number of other critical industries:
Stand-alone, the travel sector accounts for a large portion of regional output.
As a piece of infrastructure, it is crucial in supporting other service industries (such as tourism) and contributes significantly to supply chains in all industries.
In addition, the sector makes a significant contribution to Asia's ability to generate high value services exports by providing training expertise locally, and skilled personnel to overseas airlines.
Disproportionate impact of COVID-19
The aviation sector has been impacted more than any other by COVID-19 and the accompanying 'lockdown'. Decades of government capital funding without accompanying performance accountability, has led the industry to rely on assuming 'best-case scenarios' in a stable environment and a litany of excuses to cover poor financial results. This has inadvertently resulted in the high-risk system we have today. No planners foresaw the nature of this pandemic and in the absence of robust worst-case preparation (in particular since 9/11) the fall out has been grave.
An unfortunate combination of factors makes the airline industry particularly vulnerable to a pandemic such as this. By necessity, airline passengers are in intimate social closeness with each other and service staff. Poor traceability of provenance, high traffic density as a result of commercial optimization, the 'hub & spoke' model favored by many of the large carriers (which subjects passengers on each flight subject to mixing up with passengers from many other flights, for their next connecting leg), and high-speed long distance transport leading to rapid dispersal of any infected persons, has all led to a fast, early shutdown of the sector and an expectation of a slow, delayed restart.
The protocols involved with the testing of departing passengers and the quarantine of arriving passengers are largely unresolved. With no consensus or agreed common templates, the airlines often face accusations of transporting the virus and punitive measures against them.
SriLanka Airlines route suspension linked to Covid-19 China residents
Structural inefficiencies
Overall, the aviation sector in Asia (especially in the case of the state-owned carriers) is highly asset and labour intensive — to the level of being inefficient in comparison to similar economies in Europe and North America.  To date, the majority of the commercial risk has been borne by equity and debt holders, particularly major industry participants (e.g. travel agents, transport providers, hotels, state banks and insurance companies).
What is different to the recent past, is the certainty of further national impact that will inevitably result, if the current conditions are poorly managed. In the absence of a coordinated response it is expected that the world's aviation sector will consolidate dramatically.
The aviation/travel industry consists of many disparate parts and each part of the sector is not easily amenable to rapid reinstatement. In the majority of the Asian sector that is privately owned, the participants' imperative would be to focus on individual goals. This in turn will lead to significant wasted effort, competing objectives and little room for the national economic objectives. In particular, a focus on survival and market share, will result in a slow, disorganised progress of the national recovery effort, with greater costs of entity failure and/or bailouts.
The state-owned carriers will need to restructure their business models dramatically and find ways to pay down their debts (in excess of USD 8 billion in the case of Air India) if they are to survive at all. Commercially well-run 'winners' (such as Singapore Airlines) will survive. Moribund state-owned airlines (Air India, PIA, Biman Bangladesh, SriLankan etc.) will only exist with colossal state subsidies, at a time when the governments themselves are facing crippling revenue contractions.  In fact, the withdrawal of state-support and the resultant bankruptcy of the more inefficient airlines, will mean that private capital can restore the (far smaller) capacity levels needed post-COVID, at little or no cost to national budgets.
Regardless of the strategies employed, the cost of travel will rise, many careers will be interrupted (possibly permanently) and capacity volumes will remain very low. The size of the tourism sector, ease of transport between distant commercial centers, the quality of life offered to many citizens, and the growth rate of national economies, are all likely to suffer grievously.
Post-pandemic a reconfigured business model is a necessity
The lack of consistency between nations and with no consensus on testing/tracing protocols makes it almost impossible to understand the comparative impact of COVID-19 in the region. Even the level of testing and method of counting those tested, vary dramatically. At one end the UAE and Bahrain claim that testing among residents is over 500,000 per million. Singapore,
https://www.worldometers.info/coronavirus/
Proactive regional policy-making and regulation
Leveraging health, economic and behavioural data to date, this recovery can be accelerated significantly, minimising the ultimate magnitude of any economic stimulus. But this will require an internationally coordinated effort, followed by a regional focussed one if the sector is to show a wide recovery.
Both Australia and New Zealand have demonstrated a unique combination of factors that have accelerated a successful response to COVID-19. On the global stage the two countries already have a strong bi-lateral association and a positive profile in relation to safely managing the pandemic.
A 'trans-Tasman travel bubble' was talked about at Prime Ministerial level. But Melbourne's 'second wave' and the resurgence in Auckland have postponed this initiative for a while. However, given the unprecedented level of cooperation between the two national governments, there is still an opportunity to coordinate the design and implementation of a post-COVID recovery plan.
Conclusion
The Asian region must demonstrate a willingness to work in a trans-national mode in order to develop a coordinated response and allow (relatively) unrestricted travel protocols. Regional organizations such as ASEAN and SAARC need to work closely with travel industry stakeholders such as IATA, ICAO and national civil aviation authorities to achieve this consensus.
Successful, distinctive solutions can be designed and deployed in this region faster than most other parts of the world. The initial successes in dealing with the pandemic and the already existing (pre-COVID) ease of travel between countries, can be leveraged into a precedent setting action plan of recovery.
Some early movers who have been grabbing the headlines (e.g. Emirates and Qatar Airways) are almost entirely dependent on 'sixth freedom' transit traffic. Airlines without a supportive domestic market, a breadth of geography, access to a sizable population and mature travel markets, will find a post-COVID recovery very challenging. Successful development and implementation of accelerated recovery protocols can become a valuable national export in its own right in the medium term.