COVID-19
CCPSL recommends a staggered exit strategy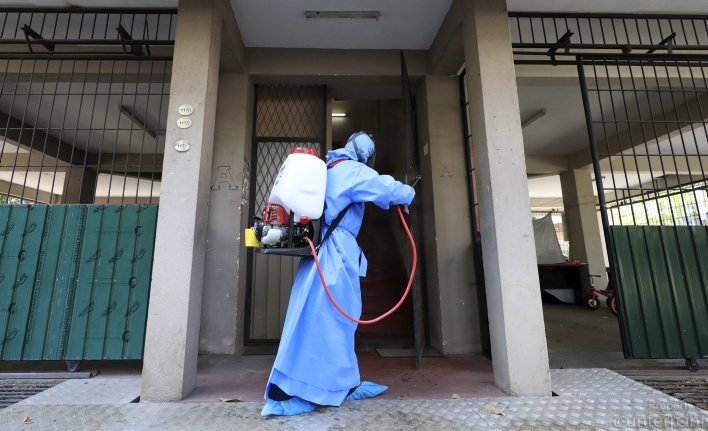 Every corner must be fumigated.
The College of Community Physicians of Sri Lanka is recommending a staggered exit strategy that must be decided by an expert panel made up of 'health and non-health authorities with vigilant monitoring of area specific caseloads.'
Bearing in mind that a prolonged lockdown could result in crippling the country's economy, the College points out, that a premature relaxation of the restrictions in any area, could affect the spread of the corona virus in other parts of the country.  'If Sri Lanka can maintain the low numbers of new COVID-19 cases at national level along with no solid evidence of community transmission (i.e. no known epidemiological link for the transmission), moving to more and more relaxed phases can be considered with time, says a detailed report of the CCPSL, dated April 15, 2020.
It further advises against implementing a blanket exit strategy across the country, as each geographical area will not pose the same COVID-19 threat. Rather, it recommends that the decision should be made for each district taking into account "High risk districts, Moderate risk districts and Low risk districts." The report also states that modifying the current lockdown status in any district should be based on the " number of cases reported within the last 28 days, Extent of the primary / secondary contact load within last 28 days, Geographical scatter of the households / families, Judgment on the compliance of the resident population with epidemic control measures.'  The report also states that all factors- scientific evidence, economic and socio-cultural influences must be taken into consideration when relaxing the current restrictions.
While pointing out that decision making of the timelines to lift restrictions should be based on an in-depth understanding of the behaviour of the epidemic, the College recommends "escalated strategic RT-PCR testing as given below:
Passive surveillance – Suspected patients fulfilling the case definition of COVID-19
Active surveillance – Targeted high-risk testing among all three tiers of close contacts and quarantined persons – Health facility testing of close contacts
Sentinel surveillance – Patients in sentinel centres fulfilling the severe acute respiratory infection (SARI) and influenza like influenza (ILI) criteria
The College also recommends exploring  Antibody testing for those providing essential frontline services such as oncology, obstetrics and ICU staff as well as those "negative for RT-PCR 2 weeks after recovery.'
The report points out that the exit strategies for each district should involve multi-sectoral groups operating at Divisional Secretariat level which coincides with the Medical Officer of Health areas, which will allow for better control of the activities of both the health and non-health sector agencies.
It also states that an effective communication campaign that will prepare the mindset of the people to the  "graded exit plan which is essential in gaining compliance for it and avoiding any pent-up actions that will explode and be difficult to manage in terms of COVID-19' must be in place if the exit plan is to be a success.
Apart from district level measures and recommendations to face future challenges, the CCPSL also provides an action plan to be implemented at country level.  These are  to " Install temperature screening mechanisms on entrance to public places / institutions, Introduce different office times to reduce passenger load on public transport systems  and Air travel precautions  – Rescue missions for Sri Lankans stranded in several countries and imposing mandatory center-based quarantine – Inbound / outbound flights: temperature screening / testing / quarantine certificates."
The full report can be accessed here: