Rape of a rainforest - II
Clearing The Way For Bio-piracy
Sinharaja, a Biosphere Reserve and World Heritage site is threatened by wanton destruction and bio-piracy.
There have been presidential commissions to probe the alleged abuse of state assets and cases have been filed against the offenders under the Offences against Public Property Act—and rightly so. But, sadly, acts of bio-piracy, which cause huge losses to the country, have gone almost unnoticed. The public does not seem sufficiently informed of the value of the country's biological assets which are being plundered.
Close on the heels of a disastrous road building project near the Kudawa entrance of Sinharaja rainforest, which we reported in the last issue of Counterpoint, came the news of yet another attempted act of bio-piracy, in the same area. Following a tip-off from a Belgian tourist Rudi Debruyne, five Slovakians were caught red-handed by the Wildlife officials at a nearby lodge with bags full of bio items collected from the strict nature reserve, which is also a world heritage site.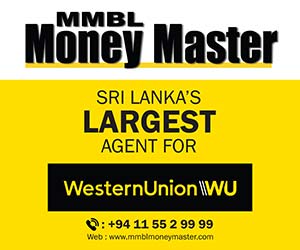 Debruyne himself is a reputed environmentalist in his country. An ornithologist by training, he is credited for his identification of two rare bird species in Belgium. A photographer by profession for the Belgian national television, he is also an expert who guides photographers from around the world.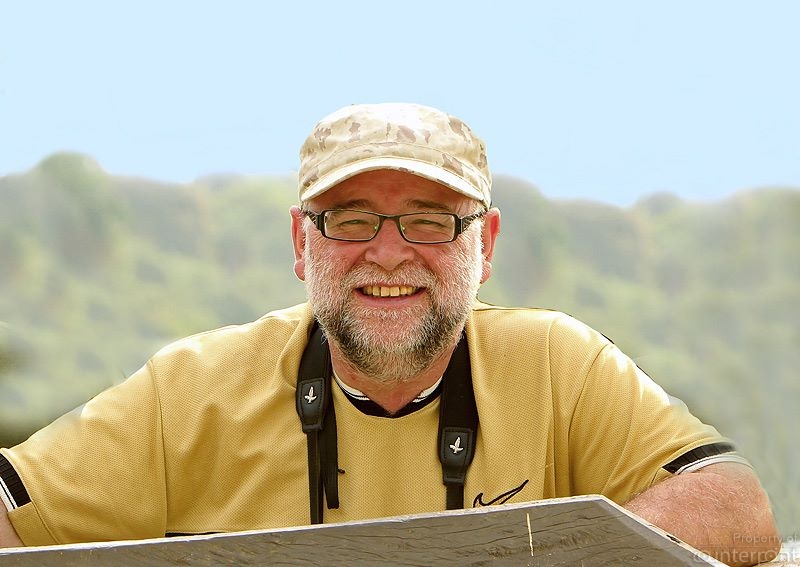 Deburyne spoke to Counterpoint on why he felt suspicious about the fellow tourists who were staying with him in the same guest house. He began to watch their movements. "They claimed they were nature photographers. But only one of them had a telephoto lens. Coming this far from Europe to shoot birds and wildlife without proper paraphernalia sounded ridiculous to me. Also, they just idled indoors the whole day. In the evenings they would become active. They would creep into the forest with flash lights. I sensed they were collectors. I discussed this with my guide and then we tipped off the relevant officials."
Director of  the Centre for Environment and Nature Studies (CENS) Ven. Wekadawala Rahula Thera, who leads the struggle to save Sinharaja  told Counterpoint. "First the authorities closed the entry and stopped people from entering the forest. Then there were these foreigners entering the forest through the backdoor. An investigation is called for to see if there is any connection between these two.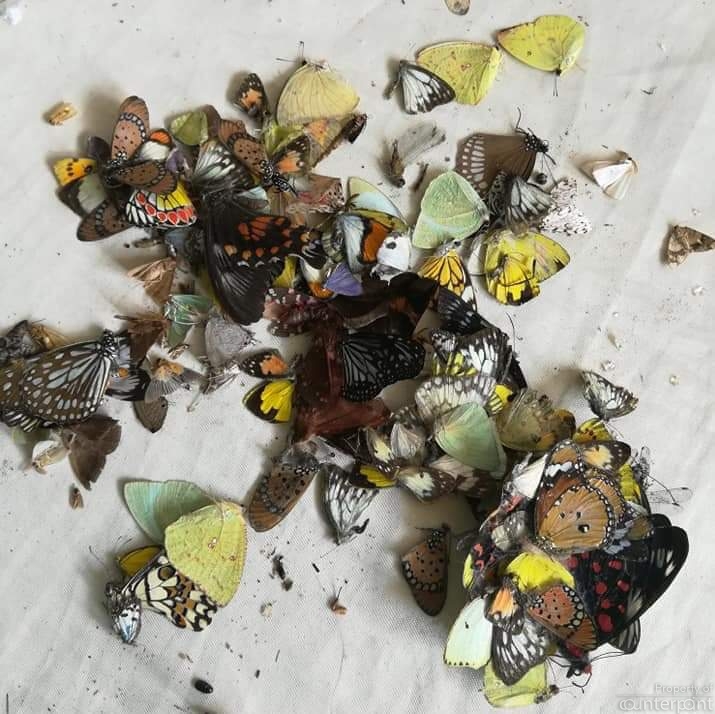 "This is not the first time such an incident has happened in Sinharaja, a hotbed of bio-piracy for the rich bio diversity it possesses. The authorities should be cognizant of this fact and remain vigilant without being distracted by projects like the present controversial road building one. The problem Sinharaja faces today is over-visitation. By allowing more visitors to the forest than you could manage, the risk of this kind of transgressions becomes exponential. What is expected of the authorities is a good programme to thwart bio-piracy. But that is exactly what they lack".
Sri Lankans should be thankful to Belgian photographer, Deburyne, whose love for Sinharaja and timely action led to this all important seizure, which led to the highest ever fine imposed under the Fauna and Flora Protection Act. The culprits were fined Rs. 10.84 million by the Kalawana magistrate Dulan Weerawardena. The Kalwana Range Office of the Forest Department filed action against the suspects under 37 different offences. The Slovakian Ambassador to Sri Lanka,  stationed in Delhi flew to Sri Lanka to pay the fine on behalf of his countrymen. At present the offenders are also serving a three-month jail sentence here.
There had been a number of arrests related to attempted bio pirating from Sinharaja over the years. They include two Japanese nationals with a cache of animals and plants, in 1998, a Dutch national with insects, in 2012, and two Germans in two separate incidents, in 2014 and 2016, with assortments of butterflies and wild orchids.
According to well-informed sources the sordid operations of these particular Slovakians may have been carried out beyond the bounds of Sinharaja. Some of the samples that were in their possession included species found outside Sinharaja, and even in the costal and arid zones of the country. Some 1,093 bio samples are known to be in custody and of them over 600 are those of butterflies. These butterflies include species like Crimson rose, Ceylon rose, Common rose and Red Helen, some of which are endemic and extremely rare.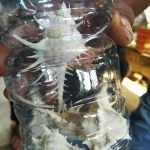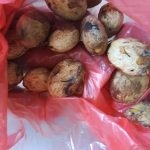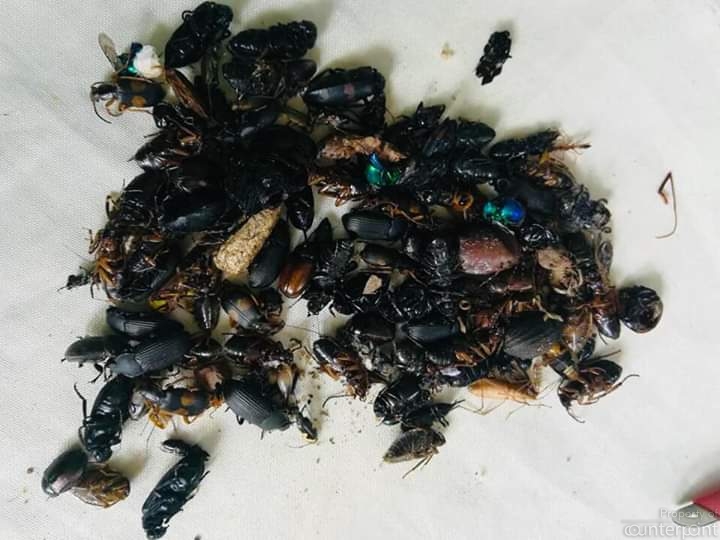 Samantha Gunasekera, a former Deputy Director of Customs, who was also instrumental in establishing the Biodiversity, Cultural and National Heritage Unit (commonly known as the Biodiversity Unit) at Customs says: "This particular visit of these Slovakians was very well-planned. They seemed to have researched extensively on Sri Lanka's bio resources before coming here. This is evident from their cache".  It was revealed that the gang leader had been on his eighth visit to Sri Lanka.
About the butterflies found in their possession Gunasekera said, "Some of these species are very rare, and could fetch a very high price in Europe".
Biodiversity Unit of the Customs
In July 1993, the Biodiversity Unit was initiated by Gunasekera, who was then a young assistant superintendent of the customs as an informal task force. As opposed to similar undertakings of this nature in the government sector, Gunasekera identifies the uniqueness of this enforcement body at the principal entry-exist point of the country as, "something that sprouted from a bottom-up approach, quite unusual in the government setup where things are imposed from the top". In the initial years a lot of hard work went into the compilation of its regulatory status, which was formulated through the collection of all the relevant regulations from the other state institutions that deal with bio products. However, Gunasekera believes that the institutions like the Wildlife, Forest and Police Departments have a crucial role to play in the prevention of bio-piracy from the country as they are more active in the grassroots.
Customs Media spokesman Sunil Jayaratne admits that effective bio piracy surveillance will be best done in and around the sites prone to bio piracy, especially in Sinharaja and other such areas.
The list of species seized from the bio-miscreants according to the Centre for Environmental Justice is quite exhaustive. It includes various species of butterfly, millipede, scorpion, stick insect, glow worm, mole cricket, house centipede, spider wasp, pottery wasp and tick beetle.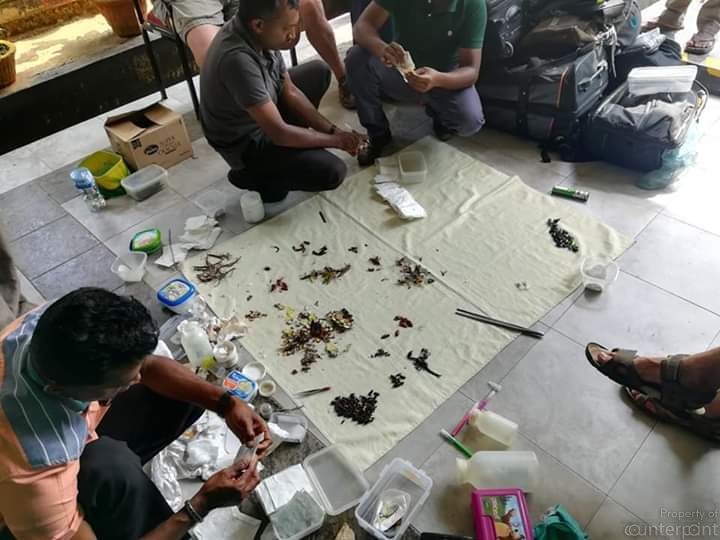 Bio-piracy
Gaining of exclusive monopoly rights over the biological material of one country by individuals, institutions and or companies of other countries that ultimately lead to denial of the rights of the country of the origin is defined as bio-piracy. By now, this is known to be an extremely lucrative business with the involvement of many international companies, and it results in unfair sharing of benefits and or total absence of benefit sharing.
The impact of bio-piracy is known to be manifold. On the environmental front, depletion of biodiversity, extinction of living organisms and the privatization of bio treasures are notable. Socio-culturally, bio-piracy can lead to the privatization of traditional knowledge and affecting the cultural identity and traditional knowledge of the indigenous people of the victimised country. The international legal tools available against bio-piracy include the Convention on International Trade in Endangered Species of wild fauna and flora (CITES) of 1972 and Convention on Biodiversity of 1994. The Acts and Ordinances that give legal coverage within Sri Lanka against bio-piracy include the Fauna and Flora Protection Ordinance, Forest Ordinance, Custom Ordinance and the National Heritage and Wilderness Area Act.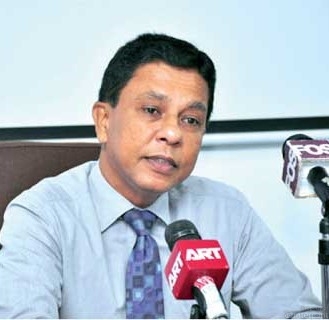 Despite all these mechanisms,   Sri Lanka already remains a country badly affected by bio-piracy. The losses incurred by this richly bio-diverse country are certainly colossal, if not unimaginable. Gunasekera noted, "Already many local species have been smuggled out of the country and patented by foreign companies. Some of these are Kothalahimbutu, Binara, Hela binara, Gotukola, Sadikka, Vasakka, Kaluduru and Kohomba. A number of products, especially medicinal products, have been patented using our species".
The Sri Lankan authorities remain deaf and mute when the Sri Lankan bio-products are being smuggled out of the country and patented elsewhere when enough and more international legal mechanisms are available for redress, especially through compensation and benefit sharing. That is what our neighbours, India and Pakistan have done against the products that were smuggled out of their shores, and also what the Amazon basin countries like Peru, Bolivia, Brazil, Colombia, Ecuador and Venezuela are doing. The recent incident in Sinharaja has again shed light on the ongoing bio-piracy operations while the authorities concerned are slumbering or colluding.