Could Restorative Justice Heal Sri Lanka?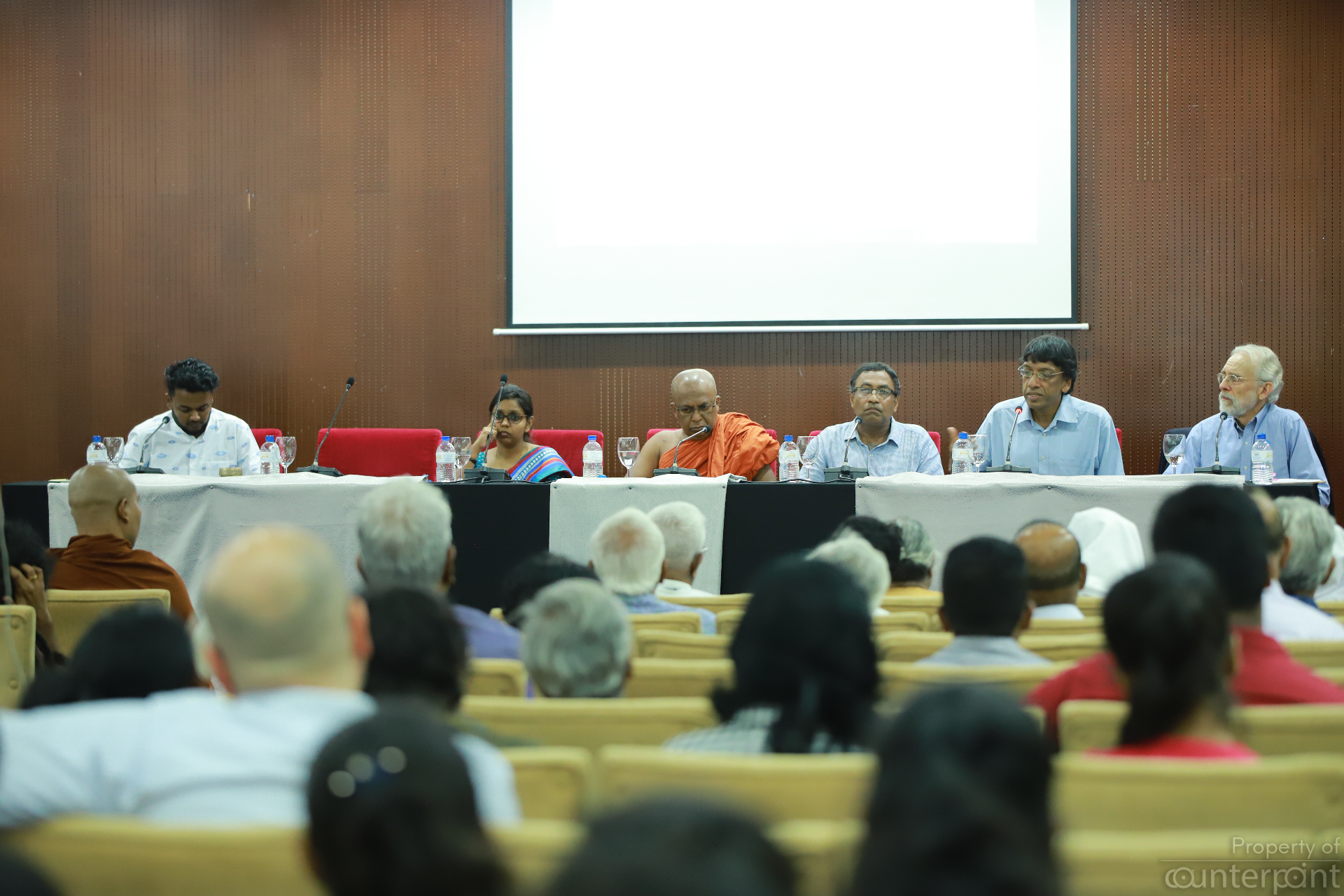 Panelists at the seminar, from Left, Suchith Abeywickreme, Lakmali Hemachandra, Ven. Galkande Dhammananda Thero, Sarveswaran Arulanantham, Dr. Jehan Perera and Professor Barry Hart. .(photo courtesy Thilina Sandaruwan, IofC)
Could Restorative Justice be the key to healing a deeply wounded society such as ours?
That was the discussion that took place on Monday, February 3rd, at the BMICH, where Barry Hart, Professor of Psycho-Social Trauma, Identity, Dignity and Peacebuilding, of the Eastern Mennonite University, USA and Initiatives of Change (IoC) Global, was the keynote speaker.   The seminar on Restorative Justice was hosted by Initiatives of Change Lanka.  IoC works globally to build trust across the many divisions of the world; nationalities, cultures, beliefs and backgrounds.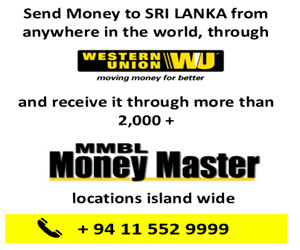 Restorative justice seeks to repair a wrong by working with the victim, the offender and the community where making amends and accountability are the key roles.
While peacebuilding is a long and continuous process it does not always deal with the intangibles caused through violence, explained Professor Hart.  Post-violence initiatives concentrate on the tangibles such as developing infrastructure and the economy while overlooking the psychological trauma an individual or a community has faced. Dignity, that 'inherent feeling of value and self-worth of an individual or a community' must be restored, he said, without which the emotional harm experienced would be carried on for generations.  Power without love, matures hate he pointed out, and revenge is not the solution.  He explained that even if peace is achieved, it would be a 'cold peace" where the body would continue to hold onto the trauma inflicted upon it.
As opposed to retributive justice, restorative justice involves indigenous methods, social cohesion, resilience, inclusion and interdependence, human connectivity and completing each other's humanity.  It is about putting right the wrongs, addressing obligations, involving all stakeholders, inclusion and a collaborative approach.
Over the years restorative justice has helped change lives, Professor Hart said, adding that it could be introduced in schools, where instead of re-inventing the wheel, practices already in place to resolve issues could be enhanced through this method.  The same with the prisons system where, he gave examples of prisoners lives being changed when restorative methods were introduced.  It's a case between restorative and punitive.
So, how could it be applied here in Sri Lanka and will it bring about the desired outcomes?
In the panel discussion that followed, which was moderated by Suchith Abeywickreme of IofC, Ven. Galkande Dhammananda Thero, Director of the Walpola Rahula Institute and Head of the History Dept. of the Kelaniya University pointed out that our wounds go far beyond the 30 year conflict.  We have experienced a past where most parties involved in the conflicts have used extreme violence and terrorism to send a message.  It is processes and conditions that make people violent, because no one is born violent or a murderer, he said.  The shared responsibility of the community is to accept that it is not just one person who is guilty.  Students must be taught to accept the other, and not feel fear or guilt.  We should not be 'promoting or celebrating victory' instead, religions must explore what they could bring to the table.   The teachings of the Buddha, he explained, are reflected in the restorative justice method.
Then, it is time he said, that we asked ourselves, "What does it mean to be a Buddhist?'
Describing the discussion as timely, as it took place on the eve of Sri Lanka's Independence Day celebrations, Dr. Jehan Perera, Executive Director of the National Peace Council of Sri Lanka stated that February 4th, would be a decisive day for the country.  He was referring to whether or not the new government of President Gotabaya Rajapaksa would continue the practice of its predecessor and sing the national anthem in both the Sinhala and Tamil languages or stick to only Sinhala. The constitution provides for parity of status for both languages, though, he pointed out there is a school of thought that the anthem must be sung only in the language of the majority population. (The anthem was sung only in Sinhala at the celebrations.  However, a group of people gathered near the General Cemetery, Colombo while the official celebrations were going on, to sing the anthem in both languages.)
Could pluralism prevail?
The other issue was the President's recent statement to the UN Resident Coordinator, where he had claimed that several thousands of missing persons are dead. Dr. Perera pointed out that this is not an appropriate answer to the families of the missing, who cannot be simply told to give up their search, without any findings or accountability.
There is, he said, the idea that those who won the war should go unpunished for any crimes they commit. In fact, one of the President's campaign promises was to free armed service personnel already imprisoned for various human rights violations.
If that is to be the practice, then restorative justice could be the answer, Dr. Perera stated, where, instead of punishing the perpetrators we adopt the South African method.  Through their Truth and Reconciliation Commission South Africa granted pardons to those who confessed and repented the human rights violations they were accused of.  The Commission played a crucial role in that country's transition to a free and full democracy.
It is the polarisation of the country that has brought to the fore, ones ethnic identity, instead of forging a collective Sri Lanka identity, said Head of the Legal Research Unit, University of Colombo,
Sarveswaran Arulanantham.
It is also the lack of a consistent policy that has created issues such as the National Anthem, he pointed out.  As well, the criminal justice system needs to be amended so those arrested, for instance under the Prevention of Terrorism Act, will, if innocent, not have to languish for years in prison.  Many are released after 10 or 12 years for lack of evidence.
Unless and until the powerless are empowered, opined lawyer Lakmali Hemachandra, neither retributive nor restorative justice will have any real effect.  In South Africa the oppressed won while in Sri Lanka the oppressor wins and that determines how justice is meted out.  Would restorative justice adequately address sexual violence or the ethnic identity issues?  Silencing the oppressed would bring peace but not justice, she claimed.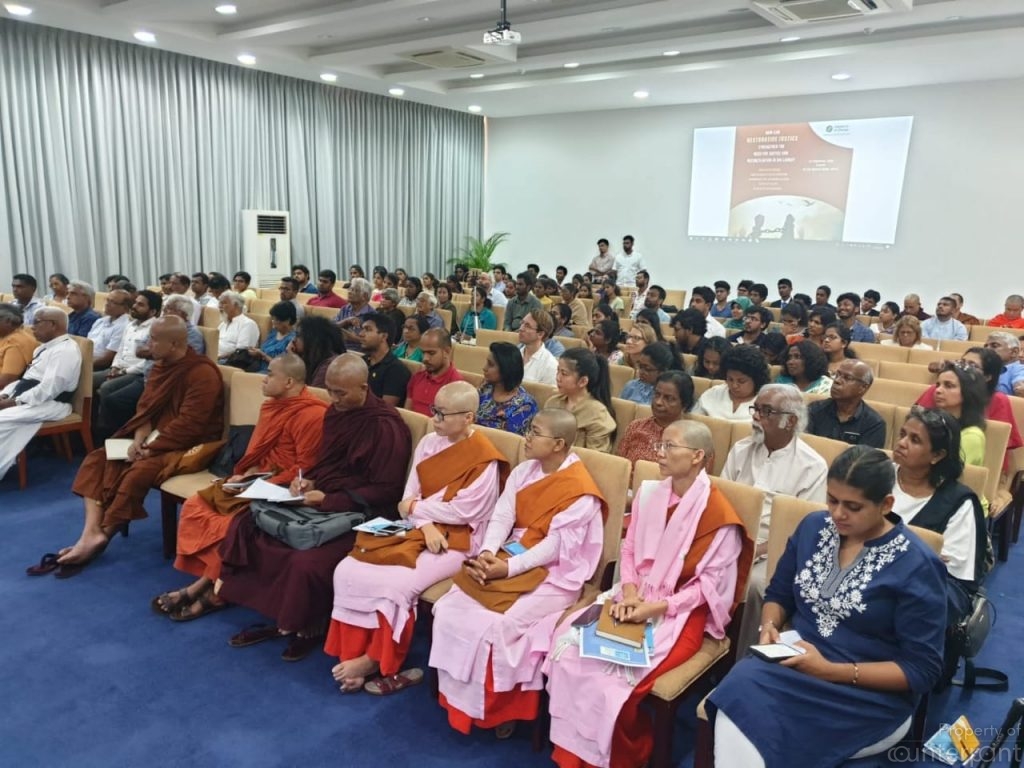 Hemachandra who works extensively with the plantation sector, while pointing out that not even their demand for a Rs. 1000 per day wage has been granted, stated that the Plantation community continues to be seen as foreigners and migrant workers. They were disenfranchised through one of the first actions of Independent Sri Lanka.  Not only are their wages meagre, housing and health conditions leave much to be desired for. They are compelled to fight against so many structures, their employers, the State etc. she said, adding that "they are community that has never got justice."
It is the same elsewhere, she pointed out; an individual who lacks access to better education, career choices and socio-economic opportunities, would languish in prison, while a General in the Army who has committed a crime against the people is able to escape punishment.
Participants too observed that while some languish in jail even when there is no evidence against them, others, against whom there is evidence, are freed.  Where education and religion promote divisiveness, couldn't our children be taught all religions, asked one? It would help build empathy amongst the younger generation, though he doubted religious leaders would agree to that.
Tragically, Sri Lanka's leaders seek election only to enjoy material benefits; there are no visionary leaders, as someone in the audience pointed out.
The discussion raised important points that accurately assessed the situation we are in as a nation. Though a majority of the country is in a euphoric state with a new government in power, Sri Lanka is yet to address the underlying unsettling issues of ethnic and religious tensions and the less than satisfactory education and justice systems.
Initiatives such as the Sudu Nelum Movement and the Lessons Learnt & Reconciliation Commission, which were meant to resolve some of those issues, were dampened by nationalists and politicians who, while condemning the British divide and rule policy, have utilised those same measures these past 72 years of 'Independence.'
If we are to move forward as a cohesive and inclusive nation, where equal status and opportunity is a given for all citizens, then we must first heal the wounds that have been inflicted upon us.
Perhaps Restorative Justice which works along lines of forgiveness and empathy and concentrates on the victims just as much as on the perpetrators' will stand a better chance of healing this nation.