Dark depths of the netherworld of organized crime – IV
Gang Rivalries get Red in Tooth and Claw: A Severed Head at Hulftsdorp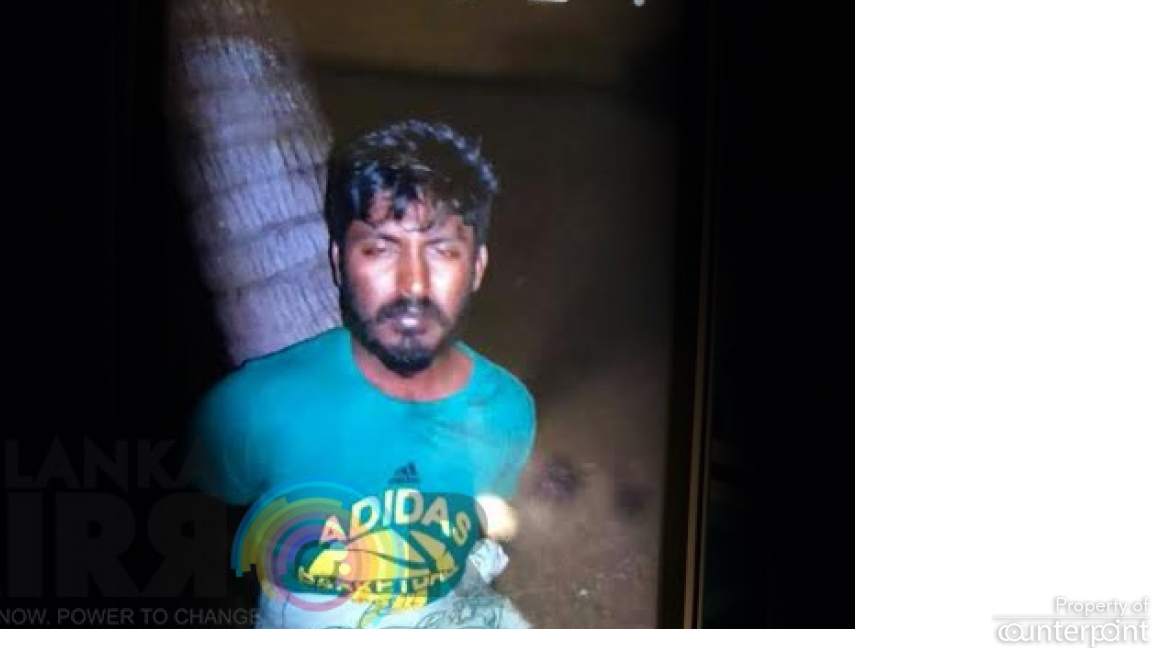 Kosmali moments before his execution. Picture retrieved by the police from the mobile phone of one of his killers.
The media report, from time to time, underworld killings, but little known is the fact that most of them are interconnected and consequent to bloody turf wars. The Counterpoint, today, examines an incident where a gang left a severed head at Hulftsdorp. The victim was a member of Ranale Samaya's gang. Today's special report is based on information obtained from the police investigators who solved the crime.
The spectacular attack on the Kalutara Prison bus and the elimination of Ranale Samaya and four of his confederates, in one fell swoop, in 2017, sent shock waves through the underworld and incensed Samaya's gang beyond measure.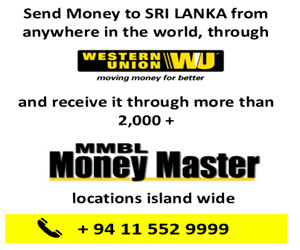 Two notorious criminals known as Urujuwa and Gotha Asanka (so named due to stammering) moved in to fill the void created by the killing of Samaya, in the underworld. No sooner had the Kalutara Prison bus attack been carried out than the Samaya's fellow criminals knew Madush and Angoda Lokka had masterminded it.
Angoda Lokka was planning to expand his criminal empire to encompass areas such as Kaduwela, Nawagamuwa, Athurugiriya and Malambe so that he could conduct his narcotic trade, freely. He was bent on eliminating the remaining members of Samaya's gang.
***
The Kaduwela gang was determined to carry out a tit-for-tat killing to hurt Madush and Angoda Lokka. They were perturbed to learn that their rivals were celebrating the Kalutara attack. Unbeknownst to Madush and others, Samaya's followers prepared a plan to exact a terrible revenge. They identified a close ally of Maduh—Mohamed Rishvan, who ran a taxi service, which, in fact, was only one of the fronts for laundering Madush's drug money to the tune of hundreds of millions of rupees. They struck on 16 Feb. 2018, a few months after the killing of Samaya and others.
Two gunmen working for Urujuwa and Asanka stormed Rishavan's office at Hulftsdorp, at noon. They did not miss their target. Rishvan was dead within seconds. The assassins, however, failed to make good their escape, as planned. They could not get on the getaway motorcycle as the victim's neighbours sprang into action, on hearing the sound of gunfire; they surrounded the place, captured one of the gunmen and beat him to death. The other managed to show a clean pair of heels. But he could not escape the long arm of the law. He was subsequently arrested.
On hearing of Rishvan's death, Madush went into a rage. He vowed to avenge his bosom pal's murder and was ready to do all it took to teach Samaya's gangsters a lesson.
***
Madush, hiding in Dubai, at that time, called a person called Loku Aiya, one of his trusted lieutenants in Sri Lanka.  The latter, a resident of Angunukolapelessa had helped Madush while the latter was a teenager. Madush wanted the key members of the Kaduwela gang eliminated.
Loku Aiya had been a JVP activist during the reign of terror in the late 1980s. He left politics subsequently and joined Madush's gang full-time. One of his nephews was sentenced to death over the killing of the Superintendent of the Noori Estate, Nihal Perera. The victim was hacked to death, in Deraniyagala, on the morning of July 5, 2013. The killers were led by former Deraniyagala Pradeshiya Sabha Chairman Anil Champika Wijesinghe alias 'Atha Kota'. Eighteen accused were given the death penalty for the murder.
***
Urujuwa and Asanka were in remand prison, at that time, over some other crimes, and Madush found it difficult to have them killed, behind tall walls.
One of the killers of Rishvan was already dead and the other was detained on a court order, at the Mirihana police station. Madush was wary of taking unnecessary risks and making his professional killers run the risk of being arrested or killed. He decided to settle for a soft target, for once. Such was his desperation to take revenge. He was both hurt and piqued. He had never anticipated a counterattack and expected the Kaduwela gang to go into hiding after the Kalutara ambush. But his rivals proved that they were made of sterner stuff.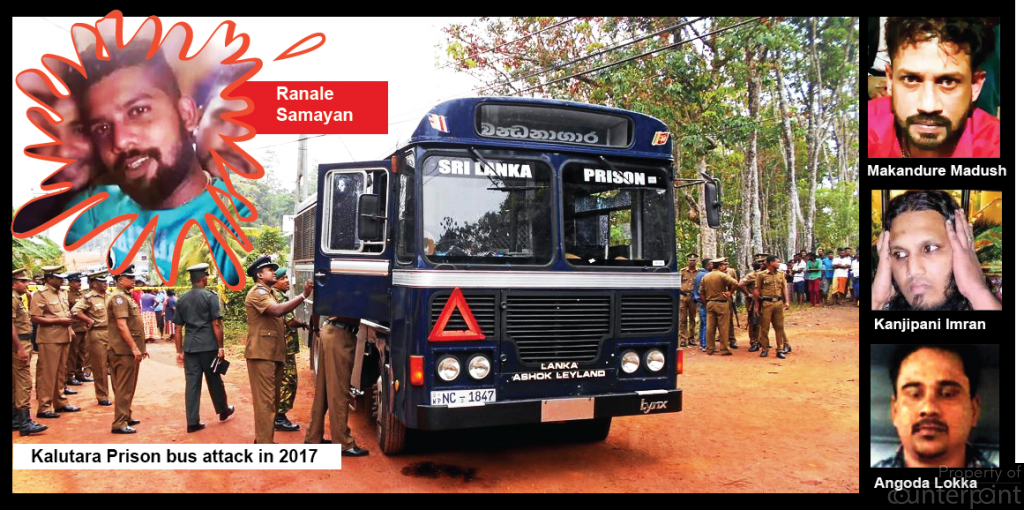 Madush gathered intelligence about the other members of the Kaduwela gang and traced the motorcycle left behind by Rishvan's killers to an underworld character named Angoda Kosmalli, who was working for Ranale Samaya. Madush also found that Kosmalli had spied on Rishvan and led Samaya's gunmen to a criminal known as Raththaran, who was gunned down. Raththaran had been working for Angoda Lokka.
***
Madush, Angoda Lokka and Kanjipani Imran decided to get rid of Kosmalli, for want of a better alternative. Operating from overseas, they wanted revenge to be swift and shocking. The police were also looking for Kosmalli for his involvement in the killing of Rishvan. Madush had to act fast.
Kosmalli had an affair with a woman who worked at a massage parlour in Colombo. He used to frequent the place. The name of the woman was Madu from Embilipitiya. After working there for some time, she left her job and returned to her home town. She, however, was in touch with Kosmalli.
Sensing that his life was in danger, Kosmalli disappeared suddenly. Nobody knew where he had gone.
Angoda Lokka's gang received information about Kosmalli's affair with Madu. Lokka learnt that Madu had returned to Embilipitiya, but had no way of tracing the girlfriend's residence, and on making inquiries he found that she had a nephew named Srimal, who had links to his team, and knew Kosmalli well.
Kosmalli did not stay in one place for more than a few days. He knew the police and Madush's killers were after him and he had to be on the run to escape from them. So, having spent a couple of days at Madu's house in Embilipitiya, he fled to Potuvil.
***
Loku Aiya got in touch with Srimal and told the latter, in no uncertain terms, that the lives of both of them would be in danger unless they traced Kosmalli fast. Srimal, out of fear, agreed to cooperate. He contacted Kosmalli through Madu, claiming that he had found an ideal hideout in Angunukolapelessa.
A few days later, Srimal brought Kosmalli, in a car to Loku Aiya's place. Kosmalli had no reason to suspect that he was walking into a trap. Loku Aiya received him with open arms, promising to ensure his safety.
On the day of Kosmalli's arrival, Loku Aiya organised a bender, to which some of his friends were also invited. The shindig went on well past midnight, and the generous host told Kosmalli that they had to sleep at a chena for safety reasons. The latter agreed and all of them left in a vehicle. The journey took long and Kosmalli asked why they were going deep into the jungle. His question went unanswered. The vehicle came to a halt. Loku Aiya drew a firearm and ordered Kosmallit to get down.
***
Loku Aiya claimed that he was from the military intelligence and wanted to question Kosmalli over some crimes he had been involved in. The latter was tied to a tree and his pictures were transmitted to Madush via a mobile phone. A few minutes later Loku Aiya got a Viber message from Madush, who wanted to speak to Kosmalli.
Madush, claiming to be the head of the military intelligence unit, grilled Kosmalli on the killing of Rishvan. Scared out of wits, the latter divulged everything he knew about the murder and begged for mercy.
Having established that Kosmalli had a hand in the murder of Rishvan, Madush identified himself. Furious, he vowed not to spare anyone involved in the killing. Kosmalli realised that it was curtains, but was somewhat relieved when he was told that a comfy car would be organised for him to return to Colombo.
Loku Aiya went inside a nearby hut, asking others to call him when the car arrived. Before long the roar of an engine was heard and a car drew to a halt. Someone fetched a body bag from its boot. There was something eerie in the air. Shocked, Kosmalli watched the unfolding drama, in horror.
Amila, one of Madush's button men, suddenly, drew a gun and held it at Kosmalli's chest. A few shots were heard. Madush and Kanjipani Imran were watching the execution from Dubai. Another criminal named Ralahami severed Kosmalli and put it into the body bag, which was handed over to two persons who came in the car. The gang dispersed after burying the headless body.
***
The car sped all the way to Colombo via the Southern Expressway. Everything went as planned and no checks were conducted on the vehicle. Anyway, the criminals had taken precautions and the bleeding head was concealed in such a way that a casual search would not have yielded it.
Two underworld figures, one of Selli's sons—Rimoshan—and another gangster were waiting, at Armour Stree, for the car, which arrived before daybreak. They took delivery of the head and sped towards Hulftsdorp, on their motorcycle.
The original plan was to place the head in front of the court complex, but Rimoshan decided against it due to the considerable police presence in area, for fear of being nabbed. Instead, they put it near a garbage bin in the vicinity of the court complex and vanished. But they made sure that everybody would see it.
The following morning, media personnel rushed to the scene, and pixilated images of Kosmalli's head appeared on television screens. The victim was identified subsequently. It is learnt that Madush and Imran partied in Dubai to celebrate the retaliatory killing. Urujuwa and Asanka went into hiding, fearing an attack.
The killing of Kosmalli was thought to be yet another underworld murder. But the police knew there was much more to it and dug deep. They found that the victim had spent a few days at his lover Madu's house in Embilipitiya. It did not take long for the crime busters to get to the bottom of it.
The police lost no time in arresting Madu and her nephew. The Kamburupitiya police traced the killers and arrested them at a house belonging to one of Makandure Madush's aunts. They included Amila, who killed Kosmalli and Ralahami. Under interrogation, they revealed how they had planned and carried out the killing.