The Name of the game is "diplomatic idiocy"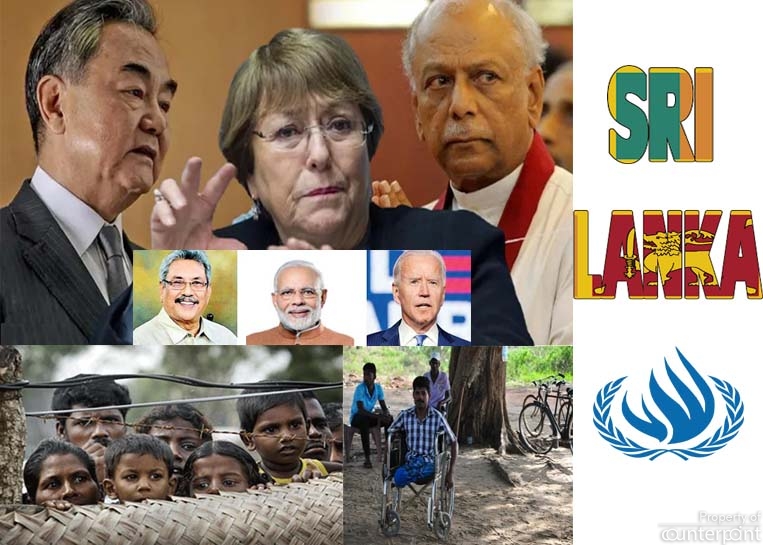 If there is a prize for diplomatic idiocy, Sri Lanka's conduct leading up to the annual sessions of the United Nations Human Rights Council (UNHRC) in Geneva will be a sure winner.
The UNHRC has been hounding Sri Lanka ever since the conclusion of the Eelam war a dozen years ago. This is based on an undertaking given by then President Mahinda Rajapaksa to then United Nations Secretary-General Ban Ki-moon when he visited the country three days after the end of the war.
Sri Lanka then agreed on a series of reconciliation measures- and the UNHRC has been reviewing progress- or the lack of it- annually and censuring the Sri Lankan government. In this process, Geneva has also become a favourite playground for LTTE rump organisations and assorted Eelam lobbyists throughout the world.
In countries where such groups proliferate in sufficient numbers, they wield sufficient electoral influence for their governments to sit up and take notice. Little wonder then that this year's resolution is being sponsored by Britain, Canada and Germany!
The previous Rajapaksa regimes challenged the Geneva resolutions they encountered with only moderate success. When the Sirisena-Wickremesinghe government took over, they went out of their way to placate the diplomats in Geneva, agreeing to co-sponsor a resolution on Sri Lanka.
The rationale for this was that by joining hands with your would-be persecutors, you would be able to negotiate a less stringent censure. This was of course exploited by the then opposition which accused the government of 'selling the soul of our war heroes.
This is not to say that the strategy adopted by the Sirisena-Wickremesinghe combine was the best. There was a general feeling that they were bending over backwards to please Geneva and, in the process, conceding more than they ought to.
The then opposition is now in government- and Geneva is breathing fire, demanding sanctions and international criminal court inquiries against Sri Lanka. The reality is that the UNHRC is another forum for the empowered West to bully nations such as Sri Lanka. It is not genuinely about human rights but about playing political games at the international level.
To counter this effectively, a rational and consistent approach would be required because Sri Lanka, given its size and limited clout, does not command the kind of influence that larger, richer and more powerful nations do.
To direct such an approach, would require a professional approach from its diplomats and coherent direction from their political masters. The 'bull in a china shop' approach simply wouldn't work- but that is precisely what we seem to have got this year.
Foreign Minister Dinesh Gunawardena is held in the highest esteem. He is one of the very few members in the Cabinet against whom there hasn't even been a whiff of corruption in nearly forty years of public life. No one dares to question his integrity or commitment to the causes he believes in.
Nevertheless, with all due respect to Gunawardena, he is no Lakshman Kadirgamar; nor is he the closest one can find in the current Cabinet to Kadirgamar. Indeed, there is a sense in the Foreign Ministry that Gunawardena, who was previously Minister of Water Supply and Drainage has been chosen for the job because those above him could easily override him in making decisions.
Certainly, some of the decisions appear not to have Minister Gunawardena's imprimatur.  That begs the question as to who directs Sri Lanka's foreign policy? Is it an ad-hoc, rag-tag band of bureaucrats from assorted government offices or are some politicians just acting on a whim?
To begin with, Sri Lanka's Permanent Representative is C.A. Chandraprema. Chandraprema is best known for being the author of 'Gota's War', a book that chronicles the last days of the Eelam war and depicts Gotabaya Rajapaksa as the hero who, in Chandraprema's perception at least, single-handedly brought the war to an end. Why else would he call it 'Gota's War'?
After witnessing the conduct in Geneva of Chandraprema- who has no experience in diplomacy despite being handed this plum posting for which many career diplomats aspire to- the question most people are asking is, is he being rewarded for authoring that book?
Then we have Sarath Weerasekera, now the Minister of Public Security. Weerasekara, of all ministers, should know how the UNHRC functions because, over the past few years, he has been attending the annual sessions in Geneva and making representations. He must surely have some understanding of how countries at the UNHRC vote- often in blocs, taking the lead from countries that are the main players.
So, what does he do? A few days before the crucial vote at the UNHRC, he announces a ban on the burqa and the closure of Islamic schools. All the good work done by his Prime Minister Mahinda Rajapaksa in getting Pakistani Premier Imran Khan to Sri Lanka and convincing him to lobby other Islamic countries at the UNHRC have been brought to nought by one stroke of Weerasekara's pen.
Weerasekara's announcements made international headlines. The Pakistani High Commissioner in Sri Lanka took the rather unusual step of commenting on what is essentially an internal matter for Sri Lanka. High Commissioner Saad Khattak said that "The likely ban on Niqab will only serve as injury to the feelings of ordinary Sri Lankan Muslims and Muslims across the globe" and noted that the ban will "will only serve as a fillip to further strengthen wider apprehensions about fundamental human rights of minorities in the country."
Bravo, Sarath Weerasekara, that was a spectacular own goal with perfect timing. With enemies like you, the Eelamist lobby will not need friends like Britain, Germany and Canada to insult Sri Lanka at the UNHRC!
So, Sri Lanka's fate at the UNHRC is sealed. Come next week, the UNHRC will endorse a scathing resolution against Sri Lanka. Knowing this is inevitable, the government is now scrambling to invite United Nations Human Rights Commissioner Michelle Bachelet, who released the damning report on the country which forms the basis of the resolution, to visit Sri Lanka.
That is clearly too little, too late. It could be argued that even the Sirisena-Wickremesinghe dispensation handled Geneva better than this, even though their priorities were different. The dear departed Lakshman Kadirgamar must surely be spinning- not merely turning- in his grave at these pathetic shenanigans!