Policing the Internet: Will it arrest the spread of hatred or become a tool for political repression?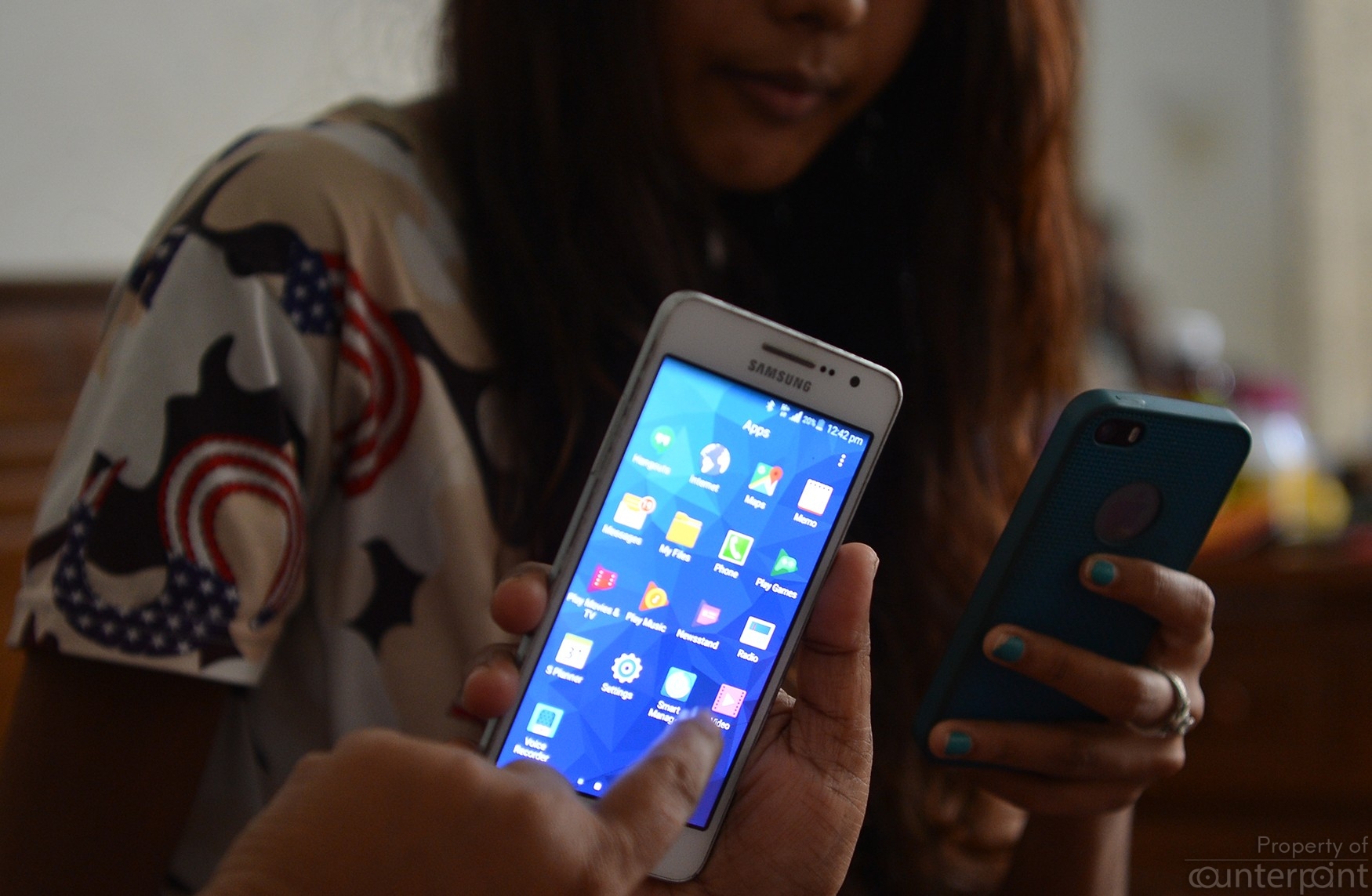 More people access internet via their mobile phones.
Just four years have passed since anti-Muslim sentiments sparked riots in Aluthgama. The full fallout from those events was seen only many months later. If one incident could be attributed to the defeat of former President Mahinda Rajapaksa at the January 2015 Presidential election, it was the mass defection of the Muslim electorate from amongst his supporters following the Althugama riots.
In early March this year, it was the turn of the small hill country town of Digana. The effects of this incident will also be long term both politically and socially. But unlike the Aluthgama riots, there is immediate and dramatic fallout from the Digana riots.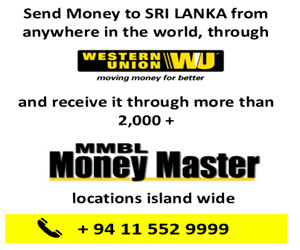 The realisation of the major impact of social media on the events that followed the initial incident and the haphazard but eventually effective countering of it will change how the State looks at social media web sites.
The trigger to the Digana riots was an altercation between a Sinhala man and a group of Muslim men over a traffic incident. It resulted in the death of the Sinhalese man after more than a week in hospital.  His assailants were arrested soon after the assault.
The torching of Muslim owned businesses, homes and Mosques began after the death of the Sinhalese man.
The government's response to end the riots by deploying the police and the Special Task Force in Digana and some neighbouring towns were ineffective.  There were allegations of the police actively encouraging the arsonists. With memories of the Rathupaswala fiasco still fresh, (armed forces were deployed by previous regime to brutally put-down residents who were protesting that water in their areas was polluted by chemicals used at a factory nearby), the government seemed hesitant to deploy the military. But with the riots spreading the government not only deployed the military but also imposed a state of emergency. If one looks at previous events of the country's history, it would show that the above actions would put a stop to the protests and riots.
However, technology has enabled the sharing of information instantly, and the number of people using this tool in Sri Lanka has increased tremendously.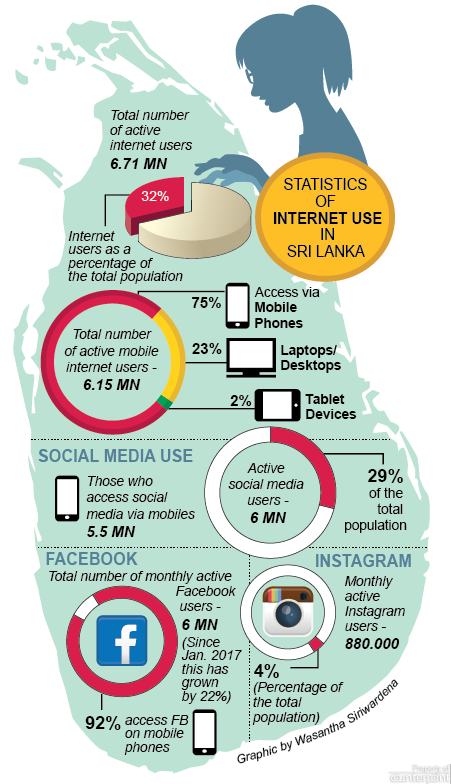 Telecommunications Regulatory Commission of Sri Lanka statistics ending December 2017 indicate that there are 131.5 cellular mobile subscribers per 100 inhabitants. Available information as at January 2018 shows around 6 million Facebook users in the country. A majority access social media sites via mobile phones.  Statistics show that there are around 9 lakhs using Instagram and about three lakhs use Twitter.
In the days following the incident that triggered the violence, videos urging supporters to gather at various places and carry out attacks were posted on social media websites and spread all around the country through Facebook groups. In the videos, the leader of the Mahason Balakaya, Amith Weerasinghe is seen giving a call to arms. He is heard asking Sinhalese from all over the island to descend on Digana, a town he believes has come to belong to the Muslims.
What followed was a systematic attack of vandalism and arson, aimed squarely at the Muslim-owned businesses, shops and mosques in the area.
The government was then forced to take the unprecedented step of banning the major social media web sites.
Legality
The ban was an instantly controversial decision, sparking debate and a multitude of articles both in print and on the web. The nature of it raises several important questions; what is the legality of it? Is it in fact effective? Who does it really benefit? Does it set a precedent for similar blackouts to occur for more politically motivated reasons? And perhaps most importantly, what does it say for the future of the nation as a whole?
Under the State of Emergency, the social media blackout was of course, legal but the murkiness towards when and if it would result in complete closure bends to something quite dangerous. Was the social media blackout simply a means to stopping violent extremism and false stories from being spread, or was it an emblem of what the future looks like under this and future administrations? One where our concept of net neutrality can be bent to the will of whoever is in power?  Where our freedoms and our right to information is blocked or clouded by a national agenda.
One wonders if blocking the sites was even effective. While it is true that violent attacks did not occur after the blackout, this can also be tied to arrests of key instigators and finally the role of law enforcement. The most searched term on google following the blackout was for 'VPN blockers'; that being a Virtual Private Network blocker, which allows users to scramble their IP address so they can access banned or blocked websites by appearing to be somewhere else in the world. Several of the Facebook groups in question immediately put out guides on how to download and use VPN blockers on hearing of the blackout.
What the block entailed was preventing access to Facebook and downloading images. Text messaging was not banned, and of course, everyone could use their phones to share messages verbally.
Furthermore, the nation's Emergency Regulations give plenty of reason to pause. Section 15 reads that 'no person shall, by word of mouth or any other means whatsoever including through digital and or social media communicate or spread any rumour or false statement or any information or image or message which is likely to cause public alarm or public disorder, racial violence or incite the committing of any offence. Gehan Gunatilleke, a Research Director at Verite Research tweeted, 'Causing 'public alarm' is too broad a term to regulate #freespeech. A lot of legitimate commentary & criticism can cause 'alarm'.' This coupled with the President and Prime Minister's attempts to extend the period of the State of Emergency all paint a disturbing picture of our future. One where yet again the rule of law is ignored for the extension of power, and where the powers that be can find legal means of suppressing dissent.
Representatives from Facebook arrived in the island on March 15, and according to the government is said to have agreed to work with them to combat hate speech. So where does this leave the role of free speech on the internet? Who bears responsibility for combating of these groups that incite and organise violence? Facebook has certainly had its fair share of the spotlight in the last year for it laissez-faire attitude to the spread of articles that disseminate false information and incite racial prejudice, particularly with regards to the United States. It would seem the company in trying to combat the bad press it received, is trying to take steps to identify 'bots', to block the sharing of links to websites deemed untrustworthy and to work with governments to ensure that it does not become a tool for violence.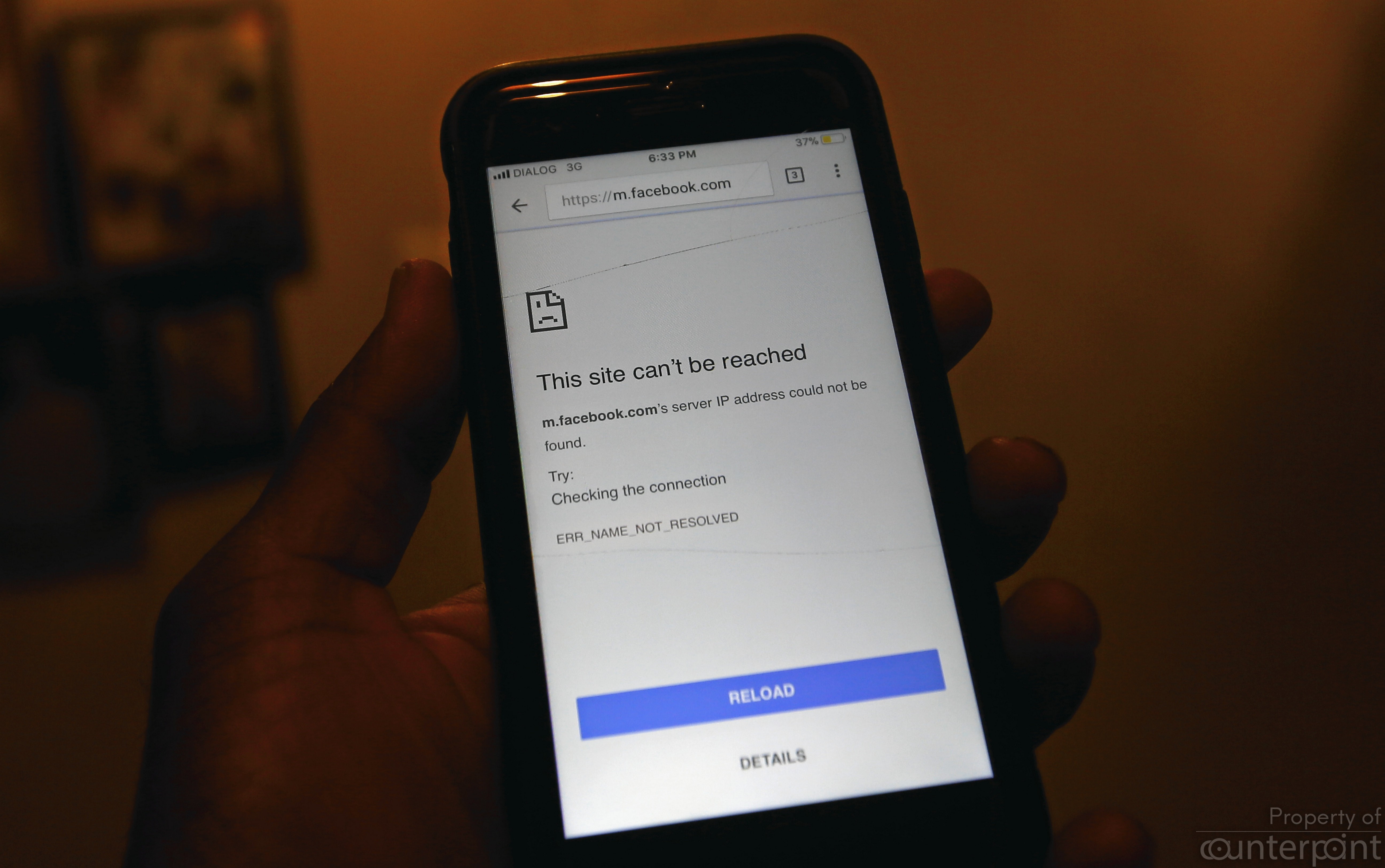 Nalaka Gunawardana, Development Communication Specialist and New Media Researcher, speaking at a forum on "Freedom, control and the Chaos of social media, organized by the Free Media Movement at the Sri Lanka Press Institute on March 21st, stated that investigations reveal that Facebook does not employ adequate Sinhala and Tamil speakers who could monitor the site and alert authorities when necessary.
But these are murky roads ahead; certainly a large US corporation working with the government of a nation to police the way citizens use the internet is fraught with problems. Would it behoove the government to look not at how the information spreads but at how these myths are concocted in the first place? In a nation that has seen as many changes in government as ours has, surely such immense and unlimited power to suppress the spread of information should not be handed over to politicians.
As Nalaka Gunawardene tweeted, #HateSpeech is different from offensive speech & we should not allow politicians to conflate the two. Indeed, #FreedomOfExpression extends to unpopular ideas & statements which may "shock, offend or disturb." #FOE Just ask @SalmanRushdie…
Blocking social media will not prevent hatred from spreading or prevent the dissemination of fake news and myths about one another, or different communities, (in the case of the Muslims it's about rapidly increasing populations, and their attempts to limit the Sinhala population) from being created.
The government's honesty in wanting to police social media to prevent hate speech, rather than political speech is suspect because existing laws more than adequately empower the state to crackdown on hate speech in any medium. So, is there a need for any new legislation to achieve that objective? When President Maithripala Sirisena and Prime Minister Ranil Wickremesinghe promise the nation new legislation to 'control' social media one can only wonder about the real intentions of the government.
Towards the end of 2015, the government made such a move to criminalize hate speech through an amendment to the Penal Code says Attorney-at-Law, and Director, National Media Centre, Jagath Liyana Arachchi. The Gazette notification of November 6, 2015 to criminalize hate speech read as 'Whoever, by the use of words spoken, written or intended to be read, or by signs, or by visible representation, or otherwise, intends to cause or attempts to instigate acts of violence, or to create religious, racial or communal disharmony, or feelings of ill-will or hostility, between communities or different racial or religious groups, shall be punished with imprisonment of either description for a term which may extend to two years."
The amendment did not go through at the time, following objections by civil society groups, The Centre for Policy Alternatives and the Human Rights Commission of Sri Lanka, who claimed that similar legislation was in force through the Prevention of Terrorism Act and the International Covenant on Civil and Political Rights Act.
For instance, clause 3 (1) of the ICCPR Act states, "No person shall propagate war or advocate national, racial or religious hatred that constitutes incitement to discrimination, hostility or violence."
"A person found guilty of committing an offence under subsection (1) or subsection (2) of this section shall on conviction by the High Court, be punished with rigorous imprisonment for a term not exceeding ten years."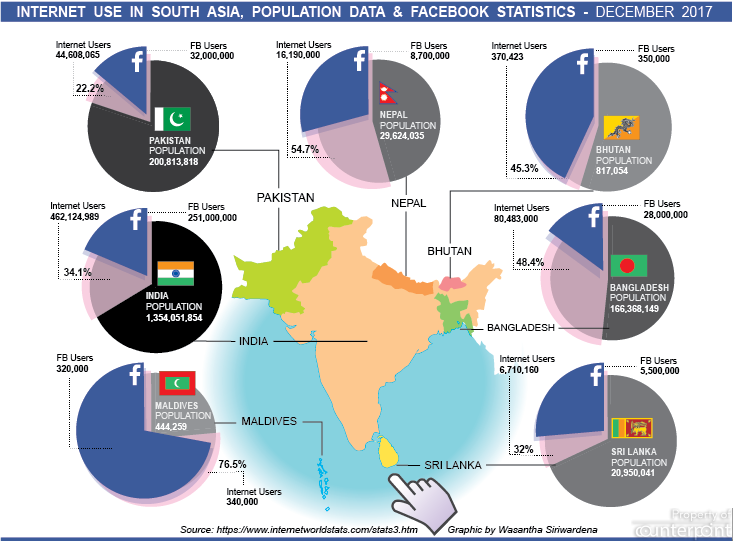 "An offence under this section shall be cognizable and non-bailable, and no person suspected or accused of such an offence shall be enlarged on bail, except by the High Court in exceptional circumstances."
Weerasinghe et all were arrested by the Terrorist Investigations Division for inciting violence and not for using social media to spread racial and religious hatred. That then can be assumed as a clear indication that the government sees the blocking of social media as an opportunity for another purpose.  According to Police Spokesman, Superintendent of Police (SP), Ruwan Gunasekara, Weerasinghe was arrested under the International Covenant on Civil and Political Rights Act (ICCPR) and under Emergency Regulations.
There has,  so far t-been only one arrest, where the accused, A.K. S Perera is alleged to have used social media to instigate disharmony and mistrust of other communities. Perera was arrested by the Criminal Investigation Department, and charged for violating clauses in the International Covenant on Civil and Political Rights Act.
Policing the internet is simply attacking the means of how violence is spread but not how it is born. It also sets precedent for future administrations to attack and censor those whose viewpoints it deems unseemly; it weaponises censorship in a rather startling way. We are at a turning point in our history, where it becomes imperative to break the Sinhalese Buddhist myth of being the put-upon majority constantly under the threat of less powerful 'others', be they minorities or foreign powers.
That is the real challenge facing the political elite, religious leaders and social activists.