Ramanayke's assertions and public confidence in the judiciary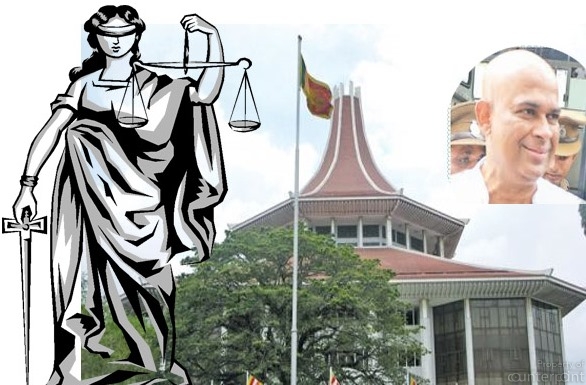 Ranjan Ramanayake, actor turned maverick politician and now convict with a four-year prison sentence hanging over him, would have made his uncle, the late Professor Carlo Fonseka, proud. That is not because he insulted the judiciary but because he was man enough to stand by what he said- even when he was led away to prison- and stand up to what he believed was wrong.
Carlo Fonseka, when he was threatened by the then terroristic Janatha Vimukthi Peramuna (JVP) after making a stirring oration at Vijaya Kumaratunga's funeral, decided to live to fight another day. So, he fled to Norway. Not so, Ramanayake. He could have retracted his words, apologised and groveled before the law lords and gained a reprieve. He didn't. That is not because he wanted to be a hero but because he is, by nature, reckless.
Still, let us not get mixed up with what is fact and what is opinion. It is a fact that Ramanayake insulted the judiciary: he said "most" of them are "corrupt" and that they "work for money". He certainly said so and that is a fact. As to whether "most" of the judiciary are indeed "corrupt" and whether they "work for money" is a matter of opinion.
Unfortunately for Ramanayake, he did not have the political nous to either couch his claims in more diplomatic language or to say what he wanted to say in the way he wanted to say it within the precincts of the privileged chamber of Parliament. He could have described the judiciary in much more colourful language and got away with it, just as Harin Fernando called Gotabaya Rajapaksa by his first name, the less majestic 'Nandasena' and also a 'curse' with no real consequences except an angry retort from an annoyed President!
That has however been Ramanayake's undoing. If he believes in a cause, he engages in a crusade for it, often pushing the boundaries of legality in doing so. His recording of hundreds (or is it thousands?) of telephone conversations is evidence of this. That is blatantly illegal and other high officers and officials have already paid the price for confiding in him.
Legal pundits are now arguing on the relative merits of the laws relating to contempt of court and how fair (or unfair) it is to punish Ramanayake for being a blabbermouth. They point out that the offence of contempt of court has been poorly defined in the annals of Sri Lankan law and that there is no specific punishment prescribed for it in our legal statutes.
These are moot points for academia to grapple with. They are, however, not the bigger questions that arise from the saga of Ramanayake being sent to prison. The greater issue is whether the courts are delivering justice in a manner that negates Ramanayake's assertion that they are corrupt. In fact, the justification for the Supreme Court's contempt verdict against Ramanayake is that his words undermine confidence in the judiciary.
Therefore, it is pertinent to examine whether the courts have conducted themselves in a manner that inspires such confidence because few people will rely on Ramanayake's assessment alone, given his biased political leanings and his tattered reputation, sullied by the phone tapping scandal. Again, it is the facts- and not the opinion- that matters, so let us examine them.
It is a fact that when the previous 'yahapaalanaya' government was in office, that government rushed dozens of cases before courts charging various individuals with various offences. Despite such measures, no politician was hastily convicted by the courts. The only persons who were convicted were former Secretary to then President Mahinda Rajapaksa, Lalith Weeratunga and his associate, Anusha Pelpita.
It is a fact that when the 'yahapaalanaya' government was in office, the judiciary had the gumption to not only deliver a stunning verdict against the then President, Maithripala Sirisena but also to censure him with the judicial equivalent of a slap in the face by calling his act of prematurely dissolving Parliament 'unconstitutional'.
It is a fact that while the 'yahapaalanaya' government was in office the judiciary resolved the issue of dual citizenship of Gotabaya Rajapaksa in his favour, enabling him to run for President, much to the chagrin of the then government.
It is a fact that after the Presidency changed hands, Weeratunga and Pelpita were absolved of the offences they were convicted for and released after they took their cases to the Court of Appeal.
It is fact that not long afterwards, cases against several politicians who become ministers with the change of government- Keheliya Rambukwella, Johnston Fernando and Janaka Bandara Tennekoon- were abandoned because the charges against them were dropped. That, of course, was not done by the judiciary but by the prosecutors acting on instructions from the Attorney General's Department.
It is fact that a few weeks ago, the Court of Appeal allowed Premalal Jayasekara to attend Parliament against the advice of the Attorney General. Jayasekara was elected to Parliament a few days after he was convicted of the murder of a person who was putting up a stage for a campaign rally in Kahawatte in the Ratnapura district for Maithripala Sirisena when he was running for President in 2015.
The irony is that, after all was said and done, Jayasekara and Sirisena now sit on the same side of Parliament!
It is a fact that just recently, a day after Ramanayake was sent to prison, Sivanesathurai Chandrakanthan, better known by his nom de guerre 'Pillyan' was discharged from the case against him for alleged involvement in the murder of parliamentarian Joseph Pararajasingham at a church on Christmas eve.
These are the facts relating some of the cases involving high profile personalities in recent years. All of them, barring Weeratunga and Pelpita, are politicians as is Ranjan Ramanayake.
These facts are out there. In this day and age of pervasive social media, the public are aware of these events, even if they may not collate them in that order. So, they can be the judge of whether the courts command the confidence of the people. They don't need Ranjan Ramanayake to tell them whether or not that is true- and their thinking won't change just because Ranjan Ramanayake is sent to prison either!