Post COVID-19 Economic Recovery
Pathfinder Foundation Proposes Pro-Poor, Macroeconomic, Climate Friendly and Structural Reforms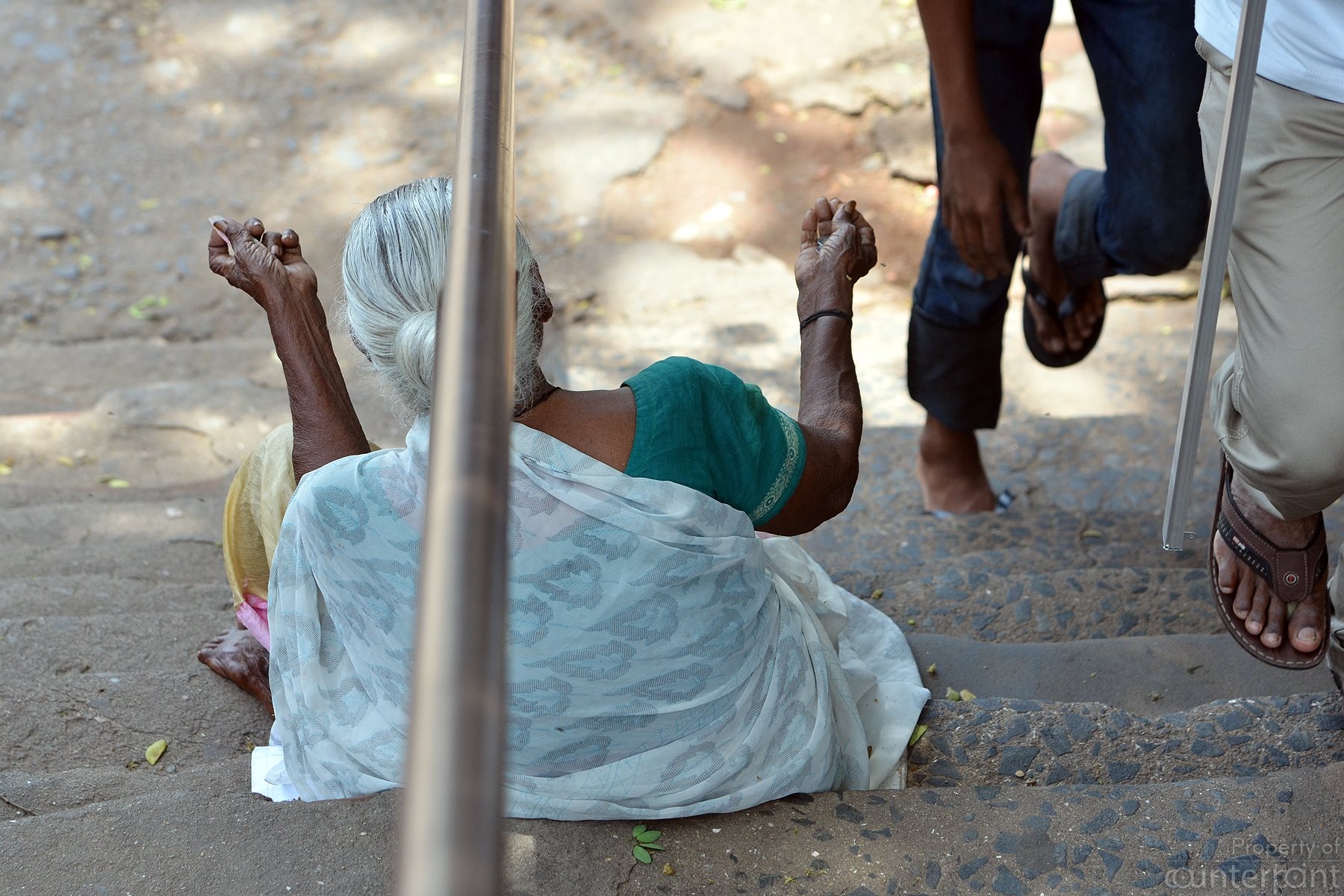 Recommendations include a pro-poor strategy
Sri Lanka's post COVID-19 economic recovery strategy must be a mix of pro-poor, structural, macroeconomic and climate friendly policies, says an eminent panel appointed by the Pathfinder Foundation.
The panel's report which provides a series of recommendations, both for immediate implementation and medium to long term also advices that a Task Force of Officials be appointed by the President's Office with a mandate to evaluate the damage caused to the economy and to develop the recommendations into an 'actionable national economy strategy.'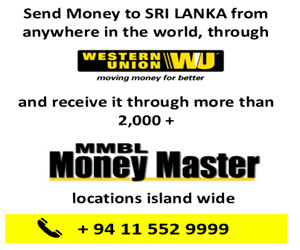 The Task Force could also have the support of a multidisciplinary Advisory Group of Experts to provide technical advice and monitor outcomes.
The panel cautions however, that the recovery strategy  should be non-ideological and pragmatic, and draw lessons from two sets of economic policies Sri Lanka has been exposed to; " the low growth, muted investment, high unemployment and black-market prices associated with the inward-looking policies of the 1970-77 era as well as the increased vulnerability to external economic shocks, climate risks, increased inequality, reduced social protection and pandemics of the period since the opening up of the economy in 1977.'
Meanwhile the panel also advocates adopting a 'friendly non-aligned foreign economic policy towards a range of countries and international institutions' and that Sri Lanka also take advantage of its 'strategic geographical location.'
Pointing out that the government's highest priority should be in mitigating as far as possible, hardships the people would face,  it recommends under  its 'social empowerment and safety nets' component, that  a one-off  payment of Rs. 10,000 be made to one female in a household where either no one is employed or is self-employed.  The panel recommends unlocking the "invisible capital for low-income families through provision of legal ownership of assets,' and also phasing out the current framework of 'small-group based loans' operating under the Samurdhi programme, and instead introducing a component which would generate income which would provide 'sufficient credit support to young entrepreneurs.' The reasoning here is to reform the Samurdhi programme to better serve low-income families.
With a view to increasing cash flow of businesses and households, the report recommends that EPF/ETF employer-employee contributions be suspended for a three month period. The report suggests unifying the two schemes and addressing the conflict of interest issue in the management of EPF.  It also recommends exploring a phased pathway, in consultation with trade unions to introduce a contributory pension scheme for the public sector, in line with similar programmes in operation in other countries.
The report suggests that the second priority should focus on building 'fiscal and external buffers to increase resilience by de-risking the economy."  Pointing to the perilous situation the country is faced with, owing to the lack of fiscal space, the panel recommends that "the authorities need "to go big" in terms of borrowing domestically (including from CBSL) and from official development partners to overcome the lack of fiscal space."  It adds, however that, 'Such borrowing should be strictly allocated to fund social protection and productive investment."
Another of its recommendations is about supporting the private sector to help it restructure businesses so that new opportunities and jobs could be created.  Here too, the panel suggests granting of 'concessional loans guaranteed by the Government/CBSL based on credit lines from the International Financial Institutions." Given that businesses across the spectrum have been negatively impacted by COVID-19, the panel's report advocates that this recommendation be considered an urgent priority to "avoid massive job losses."
Amongst the several other policies the panel recommends the government adopt are 'means-tested fees for university courses supported by a student loan scheme while maintaining free education for students from low-income families' as well as the strict adherence to the Prohibition of Ragging and Other Forms of Violence in Educational Institutions Act, No. 20 of 1998.
Some of the other recommendations include developing a sustainable framework for emergency food relief for times of health and natural disasters, streamlining business processes that hamper business start-ups and fully implementation of the  Single Electronic Window at Customs,  reforms to the Ceylon Electricity Board with a view to promoting widespread use of renewable energy sources in households and businesses, activating the FTA with Singapore and resuming  trade negotiations with Thailand, India and China and reducing the number of public holidays from 25 to 13. It also suggests encouraging businesses to set aside 0.5% of sales towards training workers.
The report also suggests modernizing labour laws, stating that, 'Current labour laws lead to a reduction of overall standards in the country as they incentivise casualisation of the labour force in the formal sector and disincentivise informal sector enterprises from entering the formal sector which would create more opportunities for firm growth."
Another recommendation is to digitalise all government services for business and setting up helplines for the public.
In the area of food security the panel recommends reducing dependence on imported produce and leaving it for Wet  Zone farmers to decide on crop mix while also increasing local production of  milk, sugar and poultry.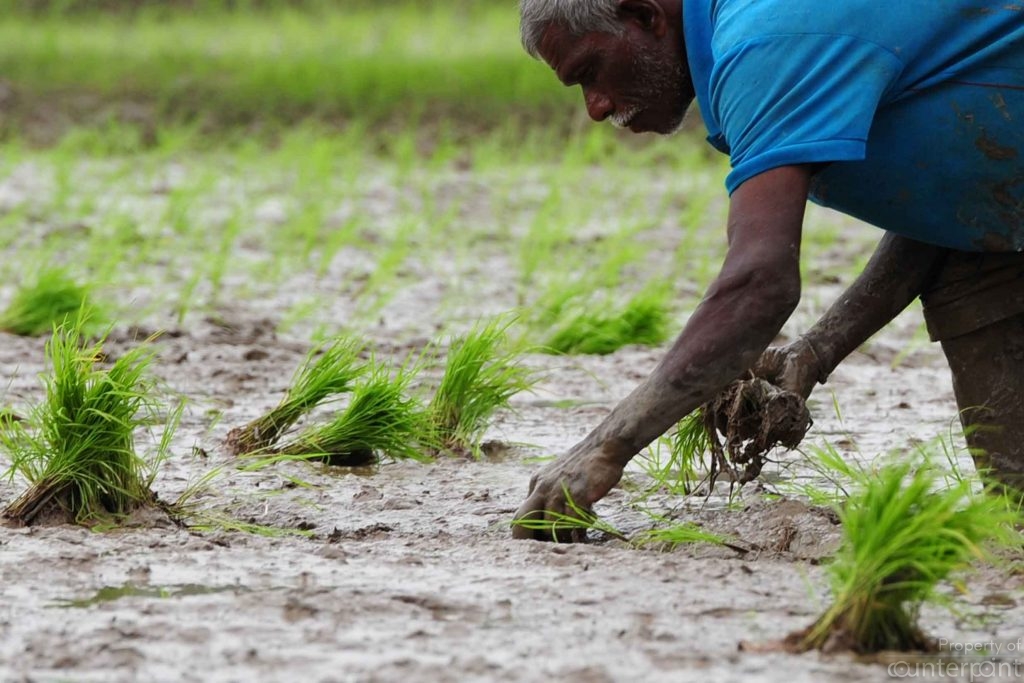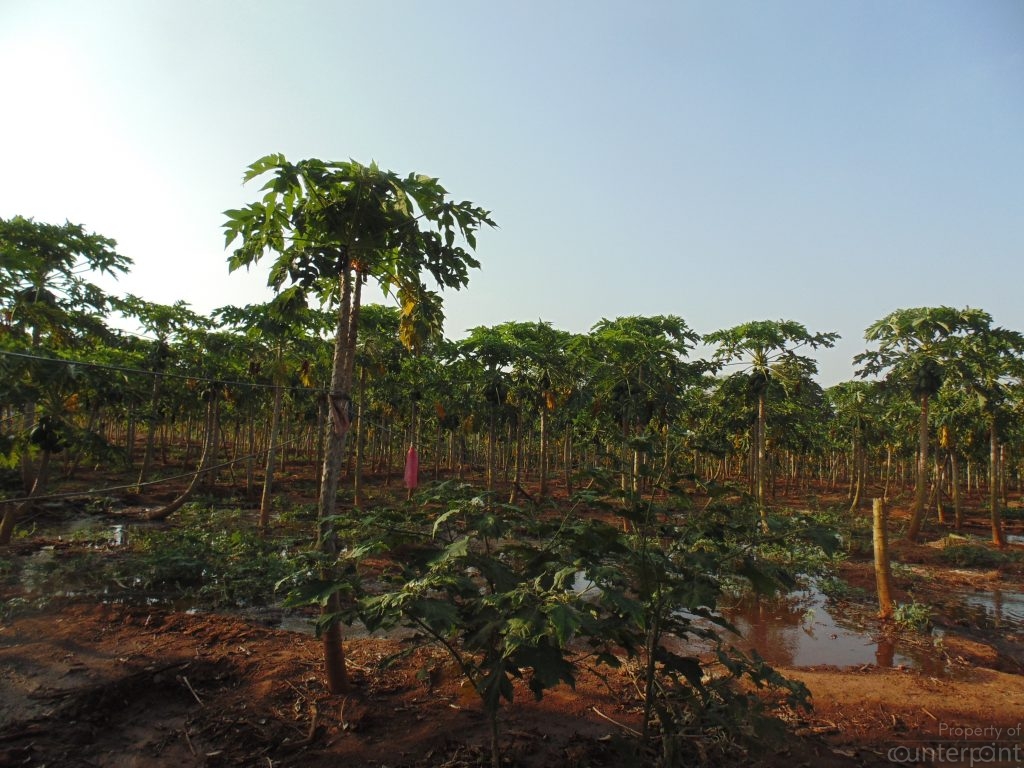 Two recommendations under infrastructure are to 'Implement legal framework inbound investment from regional countries, and  focus on financing infrastructure projects through equity rather than borrowing.'
The report also calls for a study on providing 'internet as a public good' throughout the country and exploring 'all options including island-wide broadband and 5G technology.'
The report of the Panel, entitled "Pathfinder Beyond the Box: A new Economic Vision for Post COVID 19 Sri Lanka" Counterpoint learns has been handed over to President Gotabaya Rajapaksa.
The panel was chaired by former Governor of the Central Bank and Senior Fellow, Pathfinder Foundation with Dr. Indrajit Coormaraswamy with Dr. Sisira Pinnawala – Former Professor, Department of Sociology, University of Peradeniya and Dr. Ganeshan Wignaraja – Executive Director, Lakshman Kadirgamar Institute of International Relations and Strategic Studies acting as the Principal Authors and  contributions from several academics, researchers and businessmen.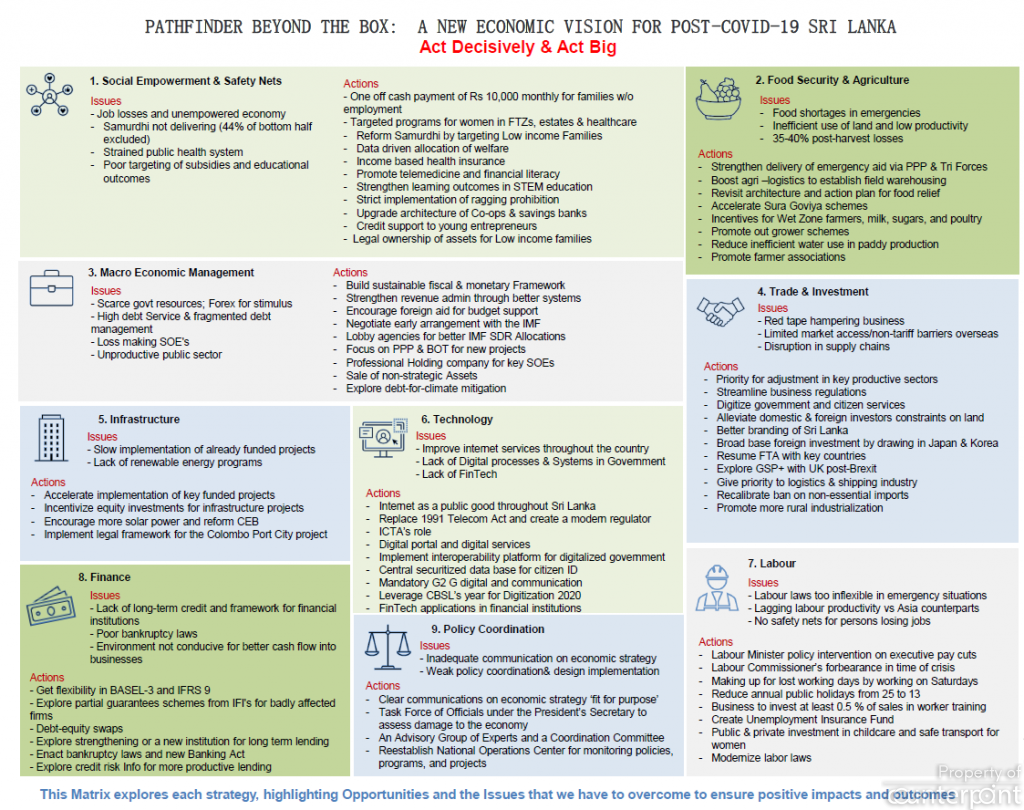 Read the full report here:PATHFINDER BEYOND THE BOX