A fox in a hole: Will Sirisena hang up his sandals?
Running with Gota and hunting with Sajith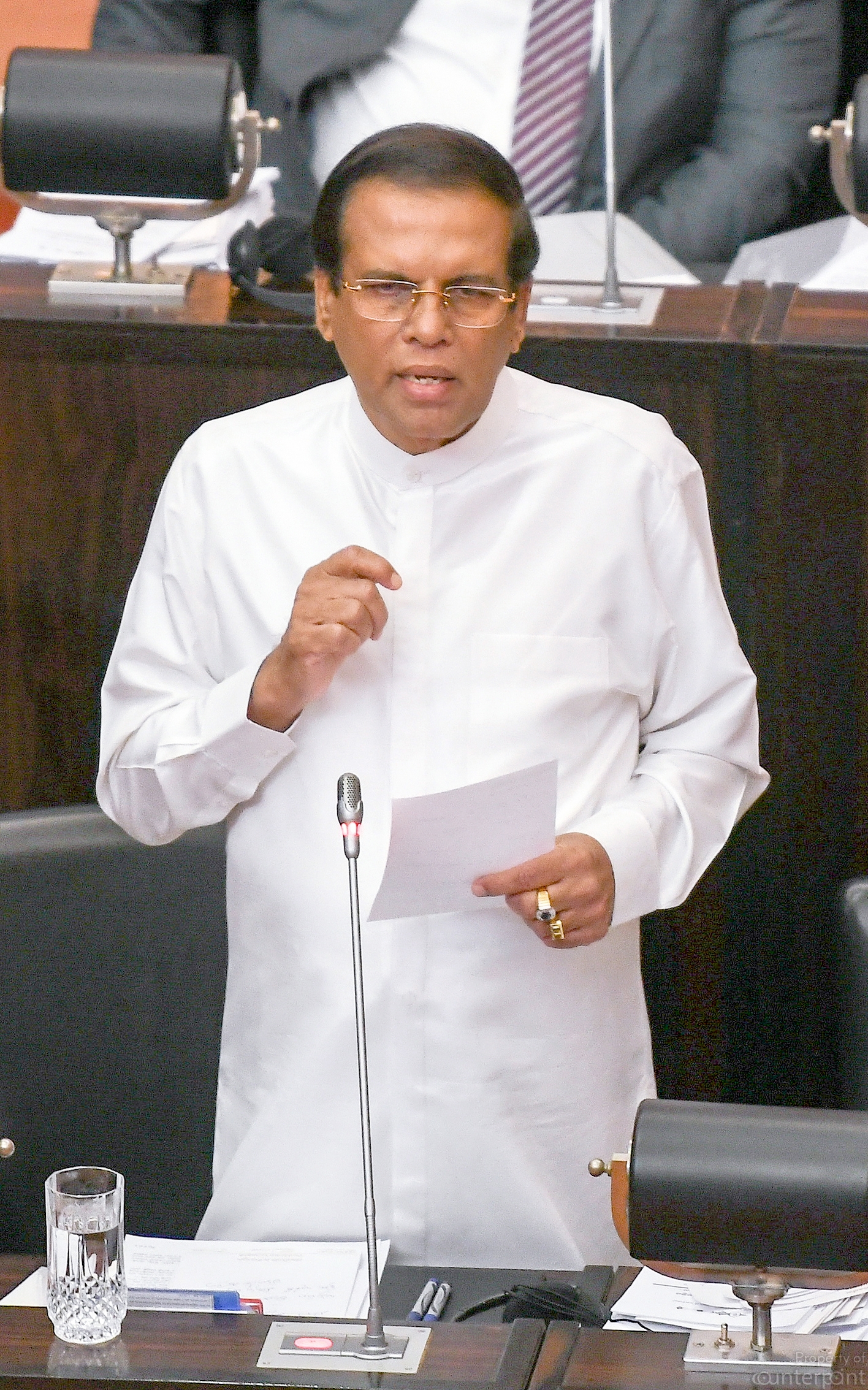 President Sirisena addressing Parliament in May this year.
"What matters in a race is not the start but the finish. The same is true of politics. A political leader is usually remembered for what he or she was at the time of retirement. What does the future hold for President Maithripala Sirisena?

"Sirisena, a gifted vocalist, while he was President Rajapaksa's Heath Minister, said that he was yearning to leave politics and sing virindu in his retirement, singing being his favourite pastime. Has the time come for him to look for a good rabana ?

Has the man who outfoxed foxes finally got into a hole?(Excerpt of Counterpoint profile of President Maithripala Sirisena on 20 April, 2018)
President Maithripala Sirisena, who outfoxed many a fox to reach the highest position in the country, has finally got into a hole. At the time we penned the aforesaid profile he was reeling from a debilitating defeat at the last Local Government polls, and the SLPP, consisting of an SLFP breakaway group led by the Rajapaksas, had emerged very powerful. A few moons after the mini polls debacle, he chose to swallow his pride, smoke the peace pipe with his sworn enemy, Mahinda Rajapaksa, and appoint the latter as the Prime Minister, after breaking ranks with the UNP and dislodging the national unity government. That way, he sought to consolidate his power in national politics and be in control of both the SLFP and SLPP. Obviously, he wanted to seek a second term with the help of the SLPP. But the Rajapaksas had other plans. No sooner had the President dissolved Parliament than they joined the SLPP officially so that they would not be under Sirisena anymore.
Sirisena used the SLPP as a cat's paw to pull political chestnuts out of the fire only to have the Rajapaksas trying to help themselves to the nuts so raked out.  It is widely thought that Sirisena, realising that the Rajapaksas were trying to use him to achieve their political goals and then discard him, did not go the whole hog to muster the required numbers for the newly formed government in Oct. 2018 to secure a working majority in Parliament, so that Rajapaksa would lose the premiership. The 52-day government collapsed and Rajapaksa was left with egg on his face; Sirisena's plan to ride piggyback on the SLPP to win a second term also came a cropper.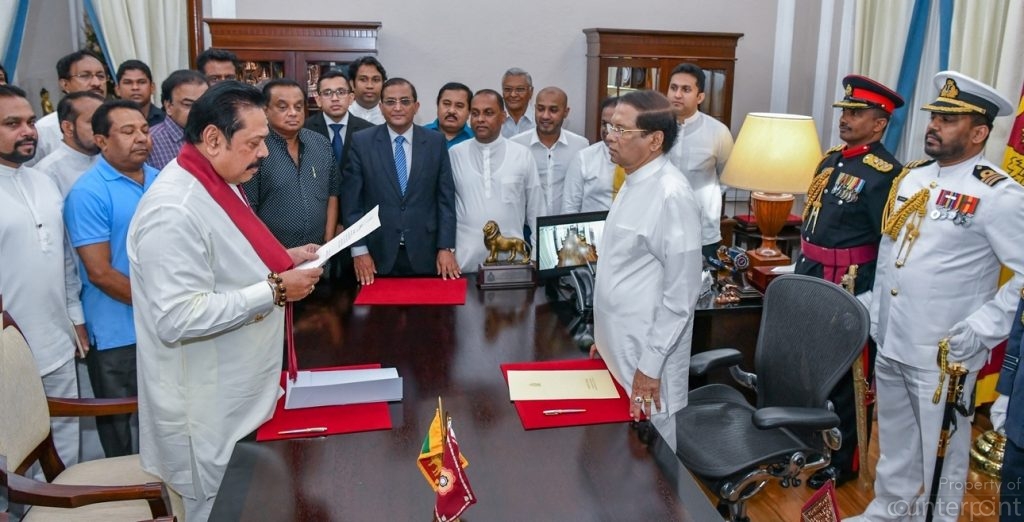 Another factor that brought about the downfall of that short-lived government was that it did not have the blessings of some of its key members who wanted to make Gotabaya Rajapaksa the President. They knew that if the SLFP-SLPP relationship got cemented, Gotabaya's chances of securing the SLPP nominations to run for President would be ruined. Basil also was not keen to ensure the survival of that administration as he did not want to be under Sirisena. There is no love lost between them. What the Rajapaksas wanted was a government of their own without anyone above them.
President Sirisena's wish was to have a general election before the expiration of his term, but it did not come true, and he has had to leave office. During his tenure as the President, he made enemies of both the SLPP and the UNP, and one may have expected him to incur their wrath and face revengeful action whichever party won the presidency. But he has befriended them again.
Running with Gota
President Sirisena made a virtue of necessity by allowing the SLFP to back Gotabaya. He knew the party seniors had already pledged their support to Gotabaya and there was no way he could stop them. He stepped down as the party leader so that he would not antagonise the UNP further. The SLFP stalwarts insist that he is fully supportive of Gotabaya, but he maintains an eloquent silence. He wants to remain friendly with both the UNP and the SLPP so that whichever party wins the presidential election, his interests will be looked after.
Gotabaya has always had a close rapport with Sirisena, who, however, got short shrift from the other Rajapaksa brothers, especially Basil. Now, Sirisena is apparently in the good books of all members of the Rajapaksa family and other SLPP stalwarts. They will have to show their gratitude to him in tangible terms in case of winning the presidential election.
Speculation was rife in political circles, a few days ago, that President Sirisena would enter Parliament as a National List MP after the presidential election. It was speculated that an appointed MP of the UPFA would resign for him to secure a National List slot. Nothing of the sort has happened so far, and it is unlikely that the outgoing President will try to get appointed to Parliament when he can win a seat at the next general election and make a grand entry.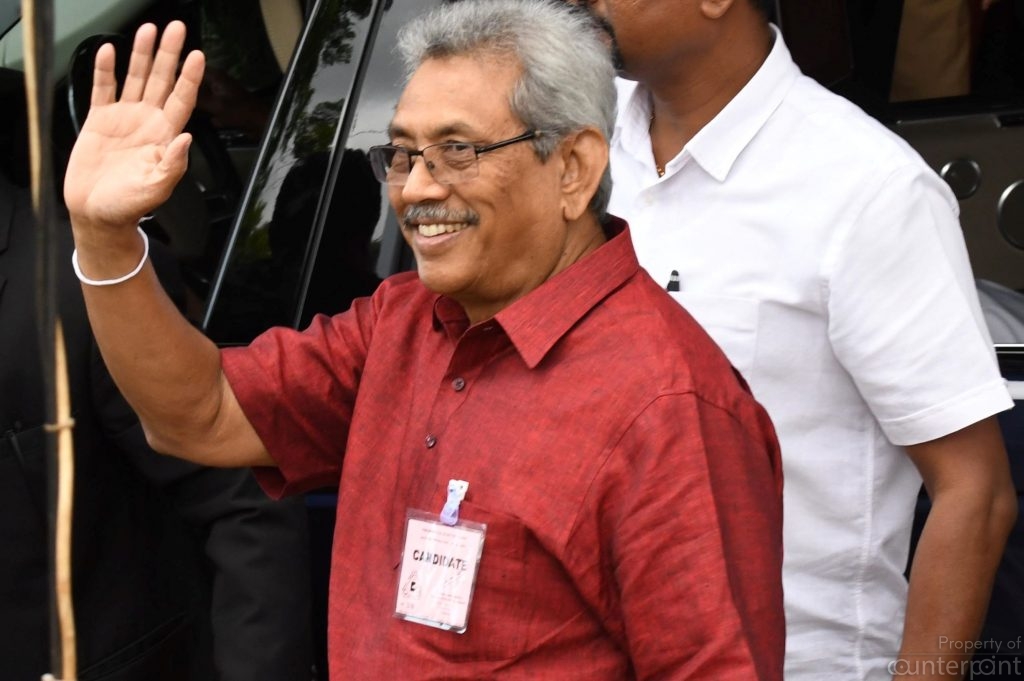 Hunting with Sajith
The prominent members of President Sirisena's personal staff are campaigning for NDF presidential candidate Sajith Premadasa though Sirisena declared that he would remain neutral; he has a close bond with Sajith, whom he even offered to appoint Prime Minister twice, before sacking the UNP-led government. Had Sajith accepted that offer, the 2018 constitutional coup would not have happened and the national unity government would have continued. But Sajith did not want to be seen to be a traitor. He also had presidential ambitions. He who pursues the stag regards not the hare, as the saying goes.
Sirisena and Sajith have always had kind words to say about each other. They can work together if circumstances compel them to do so.
Sirisena is running with Gotabaya and hunting with Sajith so well, that the UNP-led government went out of its way to give him an attractive retirement package, which includes the official residence he is currently occupying as the President. The Cabinet has also sought to absorb into the state service the President's personal staff. This is an unprecedented move which can be considered a gesture of goodwill and gratitude. When the government was sacked, last year, Finance Minister Mangala Samaraweera publicly went ballistics and used a derogatory Sinhala word meaning 'dog' to describe President Sirisena. But 13 months on, he is all out to make Sirisena's life comfortable in retirement. Whoever would have thought such a thing would be possible?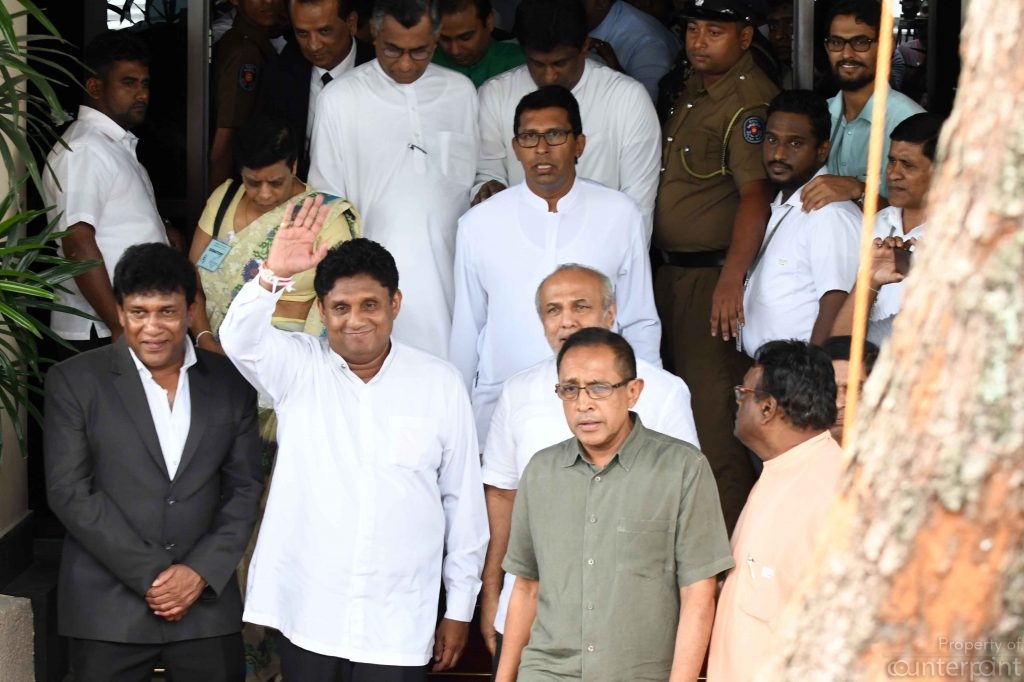 Can Sirisena be PM?
As for becoming President again, outgoing President Sirisena has the same chances as a cat in hell. Hope springs eternal, though, and he must be dreaming of securing the presidency again one day, but for the time being he will have to settle for the post of the Speaker or a plum ministerial post while aspiring to be the Prime Minister. He can easily win a seat at the next parliamentary election and both the SLFP and the UNP are likely to agree to make him the Speaker, the way they appointed Anura Bandaranaike the Speaker in 2000, provided he is willing to accept that post.
The Speaker's post has a great deal of prestige but lacks political clout. Karu Jayasuriya has done remarkably well as the Speaker though his partiality to the UNP is obvious. During the 52-day government, it was popularly thought that the UNP would pick him as its presidential candidate, because of the pivotal role he played in saving the UNP-led government. He stood up to President Sirisena and Prime Minister Rajapaksa until the apex court held against the short-lived government. But Sajith beat Jayasuriya to it as regards the presidential candidacy.
So, Sirisena will have to decided whether to be a big fish in a small pond as the Speaker or accept a ministerial position so that he can further his political interests and those of others who are close to him.
The SLFP, having thrown its weight behind the SLPP may be able to win at least a dozen seats at the next general election in case of the SLPP's victory at the Nov. 16 presidential poll. If the SLPP manages to form a stable government, Sirisena can accept a ministry of his choice—most probably Mahaweli Development—and remain to be a force to be reckoned with a view to clawing his way up again. He is only 68 years old and can, therefore, wait.
The SLPP's electoral fortunes will diminish in case of Sajith's win, but the SLFP will be able to function as the balance of power by winning a considerable number of seats at the next general election. Will he join forces with the UNP under a Sajith presidency to form a government in such an eventuality? Sirisena's moves are highly unpredictable and suffice it to say that anything is possible where his elusive mind is concerned.
If the next Parliament happens to be hung, Sirisena will have a huge bargaining power in case he has a considerable number of MPs representing the SLFP so much so that he might even be in a position to demand the premiership in return for his support for a party to form a government. This will no doubt a tall order, given that Mahinda Rajapaksa and incumbent PM Ranil Wickremesinghe are determined to secure the premiership. However, if the SLPP secures the presidency, the Rajapaksas are likely to install, as the SLFP leader, someone loyal to them so that neither Sirisena nor former President Chandrika Kumaratunga will be able to call the shots in the SLFP parliamentary group.
Will Sirisena take the Rajapaksas for a ride again?
President Sirisena knows it is politically suicidal for him to go it alone at a general election. If the SLFP had not joined forces with the SLPP a few days before the Elpitiya Pradeshiya Sabha election, perhaps it would not have been able to secure three seats. It is aware that it gains electorally from its alliance with the SLPP.
At the 2015 general election, the UPFA won 95 seats as its campaign was led by former President Mahinda Rajapaksa. If President Sirisena had not thrown a monkey wrench in the works by refusing to appoint Rajapaksa PM, the UPFA may have beaten the UNP-led UNF in the race.
Sirisena's battle plan is clear; he wants the SLFP to win as many seats possible at the next general election by coalescing with the SLPP so that he can remain a force to be reckoned with. Will he repeat what he did in 2015, when he closed ranks with the UNP to form a joint administration? This possibility cannot be ruled out if his history is anything to go by. But, this time around, he lacks the executive powers to do as he pleases and the Rajapaksas are also likely to take precautions.
What's in store for Sirisena?
Political acumen, which Sirisena is blessed with, has enabled him to be what he is today. It is sure to decide what he will be in the future when he ceases to be the President. He used to roam the Polonnaurwa Township and the adjoining areas as a schoolboy in the company of his friends and stay overnight at musical shows, as he said in a recent television show. He does not come from a political family and there was no one to guide him. He came up the hard way, facing many a formidable challenge. He has not lost a single election he contested. As we have pointed out in our profile of him, President Sirisena once jokingly observed, at a public function, that he had played elle at Royal College, Polonnaruwa, and gone on to be the President, and Ranil Wickremesinghe, who had played cricket at Royal College, Colombo 07, had become the Prime Minister. Encapsulated in the aforesaid words is the impact of what has come to be known as the 1956 socio-cultural revolution, which propelled the SLFP to power, in national politics. Upstaging the Bandaranaikes and the Rajapaksas in power politics is no mean achievement for any ordinary politician, especially a person who comes from a non-elitist background.
President Sirisena is known for his lateral thinking and his Machiavellian attitude towards principles and pledges. He is the embodiment of the saying that there are no permanent friends or permanent enemies in politics. Giving up power, which is addictive, is not something that politicians can reconcile themselves to. Nothing will prevent Sirisena from achieving his political goals though he is losing the presidency shortly. He is sure to do his utmost to bounce back or remain relevant in national politics. Hanging up his boots or sandals is the last thing he wants. He is sure to remain active in politics for years to come, and his horse sense will continue to help him with his unorthodox political manoeuvres.