SPECIAL REPORT SERIES - 2
Sri Lanka's War On Drugs
About 197 kilos of heroin were detected in Kollupitiya recently.
The recent destruction by the police of a massive consignment of cocaine weighing as much as 769 kilos in the presence of President Maithripala Sirisena himself and some judicial and police officers, in Kelaniya, must have warmed the cockles of many a heart; parents worrying about the future of their children must have heaved a sigh of relief on watching that event on television, on April 01.
It is heartening that the police including the elite Special Task Force (STF), the armed forces and the Civil Defence Force personnel are all out to remove the scourge of narcotics, which the people have had to thole, all these years, and the drug busters receive unstinted support from no less a person than the Head of State. This combination should work. However, they have undertaken to tackle a hydra-headed social problem which tears societies apart all over the world and defies a lasting solution.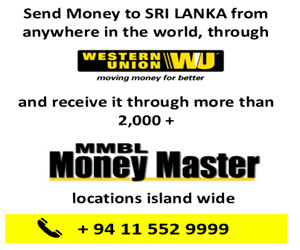 The Police Narcotics Bureau (PNB), which is leading Sri Lanka's war on drugs from the front, informs us, in its latest report, the Sri Lankans addicted to drugs including cannabis account for less than two per cent of the population, but the substance abuse is obviously on the rise with the non-medical use of prescription drugs such as potent painkillers also increasing rapidly.
Tramadol, an opioid, used as a painkiller, is widely abused in this country as much as in other parts of the world. The same is true of cough syrups. There are also various tobacco preparations laced with narcotics such as 'babul' available near schools. 'Madanamokda', an Ayurvedic aphrodisiac containing cannabis and opium, is also widely used in this country; it is popular among students and the youth alike. These are gateway drugs and the users run the risk of graduating to hard drugs with the passage of time. The same is true of smoking, which also leads to drug addiction.
The National Institutes of Health, a US statutory body, has proved, through a study, that tobacco products could act as gateway drugs, opening the door to use of illicit drugs. "Nicotine, the researchers found, makes the brain more susceptible to cocaine addiction. The finding suggests that lowering smoking rates in young people might help reduce cocaine abuse. "Scientists have long recognized that cigarettes and alcohol raise the risk for later use of illicit drugs like marijuana and cocaine. In a recent national survey, over 90% of adult cocaine users between the ages of 18 and 34 had smoked cigarettes before they began using cocaine. Researchers suspected that nicotine exposure might increase vulnerability to cocaine … A team of scientists, led by Dr. Eric Kandel at Columbia University and supported by NIH's National Institute on Drug Abuse (NIDA), set out to investigate."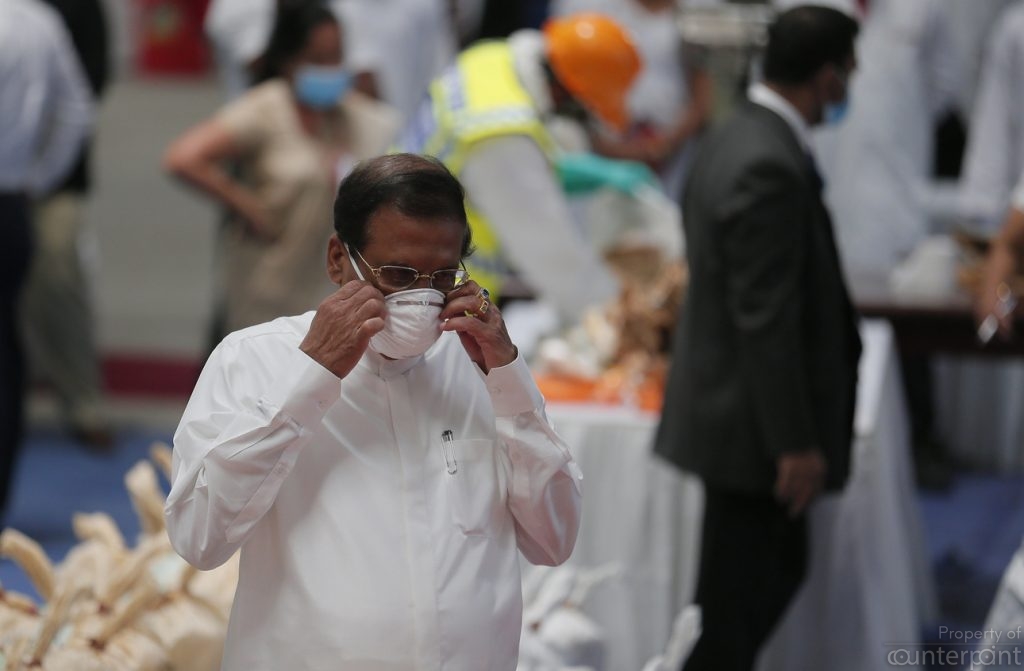 Social media have facilitated the spread of the drug abuse to a considerable extent. In July, 2017, the Badulla police raided a party, organised via Facebook, and took into custody 29 youth for unruly behaviour at a hotel in Hali-Ela. Unless stringent measures are adopted to prevent the narcotic abuse, more and more people will become dependent on drugs. Heroin and cannabis were found in their possession. Among the participants had been students of some leading schools in Badulla, SSP Dhammika Weerasekera told the media.
The United Nations Office on Drugs and Crime (UNODC) has identified the following as risk factors that lead to drug abuse among the youth:
Trauma and childhood adversity (child abuse and neglect),
Mental health problems,
Poverty,
Peer substance abuse and drub availability,
Negative school climate and
Sensation seeking.
If what is reported by the media day in day out is any indication, these factors are widely prevalent in Sri Lanka. Mental health care receives little attention and poverty is rampant in spite of statistical claims made by successive governments. Drugs are available and a negative school climate exists to a considerable extent. Sensation is common among the youth in any country and children and the youth tend to experiment with what is considered dangerous.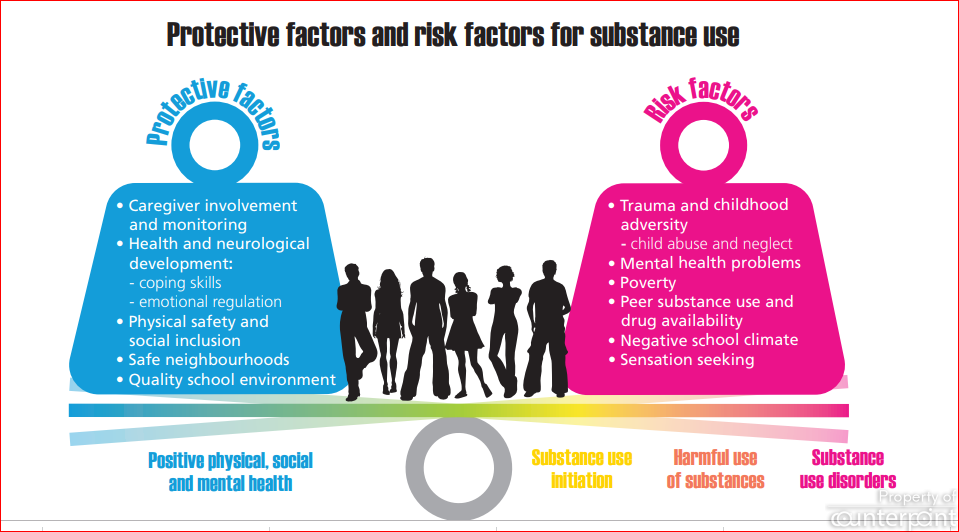 Drugs and youth (Source: UNODC)
In September 2018, the PNB seized a haul of Tramadol tablets with a street value of Rs. 1.5 billion. The PNB had been assisted by the Customs in the raid. The consignment was discovered following a search of a container at the Colombo Port.  Police Media spokesman SP Ruwan Gunasekara said that there were at least 15 million tablets weighing as much as 6,040 kilos and they were of the highest dosage of 225 mg. This alone is proof of the gravity of the problem of the non-medical use of the prescription drugs, which are extremely injurious to health, when abused.
THE GLOBAL TREND
Drug abuse is manifestly on the rise in the world. The UNODC, in its latest report (2018), reveals that about 5.6 per cent of the world population aged 15-64 used narcotics at least once during 2016. This works out to about 275 million people and of them about 31 million are afflicted with disorders related to narcotics addiction.
More worryingly, about 450,000 people died due to drug use in the world in 2015; of them 167,750 were killed by drug overdoses. Experts are of the view that these figures could be higher because, in most countries, especially in Africa, drug related deaths go unrecorded or statistics are not properly kept or available at national and private health institutions.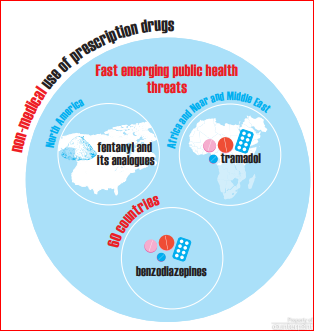 Non-medical use of prescription drugs (Source: UNODC)
DRUG ABUSE – CONCRETE EVIDENCE
About 80% of construction workers in Colombo are addicted to narcotics, according to a news report in The Daily Mirror, of March 20, 2019, quoting Director of the Presidential Task Force on Prevention of Drug Dr. Samantha Kitalagama. He based his conclusion on the findings of a survey conducted by the state intelligence agencies, which revealed that there were about 10,000 workers including nearly 1,000 foreigners, in the city. These workers are mainly responsible for the proliferation of dangerous drugs in that their friends, even those in faraway places, pick up their bad habit, experts point out.
Five construction site supervisors, working in different parts of the Colombo City, interviewed by Counterpoint, said that most contractors handpicked druggies to perform backbreaking tasks such as laying concrete slabs, which go on for hours continuously because it was much cheaper. Drug addicts do not get tired easily while high and work like beavers without complaining. The unscrupulous contractors make narcotics, especially heroin, available to their workers and effect deductions to their daily wages accordingly and, therefore, have enough captive workers at their disposal at any time. Drug addicts' health deteriorate and the reward threshold increases, forcing them to spend more on drugs. The addicts try to raise funds to pay for the habit and some of them end up in prison for committing crimes.
Counterpoint visited a construction site in a Colombo suburb last week, accompanied by a civil engineer who is in charge of the place while a slab was being laid. Drug addicts were seen inhaling heroin without caring a damn about being watched by others.
Heroin is consumed in several ways, the most common being snorting, smoking and injecting. Workers usually burn heroin on coins or tin foils before inhaling the vapour. The smell of cannabis or ganja pervaded the entire building site we visited and nobody seemed bothered. The workers had been brought there from an underprivileged area in the city; they were working as if they were possessed. The contractor was sober and seemed to control his workers with an iron fist. He went so far as to slap a drug addict who talked back, the latter took it lying down.  We were informed that the addict was dependent on the contractor for his daily dose of heroin. Our contact requested that no pictures be taken or the place named as he feared for his safety. Narcotic abuse is prevalent at construction sites though why no raids are conducted on them is the question.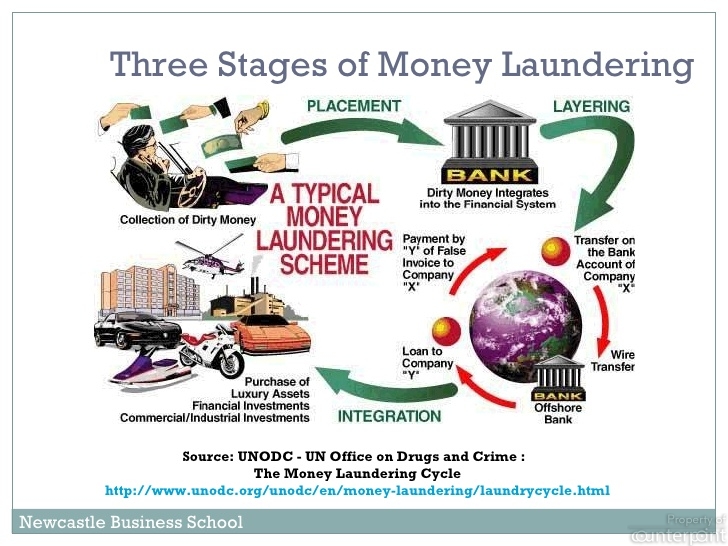 MONEY LAUNDERING
At the time of writing, it was reported that the police had found that notorious drug dealer Makandure Madush had acquired properties worth more than Rs.10 billion through various fronts in Sri Lanka.
The value of Madush's properties must be much higher; he has also invested his drug money in Dubai, as evident from his argument against Sri Lanka's efforts to have him extradited from the United Arab Emirates to stand trial here; he has said that all his funds are in Dubai and in case of his extradition he will not be able to serve the UAE!
The task before the Sri Lankan law enforcement authorities is to trace Madush's wealth. The police have already questioned some of his relatives, but there is a very long way to go, for he is said to have had links to politicians and some police officers.
Madush is expected to be deported to Sri Lanka anytime and if the Sri Lankan police arrest and interrogate him, he is likely to reveal his links to powerful politicians, who will do everything in their power to prevent their future being ruined.
It is believed that many other drug lords have acquired properties in Sri Lanka. Two Bangladeshis were arrested in Dehiwala with 270 kilos of heroin with a street value of Rs. 3.3 billion rupees. The Police Narcotic Bureau (PNB), which made the arrests found that the suspects had invested part of their drug money in properties in Colombo.
In November 2003, the PNB busted a narcotics operation carried out by a person named Mohamed Siyam, who owned several businesses including a garment factory and posed off as a gem merchant. He and his wife used their Ward Place residence as a distribution point. At the time of their arrest, there were 23 kilos of heroin. Four years later, the first accused, Siyam, was sentenced to death.
(This is part 1 of a series.  The next issue: Scary statistics, international drug routes and how Sri Lanka's war on drugs is being prosecuted)