The Bus Priority Lane rule will come into effect again from Monday in Sri Lanka
As It Happens
Sep 18, 2020
The Traffic Lane Law which is being implemented to reduce the traffic congestion in Colombo and suburbs and bus priority lanes will be strictly applied from Monday 21st Sep, Motor Traffic and Road Safety division of Sri Lanka Police inform the Public.
The lane law was temporarily suspended in the Western Province during the Coronavirus epidemic.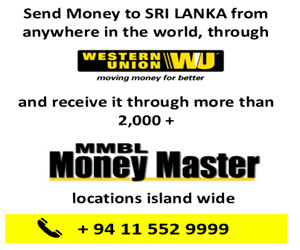 Police say that the lane law will be enforced with the aim of educating the public for one week until the 20th this month. The rule will be in effect along four selected roads in the Western province leading towards Colombo, from 6:00 am to 10:00 am and evening also from 4.00pm to 7.00pm on weekdays.
The four roads are as follows:
Along the Sri Jayawardenapura Road, from Polduwa roundabout to Horton place.
Along the Baseline road, from the Kelaniya bridge to the High-Level road roundabout.
Along the Galle road, William junction in Dehiwala to Galle Face roundabout.
Along the High-Level road, the effect is near Anula Vidyala in Nugegoda to Pittala Junction.
JICA study conducted in 2014 identified the average speed down from Boralla to Welikada Junction as 9.5 km/Hr. Commuter survey conducted by the University of Moratuwa which covered bus passengers, private vehicles and three-wheel drivers revealed that over 50 percent of users indicated significant travel time savings. According to a World Bank report published in 2020 under 'Road Safety in South Asia' highlighted ''the road crash fatality and injury rates on Sri Lanka's roads are undermining the economic growth and progress made over the past decade on reducing poverty and boosting prosperity. Estimated annual road deaths per capita in Sri Lanka are twist the average rate in high-income countries and five times that of the best performing countries in the Improving road safety in Sri Lanka is vital to national health, well-being, and economic growth.''
Professor Amal Kumarage, University of Moratuwa has pointed out in 2019 as his research data that the economic loss incurred due to the traffic congestion on the roads amounts to around Rs. 397 billion annually. Accordingly, the losses incurred due to the traffic congestion in the Colombo and Sub areas is around 365 billion per year.
A fine will be imposed on motorists who violate the traffic lane law, Motor Traffic and Road Safety division of Sri Lanka Police said. Motorists found to have violated the law will be charged a fine of Rs. 2000. The Police instructed three-wheelers and Motorcycles to keep to the bus priority lane. However, The Lanka Private Bus Owners Association has objected to the decision taken by the Police with regard above and later police inform the three-wheelers and motorcycles can use the second lane also. (CPR)