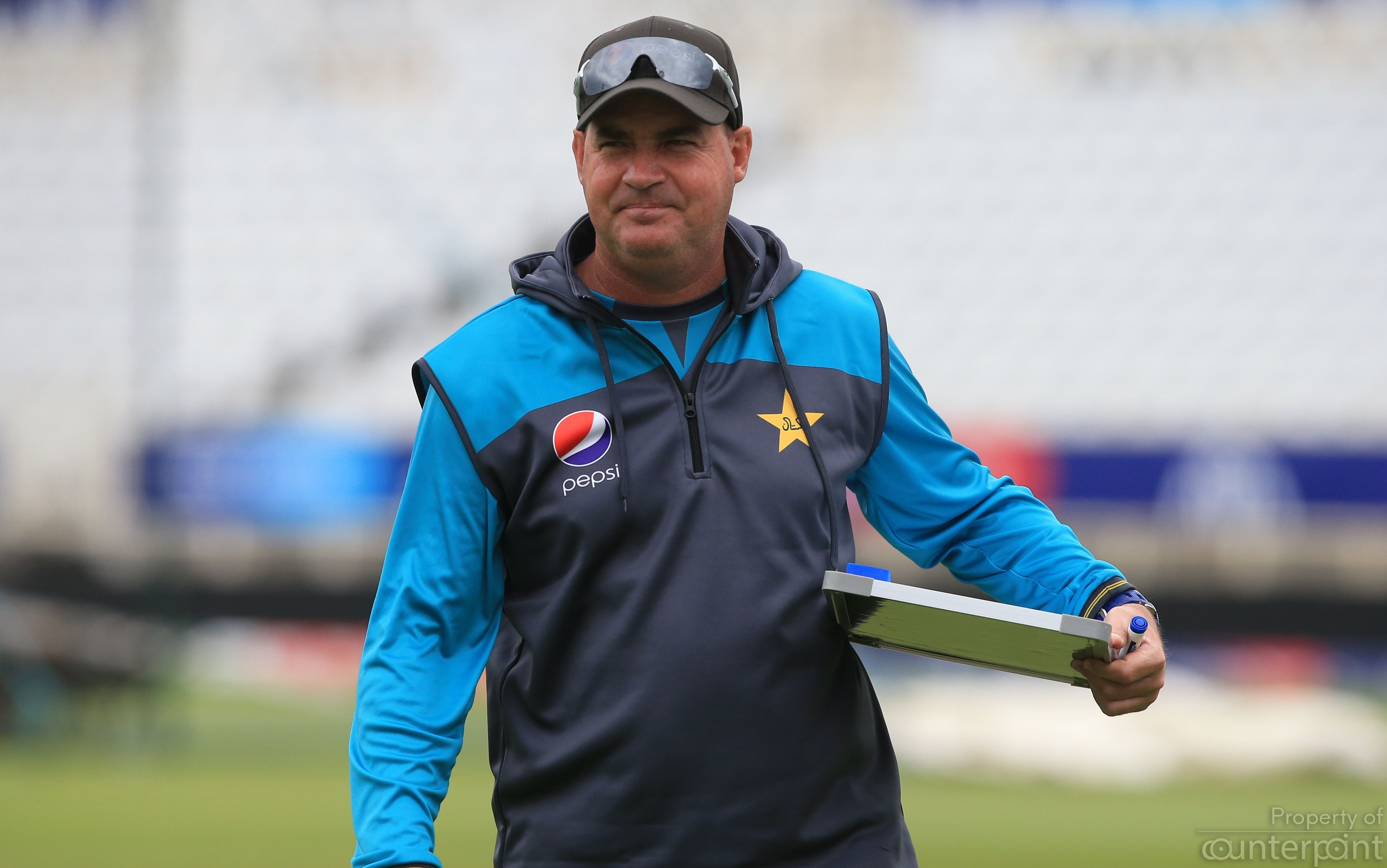 Under Head Coach Mickey Arthur, Sri Lanka's cricketing fortunes have revived.Photo credit ; courtesy ICC Cricket.
When cricket stadiums are packed and you are bombarded with calls from your kith and kin asking for tickets, that's a good indication that your cricket is doing well.
Sri Lankan cricket has found new energy at present following some impressive results over the last six weeks. When stadiums are full, sponsors turn up in numbers as well and it is paramount to keep the sponsors, who pour money into the game, happy. Much of the credit for the revival of the fortunes of the national cricket team should be given to Mickey Arthur, the Head Coach, who took over in December last year.
Some may wonder whether a series win over the world's number ninth ranked team is anything worth boasting about. Maybe it is not, but, Arthur has addressed some areas that have been long neglected in our cricket. That is what is exciting with the current team.
Arthur is not someone who has got a magic wand and brings about results after a couple of months into the job. He has emphasized some basic things.  The press has been highlighting for years the lack of fitness levels among elite athletes in the national cricket team and their poor fielding standards. Precious little was done to address the issue as successive coaching staff, selection panels and cricket boards thought that our slump in the sport was temporary and we would soon get back to winning ways.
That's not so simple. If those who manage our cricket watch practice sessions of the national cricket team as much as the scribes including yours truly do, they will be ashamed of the 'standards' our players maintain. The casual approach to training and neglecting vital disciplines like fielding was a reflection of our cricket in the last three years or so.
Arthur has addressed these key areas. He has told his players plainly that minimum fitness standards need to be met and anyone who does not achieve these will be ineligible for selections. The results have been stunning. Angelo Mathews has shed a considerable amount of weight and so has Thisara Perera, two of our key match winners.
Mathews batted for over ten hours in the Harare Test match last month and scored a maiden double hundred. Last week, after a long time, he starred with the ball helping the side to a thrilling win at Pallekele to complete a 3-0 whitewash over the Windies. His new fitness levels have certainly helped him raise his game. It was the first time in five years that he sent down his quota of ten overs.
Then, of course, to see Mathews diving around saving boundaries and pouncing on every half chance reminds you of Mathews of old. He may disagree but a deeper look at himself will drive home some harsh truths. Immensely talented, you tend to get the feeling that Mathews didn't push himself hard enough once he established himself in the side. Thankfully, he met his match in Arthur.
Arthur is not a high tech coach in the form of Bob Woolmer or John Buchanan. He is old school, insisting on doing the basics of the game over and over again. He was the first foreign coach to be appointed as the Head Coach of Australia. Having realised that his players were not giving attention to minute details, during a tour of India, he wanted them to put on paper how they could improve the performance of the team. Some players took it for granted and didn't submit the homework on time. Arthur took the extreme measure of suspending all players who had not submitted the home work.
Not only to cricket, Arthur has contributed to the English lexicon too. The term, 'home work gate' is in use in cricket following his tough stance.
Those suspended included Mitchell Johnson, one of the all-time greats of Australian cricket. There were calls for Arthur to go slow with the players but he didn't back out and all players remained suspended for a Test match.
Before the Sri Lankan job he was with Pakistan. When he arrived in Lahore, where the Pakistan Cricket Board is based, Umar Akmal was their brightest talent. Arthur demanded that Akmal achieve decent fitness levels if he were to be selected for Pakistan again and dropped him. All hell broke loose in Pakistan but as long as Arthur remained Pakistan's Head Coach, Akmal never got a chance again.
Along the way, Arthur is sure to rub a few Sri Lankans on the wrong side. He might soon get into trouble because our players have a habit of running to the Sports Minister at the drop of a hat.
Arthur needs to be supported in his effort to fix the mess facing our cricket. Sri Lanka Cricket so far has given him a free hand but given how politics of our cricket works all it will take is a disgruntled board official or a player to make life difficult for him.
At this level, they say, there is very little a coach can do technically. A coach is someone who manages his players and Arthur fits the role well, being able to bring the best out of his charges.
The possibilities under him for Sri Lanka are endless. The manner in which he helped Kusal Mendis out of a lean patch was quite impressive. The selectors had lost patience and wanted Mendis axed for the recent tour of India. At this point, Arthur intervened raising some pertinent points. The Head Coach told the selectors that he understood the selectors' anger and frustration. But at the same time, he pointed out that a young player with lot of money, on his own, without any supervision could do more harm to himself than being in the system.
So he reached a bargain. Mendis was to go on tour but not to play any games. While in India, Arthur worked one on one with Mendis and he looks a totally different player now. And Arthur has ambitious plans for Mendis – to make him the world's number one ranked batsman.
Exciting days are ahead for Sri Lankan cricket. Thank you, Arthur!