What's Up Sirisena's Sleeve?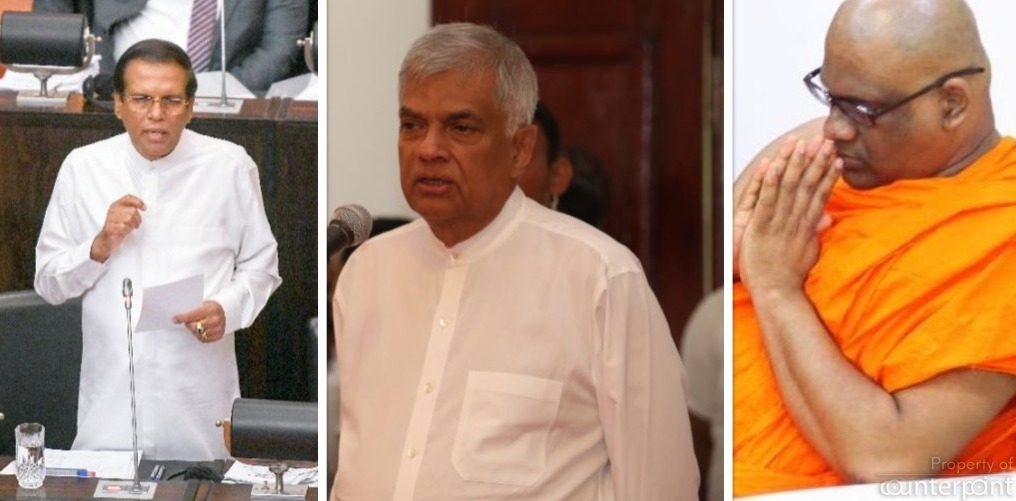 Will recently pardoned Ven. Galagodaatthe Gnanasara Thero help President Sirisena win a second term?
A president at the tail end of his or her term without much hope of being re-elected usually gets written off as a spent force in politics. But President Maithripala Sirisena has been a notable exception. He has been able to retain his grip on power to a considerable extent and hold his opponents at bay. The UNP may not have bargained for this kind of situation when it fielded him as the Common Candidate of the Opposition and threw in its lot with him. It must have expected him to remain subdued and fade away after serving the first term, so that Prime Minister Ranil Wickremesinghe could consolidate his power and be ready for the next presidential election. But Sirisena has foiled Ranil's attempts to function as an eminence grise and promote himself as the President in waiting.
The UNP's plan was to reduce Sirisena to a political orphan dependent entirely on it for his political survival. But he wrested control of the SLFP, immediately after being inaugurated as the president, in what turned out to be a surprising move, and succeeded in having his own parliamentary group. Thus, he managed to remain independent of the UNP.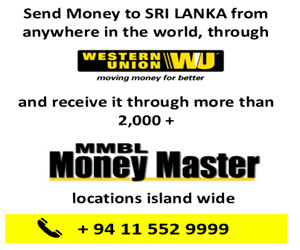 Ranil, however, managed to project himself as the de facto President by undermining Sirisena's authority to a considerable extent during the first few years after the 2015 regime change. But Sirisena struck back last October. His plan to form an SLFP-led government with Mahinda Rajapaksa as the Prime Minister may have gone awry, but he succeeded in scuttling Ranil's political project, so much so that the UNP is not in a position to declare its presidential candidate, and speculation is rife that the UNP-led forces might opt for a common candidate, again.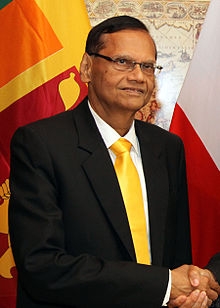 President Sirisena's strategy is apparently not to have a strategy, at all, and face situations as and when they come about. He is known for his lateral thinking and elusiveness which makes it impossible for anyone to get inside his mind. His has been a driver in an erratic course. Whoever would have expected him to sack Ranil as the PM and then work with the latter as the PM again?
President Sirisena is aware how crucial the minority votes are at a presidential election, having benefited from them, in 2015. He went so far as to appoint two Muslim Governors for the Western and Eastern Provinces—Azath Salley and M. L. A. M. Hizbullah respectively—to woo the Muslim votes. But why did he release Bodu Bala Sena (BBS) Chief Ven. Galaboda Atte Gnanasara Thera from prison? And how is he going to reconcile the release of the controversial monk with his efforts to win over the Muslim voters who detest the BBS?
Did Sirisena feel that the Muslim votes would go to the UNP or an alliance led by it at the next presidential election, and he had to eat into the SLPP's nationalistic vote bank with the help of the BBS?
A reformed Gnanasara Thera?
The prison term and the prolonged period of introspection seem to have had a mellowing effect on Gnanasara Thera's pugnacity, if the discernible change in his demeanour is anything to go by. However, there is no guarantee that he will not slip back into his old habits, which became grist for the mill of his detractors.
Taking part in an interview with Hiru TV, on Tuesday night, Gnanasara Thera made some revelations about Islamic extremism. He seems to possess a great deal of information about the Jihadist groups operating in Sri Lanka; he named 41 of them including the National Thowheed Jammath (NTJ). He claimed, in answer to a question from one of the interviewers, that some moderate Muslims had also made a lot of information about extremists amongst them available to him.
Gnanasara Thera asserted that the external forces behind the Jihadist movement here wanted at least 50 extremist organisations established, so as to promote their macabre cause of eliminating infidels, and the NTJ was only one of them.
With the help of the wealth of information in his possession, Gnanasara Thera is apparently trying to carve out a different role for himself as an authority on Islamic extremism in this part of the world. He might be able to make himself useful to foreigners keen to conduct research on the subject.
Old habits die hard
Gnanasara Thera may be somewhat reformed, old habits die hard. There were some instances of Gnanasara Thera launching into diatribes and then restraining himself, during the Hiru TV interview. President Sirisena may have told him in no uncertain terms that he had to behave. The former has taken a huge political gamble by releasing the latter.
Gnanasara Thera took great pains to convince the Muslims that his was not a campaign against them, and he was only exposing Islamic extremists who were a threat to the Muslims as well. Whether the Muslims will buy into his assurances may be in doubt, given his track record, but they are sure to welcome the noticeable change in his approach and effort to win them over.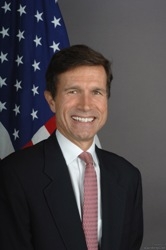 Gnanasara Thera says he is not anyone's agent. The BBS is not devoid of politics and his political leanings will become evident in the run-up to the next presidential election. He is likely to back President Sirisena in the race should the latter seek a second term.
Modi's re-election, ISIS and Sri Lanka
Indian Prime Minister Narendra Modi's stunning electoral win would not have been possible but for India's national security concerns. He failed to make good on some key pledges. He could not live up to the expectations of the unemployed youth and the economic growth was not all that impressive on his watch; it was par for the course. But his decision to carry out air attacks on Pakistan helped him shore up his image.
The declaration by the ISIS of a province in India also aggravated the security concerns of the Indians. The Jihadist threat has become real and the Easter carnage here must have instilled fear in the Indians ahead of the last lap of India's marathon election. People look for strong leaders in times of crises. These developments may also have had a considerable bearing on the way the Indians voted. It may be recalled that Modi's parliamentary team, numbering 303, does not have a single Muslim MP.
It has now been established that the National Thowheed Jamath (NTJ) had close links to radical elements in Tamil Nadu, and a report that some ISIS affiliates had fled to India from Sri Lanka, in a boat, caused the Indian police and Coast Guard to be put on high alert. A two-member team of India's National Investigation Agency (NIA) visited Colombo in a bid to share intelligence on NTJ-ISIS related activities here.
India's growing concerns about the rise of ISIS affiliates in Sri Lankan might make New Delhi devise ways and means of tackling the threats to its national security, emanating from this country. Such an uphill task requires a strong political leadership in Sri Lanka. It is against this backdrop that a recent remark made by Robert O' Blake, who served as US Ambassador to Sri Lanka during the last phase of the war against the LTTE and subsequently became the Assistant Secretary of State for South and Central Asia Affairs, should be viewed.  Delivering a lecture, in Colombo, he happened to commend the strategy that had been adopted by war-time Defence Secretary Gotabaya Rajapaksa to counter terrorism. He stressed the need for a group of technocrats similar to the one that existed during Gotabaya's time, to prevent terror attacks. This remark has made quite a stir in Sri Lankan political circles, and some political commentators wonder whether the US policy towards Sri Lanka has undergone a radical change and an attempt has been made to cast Gotabaya in a favourable light in time for the next presidential election.
The incumbent yahapalana coalition of the unwilling has drawn heavy flak for failure to clamp down on the new form of terror. India's assessment of Colombo's ability to neutralise ISIS under the present administration is not known, but it will certainly need a strong political leader like Modi to battle the scourge in this country.
Following his defeat in the 2015 presidential race, former President Mahinda Rajapaksa, in an interview with the South China Morning Post, blamed the US and India for having engineered his downfall. He specifically mentioned the RAW as having worked against him.
Have the US and India softened their stand on the Rajapaksas on account of the spread of ISIS terrorism in this part of the world?
Bid to put off presidential polls?
Chairman of the Sri Lanka Podujana Peramuna (SLPP) Prof. G. L. Peiris has warned of a possible move to postpone the next presidential election by a few months. The SLPP would go all out to thwart such a bid, he has said.
The local government polls were postponed for nearly one and a half years before being conducted in February, last year. The Provincial Councils polls have been put on hold indefinitely. Both the UNP and the UPFA lost the mini polls badly. Therefore, one should not be faulted for anticipating a government move to put off the presidential election as well, on some pretext or the other.
The National Election Commission (NEC) cannot determine when elections should be held though the 19th Amendment is said to have ensured its independence. All it can do is to express its displeasure when elections are postponed.
Presidential elections have never been postponed in this country. Most of them were, in fact, advanced, and J. R. Jayewardene and Chandrika Kumaratunga held the presidency for only 11 years instead of 12, and Mahinda Rajapaksa was President only for 10 years. President Ranasingha Premadasa and D. B. Wijetunga were exceptions in that the former was assassinated while in office and the latter became his successor for one and a half years.
The SLPP thinks President Sirisena is serious about consulting the Supreme Court on the length of his presidential term. SLFP General Secretary Dayasiri Jayasekera has said the President would do so. He is apparently testing the water.
No-faith motions
The JVP finds itself in an unenviable position, having submitted a motion of no confidence against the government. This move came close on the heels of an attempt by the Joint Opposition (JO) to oust Minister Rishad Bathuideen through a no-faith motion with the help of some government MPs as well. It sought to capitalise on the consternation of the UNF MPs who are openly critical of Bathiudeen, who is accused of having had links to some of NTJ activists.

The JVP's no-faith motion has made it impossible for the UNF MPs to vote for it because such action will be tantamount to collective political suicide. Hence the government is planning to take up the JVP's motion first, having put the JO's one on hold after appointing a parliamentary select committee to probe the Easter Sunday bombings and allied issue. The Easter PSC is widely seen as an attempt to save Bathiudeen.
The JVP is at pains to have the public believe that it has not tried to help the government. Its Propaganda Secretary Vijitha Herath told the media the other day that while the JO was trying to target only Minister Bathiudeen his party was all out to get rid of the entire government through its no-faith motion. Last October, the JVP threw its weight behind the UNP-led government when the JO and President Sirisena tried to dislodge it. Why does it want to bring down the same government a few months later? This is the question the JVP has to answer.
There has been a division in the TNA over the no-faith motion against Bathiudeen, with some of its MPs openly pledging to support it. The Christian MPs in the government will not be able to oppose it for fear of incurring the opprobrium of their electors who want everyone connected or sympathetic to the NTJ punished.