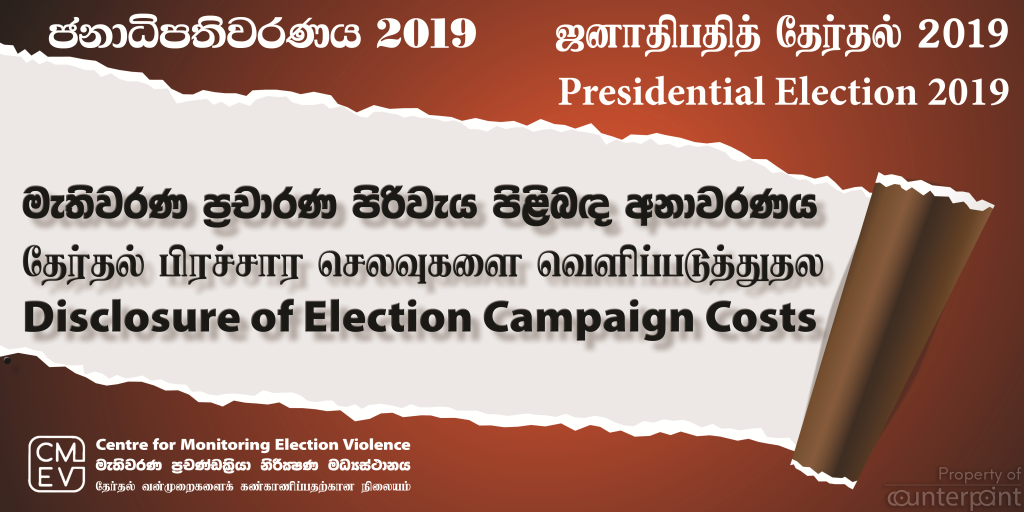 Those who contested the recently concluded presidential election have reportedly spent billions of rupees, according to polls monitors.  It is not possible to find out how much they actually spent because there is no legal requirement for them to reveal their sources of funding or election related expenses. The amounts spent at the presidential election are sure to pale into insignificance when the next parliamentary election takes place.
Campaign managers and consultants of politicians are now getting ready for the next general election to be held in a few months.  As per the Elections Commission's schedule it is to be held in April next year, but when giving appointments to new ministers last week, President Gotabaya Rajapaksa made it clear that as he had said in the run-up to the presidential election, the general election would be held as early as possible.
The next parliamentary election will be an expensive affair with thousands of contestants throwing money around.
The exact amount of money spent on the presidential election would never be known. For example, according to statistics released by the election monitors, the JVP spent Rs. 160 million on Anura Kumara Dissanayake's campaign, but those who are familiar with the election budgets know that the actual amount should be several times higher because he was the only candidate who put up posters countrywide during the campaign! (The elections monitors have stated that their calculations are based on the minimum figures, so the actual expenditure must have been much higher). Two new posters were put up in support of Dissanayake a week, for one and a half months prior to the Nov 16 presidential polls. The printing cost of a single poster was at least around Rs. 14.  There were numerous other costs such as those of organizing rallies, putting up stages, transport and food and beverages.
The next parliamentary election is bound to be a fiercely fought contest. The way the people voted at the presidential election shows that they prefer new faces to old ones and are thirsting for a change. So, new candidates stand a better chance of entering Parliament. Senior politicians will be compelled to go all out to retain their seats, and they will not hesitate to do all it takes to remain in Parliament. They have enough funds and will not hesitate to expend part of it in a bid to fortify their future.  They will go on a spending spree.
Campaign costs differ from district to district, as revealed by the election monitors Counterpoint spoke to. They have estimated that a person contesting from the Ratnapura District will have to spend at least 30 to 35 million rupees on his or election campaign. In the Colombo district, a candidate will have to spend about Rs 150 million while in other districts such as Gampaha, Kandy and Kurunegala the amount a candidate has to spend is above 80 million rupees. Some candidates spend much more than that.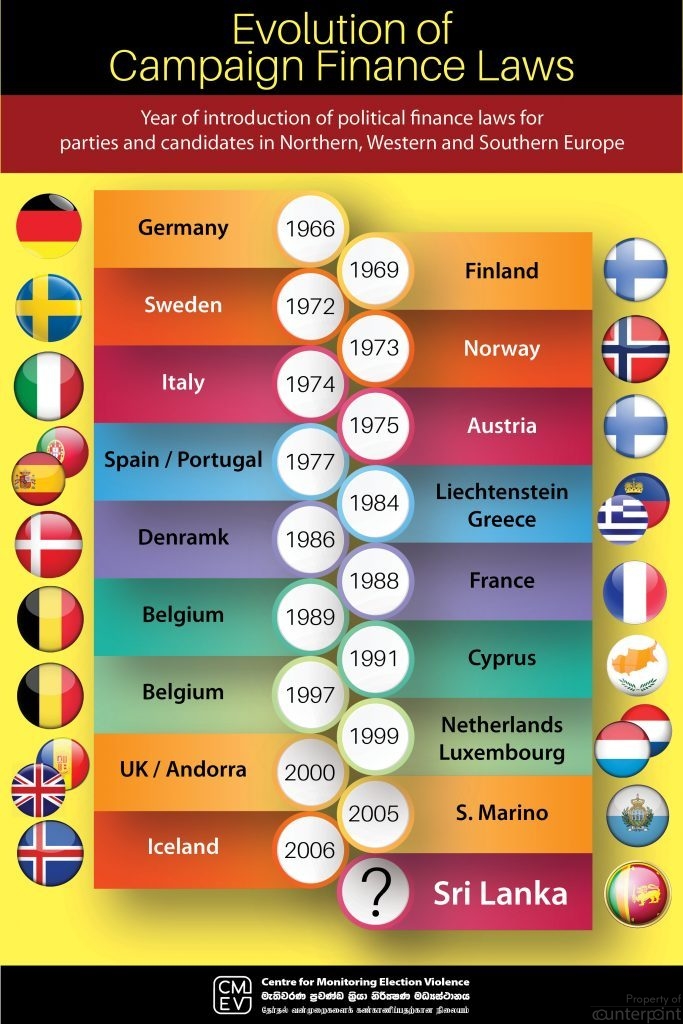 Sri Lanka does not have laws governing campaign finance, so the political parties and the candidates are not legally bound to submit statements on their election related expenditure to the Election Commission. In fact, there were some laws which imposed limits on campaign expenditure, but the JR Jayewardene government did away with them by introducing the Parliamentary Elections Act, No. 1 of 1981). Now, the sky is the limit for the wealthy contesting elections. The election monitors have disclosed that at the last local government elections in 2018, a candidate spent as much as Rs. 40 mn on the ward he contested from! This has given lie to the claim that the new electoral system, which did away with the preferential vote, has helped lower campaign costs. How much those seeking election to Parliament are willing to spend goes without saying. Whether the fist-past-the-post system or a mixed electoral system is introduced, candidates who have the wherewithal will try to outspend one another unless there are laws to limit campaign expenditure and compel candidates and parties to disclose sources of funding and amounts of funds they raise.
In response to the persistent calls by citizens, scholars, media, election monitors and civil society organisations to impose a ceiling on campaign financing, Election Commission Chairman Mahinda Deshapriya has stated that a new law is in the process of being made. It is reported that the draft bill has been prepared by the Legal Draftsmen Department and is currently at the Department of the Attorney General. Deshapriya is hopeful that the new law will be passed before long.
The EC says the new law will compel all political parties to reveal their sources of campaign funding and require audited financial statements on campaign finance to be submitted to it within two months of the announcement of the election results. It provides for unseating an offender elected to Parliament who does not comply with those laws and regulations.
The draft bill, titled Election Campaign Finance Bill has provisions requiring candidates to reveal sources of funds and if it goes through parliament as expected by Deshapriya, the candidates contesting the next general election will find it difficult to conceal information about their funds. The EC has stated that it hopes to pass the election campaign finance law by December, before the next election. Unless the promised law comes about, the parliamentary election campaign will see many candidates vying with one another to spend the biggest amount of funds which usually come from moneybags including anti-social elements such as drug barons with slush funds.