When Religiosity And Savagery Reside Cheek By Jowl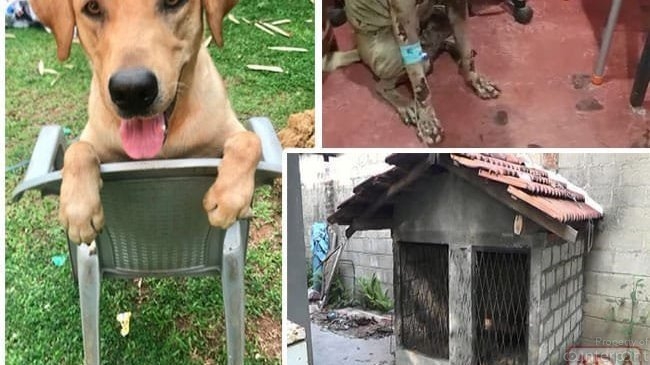 Little Charlie, a two year old Labrador died of burns incurred when he was set on fire while in his kennel the night of December 31, 2018 (Courtesy Change.org)
"The greatness of a nation can be judged by the way its animals are treated" – Mahatma Gandhi
The brutal killing of Charlie, a Labrador in Negombo, sent shock waves throughout the country. The New Year dawned with unbearable suffering for Charlie, which was set ablaze; it died a painful death the following day. A suspect was arrested and produced before the magistrate. The police have framed charges against him under the Penal Code and the Prevention of Cruelty to Animal Ordinance. He was released on Rs. 50,000 surety bail and the next court hearing will on the 14th of January.
Cruelty to animals is rampant in this country which is home to four great religions, namely Buddhism, Hinduism, Christianity and Islam. Sri Lanka was rated the second most religious country in the world (next to Niger) in 2016 by the world renowned Zurich-based market research cum polling firm Worldwide Independent Network/ Gallup International Association (WIN/GIA). According to the Numbeo – regarded as the world's largest database – Sri Lanka in 2018, is ranked 67 out of 118 countries in terms of the crime index, with 1 for worst and 118 for the safest. It has also earned notoriety for cruelty to animals.
Cruel treatment, meted out to the domestic, community, farm and the wild animals, has apparently become a fact of life for many including those who are deeply religious. However, of late, animal rights activists have carried out an effective awareness campaign. Thanks to their relentless efforts, mainly through social media, a large number of instances of cruelty to animals have come to light and jolted the authorities concerned into action. Some of the heart-rending recent incidents are, the slaughter of a leopard in Kilinochchi (in July 2018), two separate incidents of savage elimination of canines in two universities, in Sri Jayawardenapura in April 2017 and in Moratuwa in July 2017, the killing of the wild tusker "Dala Puttuwa" in Galgamuwa (in December 2017), public outcry against chaining of elephants in Pinnawala elephant orphanage and a number of Buddhist temples, death and disability of wild animals from "hakkapatas" (improvised explosive devices hidden in fruits etc. and primed to go off when bitten)
A foreigner's perspective
Marilyn Wouters, a Swiss/ Dutch national living in Sri Lanka since 2010, is the founder of the Waikkal-based Sanctuary for paralyzed cats – Marilyn's Ark. Committed to the welfare of cats, she looks askance at the attitude of the general Sri Lankan public towards animals, especially when they are in distress.
Marilyn said,  "Sri Lankans can pass by an injured dog, cat or even a fellow human, lying by the roadside without doing anything. This is very, very sad. Throwing stones, hitting, kicking and dumping animals are an almost normal thing in the daily lives of the islanders. Only a small percentage of Sri Lankans love animals and they are mostly the poor. The others think that a pure breed dog or cat is worthy of their love. The wonderful native dogs and cats are treated without any respect, caged, living their very sad lives in chains."
According to Marilyn, Sri Lankans' apathy towards the welfare of the community animals, the cats and dogs, has led to greater involvement of foreigners in the campaign to save animals and advocate their rights. "Many shelters for cats and dogs here in Sri Lanka are run by foreigners who have given up their lives to help the "voiceless" of this beautiful island. Then there is a very small percentage of the local population who are animal lovers, animal rescuers and animal protectors. Fortunately, this number is growing. Most of them are my good friends. Many people may not know them, but they are there when the animals need them. They are mainly the young people who have come to know the importance of animals in our lives.
"There had been a case where a pregnant cat was tied with a rope and burned alive. This happened in Mount Lavinia, but it never caught media's attention."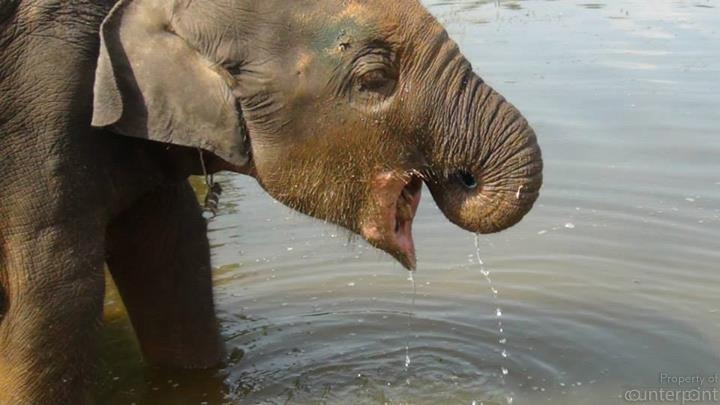 Discrimination against female animals
Most people consider female puppies and kitten a nuisance and discard them immediately after they are born. People dump them near temples, hospitals, restaurants and even just by the roadside or on the beach. They expect others to look after the animals they consider unwanted. Little surprise in a country where some mothers abandon their newborn babies, to be found in garbage dumps and wayside bushes.
Sterilization – the key for welfare of community animals
Spaying and neutering of dogs and cats should be first priority of the government veterinary system, Marilyn says. "Female animals with their babies have been drowned, set on fire, brutally abused, beaten and driven over by cars. This is pure animal abuse and cruelty. Religion has nothing to do with it, its empathy towards a living being, which is absent in Sri Lankan society, by and large", laments Marilyn.
Sex discrimination is taken into consideration even when it comes to sterilization. Sri Lankans would rather get their female pets sterilizes rather than the male ones.
Quoting reproduction statistics Marilyn demonstrates the importance of sterilization programmes. Cats and dogs are rapid multipliers. Cats could reproduce every three months and the dogs even three times a year. "By sterilizing a single dog or a single cat you save at least 126 puppies or kittens from a horrible death annually. This is only in the first year. This 126 keep multiplying, which is over a thousand in three-years' time".
Disabled animals
According to Marilyn Sri Lanka has a large number of disabled community cats and dogs. "These animals are pulling themselves up on the streets. They have had accidents. They are being beaten. Nobody cares about them. The other problem is its mostly female animals. Why? Because they were thrown out,  as soon as they were born. They have no moms to feed them. So they go down streets looking for food. They are bitten by dogs. They are hit by people. They are run over by vehicles. They end up on the streets. This is a real shame".
Antiquity of law
Like Marilyn, Manoja Weerakkody, a foremost animal rights activist in the country, too, runs a hospice for abandoned and sick cats and dogs. She stresses the pressing need for enacting the Animal Welfare Bill urgently to prevent such occurrences in the future. Weerakody identifies the absence of righteous legal status for animals as a major drawback.
The Prevention of Cruelty to Animals Ordinance (of 1907) is the only tool available to deal with incidents like the killing of Charlie, says Weerakkody. However, despite its antiquity and ludicrously low fines, this piece of legislation is not absolutely toothless. Section 4 of the Ordinance stipulates that 'if any person kills any animal in an unnecessarily cruel manner he shall be punished with fine, which may extend to one hundred rupees or with imprisonment of either description for a term which may extend to six months, or both'. These legal provisions are seldom implemented.
Not even what the colonial masters did
Sri Lanka has failed to follow the progressive policies of colonialists as regards animal welfare. The laws, they introduced, despite their antiquity and shortcomings, have stood animals in good stead. Since Independence, the country has not cared to update the old laws or bring in new ones for the benefit of animals. Weerakkody expresses her dismay over the undue delay in passing the Animal Welfare Bill. She believes the animal husbandry industry is behind the postponement of the ratification of the Bill.
Legal status
Animal rights activist Attorney-at-law Lalani Perera has been in the forefront of the campaign for creating an animal-friendly Sri Lanka. In view of the increasing incidence of cruelty to animals, she says, "Eighteen Buddhist and animal welfare organizations filed a writ application in the Court of Appeal in 2010, seeking a judicial intervention to make the state authorities implement the existing animal cruelty laws fully and introduce law reforms consistent with current animal welfare norms".  The recommendations made by the petitioners include the ratification of the much-delayed Animal Welfare Bill, humane slaughter of animals for food, welfare of livestock, humane rabies control, welfare of zoo animals, the protection of captive elephants and a total ban on animal sacrifice.
Says Perera,  "Most of these proposals were accepted by the government authorities in principle, but the progress in the implementation process is extremely tardy despite being monitored by a steering committee consisting of government and petitioner representatives." Lack of political will, vested interests of the industry and bureaucratic apathy are among the reasons she identifies.
"By 2017, however, there were encouraging results. Local Government minister Faiszer Mustapha obtained Cabinet approval to introduce humane slaughter methods for food animals and initiated a law to repeal the Rabies Ordinance, which allows dogs to be destroyed, and replace it with one that gives statutory recognition to sterilization as the humane alternative to dog population control". Other positive developments that came about during that time were, then Hindu Affairs minister D. M. Swaminathan obtaining Cabinet approval to ban animal sacrifice in Hindu temples and then Wildlife minister Gamini Jayawickreme Perera recommending regulations for captive elephant welfare receiving Cabinet approval. Also the zoo authorities initiated action to draft regulations for zoo animal welfare.
"But, there is a long way to go before these reforms become law. And one has to only hope that the political will that finally blossomed after so much agitation will not wither and die", observes Perera.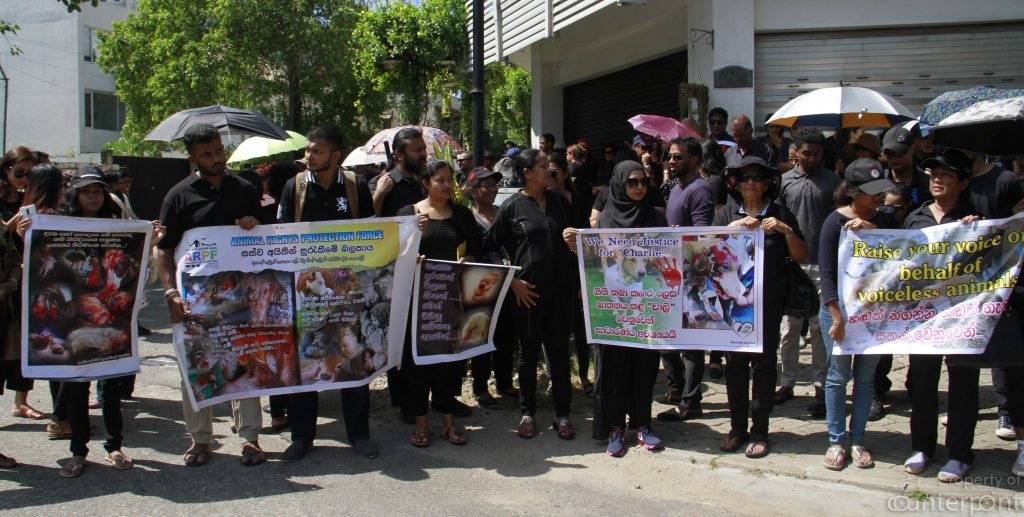 A brief history of politics of Animal Welfare Bill
The Animal Welfare Bill, initiated by the Law Commission in 2002, was presented to then President Mahinda Rajapaksa in 2006. With no progress forthcoming, MP Ven. Athureliye Rathana Thero, presented it in Parliament as a Private Member's Bill in 2010. But with the then Parliament's dissolution soon after, the Bill was forgotten.
Though a writ application drew government's attention to the Bill, its progress was hampered, primarily by the meat industry in some cases; poultry farms oppose the standards stipulated for transporting chickens.
Perera says: "Some veterinarians are agitating for more representation in the National Animal Welfare Authority, claiming that they are the best advocates of animal welfare and this is another factor that hinders the speedy passage of the Bill. It is also hilarious to note that the meat industrialists want the classification of "animal" to be redefined to exclude food animals.
However, some of these contentious issues were resolved with the intervention of the Attorney General's Department in 2014 and the then Secretary to the President in 2015, whom the petitioners met subsequent to meeting the incumbent President. The Bill was then amended to reflect the agreements reached and submitted to Cabinet in November 2015 by the then Rural Economy Minister; Cabinet approval was obtained on 13th January 2016.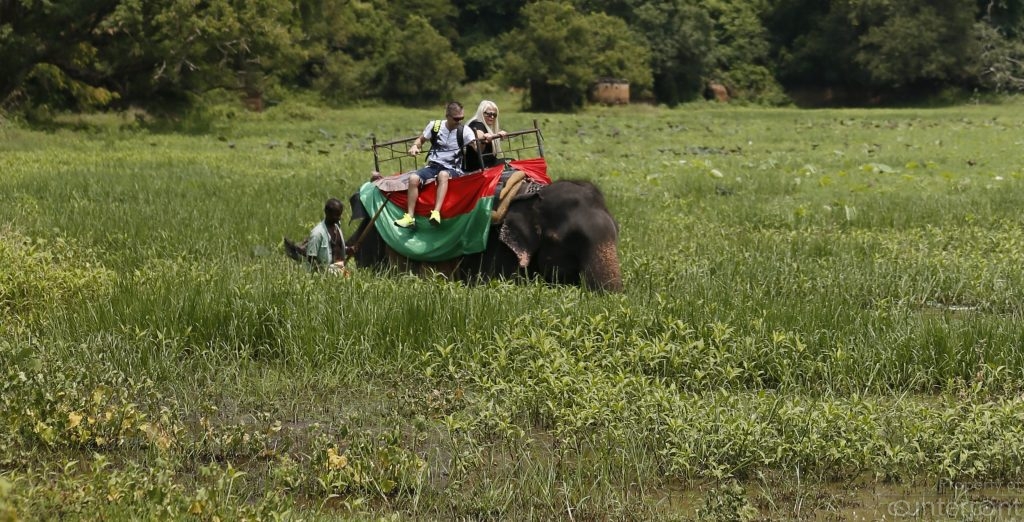 Meat industry's demand for pound of flesh
However, the meat industry wants the Bill amended so that the important provisions pertaining to cruelty to the animals will not apply to the slaughter of food animals, transport of poultry, use of animals for testing cosmetics, de-population of poultry, destruction of animals for disease control etc. The Ministry succumbed to their pressure and revised the Bill to exclude the vast majority of animals from the Bill, for which the petitioners strongly objected. Around December 2017, the Ministry sought the Attorney General's advice to resolve the matter.
Strengths of the "clogged" Bill
"The Animal Welfare Bill when enacted will replace the archaic Prevention of Cruelty to Animals Ordinance of 1907," says Perera. The major shortcomings of Bill are the ludicrously low fine for animal cruelty—Rs. 100, the recognition of only a few acts of cruelty and the definition of "animal" to mean only domestic ones and the absence of provision for a special enforcement machinery".
There are positives in the proposed Bill, she says. "The Bill prescribes fines up to Rs. 125, 000, introduces many new offences, defines "animal" as "any living being other than a human being" and provides for a National Animal Welfare Authority as its implementing agency". She says, "Violence against animals escalating, the nature of cruelty becoming more gruesome, and recognition of animals as not chattel but non-human persons, it is the government's duty to give priority to ratifying the Animal Welfare Bill urgently.  But it will not at as a panacea. Its objectives can be realized only if the National Animal Welfare Authority consists of independent and competent members who really feel for animals."