Exposé
RISING ABOVE FALL ARMYWORM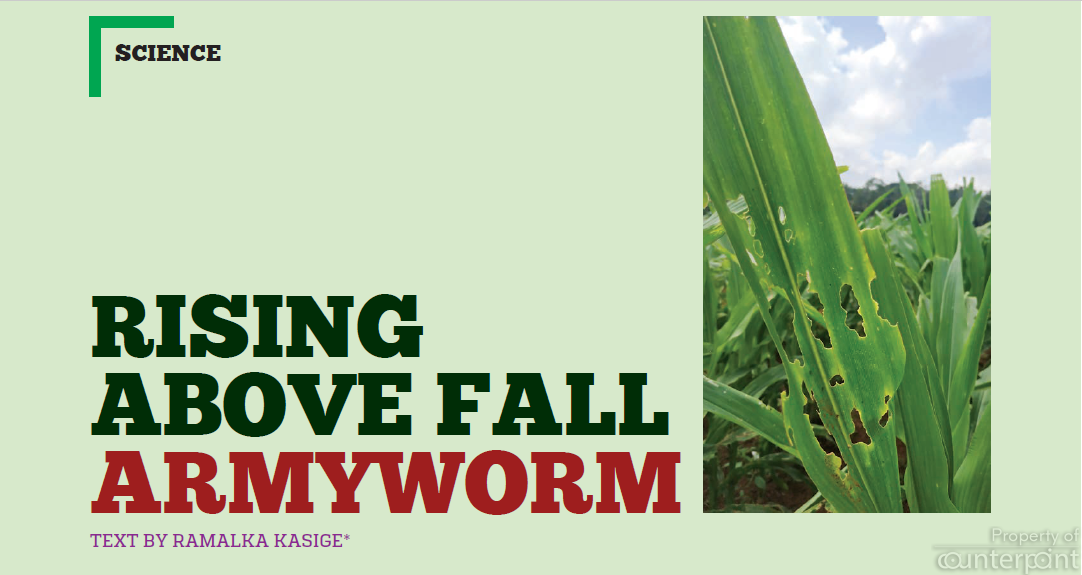 Courtesy – Loris Magazine
During the reign of King Parakramabahu the Great Sri Lanka was affectionately called the 'Granary of the East' (peradiga danyagaraya) as the country was not only self-sufficient in rice and other food crops but was also able to export them to neighboring countries. The Sri Lankan agriculture sector has always been a force in the country's economy, making a significant contribution to its food, security and employment needs.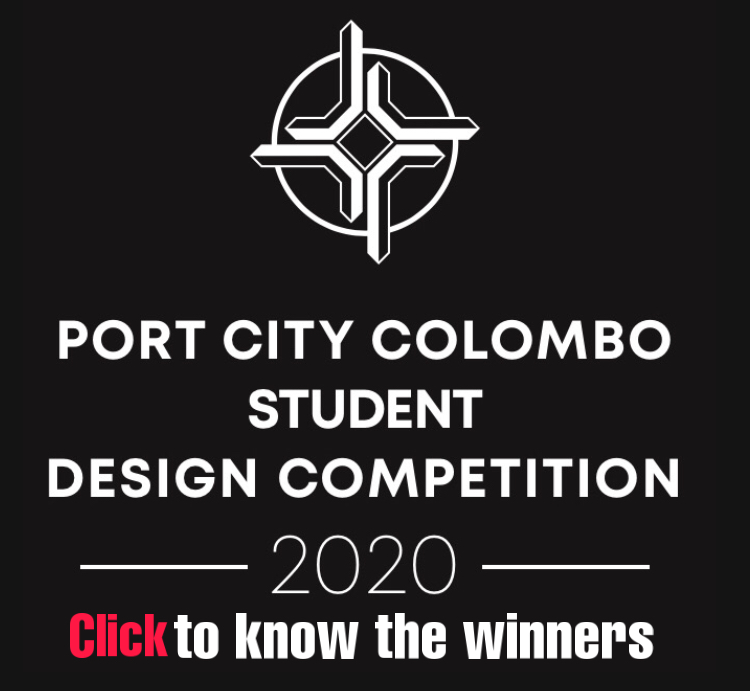 Among the various crops cultivated in Sri Lanka, maize has gained a vital reputation and is primarily cultivated in the maha season in both settled and shifting (chena) types of highland
cultivations. Maize or corn (Zea mays L.) is among the world's third most important cereal crop with a high nutritive value apart from wheat and rice (Perera & Weerasinghe, 2014). Six major maize growing districts have been identified as the "maize belt" of Sri Lanka (Figure 1). The districts that have collectively clinched this title are Ampara, Anuradhapura, Badulla, Hambantota, Moneragala and Kurunegala (Karunaratne & Wheeler, 2015).
Insects are among the diverse factors that limit maize production. They can attack any part or any developmental stage of the maize plant and cause severe damage. The fall armyworm plague which exploded as a destructive polyphagous insect-pest, caused widespread damage to maize mainly, but also to other crops.
Fall armyworm (FAW), Spodoptera frugiperda (Lepidoptera: Noctuidae) or the well-known, sena- dalambuwa caterpillar is a native species which is endemic to the tropical and subtropical regions of America. The first recorded outbreak (Sparks, 1979) was in Georgia, USA in 1797. Since then it was reported for the first time from the African continent in 2016 and then in the Asian continent in mid-2018, becoming one of the most widespread pests in the world (Figure 2).
Being a voracious feeder which can feed on more than its body weight at a single feeding session (FAO & CABI, 2019), the larvae damage a wider range of plants (Barlow & Kuhar, 2005) by consuming the foliage. It feeds on nearly 100 plant species of 27 families (FAO & CABI, 2019), which include field crops, vegetable crops, weeds and grasses
(graminaceous plants), but principally, it feeds on maize. Feeding in the whorl of maize often produces a characteristic row of perforations in the leaves (Capinera, 2000). These large holes are accompanied by larval droppings (wet frass) which are noticed in the whorls and on surrounding leaves. When dried, the excreta give an appearance like saw dust (Visser, 2017). Windowing, skeletonized leaves, shot holes, tassel damage, cob damage and grain damage are among the key signs of fall armyworm damage on maize.
Since its first record in Sri Lanka in mid-October 2018, the pest broadened its niche across the country at an alarming rate. It became a severe outbreak which coincided with the onset of the wet season; the new cropping season was followed by a long period of drought.
The pathways of its introduction to Sri Lanka were not clearly identified although it was suspected that it might have arrived with stocks of maize seeds from India or with other types of seeds or plant material.
Although numerous new agricultural pests were found in Sri Lanka from time to time, a number of factors made fall armyworm unique. As stated in FAO Publication 2018, the larvae's' ability to consume different crop species, its quick spread across
large geographical areas, its persistence throughout the year and the high reproductive capacity made fall armyworm one of the most dangerous economic pests in Sri Lanka.
This infestation reduced the quality and quantity of food production while resulting in the complete death of some crop plants. However, yield loss was the biggest from the plague. A significant damage to maize cultivation along with
other cultivations of wheat, tomato, finger millet (kurakkan) and some grass species resulted in a harvest loss of 10 % – 25 %. Many of the efforts aimed at addressing  the issue weren't too successful. Farmers were using pesticides extensively to eradicate fall armyworm, which knowingly or unknowingly increased serious health issues and environmental risks which were entwined with pesticide usage. Besides, the high cost of production during the course of controlling this pest was another hassle that farmers and governments had to
face. The Sri Lankan government granted compensation to farmers whose croplands were severely affected by this menace.
The effect on the food and nutritional security of the country is just a half-written chapter of this story. The storyline should highlight the greatest cut on the livelihood of farmers and corn venders which caused a detrimental effect on the social well- being of the country. The profits of farmers were reduced as they had to compensate for a huge economic loss due to the loss
of the harvest. The roadside corn venders lost their jobs due to unavailability of corn. Consumers even refused to buy healthy corn during the infestation season making this a tragic crisis which surged through farm country.
Isn't it important to be reactive rather than proactive when tackling invasive pests such as fall armyworm? Many of the countries look for preventive measures for pests
only after they have established a foothold and caused considerable damage to the country's crops. First and foremost, it isimportant to comprehend the ways and means pests can enter a country as many introductions of invasive insect pests go unnoticed due to lack of plant and animal quarantine facilities. Countries can learn from other regions that have comprehensive plans to deal with invasive insects and from those countries that have gone through similar invasions.
Sensitizing farmers and making them aware of the symptoms of armyworm attacks is vitally  important as they can then report infestations to authorities who are capable of undertaking research aimed at finding short and long-term solutions to combat the spread of fall armyworm. For instance, most of the African countries learned how to prevent and deal with future insect invasions through workshops and training programs that help bring experts together (Day et al, 2017).
Links between farmer knowledge, decision making in pest management and ecological attributes
of maize agriculture are widely important in fall armyworm management (Wyckhuys & O'Neil, 2007). The Department of Agriculture along with all other agricultural institutes, print and digital media can  play a vital role in communicating to people and strengthening the local knowledge base and advisory services to raise awareness for fall armyworm detection and area-wide management by farmers. The establishment of a task force with the involvement of entomologists, field experts, agronomists, extension personnel, administrators, universities and research centers can also ensure that the country is safe from fall armyworm.
The media trend now is to sensationalise issues that laymen are faced with and to target the political world such as governments and ministers, so that they will panic and react with inappropriate responses, making the real situation go underground. Is this something that we should encourage as concerned citizens?
Surely NOT.
It is seemingly true that insects are not prioritized unlike other large and charismatic flagship species. Yet, it is important to understand their vivacious roles and ecosystem services as pollinators and most outstandingly as PESTS. In an era where insects are not given much significance, let us step towards gaining the basics from them, so that we are well organized to face future past challenges while maintaining surveillance for fall armyworm.
Barlow, V. M., & Kuhar, T. P. (2005). Fall armyworm in vegetable crops. Virginia Cooperative Extension,
publication 444-015. Available online at https://pubs. ext.vt.edu/444/444-015/444- 015_pdf.pdf.
Capinera, J. L. (2000). Fall Armyworm, Spodoptera frugiperda (J. E. Smith) (Insecta: Lepidoptera: Noctuidae). Gainsville, FL: University of Florida Cooperative Extension Service, Institute of Food and Agricultural Sciences, EDIS.
Day, R., Abrahams, P., Bateman, M., Beale, T., Clottey, V., Cock, M., Colmenarez, Y., Corniani, N., Early, R., Godwin, J., & Gomez, J. (2017). Fall armyworm: impacts and implications for Africa. Outlooks on Pest Management, 28(5), 196-201.
FAO and CABI. (2019). Community-Based Fall Armyworm (Spodoptera frugiperda) Monitoring, Early Warning and Management, Training of Trainers Manual (1st ed.).
Karunaratne, A. S., & Wheeler, T. (2015). Observed relationships between maize yield and climate in Sri Lanka. Agronomy Journal, 107(1), 395-405.
Perera, K. T. G. K., & Weerasinghe, T. K. (2014). A Study on the Impacts of Corn Cultivation (Zea mays (L.) Family–Poaceae) on the properties of
Soil. International Journal of Scientific and Research Publications, 4(7), 1-6.
Sparks, A. N. (1979). A review of the biology of the fall armyworm. Florida Entomologist, 62, 82-87.
Visser, D. (2017). Fall armyworm: an identification guide in relation to other common caterpillars, a South African perspective. Presentation, Agricultural Research Council – Vegetable and Ornamental Plants, Pretoria, South Africa.
Wyckhuys, K. A., & O'Neil, R. J. (2006). Population dynamics of Spodoptera frugiperda, Smith (Lepidoptera: Noctuidae) and associated arthropod natural enemies in Honduran subsistence
maize. Crop Protection, 25(11), 1180-1190.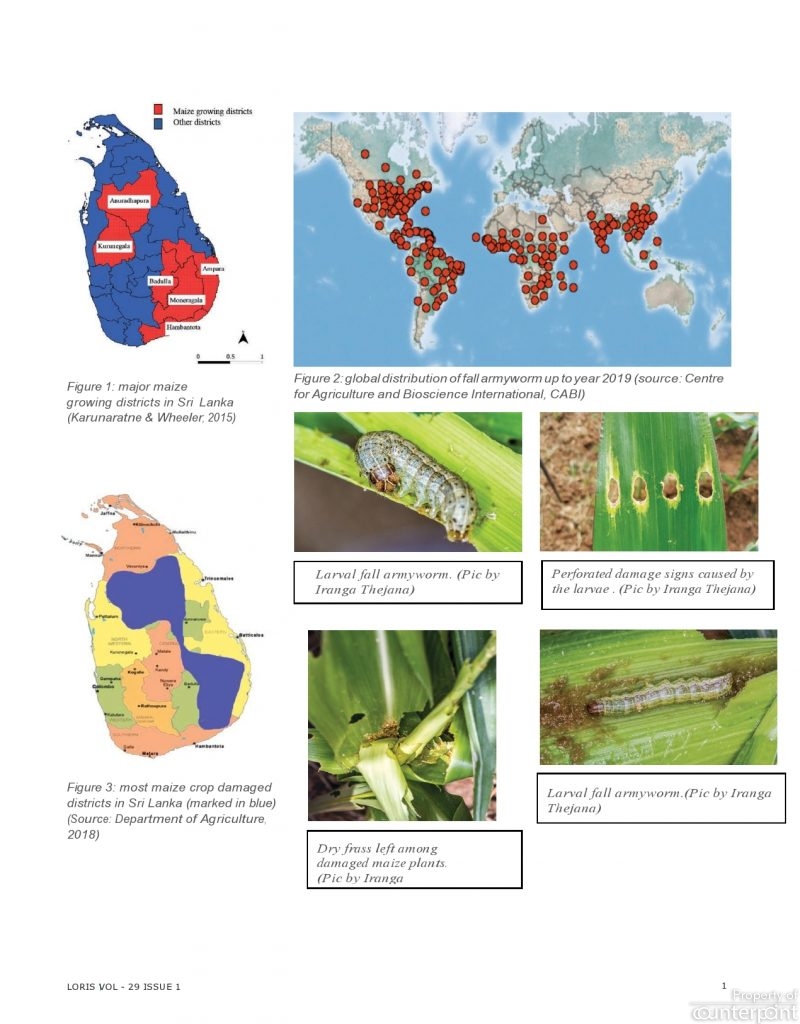 * BY RAMALKA KASIGE – DEPARTMENT OF ZOOLOGY & ENVIRONMENT SCIENCES, UNIVERSITY OF COLOMBO